Looking for some STEM inspiration this summer? Here are ideas and upcoming events!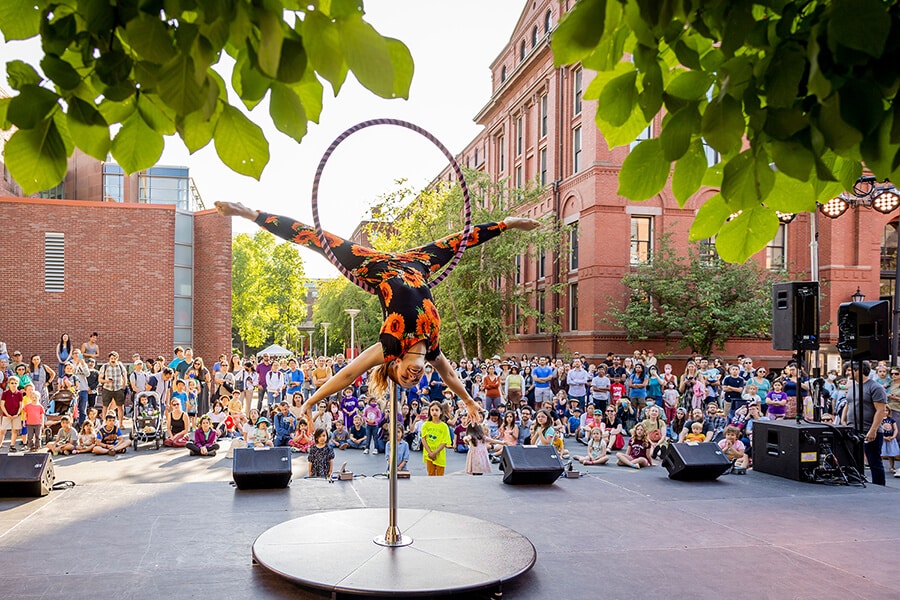 Finding STEM Summer Camps
If you are interested in a STEM camp or program, it's not too late to sign up. These articles feature nationwide STEM organizations and go deep into offerings in Massachusetts.
STEAM Ahead – STEAM Academy: 2023 Summer Sessions
STEAM Ahead's STEAM Academy courses allow students to explore STEAM through guided study and hands-on work with technologies and solutions of today and tomorrow. Various topics are designed to develop skills, including 3D printing, Artificial Intelligence (A.I.), engineering, music & songwriting, environmental science, coding languages, and more! These free virtual courses are open to all students, and are geared toward ages 10-14. Space is limited. Applications close June 23.
GSK's Science in the Summer Program
This year's theme is "Be a Physicist." Science in the Summer is a free education program that aims to inspire the next generation of scientists and engineers by providing opportunities for children to embody science careers, think scientifically, practice authentic science techniques, and have fun. Visit the website to see if there is a program near you.
Maker Camp Registration is Live!
Maker Camp is a free online program providing resources, project ideas, step-by-step instructions, and more to engage kids in creative, project-based learning activities in the summer. Maker Camps are usually set up and run by camps, teachers, librarians, parents, and/or volunteers. Register today!
Register for CyberPatriot Defense Competition
A new season of CyberPatriot, the nation's largest youth cyber defense competition, is open. Teams of high school and middle school students are challenged to find and fix cybersecurity vulnerabilities in virtual operating systems. Using a proprietary competition system, teams are scored on how secure they make the system. Top teams advance through the online round of competition, and the best advance to the in-person National Finals Competition. Teams must register by October 3, 2023.
Congressional App Challenge: Launches June 15
The annual Congressional App Challenge (CAC) launches on June 15. Every year members of Congress across the country challenge students in their districts to create and submit original apps for a chance to win the CAC. The winners of the challenge are publicly recognized. To be eligible to participate in the Congressional App Challenge, you must be a middle or high school student at the time of app submission. Students may register as individuals or as teams of up to four. Students may compete in the district they reside in or in the district where they attend school. Students can register and submit their original apps through November 1, 2023. Pre-register now.
GirlCon Conference on June 23-24
GirlCon is a free tech conference for high school students from June 23-24. The annual event features breakout, professional development, and keynote sessions from numerous companies and backgrounds, allowing attendees to learn and make connections. There's a virtual in-person event in Chicago on June 23 and a digital one on June 24. Register now.
Science & Engineering Apprenticeship Program (SEAP): Applications open August 1
The Science and Engineering Apprenticeship Program (SEAP) places high school students in Department of Navy (DoN) laboratories, where they participate in real Naval research for eight weeks during the summer. Applications open on August 1, 2023, for summer 2024. SEAP gives academically talented sophomores, juniors, and seniors interested in STEM the opportunity to learn about Naval research and technology while receiving first-class mentoring by top scientists and engineers. SEAP is a competitive program with around 300 placements in more than 30 laboratories around the country, in which many participants go on to careers within the DoN. Learn about the application process.
Summer Reading Recommendation
I recently read Hex Allen and The Clanksmiths, a delightful middle school book by MIT Engineer Jasmine Florentine. Jasmine wrote a children's STEM-adventure book with the goal of introducing kids ages 8-14 to engineering in a fun context. She reached out to me because she wants to get the book into the hands of young girls to get them curious and excited about STEM early. This book should appeal to middle school girls and boys—it's full of adventure, magic, mystery, and charming characters. Jasmine introduces the concept of the engineering design process in an appealing and approachable way. The main characters encounter many engineering challenges, and they solve them with curiosity, smarts, and wit. This book is a fun and uplifting read with lots of humor and, at its core, a message of friendship and acceptance. Learn where you can get the book: https://www.jasmineflorentine.com/books.
A New Podcast for Kids: "Keyshawn Solves It"
"Keyshawn Solves It" is the latest audio series from GBH Kids. The podcast follows 10-year-old Keyshawn Keys as he solves mysteries to save his communities' Juneteenth parade. Keyshawn's story is told from his perspective, beginning when he receives a set of old keys that he uses to help solve the mystery of disappearing bikes in his neighborhood. The podcast is geared toward children ages 5-9 and will include eight episodes. Listen to the trailer.
Upcoming Events & Activities in Massachusetts
July 9- August 13: Summer HSSP 2023 at MIT will run virtual classes on six Sundays from 1-4pm. MIT students and members of the MIT community teach classes on topics such as "Algorithmic Justice" and "Playing Games with Infinity" to "Sensory Neuroscience." The program is open to rising 7-12-grade students. Cost: $50 (Generous financial aid is available!) Registration by June 27.
June 10: Meet up-and-coming Harvard scientists at the upcoming Science Spotlights event. Perhaps you'll discuss how studying dog reactions help us learn about the evolution of social behavior. Maybe you'll consider the regrowth of a microscopic worm after injury and what that can teach us about any animal cell. Ages 10–Adults. 2-3:30pm. Regular admission rates apply. Harvard Museum of Natural History, 26 Oxford Street, Cambridge, MA.
June 16: The McAuliffe Center, in collaboration with the National Air and Space Museum and Smithsonian Affiliations, is hosting Sally's Night Celebration, marking the 40th anniversary of Sally Ride's historic STS-7 mission and becoming the first American woman in space. This is a free event featuring a keynote presentation by Dr. Margaret Weitekamp, Curator and Department Chair, Space History Department, National Air and Space Museum, hands-on activities, and stargazing. Registration is required.
June 21: Celebrate Summer Solstice 2023! Join the Harvard Museums of Science & Culture on the longest day of the year—free of charge—to explore the galleries, enjoy lively musical and circus performances, play mini-golf, and make a flower crown. Ice cream, mocktails, and snacks will be available to purchase from food trucks and vendors. This festival is part of HMSC's 10-Year Anniversary celebration. Free event parking will be available at the 52 Oxford Street Garage. 11 Divinity Ave, Cambridge, MA.
July 24-July 28, 9:30am-12pm; for children entering grades 1–2: During the Summer Science Week: Budding Botanists participants will examine living plants, fossils, and even the museum's glass flowers. Come get your hands dirty while you play, experiment, learn, and grow! Fee: $200 members / $225 nonmembers. Advance registration is required. Harvard Museum of Natural History, 26 Oxford Street, Cambridge, MA.
August (all month): Highland Street Foundation sponsors August Adventures, partnering with special Massachusetts cultural institutions to provide one free activity each day for 31 days. The full calendar of events will be released in June.
LEGO® Summer Robotics Workshops in Cambridge
Boston Tech Initiative (BTI) is partnering with robotics leader NE FIRST to deliver 8 weeks of STEM workshops starting June 26th. Workshops will provide 4th–6th-grade students with hands-on robotics experience delivered by local education professionals and veteran FIRST mentors. Participants will learn to design and code LEGO Spike Prime robots, explore various STEM activities, and make new friends. This is great for kids who are new to robotics, joining a FIRST Lego League (FLL) team this coming season or are currently a member of an FLL team looking to enhance their skills. Summer spots are still available.
Tour the New Innovation Trail this Summer!
Are you looking for a unique outdoor activity in Boston and Cambridge? Add the Innovation Trail to your list! The Innovation Trail is a new walking tour highlighting the innovation history in Cambridge and Boston. I joined the tour kicking off the 2023 season in May. It was hosted by Daniel Berger-Jones, Founder of Cambridge Historical Tours, and Scott Kirsner, Innovation Economy columnist for the Boston Globe. The tour was terrific! It was chockful of interesting topics, including the invention of the telephone, surgical anesthesia, the very first bridge between Boston and Kendall Square, how Google came to Cambridge, the genomics revolution, Polaroid, and much more. And the tour guides were wonderful—very knowledgeable and great storytellers. If you love history, walking around Boston, and want to learn more about our rich history of technology and innovation, this tour is for you! Public tours are available every weekend on Friday, Saturday, and Sunday beginning May 20, 2023 through October. Public tour tickets may be purchased online at theinnovationtrail.org at $20 per person. You can also do a self-guided tour using the trail map and the website's trail site information.
Visit the Broad Discovery Center in Kendall Square, Cambridge
The Broad Discovery Center, launched in the fall of 2022, is an active, public educational space showcasing how researchers in Kendall Square and worldwide seek to understand and treat human disease. Admission is free and open to the public. Free tours are offered between 10-3 Monday-Wednesday, and school groups can also book tours via the website.
Guild Hall Opens a Makerspace in Cambridge
Guild Hall (Woburn) just opened a second Guild Hall location, just a block away from Central Square in Cambridge. As an afterschool educational makerspace, Guild Hall fosters an experiential, free-form learning environment that introduces children and teens (8-17) to STEAM and real-world job concepts. They are enrolling students for summer camps in both Woburn and Cambridge.
"Molly of Denali: An Alaskan Adventure" Comes to Springfield Museums
A new cultural exhibit at Springfield Museums brings the acclaimed PBS KIDS® series Molly of Denali to life, now through September 3. The exhibit, Molly of Denali: An Alaskan Adventure showcases Alaska and Molly's life in both the summer and winter seasons. Visitors can pretend to fly a replica bush plane, drive a snowmobile, and navigate a snow maze in snowshoes. The center of the exhibit features the Trading Post and the Tribal Hall from the series, where guests will have the opportunity to explore the great outdoors of Alaska and Alaska Native life, including camping, ice fishing, discovering replica ice sculptures, and caring for sled dogs.
Image Credit: Photo by Caitlin Cunningham Photography LLC