Internships are not just for college students anymore. High school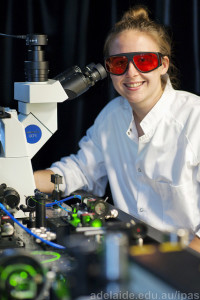 internships allow students to explore their areas of interests, build skills, get prepared for college, and gain real-world work experience in a professional environment.
If you are interested in pursuing a science, technology, engineering, or math (STEM) internship in high school, the next step is to figure out how to find one that is a good fit. I recommend using a mix of personal contacts, targeted web searches, and internship specific websites to explore and find opportunities.
We are fortunate to have access to a variety of established STEM internship programs for high school students in Massachusetts, most of which are offered during the summer. The following list includes many of the well-known programs. It's not meant to be exhaustive, though, so if you have an interest or a geographical preference that isn't represented here, use the other resources suggested on this page to research other interships.
Sponsor
Program
Location
Focus
Time Frame

BATEC, BPS, PIC and OIIT

Tech Apprentice Program

Boston area

Information Technology (IT)

Summer

Biogen

Community Lab Summer Sessions
Cambridge

Drug development & biotech laboratory techniques

Summer

Boston Private Industry Council (PIC)
Tech Apprentice
Boston
Information Technology

Summer 

Boston University

GROW (Greater Boston Area Research Opportunities for Young Women)
Boston

Biotech and research

Summer

Boston University

Research Internship in Science & Engineering (RISE)

Boston

Hands-on research in science and engineering

Summer

Brigham and Women's Hospital

BWH Summer Internship Program, Student Success Jobs Program & Project TEACH
Boston

Health, science and medical

Summer or school year

Broad Institute

Broad Summer Scholars Program
Cambridge

Cutting-edge science research

Summer

Center for Excellence in Education

Research Science Institute

Cambridge

Science and engineering

Summer

Dana-Farber/Harvard Cancer Center

 

CURE

Boston 

Cancer research

Summer and school year

Forsyth

Educational Outreach Program
Cambridge

Lab techniques and scientific research

Summer

The Jackson Laboratory

Summer Student Program

Bar Harbor, Maine & Farmington, CT

Genetics and genomic research

Summer

Massachusetts General Hospital

MGH Youth Scholars Program
Boston

Research, medicine and healthcare

Summer and school year

Massachusetts Life Sciences Center

High School Apprentice Challenge

MA
Life sciences internships and lab training

Summer and school year

Museum of Science

Internships
Boston

Science and education

Summer and school year

National Institutes of Health (NIH)

Summer Internship Program in Biomedical Research (SIP)

Framingham

Biomedical research

Summer

New England Aquarium

Summer Teen Internships
Boston
Marine and climate science
Summer

Northeastern University

Young Scholars Program (YSP)
Boston

Engineering

Summer

Smith College

Summer Science and Engineering Program (SSEP)

Northhampton

Hands-on research in the life and physical sciences and engineering

 Summer

UMass Medical School

High School Health Career Program (HSHCP)

Worcester

Biomedical research, biotechnology and health professions

Summer

Woods Hole Science Aquarium

High School Summer Intern Program

Woods Hole

Marine animals and environments, aquarium operations, and marine science

Summer
Additionally, the following organizations can assist high school students in finding STEM internships at companies and organizations:
The Education Cooperative (TEC) Internship Program: High school junior and senior students in Boston Metrowest apply for unpaid internships in science, technology, and engineering.
Internship Connection: This company will establish internships for high school students in fields such as computers, engineering, and science.
InternBoston: This company will develop and provide unpaid, customized summer internships in computer science, engineering, and science for high school juniors and seniors in greater Boston.
Discovery Internships: This organization offers an all-inclusive summer internship experience. In addition to hands-on, career-focused learning opportunities, students live in and explore Boston.
It's not too early to start thinking about an internship. With many terrific STEM high school internship programs here in Massachusetts and a variety of online sources to find specific internships, you have many options to discover and explore opportunities.
Editor's Note: List has been updated for 2018.
Image Source: IPAS institute for photonics & advancing sensing