Are you a curious high school student eager to explore the STEM fields before college and get some real-world work experience? You'll be happy to know that STEM internships for high school students do exist and help you get both those benefits. Internships not only provide valuable work experience but they can help you build knowledge in specific subject matters, allow you to explore your interests on a deeper level, and give you insight into how your school work translates into real-world applications and problem-solving. Internships can also stand out on your college application.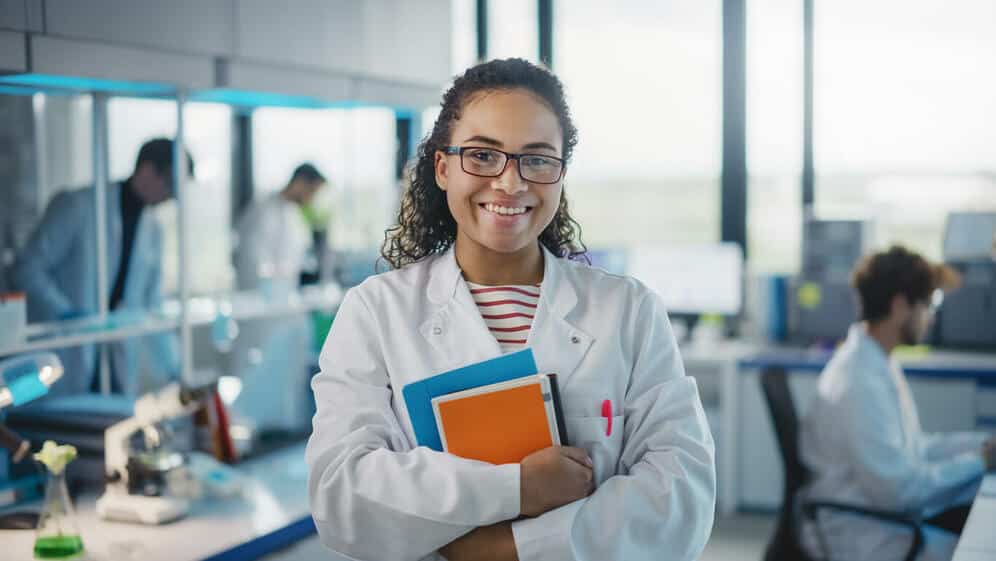 What Kinds of STEM Internships Are Available?
In my time as BostonTechMom, I have come across a wide array of high school internships in such areas as medical and healthcare, biotech, research, lab training, IT, and other science and engineering domains. There are likely internships in other fields, so don't feel limited by that list: search the resources in this article to find what interests you. Many internships run during the summer, but it's also possible to get one during the school year. Some internships are paid, and others are not. While many are in-person, remote internships can also be an option and might give you more flexibility.
How Can I Find a STEM Internship?
While STEM internships for high school students do exist, they are not always easy to find and you will need to do some work to discover them. Here's the process that I recommend.
Talk with your personal contacts. I always recommend starting with your math and science teachers and people you know who work in STEM and asking them if they are aware of internship opportunities.
Do research and look for established internship programs in your community. Some companies, nonprofits, research and medical institutes, and even museums run special STEM high school internship programs each year. The best way to find these programs is through online searches, using specific keywords based on your interests and geographic location. For example, when I searched for "high school science internships Boston," I learned that the Museum of Science had a program for high school students. It may take some time to test out different keyword searches, but you should start to get a sense of what's available.
Use job search and internship websites to find internship listings. If you want to cast a wider net, looking at postings on job search websites can give you an idea of what's currently available. Searching for opportunities can take time and dedication, but you just might find a great opportunity.
Websites with Internship Listings 
Each of the following websites has internship listings as well as paid job postings and other content. It's best to create a free account so you can easily search for opportunities. Search on your interests and desired locations and use filters to narrow down your options. If possible, set up automated alerts to get daily notifications on new internships.
Of the several websites below, I recommend starting with Chegg Internships, as they are well-known as a college and high school internship finder, and have a large number of listings. Most of the other sites are not primarily oriented to internships, and so searching within them for opportunities can take some patience and creativity. Take some time to get to know each site's layout and posting conventions, then experiment with different search terms and filters to find internships and filter out permanent job postings. Read several postings, even if they're in fields you're not interested in, so you can become familiar with the terminology and learn to read between the lines. This process can be hit or miss, but it's worth a shot if you are able to find something.
Startup Companies
Another way to find an internship is to see what kind of startups are in your area, as these companies are generally in need of tech talent. AngelList and Built In are two websites devoted to startups, job seekers, and tech news. While you might not find an internship right away, you could discover cool companies that you would like to work for someday, intern for during college, or just follow as they progress. Or be a go-getter: try contacting them now and see if you can be of service.
Final Thoughts
As you start this process, there are some things to take into consideration.
First, give yourself enough time to prepare your application materials, conduct your search, and then interview. The process can take a while.
Be aware of each internship's application deadlines and any eligibility requirements, such as age/grade, resident of a state or particular city or town, underrepresented populations, and availability to participate at a specific time. Make sure you're eligible! You'll save yourself time by passing on programs you're not eligible for.
You may need a high school transcript, letters of recommendation, and a resume. Request copies of your transcript and ask your teachers for letters of recommendations early in the process, and build in time for them to respond to you. If you don't have a resume yet, learn more about it in this BostonTechMom article about STEM resumes.
Be patient, follow up, and be professionally persistent. Take the initiative to reach out to a company even if they don't offer high school internships: ask if you could come in and shadow someone for a few hours. Who knows where it could lead?
Many students are interested in the medical and healthcare field. Get tips on finding a medical high school internship, job, or volunteer experience in the healthcare field.
If you live in Massachusetts, I have compiled a list of STEM internship programs for high school students.