If you're a high school student with an interest in a STEM area (or more than one!), you might be considering volunteering or doing community service so you can share your knowledge and enthusiasm about STEM with others.
Why Be a STEM Volunteer?
Lots of teens participate in community service today, for a variety of reasons. More and more schools and clubs are requiring students to do community service. Even if it isn't required, volunteering can be a rewarding experience, bringing you into contact with people who need your help, and giving you a chance to see how your knowledge applies to real-world situations. You can expect to build your own skills—whether STEM-related, organizational, or interpersonal—while gaining real-world experience and adding to your college application portfolio. Finally, and perhaps most importantly, you'll get the satisfaction of knowing that your service will benefit the people and organizations you work with.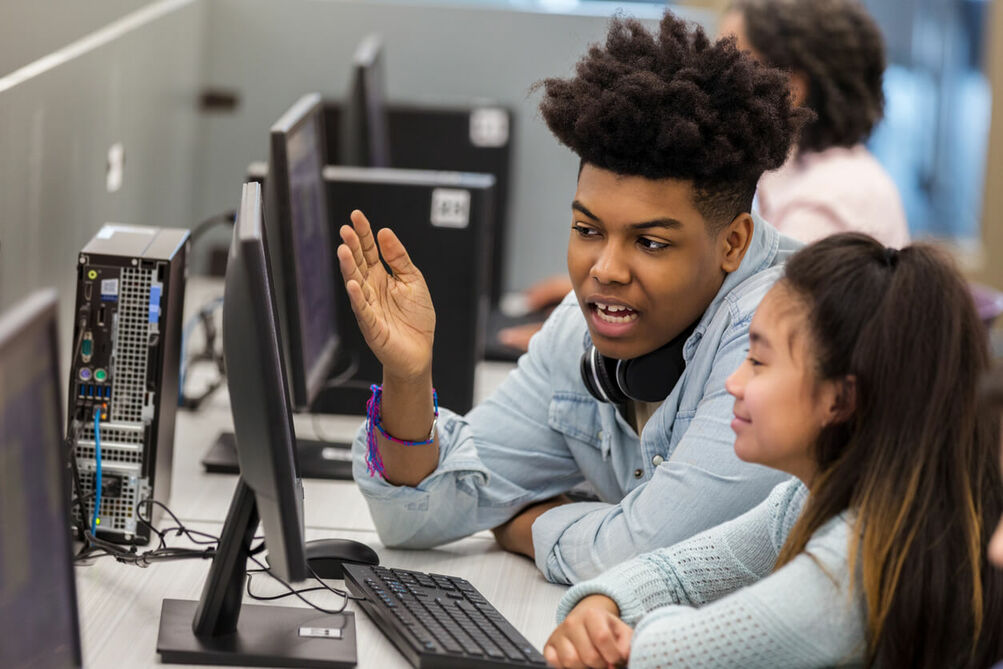 Know Thyself
While you might not have heard of STEM-related volunteer work, there are plenty of opportunities to share your love for science and technology, coding, robotics, or math. You don't need to be an expert or a techno whiz to help others. Before you start searching for specific opportunities, take a few moments to think about yourself as a volunteer.
What skills do you have that you can contribute to a volunteer experience?
What area or areas interest you? (Is it very specific, like programming robots using Raspberry Pi, or more general, like having an interest in biological sciences?)
Do you want to work with people or would you prefer a task that you'd do alone or in a small team? Do you want to work primarily with adults or with other teens or younger students?
Do you want to work outdoors or indoors?
How much time can you devote to volunteering? Do you want to volunteer year-round on a regular, scheduled basis (e.g., every Thursday from 4 to 5 at the library tech center helping patrons with their tech problems), over the summer (e.g., as an assistant at a STEM day camp), or for just a one-time project (e.g., as a volunteer at a local nature preserve)?
There's no right or wrong answer to these questions. Knowing your answers to them will simply help you find a STEM volunteer opportunity that's a good fit for you.
STEM-Related Volunteering Ideas
Wondering what a STEM volunteer opportunity or community service activity might look like? Not sure what you might be able to contribute? Here are 10 ideas to explore. See if any spark your interest!
Tutor elementary, middle or high school students in STEM subjects like science, math, engineering, or computer science.
Teach kids to code (or assist in a coding club, after-school program, or summer camp).
Be a student assistant in an after-school enrichment program like a LEGO club or robotics group.
Be a summer assistant at a summer recreation camp, school enrichment class, or a non-profit STEM camp.
Help adults and seniors with their tech—smartphone, tablet, laptop, online searches—at the library, senior center, or community center.
Do web design, make social media posts, or create graphics and videos for a non-profit (e.g., your town's farmer's market, nature conservancy, or library).
Do trail maintenance or other outdoor projects with a local park or nature preserve or the state or national park service, particularly if you're interested in ecology, environmental science, or forestry.
Help a local history museum or living history site with a science-related project, like an archaeological dig or digitization project.
Volunteer at a hospital or clinic, especially if you're interested in medicine or the biomedical sciences.
Choose a cause that you care about, like the environment, and see how you can get involved. For example, the environmental nonprofit Sierra Club has the Sierra Student Coalition, a network of students across the country in service of movements for climate, racial and economic justice.
Ready… Set… Search!
Once you know what kind of volunteering you'd like to do, it's time to search your area for just the right STEM volunteer opportunity for your skills, interests, and personality. While there are lots of volunteer opportunities out there, in reality, it's not always easy to find ones that are STEM-specific. Some organizations have formal volunteer programs, but often you will need to contact an organization directly and make a case for why they should take you as a volunteer. Need help finding a volunteer activity? Read the related article on How Teens Can Find a STEM Volunteer or Community Service Opportunity.