Do you want your kids to learn to code? Or are they curious to learn something about coding? More and more students are getting some exposure to computer programming before they head to college, whether it's in the classroom or in an out-of-school program. Regardless of whether they pursue a STEM career or not, today's generation of kids will benefit from exposure to computer programming and coding, especially if it's a fun experience.
Fortunately, there are many choices if you are looking for in-person coding classes for your kids, here in Massachusetts and beyond. There is a wide range of after-school programs, summer camps, and clubs that teach students to code using creative, instructive, fun approaches to learning. (And some also offer live, online classes.)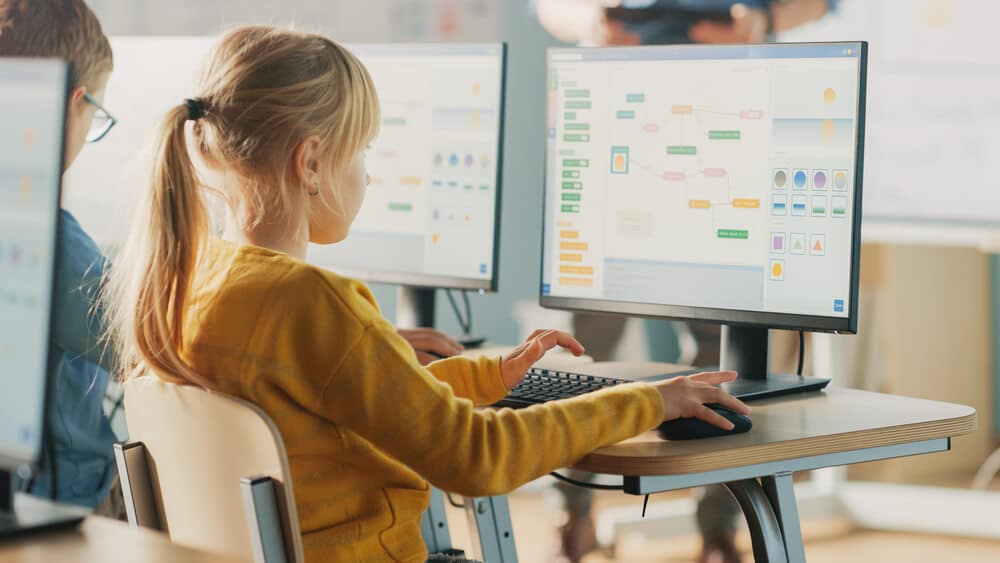 A
Word on Computer Science Programs in General
Coding, the focus of this article, is just one aspect of computer science (CS), the study of computers and computing. Before diving into great coding programs, I want to let you know that you can also find a lot for your child to explore in the wider world of computer science. Here are some examples:
Delve into specific fields like Artificial Intelligence, Cybersecurity, and Data Science and learn how computer science is applied.
Check out multidisciplinary STEM classes, especially those that combine coding and other aspects of CS with hands-on engineering projects that also incorporate coding by, for example, using coding to fly drones and drive robots.
For older kids and teens, computer science pre-college programs are popular and also give students a chance to get some CS experience before attending college while having the experience of being on a college campus.
Students now have more options for AP classes in high school. AP Computer Science Principles was introduced in the 2016-2017 school year as a second AP CS class offering. The course was designed for students who do not have prior computer science experience, and the expectation is that after completing the course, students will move onto AP Computer Science A.
Choosing a Coding Class or Camp for Your Child
A lot has changed in the five years since I originally explored this topic. The number of organizations offering coding programs has increased and so have the breadth of the offerings—more choices for all ages, interests, and experience levels! I've been pleased because it means more opportunities to appeal to more kids, whether they just want to get some exposure to programming or they already have some experience and want to go deeper. There's something for everyone, so every child can have a meaningful experience.
As you think about the possibilities, here are some examples of different pathways that might work for your child:
Summer coding camps designed especially for two popular games, Minecraft and Roblox, are very popular for young kids today. Working within a game they're already familiar with can be a great way to try out coding.
Kids who love to play computer games in general might want to try game design and create their own games.
If your child loves to do hands-on projects, they might want to find a program that combines engineering and coding, for example, building a robot and bringing it to life with code.
Dive into the mobile world and learn how to develop an app for iOS or Android.
Coding programs, classes, and camps are typically offered for all levels: beginners (no experience necessary), intermediate, and advanced. Classes are generally offered for students beginning at ages 6–7 all the way through high school. Beginners might learn to code with kid-friendly visual programming languages like Scratch and Blockly, in which kids can drag and drop code blocks to design games, make characters move, and more. As they gain knowledge and experience, students can learn popular programming languages such as Python, Java, JavaScript, C++, and C# and use them to design games, build apps, develop websites, and work on personal projects.
In Massachusetts, coding classes are offered throughout the year, and may be in other areas as well. Think about your child's learning style as you consider programs. In my experience, some kids learn to code best at summer camps, when they can be 100% focused. Other students do well participating in after-school programs. Some even choose to take classes year-round. Preference and timing are up to you, your child, and your family's schedule.
Once you've narrowed down the format you think will work best, sit down and look at programs with your child and see what sparks their interest. Most organizations give detailed descriptions of classes and camps on their websites. Look for criteria that best match your child's learning style. Your child may not know what the options are, so be prepared to read the descriptions and explain what they mean or contact the organization for more information.
Massachusetts Coding Classes and Camps
If you are searching for a coding program in Massachusetts, here is a curated list of organizations that offer coding classes and camps. While the organizations listed here primarily focus on teaching kids to code through programming classes and camps, you can also find other good organizations that offer coding instruction as a component in their STEM-related classes. Note also that many of these programs are national franchises, so if you're not in Massachusetts, check their website for programs in your region.
Year-Round Programs (after-school and summer)
Code & Circuit (Amesbury) is a community-focused nonprofit organization helping students to explore technology and computer programming through clubs, classes, workshops, and summer camps that encourage creativity and self-expression via coding, robotics, and circuitry. (Grades K–12)
Code Chef (Chelmsford) is a private learning center specializing in coding and STEM lessons in Python, PyGame, Tkinter GUI, Javascript, C#, and Java. Kids under six learn logic and coding concepts using apps such as Coding Adventure, LightBot, and Scratch Jr. Code Chef also offers after-school STEM play options for elementary school children with a large selection of engaging activities such as LEGOs, robotics, science experiments, puzzles, and problem-solving. Students are introduced to mathematical and scientific concepts with household objects. They also have classic arcade games, foosball, Hotwheels tracks, and human-size blocks. (Ages 6-14)
Code Ninjas is a large national franchise with seven locations in Massachusetts: Arlington, Canton, Medfield, Shrewsbury, Sudbury, Waltham/Newton, and Wellesley. Students learn to code in a fun, safe, and inspiring learning environment with a game-based curriculum. As they make progress, they achieve different belt levels, just like a real dojo, which encourages them to continue to learn and grow. The after-school program allows flexibility for busy family schedules: no classes and no scheduling. Simply drop your child off at the center during student hours. Summer camps require registration and offer different themes, including coding. Visit the website of your local center to get details about year-round programs and summer camps. (Ages 5–14)
Code Wiz, a Boston-area franchise, has seven Massachusetts locations—Arlington, Medford, Needham, Quincy, Reading, Westborough, and Westford—and offers personalized coding and robotics classes for all ages and experience levels, plus summer and holiday camps. Younger students develop critical problem solving and algorithm design skills while building video games with multiple levels, creating and animating their own characters, creating music videos, building physics simulations, and more. Students have the option of choosing from Java, Python, Unity, or a deep dive into HTML, CSS, Bootstrap and Javascript. (Ages 7–17)
Coding Butterfly (Needham) is an after-school and summer coding and robotics educational program that provides a personalized, hands-on learning experience. Students practice world-building, game design, and robotics as they put their knowledge to work learning Python, JavaScript, and digital art and animation. (Grades 1–8)
CS Recitations (Natick) was founded by MIT alumni who believe that computer science is a core competency. CS Recitations offers a year-round after-school program with a comprehensive curriculum for grades 3-12. The program is designed to meet and exceed Massachusetts DESE standards for computer science, including an accredited AP Computer Science class, a challenging MIT edX Python programming recitation, and international competitions. In-person, small classes offer an ideal social learning environment. (Ages 8–18)
Einstein's Workshop (Burlington) is a hands-on learning center that offers a variety of coding classes. Learn basic concepts of programming using the popular program Scratch along with other programming languages. (Grades K–9)
Empow Studios (Lexington, Newton, + other summer camp locations) brings technology, art, and play together to help young learners discover and build on their creative talents. Empow Studios offers classes for kids who want to try their hand at creating games, animations, and applications by writing code. They also offer summer and vacation camps in Minecraft, video game design, coding, and robotics programs. (Ages 7–15)
Girls Who Code (multiple MA locations) is a national nonprofit organization that aims to support and increase the number of women in computer science. The organization is working to close the gender gap in technology and change the image of what a programmer looks like and does. Girls Who Code offers free coding clubs for girls and the Summer Immersion Program, a free program where participants learn web development with HTML, CSS, and JavaScript while getting an inside look into the tech industry. (Grades 3–12)
iCode (Wellesley) engages children in a STEAM learning experience that empowers future innovators through unique learning experiences in a variety of exciting and fun topics and new technology, such as VR (Virtual Reality), AI (Artificial Intelligence), drones, digital arts, mobile apps, coding, game development, and electronics. This national franchise offers several formats, including a "belt" program, a more flexible pathway program, a self-paced program, and camps. iCode strives to help children collaborate, think critically, and build transferrable skills and emotional awareness and intelligence through a series of team projects and individual practice. (Ages 7–18)
KTBYTE (Lexington) is a local company that teaches live, online, and in-person computer science classes in a progressive curriculum. Entry-level classes, such as the fundamentals ("FUN") curricula, use drag and drop programming frameworks such as MIT Scratch or KTBYTE's "Java Blocks." As students take higher-level classes, they are required to type their code, learn advanced problem-solving skills, and eventually unlock college-level content. KTBYTE's mission is to stimulate young students' interests in computer science and help advanced students achieve their goals before college. (Ages 7–18)
Machine Learning for Kids (Lexington) was created by MIT alumni who believe that when kids make something, they get excited! The machine learning syllabus is divided into projects. After finishing courses, students will have a collection of completed data science projects, showcasing their skills and ideas developed over time and building a solid college-ready portfolio. The organization also prepares students to participate in the Mass Science Fair and other competitions, helping students stand out and create connections with university professors and industry experts. (Grades 4-11)
Penguin Coding School (Lexington, Newton & Acton) was started by a Lexington dad wanting to get kids excited about coding. The unique curriculum emphasizes the joys of creation as the motivation for learning. Penguin offers a variety of coding classes during the school year such as Scratch, Minecraft, Roblox, Python, and Lego Robotics. In the summertime, Penguin holds weekly summer programs where students get to make 3D prints, do fun and interactive science experiments, battle LEGO robots, and learn how to code. Penguin also offers programs during the school year to prepare students for the First Lego League Robotics competitions, as well as the American Computer Science League exams. The school emphasizes the importance of learning at a proper pace, as free trial classes are offered to determine which class would be the right fit for each individual student. (Ages 5-18)
theCoderSchool (Sudbury) is a national franchise with a small teaching ratio and individualized immersion-style instruction to get kids learning to code quickly while having fun. theCoderSchool focuses on a mentor relationship with experienced coders, Code Coaches®, who guide students through their technical journey. (Ages 7–18)
Uptime Esports Academy (Hanover) offers STEM-based learning activities in a state-of-the-art facility loaded with technology. Students can learn about esports, digital game design, coding, animation, PC building, engineering, and more. Programs range from beginner to expert and include both social and competitive levels: students can join a competitive team or join just to learn. Programs run from 5 to 10 weeks and are offered during the day, after school, and on weekends. Sessions are taught by experienced instructors who are certified in their area of expertise. (Grades PreK–12)
Summer-Only Programs
AI4ALL (Boston University) is a program promoting greater diversity and inclusion in the field of Artificial Intelligence (AI). Young women currently in their sophomore or junior year of high school in MA are welcome to apply. During the 3-week program, participants explore the field of AI through team projects, industry field trips, and presentations by guest speakers. The program concludes with a small group research project and a presentation for friends and family. (Girls, Grades 10–11)
Codebreakers (Boston University) is a program for young women interested in learning about computer security who are currently either high school freshmen or sophomores. Graduate and undergraduate students teach participants how to apply basic security concepts through gaming, modeling, and simulation development. Students learn to program in Python, as well as about robotics, digital forensics, cryptography, system vulnerability, and cyberethics. (Girls, Grades 9–10)
Emagination STEM Camps (Bentley University, Waltham) teaches teens to code using Java, one offering in its day and overnight summer STEM camps for kids exploring computer programming, robotics & engineering, graphic design, and other STEM topics. The immersive 2-week coding program gives students the fundamentals of Java code and programming for building a variety of Windows applications, XML Web services, distributed components, client server applications, and so much more. (Ages 13–17)
Game Camp Nation (Waltham) offers both day and overnight camps for kids exploring coding, game design, and pixel art with JavaScript and a powerful game engine using a 2D/3D platform. Students sharpen their skills to improve STEM proficiency as they practice creativity, critical thinking, communication, and collaboration. Each session a camper attends, they'll build off their previous week of camp with more complex projects and game design challenges. (Ages 9–19)
iD Tech (Bentley University, MIT, Olin College, and UMass Amherst) provides coding programs on campus as part of its many STEM camps. From coding and game development to robotics and design, kids and teens at the CS summer camp learn in-demand skills and ignite lifelong passions. Each week, students receive one-on-one instruction in small classes, make new friends, and complete a project they showcase at the Friday diploma event, along with other fun summer camp activities. (Ages 7–17)
Kids 4 Coding (Cambridge + West Roxbury) teaches kids and teens to code using games, animations, robots, drones, driverless cars, micro: bits and other cutting-edge technologies. Kids dive into real-world programming languages like Python, C# and JavaScript. New curriculum modules each summer ensure engaging activities for returning students. Lessons boost communication, teamwork and problem-solving skills. Small class sizes and passionate instructors create the ultimate learning environment. (Ages 7-12)
The Artemis Project (Boston University) is a five-week summer computer science program for rising 9th-grade Massachusetts girls. Participants learn computer languages such as Scratch, AppInventor, HTML, CSS, and Python. Students are introduced to robotics, cryptography, artificial intelligence, and circuits. In addition, they learn how computer science is applied in the real world by hearing from guest speakers and visiting local industries. (Girls, Grade 9)
The Wolfram High School Summer Research Program (Bentley University, Waltham) is an intensive two-week program designed to advance high-school students' programming and problem-solving skills. Through lectures and activities led by Wolfram instructors, students use Wolfram Language to learn and apply computational thinking skills. Students will develop a project that is suited to their coding ability and subject knowledge and take it from ideation to finished product. The program combines hands-on training, expert speakers on topics of interest, peer collaboration, and individual exploration in an interactive and engaging environment. (Grades 9-12)
Pre-College University Computer Science Courses
Some universities offer summer computer science and coding classes for high school students. Here is a sampling of schools that offer courses. Please inquire with universities in your area to see if they provide programs for high school students.
Even More Resources
The wide variety of coding programs offer your child plenty of learning choices within coding—and there are even more programs within the wider world of computer science. All of these programs will help prepare your child for a future in which comfort with tech and computer science will be important for everyone, not only people who go into technical and scientific fields.
If your student wants to continue exploring and learning about computer science, check out your high school's courses. Many schools offer introductory coding classes and some offer AP Computer Science A and Principles. Students can also put their coding skills to work and participate in a hackathon, especially if they enjoy working with others and like to create projects. These events typically last 1–2 days and are a great way to build skills, learn from others, and make new friends! The Hack Club site provides a great curated list of both in-person and virtual hackathons for high school students.
For programs that take a more focused dive into computer science areas, you might find these articles helpful: