Is your child a tinkerer? Curious and prone to taking things apart to see how they work? A student who thrives on project-based learning? Do they generally have the discipline and initiative to complete projects on their own? Doing an independent DIY STEM project at home could be a rewarding experience, particularly during the summer, when they have plenty of time and may need something to do. With projects that involve electronics, design and engineering, building, and even coding, teens can explore, experiment, express themselves creatively, and learn at their own pace.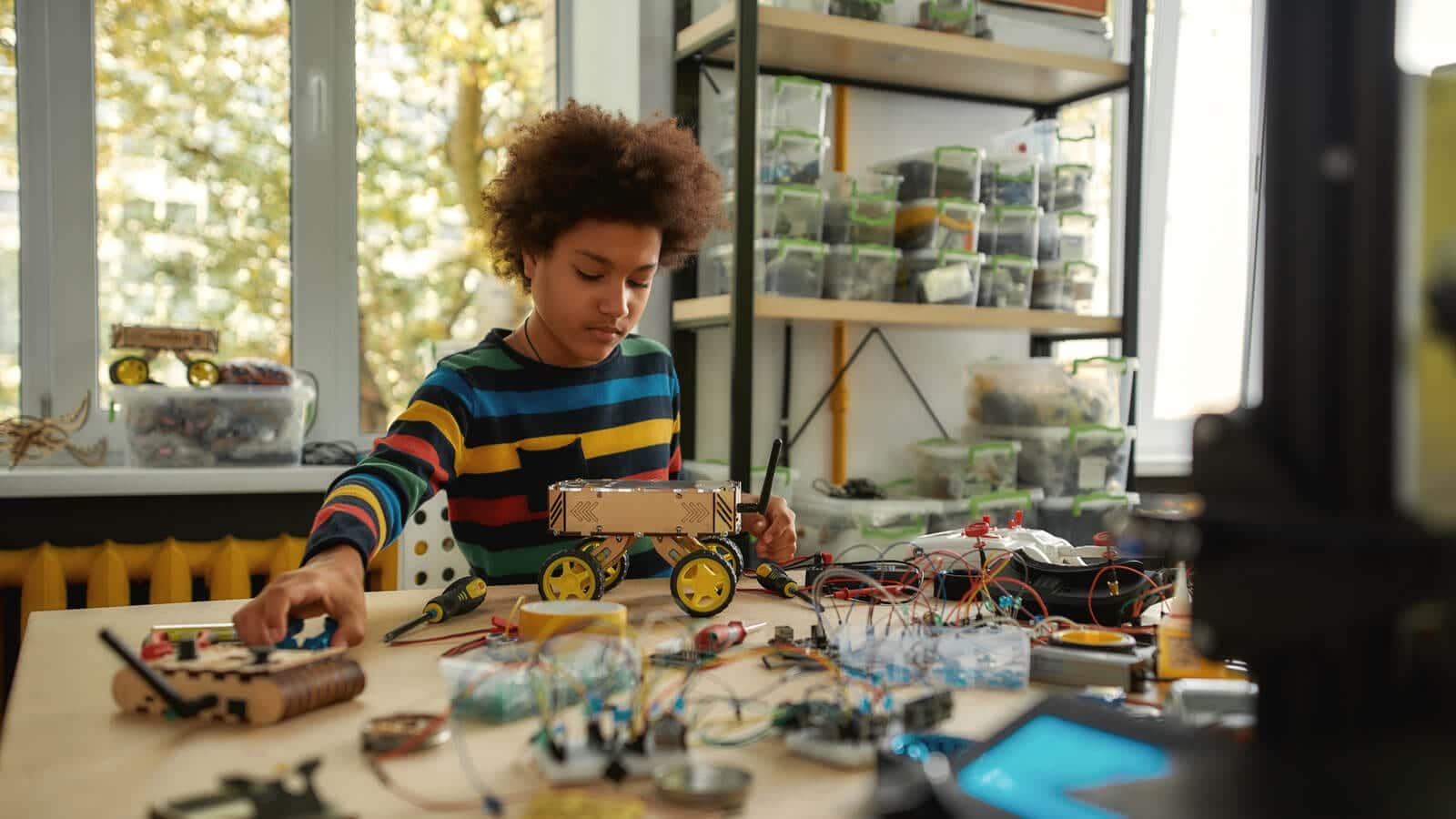 At-Home STEM Projects
Years ago, when my teenage daughter had aged out of most summer camps, we challenged her to pick a few tech projects that she would work on at home over the summer. It was a success: she chose and completed her projects, and documented them for her college application (learn more about tracking a student's STEM activities for college applications here). Along the way, we learned a lot about the resources available at the time. If you're considering a similar experiment with your hands-on teen explorer, I encourage you to read about our experience and the process we used with our daughter during that summer.
Choosing Projects
The first step—which can be a lot of fun in itself—is to seek out the right project or projects. Your teen may enjoy the research process and discover new areas that spark their interest and curiosity. Fortunately, there are plenty of resources that help with this stage of the process.
The growing interest in maker projects and the evolution of technology that can be used at home has made it easier for teens to independently tackle their own tech projects, both during the school year and over the summer. There's a wide range of STEM projects to do at home, for kids of all ages, skills, and experience levels, from beginners to intermediate to experienced STEM makers. And it's easy to source most of the tools and supplies online.
Not sure where to start? I've compiled a guide to help.
Popular, Instructive Online Resources
The online resources described below are some of the most popular and useful for at-home maker projects today. They include online stores for supplies and tools, how-to guides for specific projects, online classes, workshops and self-guided tutorials, downloadable design software, supportive interactive communities, and events.
A note on your child's age: While this guide is intended for teens who want to take initiative and devise their own projects, these resources can also be used by younger children with some support or assistance from parents. Whether your child already has a project in mind or you just want to see what's possible and get some ideas, the resources here will help guide you.
1. Instructables – Community that shares DIY STEM projects
Originated at the MIT Media Lab, Instructables is an Autodesk website that specializes in user-created and uploaded DIY projects ranging from 3D printing to gardening to robotics and more. Instructables is a community for people who like to make things and share their ideas and projects. For example, the Circuits category features step-by-step projects, including wearables, assistive technology, art, and Arduino; the Workshop category includes projects about 3D printing, energy, and science. Instructables also runs contests and hosts online classes. The Instructables team recommends these projects for teens:
2. Adafruit – Electronics projects, tutorials, guides, and products
Founded by MIT engineer Limor Fried, Adafruit aims to create the best place online for DIY electronics projects and making the best-designed products for makers of all ages and skill levels. The site includes tutorials and guides to learning electronics, many ideas for projects, and YouTube video tutorials. Adafruit sells electronics products, electronics components, tools, and accessories, and also makes and sells unique and fun DIY electronics projects and kits. If you're not sure where to start or just want to get some new ideas, their Shopping Guides are a great place to start. The guides are based on themes like IoT, Young Engineers, and Devices and Sensors. Founder Limor Fried suggested these projects for teens:
3. Tinkercad – Design software for kids
Tinkercad is a powerful tool for young people to bring their ideas from mind to design in minutes. It is also free, easy to use, and browser-based—no need to download software. It works well on Chromebooks, and the Tinkercad iPad app includes an exciting AR feature for unleashing your designs into the world around you. Within Tinkercad, there are three environments to explore: the 3D Design, Circuits, and Codeblocks.
In the 3D Design, kids can create designs with a simple "drag and drop" of shapes. In the Circuits environment, you can learn simple circuits and even program an Arduino board. The newest editor, Codeblocks, uses the same type of blocks as Scratch, so that students can design a printable 3D model, or a GIF, that they made with code. Browse the gallery to see what other tinkerers are creating. Kellyanne Mahoney, Youth Program Specialist at Tinkercad, thinks teens will enjoy these STEM projects:
4. Thingiverse – 3D printing projects, lesson plans, and community
MakerBot's Thingiverse is the world's largest 3D printing community, widely used by the DIY and Maker communities. Here you can discover, learn, make, and share 3D printable designs and objects. Find hundreds of free lesson plans that offer step-by-step instructions for maker projects, a good option for learning independently.
5. SparkFun Electronics – Electronics retailer that offers classes and tutorials
SparkFun is an electronics retailer that sells all the parts you need to make your DIY electronics projects. All products designed and produced by SparkFun are released as open-source hardware. In addition to over 2,000 components and widgets, SparkFun also offers classes and online tutorials designed to help educate individuals in the world of embedded electronics. 
6. Hackster – Hardware developer community with projects, tutorials, and contests
Hackster is a large developer community for learning, programming, and building hardware, with 1.3M+ members and 20K+ open-source projects. On the website, you can explore projects, videos, and on-demand workshops, take part in contests, and find events.
7. Make: – Community with maker projects, kids' camp, a magazine, and more
The Make: community is a leader in the maker movement, publishing a magazine, hosting Maker Faires around the country and a Maker Camp for kids, and featuring a projects website full of ideas, collaboration, and resources for DIY enthusiasts. Visit the website for inspiration, learning, and sharing of ideas and maker projects. The team at Make: suggests these projects for teens:
Need More Structure?
DIY STEM projects may require more discipline, planning, and initiative than your child has or wants to deploy during the summer. Or your child may simply not be ready to tackle independent at-home projects on their own. If so, I'd suggest subscription services that will help structure your child's projects and lend some excitement to the process, as each project arrives in the mail on a regular schedule. Generally, you choose an area of interest and your child's age, and pay a monthly subscription fee. Projects arrive at your door, complete with instructions and supplies. There are a number of companies providing this service, for example, KiwiCo, Little Passports, and MEL Science.
In-person Makerspaces
If your teen is a maker and wants access to tools you don't have at home, in-person interactions with other makers, or the opportunity to do projects at a facility, look for a makerspace in your area. There is a whole movement around the country of makerspaces, each housing an enthusiastic community of makers. In fact, many of today's makerspaces welcome young people, having designed their spaces with students in mind. Learn more in my article about Massachusetts Makerspaces: Where Kids Invent, Tinker and Create.
Final Thoughts
The STEM projects described here are just a small sample of the multitude of ideas you'll find by exploring these organizations' websites. Dip in or dive deep—you and your DIY teen are bound to find something that's intriguing and engaging!