The maker culture or "do-it-yourself" (DIY) movement is widespread and thriving and it spans all ages, from adults and teens to young children. People who are part of the maker movement have a desire to use their imagination and ingenuity to design and make things. The maker community celebrates an inventive mindset and promotes self-learning, creativity, hands-on building, and experimentation.
In response to interest and growth in the maker movement, makerspace locations are opening up around the country. You can find makerspaces in schools and libraries and in other public and private facilities. Here, people work on projects, share knowledge and ideas, and enjoy the company of those with similar and diverse interests.
What is a Makerspace?
A makerspace is a place where people of all backgrounds come together to invent, learn and work on hands-on projects. Makerspaces are community-based and emphasize education and collaboration. Kids are encouraged to participate too. In fact, many of today's makerspaces welcome young people, having designed their spaces with students in mind.
Each makerspace is unique in its own way and many offer workshops and activities created just for kids. Here are some examples of makerspace projects you might come across:
Electronics and circuits
3D design and printing
Robot building and testing
3D art design
Woodworking
Sewing
Wearable technology and more!
In many cases, makerspaces have open hours. This is when kids and families can work on their own projects and utilize the tools available, such as soldering irons, power drills, laser cutters, and 3D printers. Depending on the space, there might be parts on hand you can use, such as electronic components (e.g., breadboards for circuits and LEDs) and craft materials. You might even have access to computer software (e.g., 3D design printing, CAD, etc.)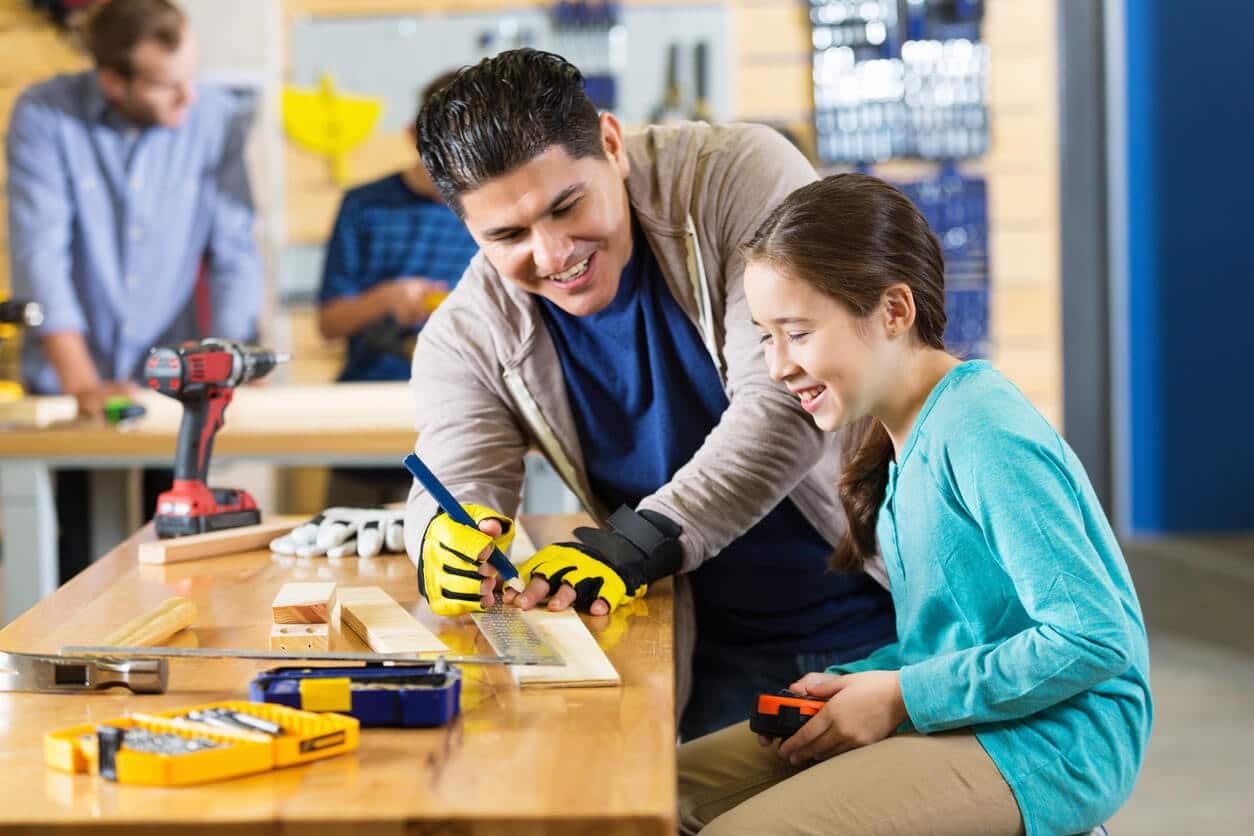 How Makerspaces Benefit Kids
Being part of a makerspace is a great opportunity for kids to develop real-world STEAM skills (science, technology, engineering, art, and math). Here is what you will likely find:
You get to make a lot of COOL stuff!
Creativity is king. Makerspaces allow you to discover new interests and develop expertise in a supportive, community-oriented environment.
You learn by doing.
The culture values self-direction, self-learning, and exploration.
You're meant to have fun! The right makerspace should be a low-pressure environment which allows you to experiment and learn at your own pace.
Makerspaces for Kids in Massachusetts
If you are looking for ways to introduce STEM to your kids, visiting a makerspace and participating in an activity could open their eyes to a great new experience. Many of the facilities are family-oriented too, so you can often work on projects together.
The following list includes makerspaces in Massachusetts that welcome kids and/or have children-specific programs and activities. Visit their websites to learn more and get specific details about programs, costs and hours of operation.
| Organization | About | Details | Location |
| --- | --- | --- | --- |
| Artisan's Asylum | Artisan's Asylum is a 40,000 square foot community wonderland. Their mission is to support and promote the teaching and learning of fabrication. | Artisan's Asylum is ready for the next generation of creative thinkers to join their teen programs. Offering virtual and hands-on experiences guided by engineers and fabrication experts, teens will learn and apply electronic, engineering, 3D modeling, art, and/or construction skills. | Somerville |
| Boston Children's Museum | The Museum's exhibits and programs emphasize hands-on engagement and learning through experience, employing play as a tool to spark the inherent creativity, curiosity, and imagination of children.   | Discover your inner inventor in the STEAM making space, the Tech Kitchen. Through both staff-led workshops and visits from local tech innovators, the Tech Kitchen provides a facilitated space for children to experiment with tools and technology.  | Boston |
| Boston Makers | Boston Makers is a nonprofit organization focused on creating a safe, affordable, and collaborative workspace with access to mentors, peers, classes, demo nights, hackathons, after-school programs, digital tools, machines, social space and other resources for the purpose of cultivating a community of makers who share their work and expertise in art, technology and culture. | The organization hosts a Young Makers Club for girls and boys 8 to 16-years-old looking to learn programming, electronics, or undertake a self-directed art project.  | Boston |
| FabVille |  Fab Lab is a publicly-run facility with the purpose of bringing manufacturing to the masses and educating the public in digital fabrication technologies, such as 3D printing. | The makerspace focuses on education, design, and entrepreneurship. | Somerville |
| Fab Lab Boston | At Fab Lab Boston you can learn how to use machines and create your own project. | The lab's equipment includes: lasercutters, vinyl cutter, shopbot, 3D printer, and a Roland Modela. | Boston |
| Fab Lab Lena Park | Fab Lab Lena Park is a community makerspace for ages 14+ and offers summer programs for elementary and middle school students. | The lab's equipment includes: 3D printers, laser cutter & engraver, vinyl cutter, digital embroidery & sewing machine, electronics equipment, hand tools and power tools. | Dorchester |
| Guild Hall - Educational Makerspace | Guild Hall is an educational focused makerspace focused on helping teens discover their passion for making in anything from VR, game dev, robotics, custom furniture, illustration, design, and more! They have a full shop equipped with the latest professional tools, guided by knowledgeable, passionate teachers and mentors to help students grow in any area they choose. | At Guild Hall young learners explore coding, robotics, art, and more using professional tools in an educational focused makerspace environment. Children and teens learn to solve problems, express themselves, and create their vision using the latest technologies from VR to 3D Printing, Robotics to 3D Design, and much more. | Woburn |
| HATCH | HATCH is a public makerspace run by the Watertown Free Public Library. The workshop provides space, tools, equipment and materials and offers open hours and classes for children and adults. | Activities include robotics, crafts, 3D modeling, Arduino, sewing and more. | Watertown |
| Lowell Makes | Lowell Makes is a non-profit, shared community workshop and laboratory including an organized group of local artists, engineers, makers, and thinkers who work together to provide tools and learning resources to the public. Come meet other Makers and get a tour of the Makerspace every Wednesday at the public Open House. Children younger than 18 are welcome to attend classes and workshops, with a guardian present. | The Makerspace has a mix of high-tech things like 3D printers and CNC mills, along with more traditional workshop spaces including a wood shop and metal shop. | Lowell |
| Make-It Springfield | Make-It Springfield offers an accessible community space for local makers, artisans, crafters, entrepreneurs, programmers, doers and enthusiasts to share their skill sets with community members of all ages. | Make-It hosts public workshops and events. | Springfield |
| New England Sci-Tech | New England Sci-Tech is a non-profit STEM+ education center and makerspace dedicated to project-based, hands-on learning for youth and families across the New England community. | Classes and workshops in electronics, space science, ham radio, astronomy, robotics, photography, coding, computers, Arduinos, game theory, 3D design, and more.  | Natick |
| Newton Free Library Makerspace | The Newton Free Library's makerspace invites people of all ages to create, learn and connect. | The library offers open studio hours , access to 3D printers, and makerspace classes. | Newton |
| Parts and Crafts | Parts and Crafts is a member-supported family makerspace and community workshop. Programs encourage kids to play, think, make, and learn through the exploration of the arts, science, computer programming, and engineering. | Classes included electronics, textiles, computer programming, woodworking, and games. | Somerville |
| Technocopia | Technocopia is a non-profit makerspace offering common workspace, rental bays, and a variety of tools for artisans to create and work with. Open to the public every Thursday night for the Open Hacks and Crafts event. | The shared work areas include a complete wood shop, classroom and computer lab, 3d printer station, digital fabrication shop, including a CNC mill and laser cutter, flameworking shop, sewing station, and metal shop. | Worcester |
| The Clubhouse | The Clubhouse supports youth in developing their passions through projects, workshops, and STEAM (Science, Technology, Engineering, the Arts, and Math) activities, while providing a safe space for the exploration of a wide variety of creative technologies. | The drop-in format allows members the flexibility to pursue their own work in a way that matches their schedules. Students can use graphic design tools, create 3D models, build their own website, learn programming, and more. | Roxbury |
| The Makerspace at Bay State Learning Center | The Makerspace is a resource for those attending Bay State and is also available to the greater community. | Bay State offers a Friday STEAM Club for kids, and plans to expand their offerings to include additional after school hours, open workshops on Saturdays, and special evening events, for kids and adults. | Dedham |
| The Makery | The Makery is a creative space for working, making and collaborating in the heart of urban Coolidge Corner. The goal is to be a hub for ideas, design, innovation and implementation as well as an enriching center for learning, art, culture and social interaction. | There are programs and workshops for 5th graders and up. The Makery offers programs for younger children too upon request as well as groups that would like a customized project. | Brookline |
| Tinkerhaus | Tinkerhaus Community Makerspace is a non-profit, all ages makerspace. | Tinkerhaus has a woodworking shop, a mini fablab, an art classroom, a sewing studio, a mini-makers space, outdoor programs, after school art classes and summer weeklong classes. | Newburyport |
Editor's Note: Originally published in May 2017 and updated in 2020.