Editor's Note—February 2021: Due to the pandemic, many organizations listed here will be holding their programs online this year. Some are holding in-person activities. Others have paused or modified their programs in summer 2021.
Are you on the lookout for science, technology, engineering and math summer programs for your kids? Here you will find a comprehensive list of STEM summer camps in Massachusetts, including coding, science, math, engineering, and more!
If you want your child to develop their STEM skills over the summer, Massachusetts has a lot to offer.  Our state's vibrant and supportive STEM ecosystem comprised of universities, educators, organizations, and companies provides the basis for a lot of diverse programs.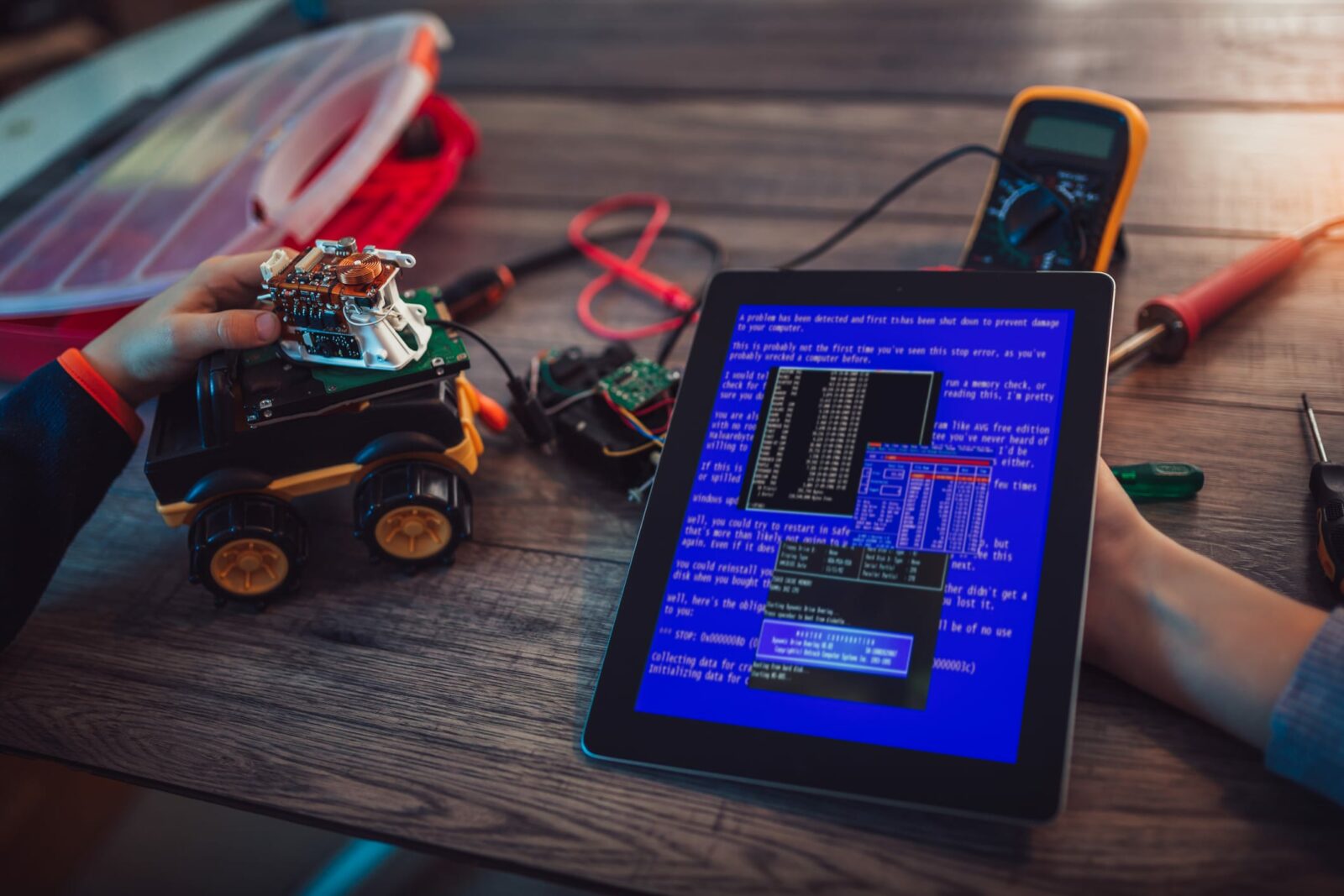 I have created tables so that you can quickly view the programs and evaluate them based on criteria that are important to you and your child, such as the area of focus, age, and location.
The tables are broken into three categories: (1) university programs, (2) local non-university programs, and (3) national programs with MA locations. No two programs are alike, so it's best to visit the program's site to learn more and get specific details.
Important: Many of these programs fill up fast, and some require students to apply for acceptance, while others simply require registration.
University Programs
| Sponsor | Program | Location | Focus | Age |
| --- | --- | --- | --- | --- |
| Boston Architectural College | Summer Academy: High School Design Exploration | Boston | Architecture & Design | Grades 9-12 |
| Boston University College of Engineering | U-Design | Boston | Engineering | Grades 7-10 |
| Boston University Learning Resource Network (LERNet) | Artemis Project | Boston | Computer Science | Girls, Grade 9 |
| Boston University Learning Resource Network (LERNet) | Codebreakers | Boston | Computer  & Information Security | Girls, Grades 10-11 |
| Boston University | AI4ALL | Boston | Artificial Intelligence (AI) | Girls, Grades 10-11 |
| Boston University | Summer Term | Boston | Computer Science, Math & more | Grades 8-12 |
| Boston University | Summer Pathways | Boston | Science & Engineering | Girls, Grades 11-12 |
| Boston University | PROMYS | Boston | Mathematics | Ages 14-19 |
| Boston University School of Medicine | SummerLab | Boston | Biotechnology | Grades 10-12 |
| Boston University School of Public Health | PopHealthExperience | Boston | Public Health (i.e. Biostatistics, Epidemiology & Environmental Health) | Grades 7-10 |
| Brandeis University (Computer Science) | App Design Boot Camp | Waltham | App Design | High School |
| Bridgewater State University | Science Academy | Bridgewater | Science | Grades 6-12 |
| Harvard Medical School | MEDscience Summer Program | Boston | Human Biology & Healthcare | Grades 9-12 |
| Harvard Student Agencies | Summer Coding Academy | Cambridge | Coding | Grades 9-12 |
| MIT Beaver Works | Summer Institute | Cambridge | Autonomous Car & Air Vehicles, Data Science, Cybersecurity & more | Grade 12 |
| MIT dynaMIT | dynaMIT | Cambridge | Science & Engineering | Grades 6-9 |
| MIT Edgerton Center | You GO Girl! | Cambridge | Science & Engineering | Girls, Grade 9 |
| MIT Edgerton Center | Engineering Design Workshop | Cambridge | Engineering | Grades 9-12 |
| MIT Office of Engineering Outreach Programs | Minority Introduction to Engineering and Science (MITES) | Cambridge | Math, Engineering Science & more | Grade 12 |
| MIT Office of Engineering Outreach Programs | MIT Online Science, Technology and Engineering Community (MOSTEC) | Online | Engineering & Science | Grade 12 |
| MIT | Women's Technology Program (WTP) | Cambridge | Electrical Engineering, Computer Science & Mechanical Engineering | Girls, Grade 12 |
| MIT's Lincoln Laboratory | LLRISE  | Lexington | Radar Systems | Grade 12 |
| Northeastern University | Summer STEM Program (NUSSP) |  Boston | Math & Science | Grades 6-8 |
| Northeastern University | Accelerate: Pre-College Programs | Boston | Bioengineering, Engineering Design, Science & more | Grades 11-12 |
| Smith College | Summer Science and Engineering Program | Northhampton | Science, Engineering & Medicine | Girls, Grades 9-12 |
| Stonehill College | GirlsGetMath | Easton | Mathematics | Grades 10-11 |
| Tufts University | Summer Session for High Schoolers | Medford | Science, Math, Computer Science & more | Grades 10-12 |
| Tufts University Cummings School of Veterinary Medicine | Adventures in Veterinary Medicine | North Grafton | Veterinary Medicine | Grades 7-8 |
| Tufts University DevTech Research Group | Summer Programs | Medford | Robotics, Programming & Bioengineering | Grades K-3 |
| Tufts Center for Engineering Education and Outreach | Summer Programs | Medford | Robotics & Engineering | Grades 1-12 |
| UMass Amherst | Summer Pre-College Programs | Amherst | Engineering, Astronomy, Vet Technology & more | Grades 9-12 |
| UMass Lowell College of Engineering | Future Engineers | Lowell | Engineering | Grades 10-12 |
| Worcester Polytechnic Institute | Frontiers | Worcester | Science, Engineering & Math | Grades 11-12 |
| Worcester Polytechnic Institute | Camp Reach | Worcester | Science & Engineering | Girls, Grade 8 |
| Worcester Polytechnic Institute | Spark | Worcester | Robotics, Physics, Game Design & more | Grades 4-6 |
| Worcester Polytechnic Institute | Ignite | Worcester | Robotics, Physics, Video Game Design & more | Grades 7-8 |
| Worcester Polytechnic Institute | Launch | Worcester | Biology, Chemistry, Computer Science, Engineering & more | Grades 9-10 |
Local Programs
| Sponsor  | Program | Location | Focus | Age |
| --- | --- | --- | --- | --- |
| Acera School | Summer STEAM Camp | Winchester | Creativity-based Arts & Sciences | Ages 5-17 |
| Analytics Head Start (AHEAD) | Get AHEAD: Data Analytics | Boston | Data Analytics, Data Science & Engineering | Grades 9-12 |
| Beaver Country Day School | Design With Purpose: Summer Programs | Chestnut Hill | Creative Design and Engineering | Grades 5-8 |
| Belmont Hill School | Science and Technology Workshops | Belmont | Robotics, Engineering, Science & more | Grades 6-12 |
| Berkshire Museum | Summer Camps | Pittsfield | Engineering, Animation, Science & more | Grades 1-6 |
| Biogen Idec | Adventures in Biotechnology | Cambridge | Biotechnology | Grades 10-12 |
| Boston Area Girls STEM Collaborative | Tech Savvy | Boston University (Boston) | 3D Printing, Robotics & more | Girls, Grades 7-8 |
| Boston Leadership Institute | Summer STEM Programs | Boston, Waltham & Wellesley | Science & Engineering | Grades 8-12 |
| Boston STEM Lab | Summer Classes | Chestnut Hill | Science, Nature & Engineering | Ages 3.5-6 |
| Charles River School | Summer STEMQuest Programs | Dover | Drones, Collaboration & Outdoors | Grades 1-5 |
| Circuit Lab | Summer Programs | Various MA locations | Electronics, Coding & Robotics | Ages 5-14 |
| Code & Circuit | Summer STEM Programs | Amesbury | Programming, Robotics, 3D Printing & more | Grades K-8 |
| CodeCampKidz | Learn To Code | Online | HTML, CSS, & Javascript | Ages 12+ |
| CODEMAKERS | Summer Camp | Arlington | Coding & Robotics | Grades 3-12 |
| Codeverse | Coding FUNdamentals Summer Camp | Burlington | Game Design Coding, Robotics & 3D Printing | Grades 1-8 |
| Code Wiz | Summer Programs | Arlington, Reading, Westford & Westborough | Coding, Robotics & 3D Printing | Ages 7-17 |
| CS Recitations | Summer Programming Classes | Natick | Computer Science | Grades 4-12 |
| e2 Young Engineers | Summer Programs | Lexington | Engineering, Robotics & more | Ages 5-12 |
| e inc. | Science Discovery Program | Charlestown | Environmental & Natural Science | Grades 1-5 |
| EcoTarium | Summer Discovery Camp | Worcester | Nature, Animals & more | Ages 5-14 |
| Edge on Science | Summer Programs | Endicott College (Beverly) & Lasell University (Newton) | Astronomy, Catapults, Rocketry, Marine Ecology & more | Ages 8-17 |
| Einstein's Workshop | Summer Programs | Burlington | Coding, Game Learning, Robotics & more | Grades K-9 |
| Empow Studios | Summer Programs | 17 locations throughout MA | Tech & Design, Minecraft, Coding & more | Grades 2-8 |
| epiic Solutions | Epiic Experiences | Boston University (Boston) | Entrepreneurship, Technology & Innovation | High School |
| EXPLO | Summer Programs | Wheaton College (Norton) | Biomedical Engineering, Architecture, Entrepreneurship & more | Grades 4-12 |
| Flying Cloud Institute | Summer Programs | Egremont & New Marlborough | Science, Art, Outdoor Exploration & more | Ages 6-18 |
| Girl Scouts of Eastern Massachusetts | Summer Programs | Andover, Brewster, Plymouth, Reading & Waltham | Space, Forensic Science, Civil Engineering & more | Grades K-12 |
| Gloucester Biotechnology Academy | Summer STEM Program | Gloucester | Biotechnology | Ages 12-17 |
| Green Apple Campus | Girls Take the Lead & Summer STEM | Olin College of Engineering (Needham) | STEM, Entrepreneurship & Leadership | Ages 6-18 |
| iCode of Wellesley | Summer Camps | Wellesley | STEAM Design & Technology | Ages 6-18 |
| Jr. Tech | Summer STEM Workshops | Cape Cod | Computer Programming, Robotics, Marine Ecology & more | Grades 4-12 |
| Kids 4 Coding | Summer Programs | Cambridge & Roxbury Latin School (W. Roxbury) | Game Design, Programming, Build/Code Drones & more | Ages 7-16 |
| KT Byte | Computer Camps  | Lexington | Computer Science | Ages 8-18 |
| LeapLearner Boston | LeapLearner International Summer Camp  | Newton & Online | Python, Scratch, Unity, & Minecraft | Ages 6-16 |
| LEtGO Your Mind | Summer Programs | Various MA locations | LEGO, Robotics & Stop Animation | Ages 4-13 |
| Lexington Singapore School | Summer Math Programs | Lexington | Math | Grades K-8 |
| LH Art-STEM | Build-It-Yourself Summer Camps | Cambridge | Robotics, Engineering, Coding, Art & more | Ages 8-13 |
| Linx Camps | STEAM Camps | Wellesley | STEAM, Science, Coding & more | Grades K-8 |
| Mass Audubon Society | Summer Camp | Various MA locations | Connecting with nature and  outdoor exploration | Ages 4-15 ( depends on location) |
| Massachusetts Academy of Math and Science | Summer Programs | Worcester | Math, Science & Technology | Grades 5-8 |
| Museum of Science | Summer Courses | Cambridge | Chemistry, Space, Med School & more | Grades 1-8 |
| North Atlantic Archaeological Collaborative, Inc. | Archaeological Field Trip | Sandwich | Archaeology & Hands-on Digging | All Ages |
| NuVu: The Innovation School | Summer Programs | Cambridge | Design, Engineering, Science & more | Ages 11-18 |
| Ocean Protection Advocacy Kids, Inc. (OPAK) | Summer Marine Science Day Programs | Chatham & Plymouth | Marine Science, Art &  Advocacy | Grades 5-12 |
| Parts and Crafts | STEAM Workshops  | Somerville | STEAM Workshops |  Ages 7-12 |
| Penguin Coding School | Summer Session | Lexington | Computer Programming | Ages 6-11 |
| Philips Academy Andover | Andover Summer | Andover | Science, Math & Computer Science | Grades 7-12 |
| Pincushion Hill Montessori School | STEM Program & Summer Discovery Program | Ashland | Science | Ages 2.9-10 |
| PinkyInc | Summer Camp | Marlborough | Robotics, Coding, Engineering, & more | Grades 2-8 |
| PZ Math | PZ Math Camp | Williamstown | Math | Grades 9-12 |
| Science from Scientists | STEM Explorer | Salem State University & Massasoit Community College | Science, Forensics, Ecology & More | Grades 4-5 |
| S.E.T School of Metrowest | Summer Programs | Ashland | Science, Robotics & Technology | Grades 1-8 |
| St. Sebastian's School | Summer Workshops | Needham | Robotics | Boys, Grades 5-9 |
| STEM Beginnings | STEM goes STEAM Summer Workshop | Westborough | Science, Technology, Engineering, Arts, & Math for Young Children | Ages 5-10 |
| Studio of Engaging Math | STEAM Program | Brighton | STEAM & Project-based Learning | Grades 2-8 |
| The Flagship Clubhouse | Clubhouse | Roxbury | 3D Design, Animation, Programming & more | Ages 14-18 |
| The Innovation Institute | Summer Programs | Newtonville | Science & Engineering | Grades K-8+ |
| The Makery @ Coolidge Corner | Youth Summer Programs | Brookline | STEAM (Art, Technology & Model-Making) | Grades 4-8 |
| Think Tank at Technocopia | STEAM Summer Program | Worcester | Science, Technology & Art | Ages 5-15 |
| United Nations Association of Greater Boston | Summer Institutes in Global Leadership | Harvard University (Cambridge) & Belmont Day School (Belmont) | Climate Change, Global Health, Global Leadership & more | Grades 5-7 & 7-12 |
| Whitehead Institute | Expedition: Bio | Cambridge | Biology | Grades 7-8 |
| Wicked Cool for Kids | Summer Programs | Various MA locations | Rocket Science, LEGO Robotics, Science & more | Grades K-5 |
| Wolfram Research | Wolfram High School Summer Camp | Bentley University (Waltham) | Independent Coding Projects in Science, Math, Coding, and Physics | Grades 9-12 |
| YMCA (Hockomock Area) | STEM Camps | North Attleboro, Franklin & Foxboro | Science, Rockets, Engineering & more | Grades 1-8 |
| Z-kai Learning Lab | Summer Program | Arlington | Robotics, Coding & Math | Ages 7-13 |
National Programs
| Sponsor | Program | Location | Focus | Age |
| --- | --- | --- | --- | --- |
| Camp Invention | Camp Invention Programs | Various MA locations | Invention & Hands-on Projects | Grades K-6 |
| Code Ninjas | Code Ninjas Camps | Various MA locations | Coding | Ages 7-14 |
| CodeWizardsHQ | Online Coding Summer Camps | Online | Coding | Ages 8-17 |
| Coding with Kids | Summer Camps | Various MA locations | Computer Programming | Ages 5-18 |
| Digital Media Academy | Digital Media Camps | Harvard (Cambridge) | Digital Media, Game Design, Robotics & more | Ages 9-18 |
| Drobots Company | Drone STEM Camps | Various MA locations | Drones, Science & Technology | Grades K-12 |
| Education Unlimited | Summer Programs | MIT (Cambridge) | Science, Engineering & Robotics | Grades 4-12 |
| Emagination Tech Camps | Tech Camp  | Bentley University (Waltham) | Game Design, Programming & more | Ages 8-18 |
| Girls Make Games | Summer Camp | Lesley University (Cambridge) | Video Game Design & Development | Ages 8-18 |
| Girls Who Code | Summer Immersion Program | Boston | Computer Science and Coding | Grades 11-12 |
| iD Tech | Tech Camps | Amherst, Bancroft School, Bentley, Curry College, Endicott, Framingham State, Harvard, MIT, Olin, St. Mark's | Game Design, Programming, App Development & more | Ages 7-19 |
| i2 Learning | i2 Camp | Roxbury Latin (West Roxbury) | Engineering & Science | Ages 9-13 |
| Mad Science | Summer Programs | North Boston & South MA + Rhode Island | Chemistry, Rocketry & Engineering | Ages 5-12 |
| Play-Well TEKnologies | Summer Programs | Various MA locations | LEGO & Robotics | Ages 5-14 |
| Russian School of Mathematics | Summer Math Program | Various MA locations | Math | Grades K-12 |