Are you on the lookout for a STEM summer program? Whether your child wants to explore a new topic, develop skills, or just have some fun over the summer, Massachusetts has a lot to offer. Our state's vibrant and progressive STEM ecosystem—comprising universities, educators, non-profits, and companies ranging from innovative startups to established organizations—is the foundation for many diverse and unique programs.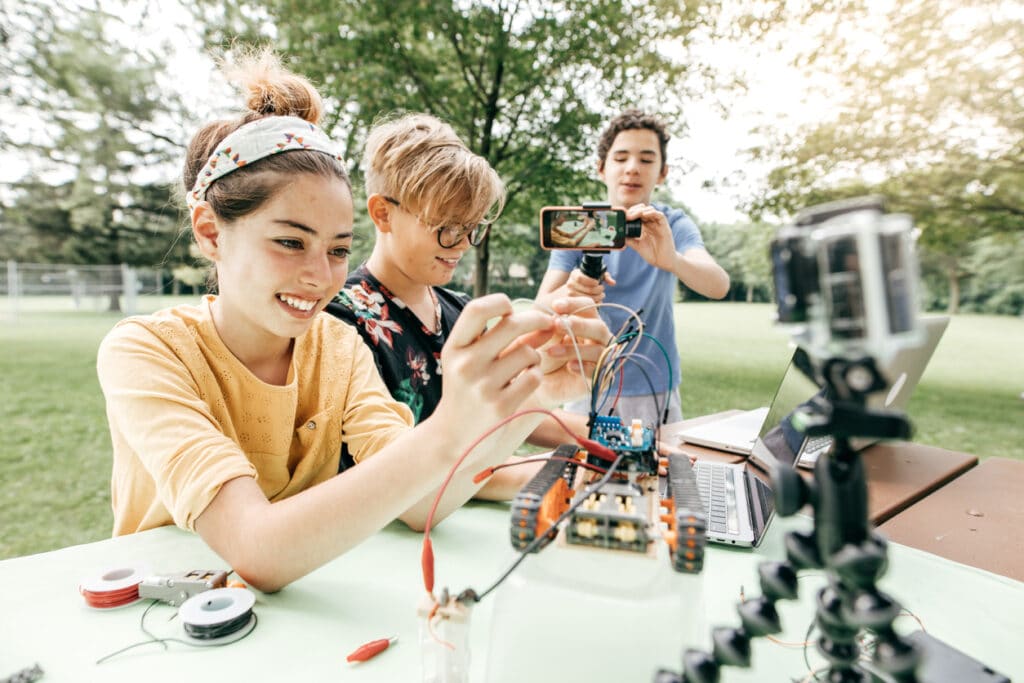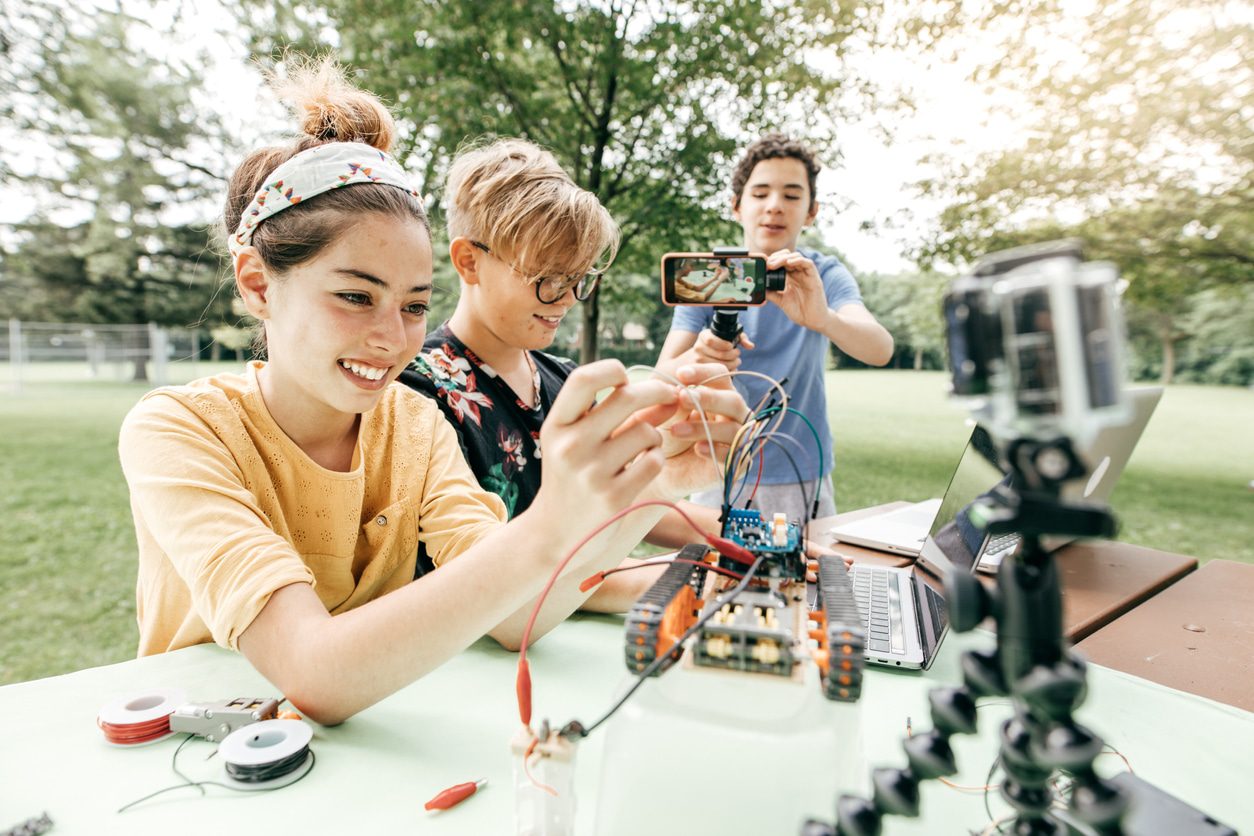 What you'll find here
I've compiled a comprehensive list of programs for all ages, experience levels, and interests. You'll find camps, classes, pre-college programs, and even lab opportunities, across an array of fields. There are specific programs for science, math, robotics, coding, engineering, and STEAM, to name a few.  Or choose a summer STEM program that blends many disciplines, giving your child exposure to several different subjects.
For younger kids, STEM camps don't have to be dry and boring. Kids get to work on fun projects like creating a video game, building a catapult, or working on science experiments. Outdoor activities and unstructured playtime are often built into the camp day, allowing kids to relax and make new friends.
For teens, summer programs can be a time to explore a topic not offered in school, such as cybersecurity, biotechnology, artificial intelligence, and medicine and healthcare. This is a great opportunity to delve into topics and get hands-on experience before college.
The programs listed below are organized into tables so that you can quickly peruse programs and evaluate them based on criteria that are important to you and your child. The first table includes programs run by universities and colleges in Massachusetts; the second includes non-university programs offered in communities throughout the state, some run by local organizations and others by national organizations and offered at locations within Massachusetts. 
These lists feature in-person programs, although some of these organizations also offer online summer programs. If you're interested in finding additional online activities, take a look at my article which features online classes for kids and teens. 
Choosing among programs
No two programs are alike, so it's best to visit a program's website for information about curriculum, timing, cost, and registration or application details as you evaluate opportunities. Many of these programs fill up fast, so if you're interested in attending a summer program, start your research and review process early, ideally in early winter. And keep your eye out for application dates and deadlines. For more on evaluating a summer STEM program for your child, check out BostonTechMom's tips.
University Programs
| Sponsor | Program | Location | Focus | Age |
| --- | --- | --- | --- | --- |
| Boston Architectural College | Summer Academy & Urban Design and Planning Pre-College Fellowship | Boston | Architecture & Design | Grades 9-12 |
| Boston University College of Engineering | U-Design | Boston | Engineering | Grades 6-9 |
| Boston University Learning Resource Network (LERNet) | Artemis Project | Boston | Computer Science | Girls, Grade 9 |
| Boston University Learning Resource Network (LERNet) | Codebreakers | Boston | Computer  & Information Security | Girls, Grades 10-11 |
| Boston University | AI4ALL | Boston | Artificial Intelligence (AI) | Girls, Grades 10-11 |
| Boston University | Summer Term | Boston | Computer Science, Math, Engineering & more | Grades 8-12 |
| Boston University | PROMYS | Boston | Mathematics | Ages 14-18 |
| Boston University School of Medicine | SummerLab | Boston | Biotechnology | Grades 10-12 |
| Boston University School of Public Health | PopHealthExperience | Boston | Public Health (i.e. Biostatistics, Epidemiology & Environmental Health) | Grades 10-12 |
| Bridgewater State University | Science Academy | Bridgewater | Science | Grades 7-12 |
| Hampshire College | Hampshire College Summer Studies in Mathematics | Amherst | Mathematics | Grades 9-12 |
| Harvard T.H. Chan School of Public Health | C-CHANGE Youth Summit on Climate, Equity & Health | Boston | Climate Change, Public Health & Climate Action | Grades 9-12 |
| Harvard Medical School | MEDscience Summer Programs | Boston | Human Biology & Healthcare | Grades 9-12 |
| Harvard University | College Programs for High School Students | Cambridge | Science, Math, Computer Science & more | Ages 15-18 |
| Harvard Student Agencies | The Academies | Cambridge | Coding & Pre-Med | Grades 9-12 |
| MIT Beaver Works | Beaver Works Summer Institute | Cambridge | Autonomous Car & Air Vehicles, Data Science, Cybersecurity & more | Grade 12 |
| MIT dynaMIT | dynaMIT | Cambridge | Science & Engineering | Grades 6-9 |
| MIT Edgerton Center | You GO Girl! | Cambridge | Science & Engineering | Girls, Grade 9 |
| MITES | MITES Summer | Cambridge | Math, Engineering Science & more | Grade 12 |
| MIT | Women's Technology Program (WTP) | Cambridge | Electrical Engineering, Computer Science & Mechanical Engineering | Girls, Grade 11 |
| MIT's Lincoln Laboratory | LLCipher | Lexington | Cryptography | Grades 9-12 |
| MIT's Lincoln Laboratory | LLRISE  | Lexington | Radar Systems | Grade 11 |
| Northeastern University | Summer STEM Program (NUSSP) | Boston | Math & Science | Grades 6-8 |
| Northeastern University | Accelerate: Pre-College Programs | Boston | Bioengineering, Engineering Design, Physics & more | Grades 11-12 |
| Roger Williams University | Food Science Camp | Bristol, RI | Food Science | Grades 9-11 |
| Saint Anselm College | STEM-ED/Saint Anselm Drone Camp | Manchester, NH | Drones, CS, AI & Engineering | Grades 9-12 |
| Smith College | Summer Science and Engineering Program | Northhampton | Science & Engineering | Girls, Grades 9-12 |
| Stonehill College | GirlsGetMath | Easton | Mathematics | Grades 10-11 |
| Suffolk University | Data Analytics: Storytelling with Data | Boston | Data Analytics | Grade 12 |
| Tufts University | Pre-College Programs | Medford | Science, Math, Computer Science & more | Grades 10-12 |
| Tufts University Cummings School of Veterinary Medicine | Adventures in Veterinary Medicine | North Grafton | Veterinary Medicine | Grades 7-12 |
| Tufts University | Junior Engineering Investigations | Medford | Engineering | Grades 7-9 |
| Tufts University | Design and Engineering Summer Workshops | Medford | Robotics & Engineering | Grades 1-6 |
| UMass Amherst | Summer Pre-College Programs | Amherst & Newton | Engineering, Astronomy, Vet Technology & more | Grades 9-12 |
| UMass Lowell College of Engineering | Future Engineers Summer Camps | Lowell | Engineering | Grades 10-12 |
| Wentworth Institute of Technology | ImpactLab | Boston | Science, Engineering & Design | Grades 11-12 |
| Worcester Polytechnic Institute | Frontiers | Worcester | Biotechnology, Data Science, Neuroscience & more | Grades 10-12 |
| Worcester Polytechnic Institute | Launch | Worcester | Electrical Engineering, Chemistry, Computer Science & more | Grades 9-11 |
Programs Offered in the Community
Sponsor 
Program
Location
Focus
Age
Acera School
STEAM Summer Camps
Winchester
Creativity-based Arts & Sciences
Ages 5-14
Beaver Country Day School
Design With Purpose
Chestnut Hill
Creative Design and Engineering
Grades 5-8
Belmont Hill School
Summer Academics
Belmont
Computer Science, Engineering, Science & more
Grades 6-12
Berkshire Museum
Summer Camps
Pittsfield
Engineering, Animation, Science & more
Grades PK-6
BioBuilder
Summer
Research Program
Boston
Bioengineering
Grades 10-12
BioCraft Technologies
BioResearch Academy
Emmanuel College (Boston)
Biology Research
Grades 9-12
Biogen
Global Community Lab
Cambridge
Biotechnology
Grades 10-12
Boston Leadership Institute
Summer STEM Programs
Boston, Waltham & Wellesley
Science, Engineering, Medicine & more
Grades 8-12
Charles River School
Summer Programs
Dover
Nature & STEM
Ages 4-11
Circuit Lab
Summer Programs
Various MA locations
Electronics, Coding & Robotics
Grades 1-7
C0deEX
Summer Session
Acton
Robotics & Coding
Ages 6-16
Code & Circuit
Summer STEM Programs
Amesbury
Programming, Robotics, 3D Printing & more
Grades PK-8
Code Chef
Summer Camps
Chelmsford
Coding, Art, Music & Problem Solving
Ages 6-16
Code Ninjas
Code Ninjas Camps
Various MA locations
Coding
Ages 7-14
Code Wiz
Summer Camps
Various MA locations
Coding & Robotics
Ages 7-17
Coding Butterfly
Digital Art with JavaScript
Needham
Digital Art, Animation & JavaScript Programming
Ages: 7-10
Coding with Kids
Camps
Various MA locations
Computer Programming
Ages 5-18
CS Recitations
Summer Coding Classes
Natick
Computer Science
Grades 4-12
CyberMath Academy
Summer Math Camp

Cambridge
Math
Ages 9-18
Drobots Company
Summer Camps
Various MA locations
Drones, Engineering, Programming & more
Grades K-12
e inc.
Science Discovery Program
Charlestown
Environmental & Natural Science
Ages 6-12
EcoTarium
Camp Programs
Worcester
Hands-on Science & Nature Activities
Ages 5-12
Edge on Science
Summer Programs
Endicott College (Beverly) & Lasell University (Newton)
Catapult Engineering, Rocketry, Marine Ecology & more
Grades 3-10
Einstein's Workshop
Summer Camps
Burlington
Coding, Minecraft, Robotics & more
Grades K-9
Emagination STEM Camps
Summer STEM Camps
Bentley University (Waltham)
Coding, Game Design, Engineering & more
Ages 8-17
Empow Studios
Summer Camp
Various MA locations
Tech & Design, Minecraft, Coding & more
Ages 7-15
EXPLO
Summer Programs
Regis College (Weston) & Wellesley College (Wellesley)
Biomedical Engineering, Architecture, Veterinary Science & more
Grades 4-7 & 10-12
Flying Cloud Institute
Summer Programs
South Egremont & Pittsfield
Science, Art, Nature Exploration & more
Ages 6-16
Game Camp Nation
Summer Camp- Educational Game Studio
Waltham
Game Design, Coding & Pixel Art
Ages 9-19
Girl Scouts of Eastern Massachusetts
Summer Programs
Various MA locations
Science
Grades 2-8
Gloucester Biotechnology Academy
Summer STEM Enrichment
Gloucester
Biotechnology
Ages 13-18
Green Apple Campus
Future Ready STEM Camps
Olin College of Engineering (Needham)
STEM, Entrepreneurship & Leadership
Ages 6-18
Guild Hall – Educational Makerspace
Summer Camps
Woburn & Cambridge
Coding, Robotics, Art, Design & Engineering
Ages 8-17
Harvard Museums of Science & Culture
Summer Science Weeks
Cambridge
Zoology, Paleontology, Geology, Archaeology & more
Grades 1-6
iCode of Wellesley
Summer Camps
Wellesley
Coding, Robotics, Digital Design & more
Ages 5-17
iD Tech
Tech Camps

Various MA locations
Game Design, Coding, Robotics & more
Ages 7-18
Inventor STEM School
Summer @ Inventor STEM School
Bedford
Robotics, Programming, LEGO Design & more
Ages 3-12
Kids 4 Coding
Summer Programs
Boston & Cambridge
Game Development, Coding & Robotics
Ages 7-12
KTBYTE
Computer Camps 
Lexington
Computer Science
Ages 8-18
LEtGO Your Mind
Summer Programs
Various MA locations
LEGO, Engineering & Stop Motion Animation
Ages 4-13
Lexington Singapore School
Summer Math Programs
Lexington & Acton
Math
Grades 1-10
LINX Camps
STEAM Camps
Wellesley
STEAM & Science
Grades 2-8
Machine Learning for Kids
Summer Classes
Lexington
Artificial Intelligence & Machine Learning
Grades 6-11
Mad Science
Camps
Various MA locations
Science Discovery
Ages 5-12
Mass Audubon Society
Summer Nature Camps
Various MA locations
Nature & Outdoor Exploration
Ages 4-15
Massachusetts Academy of Math and Science
Summer Programs
Worcester
Computing & Technology
Grades 6-8
National Inventors Hall of Fame
Camp Invention
Various MA locations
Invention & Hands-on Projects
Grades K-6
NuVu: The Innovation School
Summer Program
Cambridge
Design, Engineering, Science & more
Ages 11-15
Ocean Protection Advocacy Kids, Inc. (OPAK)
Summer Marine Science Day Programs
Chatham & Plymouth
Marine Science, Art &  Advocacy
Grades 5-12
Parts and Crafts
STEAM Workshops 
Somerville
STEAM Workshops
 Ages 7-13
Penguin Coding School
Summer Programs
Lexington, Newton & Acton
Computer Programming
Ages 6-18
Philips Academy Andover
Andover Summer
Andover
Science, Math & Computer Science
Grades 7-12
Pincushion Hill Montessori School
Summer Discovery Program
Ashland
Science
Ages 2.9-10
Play-Well TEKnologies
Summer Programs
Various MA locations
LEGO & Robotics
Ages 5-14
PZMC
PZ Math Camps
Williams College (Williamstown)
Math
Grades 9-12
Russian School of Mathematics
Summer Math Program

Various MA locations
Math
Grades K-12
Science Research Academy
Summer Project Sprint
Lexington
Hands-on Research, Engineering, Programming, Presentations & Communication
Ages 11-15
S.E.T School of Metrowest
Summer Programs
Ashland
Science, Robotics & Technology
Grades 1-7
Studio of Engaging Math
STEAM Program
Brighton
STEAM & Project-based Learning
Grades 2-8
theCoderSchool
Summer Sessions
Sudbury
Game Development, Cybersecurity & Python Coding
Ages 7-10+
The Story School
Summer Camps
Charlton & Burlington
Live Action Role Playing & STEAM
Ages 8-17
TiE Young Entrepreneurs Program
TYE Summer Entrepreneurship Boot Camp

Cambridge
Entrepreneurship, Design Thinking, Business, & Project-based Learning
Grades 7-9
United Nations Association of Greater Boston
Summer Institute in Global Leadership
Cambridge & Yarmouth Port
Climate Change, Tech
& Diplomacy & Global Leadership
Grades 6-12
Uptime Esports Academy
Summer Camps

Hanover
Coding & Game Design
Ages 8-18
Whitehead Institute
Expedition: Bio
Cambridge
Biology
Grades 7-8
Wicked Cool for Kids
Summer Programs
Various MA locations
Rocket Science, LEGO Engineering, Science & more
Grades K-5
Wolfram Research
Wolfram High School Summer Research Program
Bentley University (Waltham)
Computer Science, Math, Data Science & more
Grades 9-12
Woods Hole Oceanographic Institution
Girls in Science
Woods Hole
Marine mammal bioacoustics
Girls, Grades 10-11