In the past few years, online STEM classes and have become mainstream and are now a popular option for families. Parents and kids love them for the flexibility and convenience factor, plus the ability to choose from programs all over the country. And, no fear! Your kids aren't sitting at a computer screen watching premade videos during these classes. In these programs, students attend scheduled, real-time, instructor-led online activities, sometimes in small groups of students from around the country, sometimes with a small group of kids at your home, or one-on-one.
Program providers know that online classes for kids need to be engaging and participative, so they've adapted their curricula in creative ways to work well in a virtual environment. And the breadth of their offerings has expanded significantly during this time, with new classes and subjects always being added. Students have many choices and a wide variety of topics to consider. 
Computer Science ● Robotics ● Engineering ● Math ● Digital Arts ● Science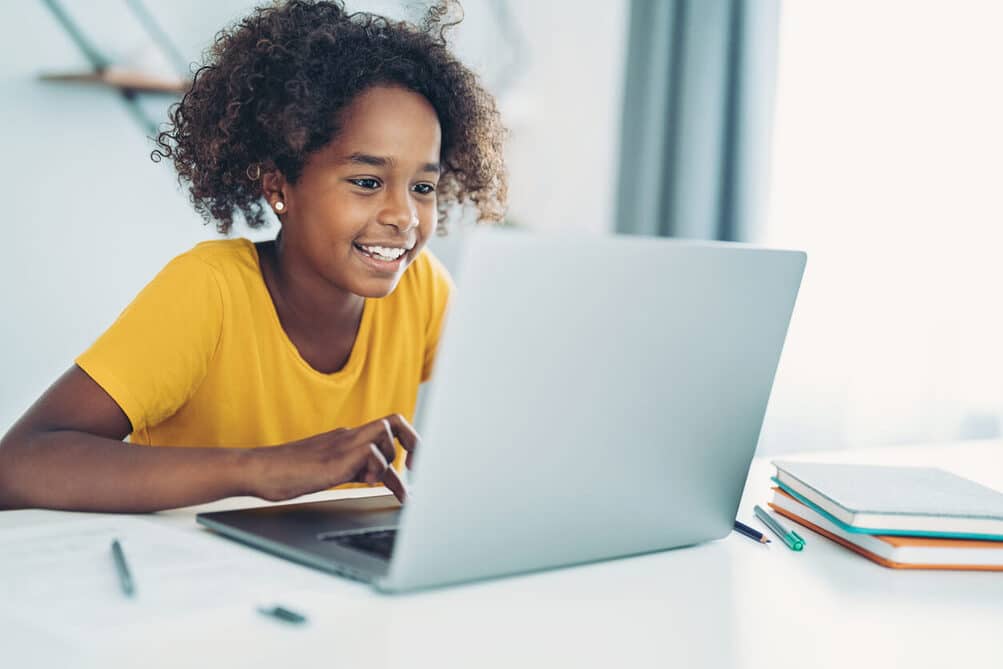 What's Popular in Online Classes?
Of the wide range of options, it's not surprising that the most popular ones focus on coding. There's a lot to interest children, and coding lends itself particularly well to an online format. Program providers tell me that kids—especially young ones in grades 2-5 —enjoy learning to code using their favorite games. This explains the popularity of Minecraft and Roblox coding classes! Here are some of the most popular types of online computer science classes:
Coding classes: learn programming languages like Scratch, Python, and Java
Game development
Minecraft and Roblox
You will also find other classes covering topics like
Computer science applications like AI and cybersecurity
Website and mobile app development
Electronics and robotics
Digital animation
Science topics like space and biotechnology
Organizations That Offer Online STEM Programs
The list below is by no means comprehensive, but it runs the gamut of subjects, formats, timing, and age groups. These organizations cater primarily to online programs, but some also run in-person programs. Many offer virtual STEM summer camps, too. Be sure to check each provider's website for the details of individual programs, costs, and schedules. And if there's anything you have questions about, ask them! In my experience, program providers are very responsive to questions and will try to help you however they can.
Aloha Mind Math offers fun abacus classes for kids ages 5–12. Hands-on learning inspires confidence while teaching mental math techniques. Appropriate for various skill levels, this STEM enrichment program helps students develop agility with numbers and acquire visualization and problem-solving skills. Students broaden their understanding of math, build success, and have fun with number sense activities.
BioBuilder Educational Foundation aims to make biotechnology accessible to high school learners with a dynamic science and engineering curriculum and experiential learning series that can accommodate virtual, in-person, and hybrid classroom models. Visit biobuilder.org to see the curriculum and to get involved with the online Idea Accelerator course.
CodeWizardsHQ teaches coding classes for kids and teens ages 8–18. Kids build games and apps in Scratch, JavaScript, and Python as they advance through a structured curriculum and complete capstone projects. The program also offers summer coding classes for kids in Minecraft and Roblox. CodeWizardsHQ delivers fun and effective classes with beyond-the-classroom support, including live homework help, parent progress reports, and a gamified learning platform.
Code Galaxy is a coding school for kids ages 7-18, offering weekly coding classes and private tutoring with topics like Scratch, Roblox, Minecraft, Python, and HTML/CSS/JavaScript. Code Galaxy's instructors provide structure and guidance in an exciting, collaborative, and judgment-free environment.
Code Wiz believes learning to code is the easiest way to shape a child's future. Students ages 7+ develop programming skills along with invaluable approaches to critical thinking and problem solving. Fun and flexible programs are offered, from Python, Minecraft, and Unity to building and coding robots. A free trial class is available for all virtual classes.
Coding with Kids provides instructor-led camps through their unique Coders Pathways®️ for ages 5–18. Camps teach a variety of subjects like Python programming, Scratch game development, Minecraft Modding, Roblox Adventure Games, Little Coders, and robotics to small virtual groups. The half-day camps are available for AM & PM sessions or can be combined into a full-day camp.
Coditum offers practical coding instruction in small groups (3:1) and private classes (1:1) to teach the foundation of coding concepts through Python and Java. Classes and lessons are tailored to students ages 10-17.
Create & Learn offers small-group coding classes for K–12 students, led live by US-based expert teachers and designed by Google and Stanford experts. Book a free class and explore Scratch, Python, Roblox, Minecraft, AI, robotics, and many more topics. Create & Learn also offers free kids' events with experts from NASA, Google, Apple, and Stanford, who demonstrate how technologies are used in the real world.
Creative Brain Learning & Music Star offers live STEM, art, and music classes and camps for ages 6–14. Students learn coding, video game design, and app design using Scratch, Roblox, Unity, and Unreal Engine 4. Private music lessons and academic tutoring are also available.
Empow Studios offers STEM programs, from after-school classes to private tutoring and summer camps, for kids ages 7–15. With classes in coding, robotics, 3D design and architecture, Minecraft, Roblox, and engineering, kids deepen their technology skills as they build amazing projects, from beginner to advanced.
Geekedu offers personalized, 1-on-1 computer coding classes focusing on Python, Java, Roblox game development, and math for students ages 7-18. Each student is matched with an instructor based on their skill level and interests to ensure engaging, personalized learning. Explore the program by booking a free trial class.
iD Tech has offered high-quality online and in-person technology education for over 20 years, including virtual camps, academies, and private lessons. Courses in coding, game development, robotics, design, business, and math are available to all skill levels for kids ages 7–19.
Inspirit AI is a 25-hour enrichment program that introduces middle and high school students to fundamental artificial intelligence concepts to build socially impactful projects such as fake news detection, COVID-spread prediction, art generation, self-driving car simulation, and more! Developed and taught by a team of graduate students from Stanford, MIT, and other leading universities, the program provides students a personalized, interdisciplinary learning experience in small-group classrooms. No programming experience is required, and advanced cohorts are available.
Juni matches children ages 7-18 with an acclaimed instructor who will work 1:1 with them through classes in STEM subjects like coding, algebra, and more. This ensures a child's course is tailored to them and that they are connected with an instructor who is a mentor and role model. Juni also offers one free trial class to new parents.
KIDS 4 CODING bridges the gap between what kids ages 7–14 learn in traditional academic classes and what they need to succeed in a rapidly evolving tech-based society. Classes and summer programs in JavaScript, mobile app development, game development, web development, Scratch, and Roblox capture kids' imaginations by connecting to their interests and passions with a solid foundation of practical STEM education.
KTBYTE Computer Science Academy offers a progressive Computer Science curriculum for students ages 8–18. Classes range from introductory Blockly programming to college-level Java, Python, and C++ courses. KTBYTE programs differentiate themselves from the standard core curriculum for high school students by offering unique courses such as USA Computing Olympiad (USACO) preparation, AP Computer Science preparation, generative art and design, and Machine Learning.
MakerKids runs classes and camps on coding, robotics, and Minecraft for ages 6-13. Embedded in all programs are lessons that help kids build confidence, resilience, social skills, and a positive relationship with technology. The first trial lesson is free.
Mathnasium offers Mathnasium@home, live, face-to-face math tutoring with the same instructors and material from their math centers. Mathnasium provides a fun and engaging environment for kids of all levels in grades 2-12 to explore math and build confidence. Find a center offering online sessions near you by visiting the website and entering your zip code.
National CSI Camp offers a hands-on STEM-related CSI/Forensics class for grades 6-12. Participants conduct many CSI experiments taught by an actual detective.
Penguin Coding School offers comprehensive year-round coding and summer break classes for ages 6–18, for all experience levels. Students learn Scratch, Minecraft, Python, JavaScript, and Roblox from engaging teachers in small classes. Penguin offers many different levels of Python as well as other advanced classes, and young children often progress through the classes well into high school.
Plugged In Band's students participate in inclusive music education programs without hierarchies or band leaders and are met wherever their abilities and skill levels lie. The music technology courses provide middle and high school students with a "behind the scenes" look at using sound design and engineering to create the perfect song, write their favorite tracks, or livestream a performance. Courses include Creating Music with Coding, Songwriting and Production, Digital Audio Production, and The World's Biggest Stage: Livestreaming 101.
RSM offers math courses during the school year and summer for grades 2-10. Test prep courses, including SAT, ACT, and AP, are also available. Online lessons are teacher-led, interactive, and closely mimic in-person classes.
SkoolOfCode offers coding classes for kids 6–16, taught by highly educated computer science teaching experts. The project-based coding curriculum encourages students to explore Scratch, Java, Python, robotics, and web development. SkoolOfCode offers free trial classes.
TechGirlz, a program of CompTIA Spark, a 501(c)(3) nonprofit organization, offers free workshops to middle school girls, in grades 5–8. Topics include coding, programming, engineering, entrepreneurship, cybersecurity, game design, podcasting, AI, encryption, photography, digital design, and more.
The Coding School (TCS) is training the diverse, future workforce in emerging technologies such as AI and Quantum Computing. TCS specializes in K-12 education and provides yearlong courses for anyone who has taken high school geometry.
Veritas AI is an ambitious program for high school students to learn the fundamentals of data science, AI, and ML. Students get a chance to work on real-world projects under the guidance of mentors from some of the best universities.
Virginia Space Flight Academy offers a year-round STEM Academy for grades 2–8. Students explore STEM career paths through various modules (astronomy, aerospace, robotics/coding, video game design) featuring live and on-demand instruction, asynchronous exploration, collaborative work sessions utilizing their personal materials kit, and ongoing access to STEM professionals.
YoungWonks is a WASC-accredited coding and engineering program for kids and teens ages 8-18. YoungWonks offers computer science classes in robotics, Internet of Things (IoT), and game development. Students can attend a 45-minute trial class for free.
More Online Options
In addition to classes and summer camps, some organizations offer school vacation camps, tutoring services, and preparation for AP classes and STEM competitions. If you're looking for something beyond a class or camp, be sure to check each provider's website or give them a call—they frequently have specialty offerings and are happy to talk with prospective families about them.