If you are looking for math programs for your kids, various options are available in Massachusetts. Whether you are searching for a program that offers extra challenges outside the classroom or you want to help build your child's confidence by giving them additional support, you will find a diverse array of math enrichment classes, camps, competitions, and clubs.
Math enrichment comes in many different forms, so you have some flexibility in choosing a format and teaching style that meets your child's needs. Teaching methodology and curriculum will vary by organization, and they generally focus on building a deep understanding of math concepts and developing analytical thinking and problem-solving skills.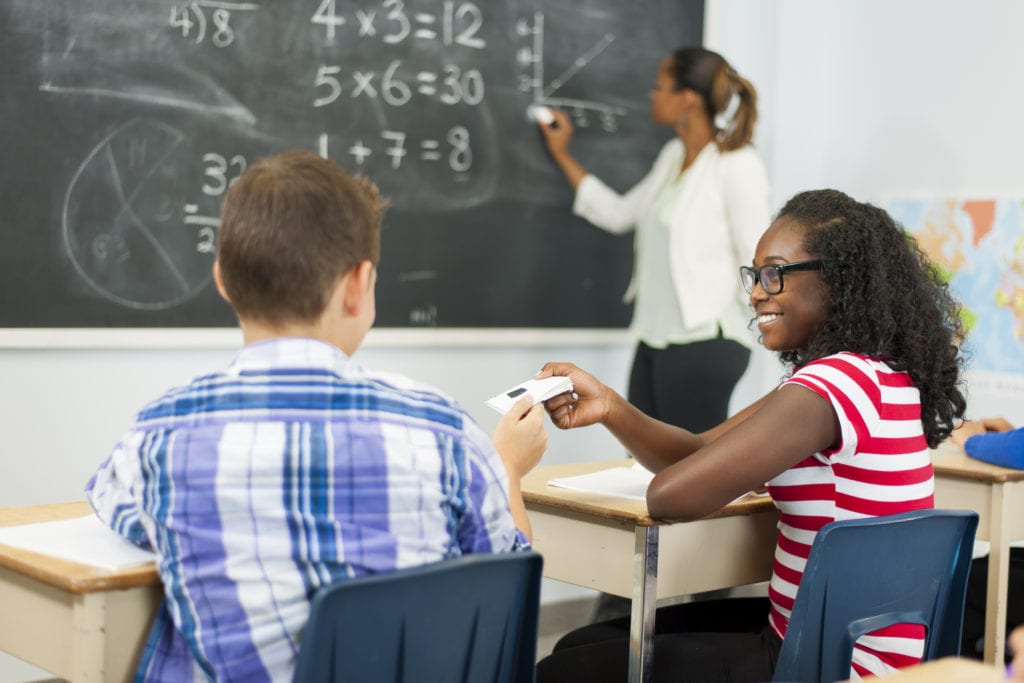 As you do your research, talk with organizations about their unique approach to teaching math to understand if it's a good fit for your child. Also, many companies offer a free trial class and evaluation, so you can test it out before you commit.
Here is a list of organizations that offer in-person math enrichment in Massachusetts—some provide online instruction as well. This list comprises math learning centers, after-school classes, summer camps, clubs, math competitions, and pre-college programs. The list is broken out by organizations that offer year-round programs and summer-only programs.
Year-Round Programs
CS Recitations (CSR) (Natick) provides after-school math and computer science classes to kids and teens at all levels. CSR is unique in its approach to building computational and logical problem-solving in a social and fun small-class environment. Students may choose coding classes, math and coding competition classes, SAT prep classes, or private tutoring. CSR also provides specialized instruction for students interested in competing, with classes focusing on the Math Kangaroo, Continental Mathematics League, American Computer Science League, and USACO competitions. Free consultations are available. (Grades 2-12)
Kumon (various MA locations + online) learning centers for children specialize in nationwide after-school math programs. The Kumon Method helps children learn on their own and develop strong academic skills. Daily Kumon Math worksheets will take about 30 minutes to complete in two sessions a week at a Kumon Center, and then another five assignments to be completed at home. Children work at their own pace, mastering each new concept before moving on. (Grades PK-12)
Lexington Singapore School (Lexington + online) offers after-school and weekend math classes and summer programs. Using the research-based and results-oriented mathematical framework from Singapore, they offer a proven approach to actively engage students in visualization, logic thinking, and problem-solving. Focusing on both conceptual understanding and procedural fluency, the school offers a curriculum based on the Singapore Math pedagogy, while customizing to the needs of their students. Weekly classes are conducted in small group sizes to facilitate learning. Since 2020, Lexington Singapore School also offers remote classes via Zoom. Interested students are invited to sign up for a free online evaluation on their website. (Grades K-12)
MathAltitude School of Mathematics (Worcester) is an after-school and weekend enrichment program offering comprehensive mathematical education. MathAltitude helps students to understand basic mathematical concepts and to develop creativity in solving complex real-life problems. Their goal is to encourage logical reasoning, analytical thinking, and independent learning. The curriculum enhances the existing math curriculum taught in local public and private schools and emphasizes the introduction of the concepts of algebra and geometry as early as elementary school. Additionally, MathAltitude offers a summer program, math competitions, and SAT/ACT prep. (Grades PK-12)
Mathnasium (various MA locations +online) is a neighborhood math learning center. Their experienced math tutors utilize proprietary teaching materials and techniques, The Mathnasium Method™, to deliver a customized learning plan designed to address each student's needs. Mathnasium's instructional approach goes beyond traditional math tutoring to develop understanding and build a love for math. They focus on meeting the student where they are and helping them progress by building their confidence with the specific foundational skills they need to master, and building some love, or at least an improved attitude toward math, by making the tutoring sessions more fun. Mathnasium does that by hiring engaging instructors, offering students rewards for their completed work, as well as ending sessions with a few minutes of (math-based) game time. Open for both virtual and in-person instruction sessions, and students can choose to be flexible and go back and forth for convenience or as needed. (Grades 2-12)
MathPlus School (Newton) offers after-school enrichment programs covering preschool and Kindergarten math, advanced math program grade K-10, and Math Olympiad. Classes are small, with not more than six children, allowing for individualized attention to each student. MathPlus School's approach to teaching mathematics is quite different from other schools. The main goal is to show children the beauty of mathematics. MathPlus School's innovative math curriculum combines advanced math concepts and topics, theorem proofs, and Olympiad-type problems complementary to school programs. (Grades PK-10)
Pi Math School (Northborough + online) is an after-school math program that offers a unique combination of the best Russian Math methods for teaching mathematics and Singapore Math. Pi Math School does not have pre-set lesson plans. Instead, at the beginning of each class, they assess each student's academic performance and mathematical skill set and customize the lesson to reach their personal goals. (Grades K-12)
Russian School of Mathematics (RSM) (various MA locations) is an after-school math program that helps children of all levels excel in mathematics. RSM believes all children are capable of developing a solid foundation in math if taught correctly. By guiding students to derive new concepts based on those they learned before, they promote understanding over memorization. Algebra is introduced in elementary school when kids are best at grasping abstract concepts. Students are encouraged to discover solutions and reflect on how they reached that solution. All teachers have a degree in mathematics or a related field and have a deep love for mathematics. A team of curriculum experts uses their wealth of classroom experience and strong academic background to continuously advance RSM's curriculum and teaching methods. (Grades K-12)
Studio of Engaging Math (Brighton + online) is an after-school math program. Their small groups and expert teachers provide an ideal environment for developing critical thinking and advanced problem-solving skills. The program incorporates the best practices of the advanced math schools in the United States, Russia, and Singapore. Studio's curriculum covers a wide range of topics in arithmetic, geometry, and logic. They also offer summer math programs, math competitions, SAT/ACT prep courses, chess classes, and coding classes. (Grades K-8)
sySTEMic flow (Greater Boston Area + online) offers after-school and online opportunities to advance students' foundational learning in math by providing access to rigorous math courses, tutoring services, and educational workshops. sySTEMic flow engages students in semester-style enrichment classes that enhance their metacognitive and creative thinking in math while integrating two guest speakers, two project-based activities, experiential learning, and specialized coaching in advanced math exams. sySTEMic flow focuses on students' individual growth through a flipped classroom and scaffolding approach, which gives them control over what they learn and how they learn. This approach is more student-centered and invites collaboration among peers. Lessons and content are provided in multiple ways, allowing students to deepen their understanding in a way that works for them. This model offers all students an equal opportunity to learn, self-learn, encourage peer learning and gain confidence in various mathematical concepts. (Grades 3-12)
The Cambridge Math Circle (Cambridge + online) offers two types of classes. The first is enrichment math, solving unusual problems using logic and math learned at school. The second is in-depth curriculum math, using Beast Academy and Art of Problem Solving curricula. Instructors show kids that challenging math can be fun. Cambridge Math Circle serves all students, with a special focus on those underrepresented in math. (Grades 2-8 online, 1-8 when in-person)
The Math Club (Lexington/Burlington) is an enrichment program dedicated to advancing confidence in and competency for math in students. For more than 20 years, the Club has offered year-round programs focused on problem-solving skills in topics such as arithmetic, number theory, algebra, geometry, and probability. Their proven formula combines instruction, interactive exercises and competition along with fun family activities. The Math Club engages the highest quality teachers and also incorporates peer teaching into students' experience. The TA program welcomes high schoolers who have graduated from the Math Club Lexington and who have earned the highest awards in the International Olympiad Competition. (Grades 3-8)
Z-kai Learning Lab (Arlington + online) offers a proven and award-winning math curriculum with their proprietary workbook called Zoom-Up Math. It is tailored to develop students' mathematical thinking, problem-solving, and explanation skills that are necessary for their future success in STEM. The course is based on the successful and proven math content that challenges students for their application of mathematical concepts. It develops a deeper understanding of mathematics and gets them prepared for algebra and geometry in middle school. Students can take in-person or online one-on-one classes. (Grades 1-5)
Summer-Only Programs
CyberMath Academy (Cambridge) offers Summer Math Camp, a selective summer math program for students who would like to sharpen their math skills in the inspiring and motivating atmosphere of Harvard University. The camp provides a challenging environment for students in which they master mathematics with the participation of brilliant students from all over the globe. CyberMath Academy's system seeks to provide students with a solid foundation and skills necessary to develop math and mathematical applications. An application is required. (Grades 6-11)
GirlsGetMath (Easton) is a selective five-day non-residential mathematics summer program at Stonehill College. Students explore the mathematical sciences through hands-on activities, interactive lectures, and daily computer labs. The program is led by accomplished Stonehill faculty who are enthusiastic about serving as scientific mentors and discussing a variety of careers that utilize a mathematical background. Potential topics include cryptography, data science, image processing, prime numbers and factoring, and mathematical modeling. An application is required. (Grades 10-11)
Hampshire College Summer Studies in Mathematics (HCSSiM) (Amherst) is an intensive six-week encounter with college-level mathematics for talented and highly motivated high school students. Participants spend a major portion of each day actively engaged in doing mathematics (not simply learning the results of mathematics). HCSSiM students live in the dorms at Hampshire College in Massachusetts for six summer weeks and study and play in its fields, woods, and academic buildings. An application is required. (Grades: high school students)
PROMYS (Boston) is a six-week summer program at Boston University designed to encourage strongly motivated high school students to explore in-depth the creative world of mathematics in a supportive community of peers, counselors, research mathematicians, and visiting scientists. An application is required and the admission process includes a challenging problem set, a recommendation from mathematics teacher, transcript, and an application form. (Ages 14-18)
PZMC (Williamstown) is a residential math camp for about 20 mathematically gifted high school students who have completed or are currently enrolled in Algebra 2 or its equivalent. Students will be exposed to several different areas of mathematics through colloquia and other activities, but the primary focus of the camp will be Number Theory & The Art of Mathematical Thinking. Students will learn to explore the theory of numbers by asking thoughtful questions, working out examples, looking for patterns, making conjectures, and finally, proving their results. An application is required. (Grades 9-12)
Pre-College University Math Classes
Some universities offer summer math classes for high school students. Here is a sampling of schools that offer courses. Please inquire with universities in your area to see if they provide classes for high school students.
Conclusion
In addition to the organizations profiled here, if you are looking for other math resources and support, I encourage you to visit Khan Academy, a non-profit organization dedicated to providing free online personalized learning resources for all ages. Khan Academy is a tremendous resource for students who have math questions or want to learn more about a particular topic. On the site, you will find short lessons and tutorials in the form of instructional videos and practice exercises, along with a personalized learning dashboard that empowers students to study at their own pace in and outside of the classroom. Khan Academy also has resources for science, computer programming, history, art history, economics, and more.