If you are looking for fun, family-friendly STEM activities, look no further than the 20+ science museums, science centers, planetariums, and aquariums in Massachusetts. Visiting a science museum is always a great way to get kids involved in science and technology and it's also a wonderful way to spend quality time together as a family. Some museums even offer special programming, hands-on activities, and summer camps just for children. 
Have fun browsing this list of unique, engaging, and educational attractions to find the perfect one that piques your interest. In addition to many well-known places, like the Museum of Science and the New England Aquarium, there may be some you haven't heard of that will be well worth exploring. Next time you are looking for a STEM activity, consider one of these gems!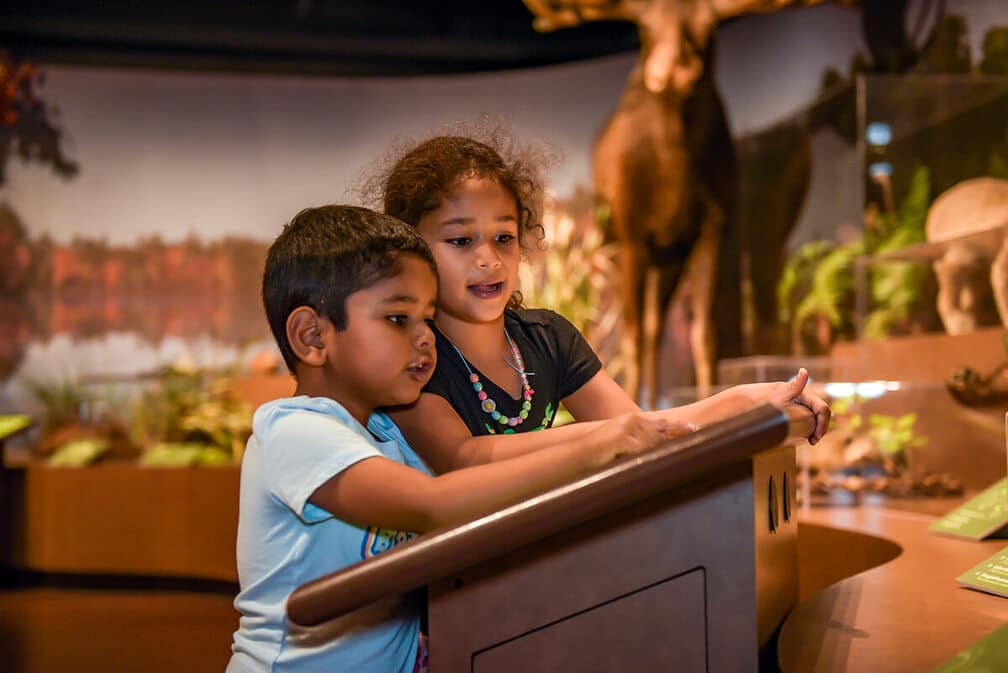 Children's Museums
Boston Children's Museum (Boston) STEAM programs and exhibits engage children in the excitement and creativity of discovery, making, and problem-solving. Inviting children and families to engage in STEAM challenges, use tools, and develop skills, Museum STEAM activities provide opportunities for hands-on, open-ended explorations that ignite imaginations. Typically, there are STEAM Workshops twice a month and a monthly activity in the STEAM Lab.
Children's Museum Easton (Easton) promotes lifelong learning through hands-on play and exploration. The Museum has three floors of interactive hands-on exhibits. Blast off into space, make discoveries in the STEAM Lab, create in the MakerSpace and so much more.
Discovery Museum (Acton) is a hands-on museum for families that blends science, nature, and play. The Museum and its Discovery Woods outdoor nature playscape and giant treehouse blend the best of STEAM learning on a beautiful 4.5-acre campus abutting 180 acres of conservation land in Acton, MA, about 20 miles west of Boston. The entire campus is accessible, built to Universal Design standards. Discovery Museum offers hands-on, open-ended exhibits exploring light & color, sound, water, air, math, tinkering, and pretend play, as well as more than 300 on-site staff-led education programs annually, all designed to help children develop their curiosity about the world and explore STEM topics confidently. Read about BostonTechMom's experience at the museum.
Science Museums and Centers
Berkshire Museum (Pittsfield) offers exhibitions, activities, and attractions for families, children, and visitors of all ages, featuring art, history, and natural science.
Broad Discovery Center (Cambridge) is an active, public educational space that showcases how researchers in Kendall Square and around the world are seeking to understand and treat human disease. Admission is free and open to the public. Free tours are offered between 10-3 Monday-Wednesday, and school groups can also book tours via the website.
Cape Cod Museum of Natural History (Brewster) has exhibits about the flora and fauna of Cape Cod, including exhibits on whales, archaeology, indigenous birds, bird banding, and coastal change, and several aquaria holding different species of crustaceans, mollusks, fish, frogs, turtles, and snakes. There are also special children's programs and activities, including school vacation and summer camps.
Challenger Learning Center at the Christa McAuliffe Center (Framingham) offers simulated space-themed missions in a fully-immersive Spacecraft and Mission Control for middle and high school students, Scouts groups, and adult learners. Surrounded by technology and hands-on labs in rooms that mirror real space industry environments, all crew members role-play diverse STEM careers while collaborating, communicating, and problem-solving to ensure mission success!
Chatham Marconi Maritime Center (North Chatham) offers engaging science programs for children,including Summer STEM and in-school classes. The Center's Marconi-RCA Wireless Museum features interactive exhibits exploring Guglielmo Marconi's life and legacy, the story of RCA's ship-to-shore radio station WCC, and of the Navy's secret WWII "Station C".
EcoTarium (Worcester) is a museum of science and nature featuring interactive exhibits, live animal habitats, exciting shows in the digital planetarium, daily Science Discovery programs, hikes through forest and meadow nature trails, outdoor imaginative play, and a train ride around the 45+ acre campus (seasonal).
Harvard Museum of Natural History (Cambridge) includes galleries showcasing dinosaurs, mammals, meteorites, birds, rare minerals, gemstones, and more. The museum also offers lectures, classes, and programs for learners of all ages, from school children to adults. 
Koch Institute Public Galleries (Cambridge) invites visitors to explore current cancer research projects, examine striking biomedical images, hear personal reflections on cancer and cancer research, and investigate the historical, geographical, and scientific contexts from which the Koch Institute emerged. The Galleries are open to the public Monday through Friday. The Koch Institute also hosts field trips for middle and high school students to visit its facilities, meet researchers who work every day to solve the complex problems of cancer, and learn interactively about the science and technology of cancer research at MIT through their student-centered programs. Contact kigal[email protected] to arrange a tour or a field trip for your group.
Maria Mitchell Natural Science Museum (Nantucket) is a cross between a classic natural history museum, a zoo, and a science center. It is a great place to learn about the plants, animals, and birds of Nantucket. 
MIT Museum (Cambridge) is a public place inside MIT where you can find innovation, invention, and ideas that have changed the world. Relocated and reopened in Kendall Square, the Museum presents regular programs, events, and festivals, including daily drop-in activities in its Maker Hub, workshops in its educational classroom, and the annual Cambridge Science Festival.
Museum of Science, Boston (Boston) has over 700 interactive exhibits, daily presentations, live animals, and hands-on activities. There is something to pique the curiosity of every little (and big!) scientist at this iconic museum. The Museum of Science is also a great place to visit when you have out-of-town guests—it's ranked as one of the top 10 science museums in the US by National Geographic. 
Russell Museum (Boston) is devoted to medical history, showcasing Massachusetts General Hospital's long-standing commitment to innovation. The nearly 8,000-square-foot facility hosts exhibits and programs on medical topics such as the evolution of health care, laboratory and clinical research, and patient and family support. Admission is free.
South Shore YMCA Natural Science Center (Norwell) is dedicated to educating the public about the natural and cultural environments of the South Shore. In addition, the Science Center is home to the EcoZone—an interactive museum featuring live native animals, owl exhibits, a Children's Garden, and six interpretive trails. 
Springfield Science Museum (Springfield) houses permanent collections of natural science, anthropology, and physical science. The Science Museum's Seymour Planetarium features the historic Korkosz Starball, now the oldest operating star-projector in the United States.
Planetariums
Alden Planetarium (Worcester) at the Ecotarium uses images from NASA and the Hubble Space Telescope to create a three-dimensional solar system projected onto a 40-foot dome.
Blake Planetarium (Plymouth) is a state-of-the-art facility that immerses its audience with video and sound and provides regular programs to the public. 
Charles Hayden Planetarium (Boston) at the Museum of Science offers a broad range of space science and music shows in the most technologically advanced digital theater in New England.
Framingham State University Planetarium (Framingham) offers interactive programs for K-12 school groups, out-of-school time groups, and the general public. Completely renovated in 2023, its brand-new projectors, movable seats, and sound system allow learners to enjoy full-dome films, explorations of the night sky, and presentations on a wide range of earth and space science topics.
Seymour Planetarium (Springfield) at the Springfield Science Museum is home to the oldest operating planetarium in the United States. 
Aquariums
Maria Mitchell Aquarium (Nantucket) displays local Nantucket species and is an excellent place to learn about the amazing sea life around the island. Displays are always changing and range from crabs and shellfish to fish and eels. 
New England Aquarium (Boston) welcomes visitors from around the world and is a major public education resource in New England. The Aquarium offers a variety of fun and educational on-site activities for children, families, and individuals, and has programs for teens interested in marine science.
The Woods Hole Oceanographic Institution's Ocean Science Discovery Center (Woods Hole) is full of interactive exhibits that engage visitors of all ages. People can learn about the vessels, vehicles, and tools developed and used by WHOI to explore our ocean. The Discovery Center includes exhibits about the discovery of exploration of the Titanic and the plight of the North Atlantic right whale. You can also climb inside a replica of the personnel sphere of Alvin, a deep-sea submersible, and imagine yourself exploring the ocean floor. The Discovery Center is only open from mid-April through October.
Woods Hole Science Aquarium (Woods Hole) is a small, public aquarium that displays approximately 80 species of marine animals found in Northeast and Middle Atlantic waters. Owned and operated by NOAA Fisheries, a federal agency, the aquarium is designed for self-guided tours of the main exhibits and a behind-the-scenes look at aquarium operations. Open year round, there is an outdoor harbor seal exhibit and indoor exhibits. Admission is free.
Tips for Planning Your Visit
As you plan your visit, here are some tips that can help you find special events and save money too!
Many science museums offer events and temporary exhibits. Sign up to be on their email list so that you can be notified when special events are on the horizon. 

See if your local library offers museum passes at discounted rates. 

Consider purchasing an annual membership if you think you might visit a few times. Memberships usually pay for themselves in the first few visits.

Many museums offer free or discounted admission on certain days and times. Visit websites to find details.
Traveling Outside of Massachusetts?
If you are traveling outside of Massachusetts, visit the Association of Science-Technology Centers (ASTC), Association of Zoos and Aquariums (AZA), and Go Astronomy to find science centers, aquariums, and planetariums throughout the country. 
Photo Credit: Harvard Museum of Natural History by EJSP Visual | Julieta Sarmiento