If you are looking for a family-friendly science museum in the Boston area, then you must visit the Discovery Museum in Acton, MA. This museum has been a favorite in my family for many years and was a saving grace during many cold winter months in Boston! This year, the Museum unveiled a major renovation which consisted of combining the separate Children's Museum and Science Museum into one building and doubling the total exhibit space. The Museum invited me to visit and graciously gave me passes for my family to visit. I brought my daughter along to get a kid's perspective—she loved it!
I am happy to report that the new Museum retained the charm it was known for and now the fun activities are located in a fresh, modern space. It's a lot easier to navigate because there is more space which is a great benefit for parents with young children. My favorite exhibit from the old museum was the chain reaction room and I was happy to see that there was a similar exhibit in the new space. It's called AirPlay and it's an amazing demonstration of the incredible power of air with a 13'-foot-tall interactive pneumatic sculpture of tubes and blowers. It's just as mesmerizing and fun as the previous exhibit and a favorite among kids and parents!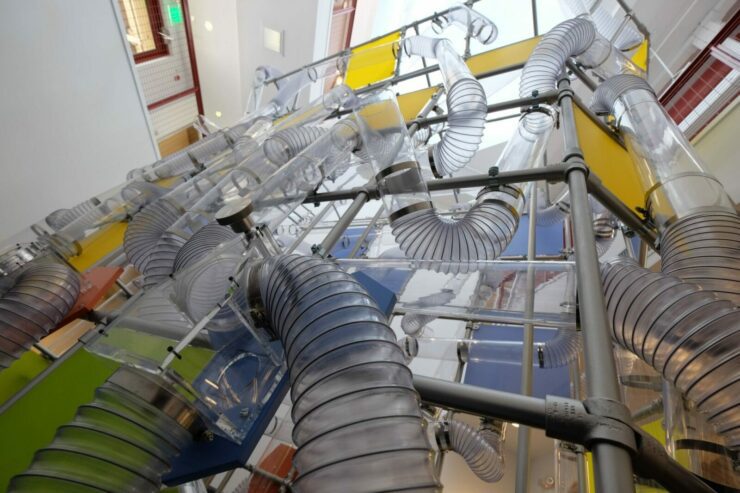 Renovated and Expanded Museum
I spoke with Ann Sgarzi, the Director of Marketing, about why the Museum undertook such an ambitious project. Ann explained, "We completely renovated and expanded the museum to replace aging infrastructure, add modern amenities, and expand our overtaxed capacity, but the most important reason was to redesign our space and all exhibits to serve people of all abilities." She added, "The new Discovery Museum was created according to Universal Design principles to be usable by the widest range of people—our entire campus including Discovery Woods and the Discovery Treehouse are now accessible and inclusive."
The response to the new Museum has been wonderful: year-to-date visitation is up 58%, and perhaps, even more, telling, membership sales are up 37%.  The Museum has been awarded a Best of Boston® for Best Family-Friendly Museum, West, and a John F. Kennedy Center for the Performing Arts 2018 LEAD© Community Asset Award. – Ann Sgarzi, Director of Marketing
Museum Highlights
The hands-on STEAM (science, technology, engineering, art, and math) exhibits appeal to young kids (around 3-10 years) and it's obvious that kids are having a great time playing, exploring, and experimenting. There is also a new space dedicated to kids under three and their parents and caregivers. There is a joyful energy and buzz when you visit.
I asked Ann what some of the most popular exhibits are and she said, "That's a tough one because there are so many! Some favorites are our Water Gallery, Train Room, and Light & Color Gallery. And for our young learners under three years old, our all-new Brain Building Together space is the place to be!"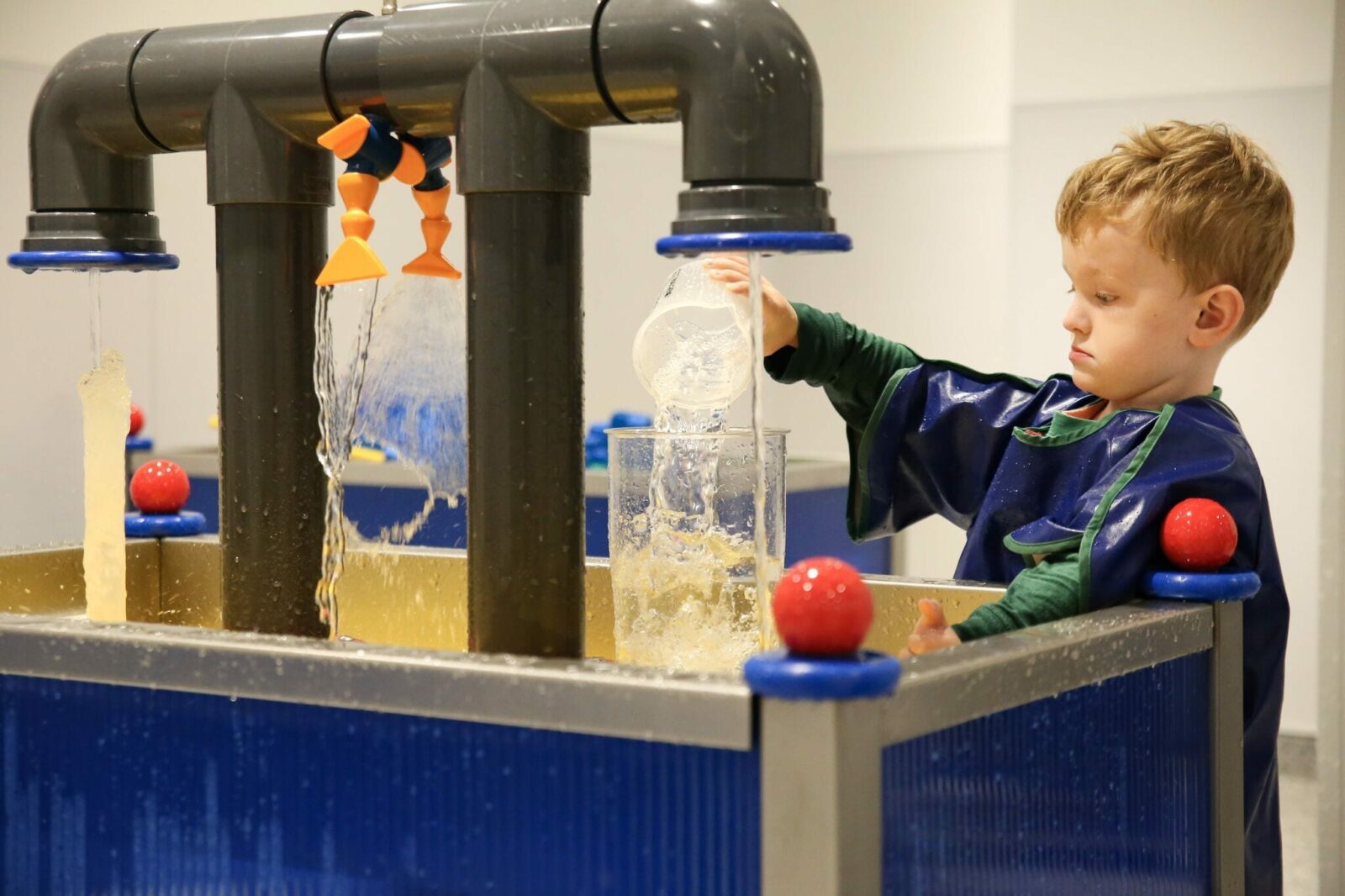 Planning Your Visit
The Discovery Museum is open year-round and your admission includes entry to the Museum and Discovery Woods, an outdoor nature playscape. There is ample free parking which is especially helpful for parents of young kids.
Adult: $14.50
Senior (60+): $13.50
Child: $14.50
Under 1 year old: Free
Active duty military families and teachers are always free!
Many discounts are listed on the Ways to Save page
Annual membership is available and includes unlimited visits, discounts on parties and more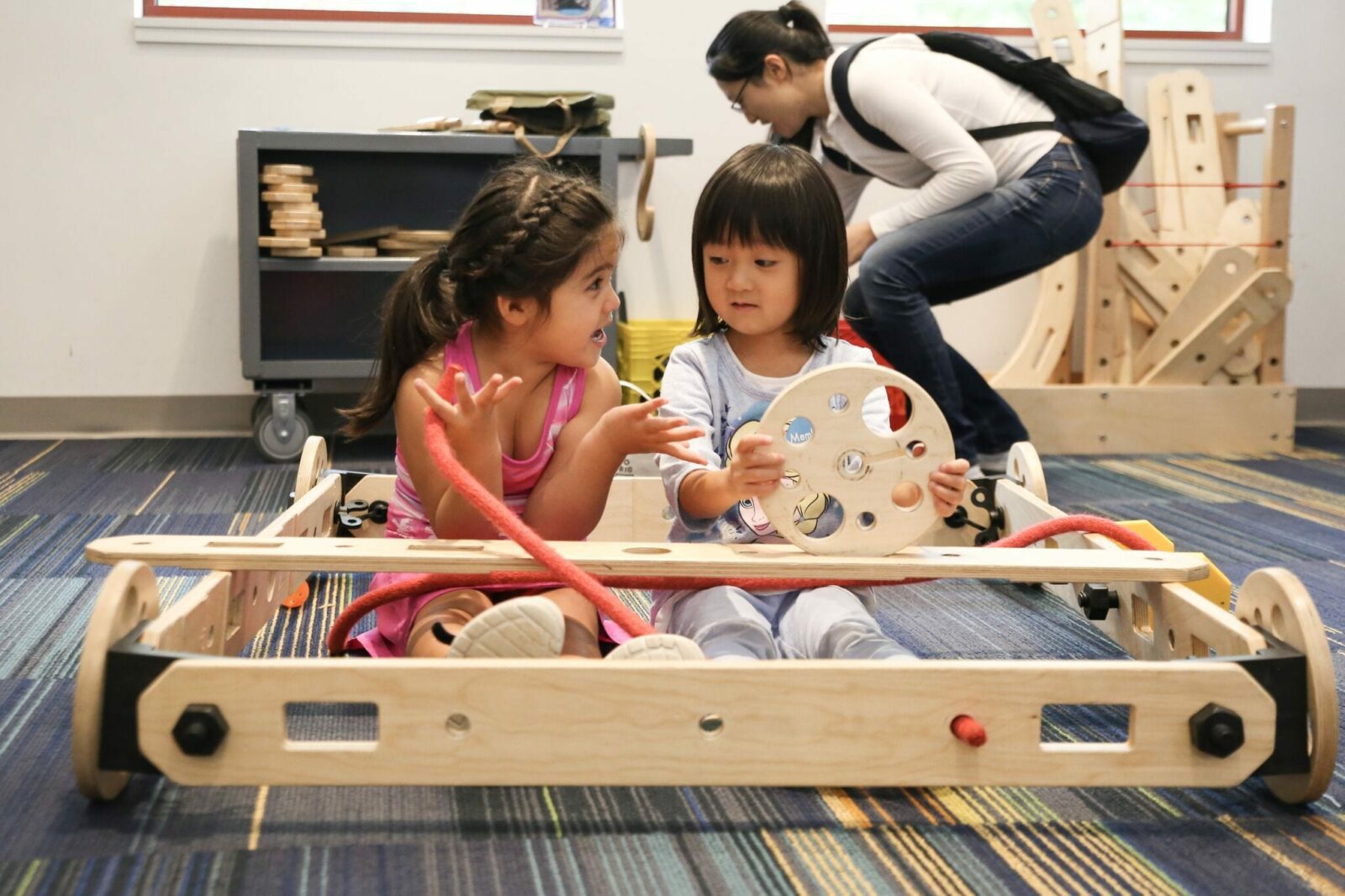 During the school year, the Museum generously provides FREE admission on the first Friday night of the month from 4:30pm-8:00pm and every Friday night during the summer. Special free-admission hours are offered as part of the Museum's Especially for Me program for families with kids on the autism spectrum, who are deaf or hard of hearing, or are blind or low vision.
If you want to get your kids involved in additional science activities, check out the Museum's calendar because they hold many hands-on educational STEAM programs throughout the month, such as Make a Mess, Take Aparts, Doggy Days, and Backyard and Beyond. These activities are facilitated by Museum staff and are included in the regular price of admission.
Finally, you may want to inquire with your library: more than 75 local libraries offer discount passes to the Discovery Museum.
Image Credit: Discovery Museum
About Discovery Museum
Discovery Museum is a hands-on museum that blends science, nature, and play, inspiring families to explore and learn together. The museum and its Discovery Woods accessible outdoor nature playscape and 550sf treehouse blend the best of STEAM (Science, Technology, Engineering, Art and Math) learning on a beautiful 4.5-acre campus abutting 180 acres of conservation land in Acton, MA, about 20 miles west of Boston. Originally founded in 1982 and expanded to two museums in 1987, the museum reopened in a single, 16,000sf accessible building after a complete renovation and expansion in early 2018. Hands-on, open-ended exhibits developed by professional educators inspire curiosity and exploration, providing a fun and engaging experience for children and adults to discover their world together. Serving families and schools from towns throughout the region, the museum is devoted to informal education that enhances classroom learning. Discovery Museum is committed to accessibility, and is a proud recipient of the 2017 Massachusetts Commonwealth Award, the only winner in the Access category, and a 2018 LEAD® Community Asset Award from The John F. Kennedy Center for the Performing Arts. For more information please visit www.discoveryacton.org. Discovery Museum is a community-supported non-profit organization.