Welcome to the start of another school year! Here is a preview of what's coming up this fall. The first part of the article will include opportunities for students around the country, and the second part will feature programs in Massachusetts. There are three fabulous family-friendly events in MA I wanted to highlight. I've included information below, but if you want a quick preview, check out the Cambridge Science Festival (Sept 25-Oct 1), RoboBoston: 6th Annual Robot Block Party (Sept 30), and CreatedBy Festival (Oct 22).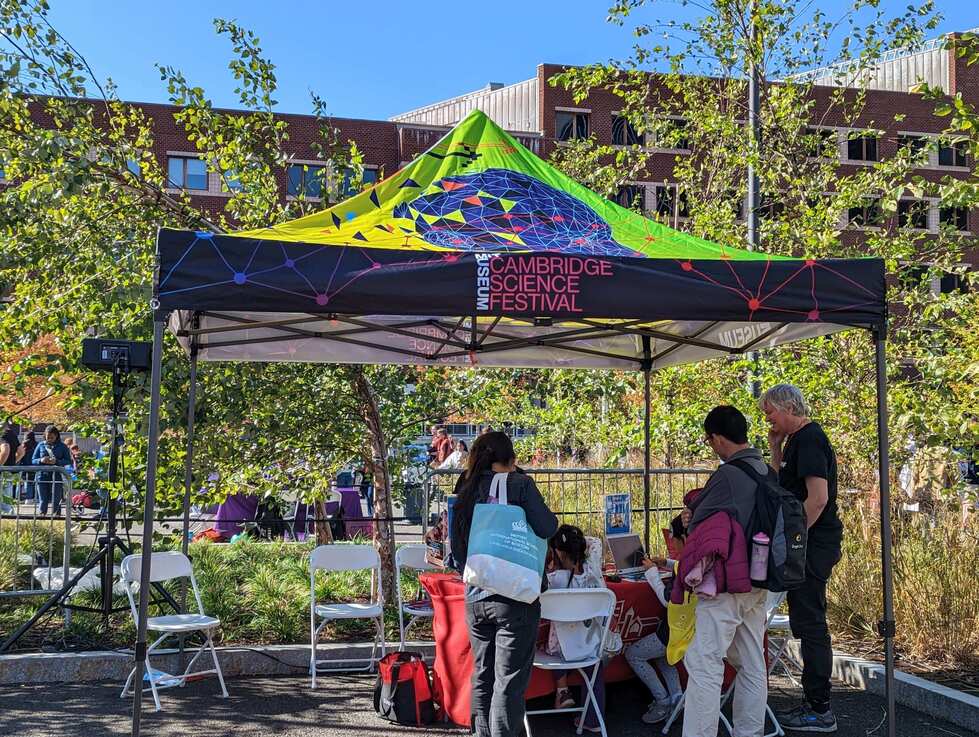 NASA's TechRise Student Challenge
NASA is seeking student teams in grades 6-12 to design experiments that, if chosen, will be tested on a high-altitude balloon or rocket-powered lander next summer. The TechRise Student Challenge is a rare and exciting opportunity for students across the country to get hands-on insight into the payload design and flight test process, intending to inspire a deeper understanding of space exploration, Earth observation, coding, electronics, and the value of test data. Students, in teams of four or more under the guidance of an educator, will choose a flight vehicle for which to design their experiment. Review all details and submission guidelines. Attend a virtual Educator Workshop on September 14 (RSVP here) and a virtual Student Field Trip on September 29 (RSVP here). Entries are due October 20.
Soft Robotic Toolkit Competition
The Soft Robotic Toolkit Competition by Harvard Biodesign Lab is back and accepting submissions. This is open to high school students. (There is also an open category and one for college students.) Submit your best soft robot demos to demonstrate your creative ideas and concepts. Submissions will have the chance to win cash prizes and to be showcased on their website. Submissions will be accepted through October 31.
CyberPatriot Defense Competition
A new season of CyberPatriot, the nation's largest youth cyber defense competition, is open. Teams of high school and middle school students are challenged to find and fix cybersecurity vulnerabilities in virtual operating systems. Using a proprietary competition system, teams are scored on how secure they make the system. Top teams advance through the online round of competition, and the best advance to the in-person National Finals Competition. Teams must register by October 3, 2023.
Congressional App Challenge
Every year, members of Congress across the country challenge students in their districts to create and submit original apps for a chance to win the Congressional App Challenge (CAC). Winners are publicly recognized. To be eligible to participate in the Congressional App Challenge, you must be a middle or high school student at the time of app submission. Students may register as individuals or as teams of up to four. Students may compete in the district they reside in or in the district where they attend school. Submit original apps through November 1.
National STEM Challenge
EXPLR has announced the first-ever National STEM Challenge is a nationwide online challenge designed to cultivate creativity, critical thinking, and a love for STEM among middle and high school students (grades 6 – 12). Students from all 50 states, plus the District of Columbia, U.S. territories, Department of Defense schools, Bureau of Indian Education schools, and non-public schools are eligible. Top STEM Champions will be chosen to showcase their projects, with an all-expense paid trip for them and their caregivers, at the National STEM Festival in Washington, D.C., in April 2024, in partnership with The Department of Education. Entries will be accepted in six categories: Environmental Stewardship, Future Food, Health and Medicine, Powering the Planet, Space Innovation, and Tech for Good. Students can get involved without any teacher involvement. Teachers! Please share this news with your students. Student submissions will be accepted from October 4 through November 12, 2023. Register here.
NCWIT Computing Award
Each year, the National Center for Women & Information Technology (NCWIT) honors 9th-12th-grade women, genderqueer, or non-binary students for their computing-related achievements and interests with the Aspirations in Computing Award. Students with any level of experience are encouraged to apply: NCWIT recognizes aspirations as well as accomplishments! Apply by November 6.
TechGirlz Virtual Workshops
TechGirlz, a nonprofit organization helping middle school girls embrace the power of technology, will be hosting free virtual tech workshops this fall. View the calendar of events and sign up.
Student Spotlight! Light on the Heart
Light on the Heart is looking for student volunteers! The organization aims to create equality in cardiovascular care on the foundation of research and pave the way for advancements in healthcare from a diverse background of change-makers. Ayana Bahadur, a high school junior in Massachusetts, founded the organization because she has a close family member affected by heart disease and lacked fair treatment due to being part of a minority group. There are many ways to get involved: Write articles for the Blog to spread inequity awareness; advocate for your congressional representatives through team-drafting legislation to include minorities in heart failure clinical trials; or interview professionals in medicine and STEM for the speaker series. Join today for leadership experience and an opportunity to make a difference!
Upcoming Events & Activities in Massachusetts
Featured Event! The Cambridge Science Festival (September 25-October 1)
This year's Cambridge Science Festival features 200+ STEAM events, activities, workshops, lectures, and more! Wow!! There will be many family-friendly events—mark your calendars for the always fun Carnival on Sunday, October 1, from 12pm-4pm at the Kendall/MIT Open Space. Look through the Festival Guide and learn more, including information about the organizer, the venue, and how to reserve your ticket. Every event is free and open to the public, but many have limited capacity. Get your tickets soon to avoid missing out.
#IfThenSheCan – The Exhibit at the Cambridge Science Festival
Plan to see #IfThenSheCan-The Exhibit, the headliner at this year's Cambridge Science Festival. The Exhibit features life-sized 3D printed statues of women who represent a diverse coalition of STEM careers and serve as high-profile role models for middle school girls working to inspire the next generation of STEM pioneers. If young girls can see women like them working in innovative and exciting STEM roles, they can see themselves working in those roles and being part of the solution to many of our world's challenges. Visit the Kendall/MIT Open Space Exhibit from September 25-October 1.
Plugged in Band: Music Programs in Needham
Plugged In Band Program's fall session starts the week of September 18th and is open to any youth, teen, 20-something, or adult. Programs include rock band classes, media scoring classes, and private lessons. Plugged In is a unique, inclusive nonprofit music program where musicians of all levels and needs are welcome. Bands are grouped by age, skill level, and musical interest. Register now.
Acera School: Afterschool STEM Programs in Winchester
Acera offers hands-on enrichment programs open to all students ages 5+. Annual favorites include Engineering Design Challenges, Science Investigators, and Creative Computing, and new programs like STEM Soccer & Basketball, LEGO Spike Prime Robotics, and Digital Modeling and Simulation. Register here.
RSM Massachusetts Open House Fall Events
The Russian School of Mathematics helps children of all levels build a solid math foundation and develop their critical thinking and problem-solving skills. This fall, RSM is organizing various Back to School, Open House, and Family Events across most of the 15 branches located in Massachusetts. These events are an opportunity for parents to learn about RSM's program, meet the Principal and teachers, and ask any questions they might have about fall enrollment. From math games and puzzles to exciting challenges and cool prizes, RSM events are always free and open for children of all ages. Walk-ins are welcome, but space is limited, so sign up for the event of your choice by visiting their events page.
Health Professions Recruitment & Exposure Program (HPREP) at Harvard Medical School
HPREP is a high school science enrichment program aimed at recruiting high school students from underserved and underrepresented backgrounds in the greater Boston area into the science and health professions. HPREP participants (high school freshman, sophomores, juniors, and seniors) are introduced to various topics in medicine, science and public health under the mentorship of medical school faculty and students. Saturday sessions take place at the Harvard Medical School campus in the Longwood Medical Area in Boston over a 10-week period. This is a free program. The application deadline is September 22.
Student Spotlight! The Science Research Academy
The Science Research Academy offers hands-on scientific exploration for middle schoolers in the Boston area. Founded by Parth Kocheta, winner of the 2022 MA State Science Fair, this organization has guided 25+ students, 85% advancing to the State Fair, with multiple award-winning participants. Applications are open for Science Fair, a January-April program that prepares students for the Massachusetts Science Fair. Learn more or book a free call.
More Events
September 17: The Harvard Museum of Natural History is hosting ¡Celebremos El Salvador! Celebrate the vibrant culture and natural history of El Salvador. Enjoy captivating folk dances by Grupo Torogoz and try hands-on activities including corn grinding and painting with cochineal insects. Go on a scavenger hunt and discover the rich heritage of animals, minerals, and artifacts from the region. This is a free event! Free parking at the 52 Oxford St Garage.
September 23: Families are invited to join Arthur for a kid-friendly dance party and be the first to see a new digital-short-episode – The D.W. Dance Challenge! After the dance party, families are invited to stay for a picture with Arthur, coloring, and a chance to watch a couple of classic Arthur episodes. The event runs from 11am-12pm at GBH Studio at the Boston Public Library in Copley. Attendance is free. Registration is encouraged but not required.
September 25-October 1: Participate in the annual Cambridge Science Festival, a week-long city-wide celebration of innovation and curiosity. See the full listings and check out this year's themes & series.
September 25-October 1: The MIT Museum will host several special events during the Cambridge Science Festival. Admission to the museum and all events during the festival is free! See the list of events.
September 30: In partnership with HUBLUV, the Museum of Science is excited to present Pedal Power: Celebrating Community Through Biking. Join as they welcome the region's bicycling community organizations to celebrate the engineering, community wellness, and environmental benefits of the bicycle ecosystem. Cost: Included with Exhibit Halls admission or membership.
September 30: MassRobotics will host the 6th annual Robot Block Party, a celebration of robots and robotics in Boston's Seaport Innovation District. Check out the latest in robotics, including robot demonstrations, hands-on interactions with robots, and games. Register for this free event.
October 1: Attend the family-friendly, science-themed Carnival at the Cambridge Science Festival, featuring over 100 activity booths, demonstrations, live music and events, the ever-popular Robot Petting Zoo and Liquid Nitrogen Ice Cream Freeze-Off competition. Join the celebration of exhibitors, educators, and innovators as they transform the Kendall/MIT Open Space into a giant playground of all things scientific. Free event!
October 7: Attend the annual National Fossil Day at the Harvard Museum of Natural History. Ask Harvard paleontologists about their favorite fossils and their latest research projects. Entry with paid admission. Free parking at the 52 Oxford St Garage.
October 14: The Girl Scouts of Central and Western MA is hosting Geek is Glam at WPI, an annual day-long interactive STEM conference for middle school girls (grades 4-8) and StemEx at GiG, a STEM career exploration event for grades 9-12. Register now.
October 14: Attend the Pioneer Valley Maker Faire in Holyoke, a festival celebrating invention and creativity. This is a free event!
October 16-20: The theme of the sixth annual statewide Massachusetts STEM Week is "See Yourself in STEM," with a particular focus on the power of mentoring. Programs and events are held throughout the state.
October 17: The Brockton Public Library is hosting Planet Earth Family Fun Night from 5pm-8pm. This free event for all ages will include lots of hands-on activities and science fun! Sign up in the Children's room, call 508-894-1431 or email [email protected].
October 19: Acera School in Winchester, is hosting Innovator Symposium: An evening of interactive science for all ages. Local scientists, tech leaders, and inventors will be at Acera to showcase their groundbreaking work in a way that is accessible to all ages and learning styles. The evening will feature presentations, an interactive robotics display, and hands-on makerspace activities. Register for this free event.
October 22: The CreatedBy Festival is a family-friendly annual opportunity to be inspired by local artists, technologists, makers, and creatives at Boston Children's Museum. Cost: $22/ticket (morning) and $1/ticket (afternoon).
October 28: The Transportation YOU Summit will be held at the University of Massachusetts Lowell. The event introduces students ages 8-14 of all gender identities, focusing on girls, to transportation planning and engineering. This Summit will offer an in-person, hands-on workshop program to cover basic transportation concepts and connect students to resources to help them plan education and/or career in transportation. The Summit is free, but registration is required. Registration will close on October 1 or when the cap of 100 attendees is reached, whichever comes first.
Coming in November!
Northeastern University will hold an in-person Splash for grades 8-12 on November 11. Free event! Student registration will likely open in October.
Clark University will hold Splash on November 12 for grades 5-12. Free event! Registration will open in the fall.
MIT Splash for high school students will occur November 18-19. Make an account on the website to get an email when registration opens in late October. Cost: $50
Image Credit: Cambridge Science Festival