When I come across new trends and new opportunities to expose kids to technology before college, I am always excited to share them with parents. In today's post, I'll tell you about cybersecurity, a field within computer science, and how kids in middle and high school can learn about this important, relevant, and intellectually stimulating field.
These days we hear a lot about cybersecurity in the news, especially when there are cyber attacks and threats to businesses, our government, and our own personal information. As we rely on the internet for practically everything today, online security is becoming essential on many levels.
With these constant and growing threats, the need for cybersecurity professionals is more important than ever. The US Department of Homeland Security defines cybersecurity as "the art of protecting networks, devices, and data from unauthorized access or criminal use and the practice of ensuring confidentiality, integrity, and availability of information."
In this emerging field, you may not have a clear impression of who works in cybersecurity. What does the work entail? Is this a good opportunity for young people to pursue? How early can a student start learning the complexities of cybersecurity? Read on for the answers to these questions—and more!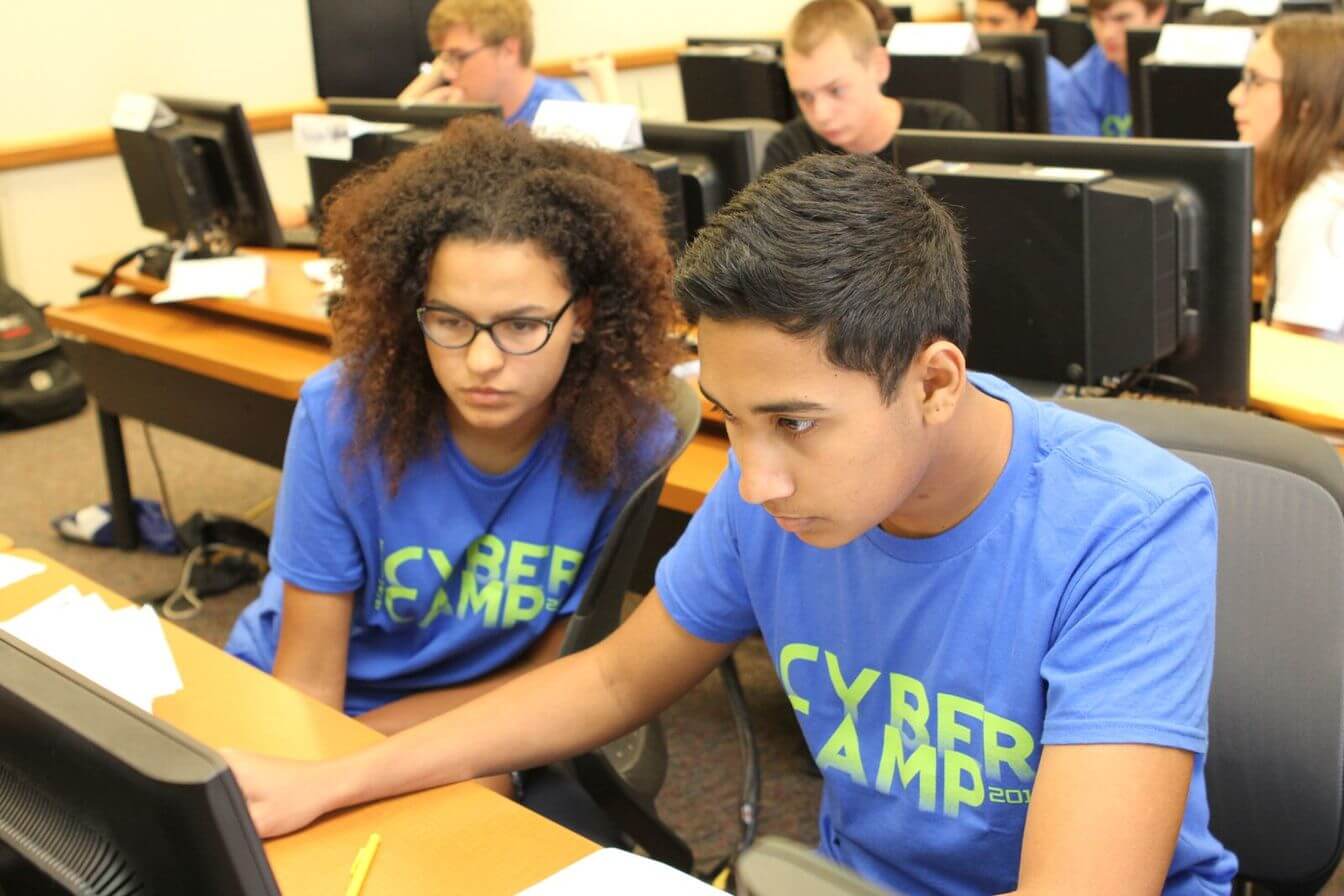 Why cybersecurity? Cybersecurity experts are in demand!
Today, there is a cybersecurity skills shortage, plain and simple—and the global cybersecurity workforce is projected to be short by 1.8 million people by 2022. 
Cybersecurity experts are in high demand because everything from our personal data to government servers are at risk for breaches, requiring skilled individuals who can protect that information.
And, cybersecurity isn't just one job—it's a varied and dynamic collection of careers. Data Scientist, Software Security Developer, Data Security Analyst, and Chief Security Officer are just a small sample of the various careers students can pursue with a background in cybersecurity.  Cybersecurity relies on a well-rounded skill set, so there's room for people with all different interests and work styles. For example, one might be a programmer working on code development, while another person may design and oversee a company-wide system. Someone else might be responsible for analysis and reporting and another might oversee intrusion protection and detection. 
Plus, cybersecurity is fun! For kids who love puzzles and logic problems, cybersecurity can be an exciting gateway to the world of computer science. And it can introduce them to an intellectually satisfying profession that will offer them the choice of many different work settings and career paths.
Why should your teen attend a cybersecurity camp?
Universities are acknowledging the need to prepare the next generation of cybersecurity professionals by adding cybersecurity degrees within their computer science curricula. But how would a teen know enough about this emerging field to consider it as a major? To meet this need, a number of high-quality summer camps are helping students explore the field and learn cybersecurity principles and skills before they enter college. These summer experiences give them the chance to learn how cybersecurity works, get some foundation skills, and explore career possibilities.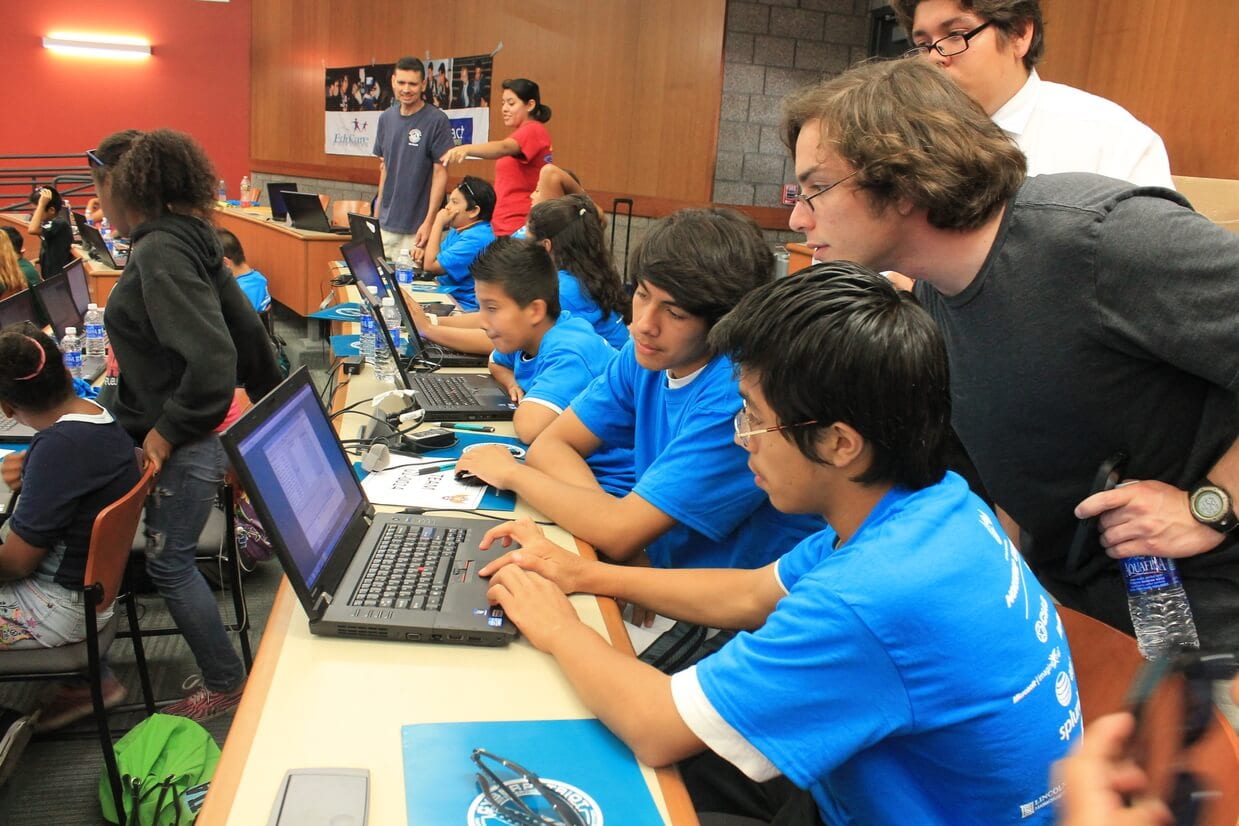 Featured programs
For this article, I spoke with three of the largest summer programs, CyberCamps, GenCyber, and iD Tech, for their input and perspective. These programs all have nationwide locations. Take a look at the overviews of each program below—each includes details about the curriculum and how you can find a camp near you. Afterward, I also highlight two school-year programs that may interest your teen.
The CyberCamps program was launched by the Air Force Association in 2014, and is designed for high school and middle school students who are just getting into cybersecurity or who have some cybersecurity knowledge and want to learn more.
Students are taught the fundamentals of securing computer operating systems for both Windows OS and Linux OS. They learn security features and functions while learning commands in terminal and command prompt. Security settings in the operating systems—like password policies—are explained and techniques for updating and creating a stronger, more secure system are demonstrated. 
CyberCamps are hosted at different locations by hosting organizations. The cost per student is dependent on the organization that is hosting a camp. Visit the AFA website to learn more and find a location near you.
"The CyberPatriot program allows students to have an advanced knowledge of Cybersecurity that is on the collegiate level and to learn highly in demand STEM skills that are essential in today's job force."—Helene Daage, CyberPatriot Program Office
The mission of the GenCyber program is to grow and improve cybersecurity education in the US. Funded by the National Security Agency (NSA), the National Science Foundation (NSF), and the Office of the Director of National Intelligence (ODNI), the program is provided at no cost to participants. GenCyber launched in 2014 with 8 camps across the US, and it funded 154 camps in 2020.
GenCyber summer camps are offered at colleges, universities, community colleges, and school districts for both students and teachers at the K-12 level. The camps provide students with age-appropriate cybersecurity activities in an organized curriculum, unique to each camp. Each camp must teach cybersecurity principles and concepts, online safety, and ethics. 
To find a GenCyber camp, go to gen-cyber.com in April or May for camp dates, information, and locations. Each location is responsible for their own registration, so please reach out to the institution with camp-specific questions.
"GenCyber is a great opportunity to introduce young Americans to the exciting possibilities within cybersecurity! Cyber touches everything. We use computer networks for just about everything we do in our current way of life. Cybersecurity is needed in the critical sectors of manufacturing, transportation, defense, government, healthcare, and finance. In the coming years, the US will be facing a major shortage of cybersecurity professionals, leaving our nation's businesses, governments and critical infrastructures vulnerable to attack. By introducing students in elementary, middle, and high school to the possibilities in the cybersecurity field, we are helping to feed the pipeline for our nation's future cyber first responders. GenCyber also introduces an exciting and diverse domain with which to experiment, where students can discover their strengths, learn new skills and enrich their education and lives." – Diane M. Janosek, Commandant of the National Cryptologic School at the National Security Agency
iD Tech Camps is a summer computer camp that specializes in computer technology education of all kinds for children ages 7-19. Their Education department works year-round to stay on the cutting edge of technology, translating the newest and most fun innovations to camp activities that kids and teens will enjoy. iD Tech began offering cybersecurity and encryption courses in 2017. Anna Fearheiley, iD Tech Regional Manager, explained, "Cybersecurity is extremely relevant because there is so much information being exchanged and stored, and we need skilled individuals to keep that information secure." 
The company offers two types of cybersecurity programs for teens at college campuses around the country. 
1. Cybersecurity and Encryption (iD Tech Camps)
In this course, students ages 13-17 discover how to hide information, create secret messages, and share plans with classmates, always staying one step ahead of would-be cyber attacks. They'll learn how to encrypt data with programs and computers and see how cryptography principles relate to modern cybersecurity, then explore the functionality and write implementations of algorithms like SHA and RSA, which are core to the security of modern computer systems.
2. Cybersecurity Lab: Encryption and Steganography (iD Coding & AI Academy)
This course introduces cryptographic elements and obfuscation of information via complex puzzles and ciphers. Students ages 13-18 see how encryption turns numbers, text, images, and sounds into a scrambled stream—and puts them all back together again. They'll then take a look into modern cybersecurity to see how these time-proven methods are still protecting information in the digital age.
They'll learn how information can be hidden and stored in digital mediums like pictures, music, and videos. Students will also dive into hashing algorithms like SHA and RSA, use Linux, and discover the aspects of cryptography, security, and encryption needed to speak this new language. 
Finding other summer programs
In addition to the programs featured here, there are other cybersecurity programs available throughout the country. A great place to start is your local university—check and see if they offer a pre-college program. For example, NYU and the University of Maryland offer programs. 
Finally, if your child is interested in exploring cybersecurity during the school year, here are two programs to consider.
CyberPatriot is the National Youth Cyber Education Program, a competition created by the Air Force Association to inspire K-12 students toward careers in cybersecurity or other STEM disciplines critical to our nation's future. Teams of high school and middle school students are challenged to find and fix cybersecurity vulnerabilities in virtual operating systems. Using a proprietary competition system, teams are scored on how secure they make the system. Top teams advance through the online round of competition, and the best of the best advance to the in-person National Finals Competition.
CyberStart America is a free, immersive online learning platform for high school students, who are challenged to solve the kinds of problems and puzzles that confront professionals in computer science or cybersecurity.
Final thoughts
Cybersecurity is just one field of many in computer science. If cybersecurity is not something your teen is interested in but they want to explore other computer science opportunities, there are computer camps run by organizations like Code Ninjas, theCoderSchool, Coding with Kids, and Girls Who Code Summer Immersion with locations around the country. You can also discover pre-college programs at some universities and programs offered by local businesses in your area. Additionally, there are free learning activities and courses on Khan Academy, Code.org, and edX.
Image credit: Air Force Association