Would you like to get your child involved in after-school and summer STEM activities? Are you looking for a class, club, or summer camp in the greater Boston area? 
I am delighted to share my editor's picks of STEM programs for 2020, which is based on the outstanding organizations that participated at the 2019 Boston STEM Fair. Here you will find a wide variety of STEM subject matters, including:
Robotics · Coding · Game Development · Engineering · Tech Entrepreneurship · Science · Math · Computer Science · Global Leadership · Astronomy · Pre-College and more.
As you consider the STEM activities provided by these organizations, you will find that they offer plenty of program format options. You'll find after-school enrichment programs, clubs and classes, robotics teams, weekend programs, special events, school vacation week programs, and summer camps and classes, to name a few. Note that, although each organization is categorized under one main area of focus, some offer programs in multiple categories.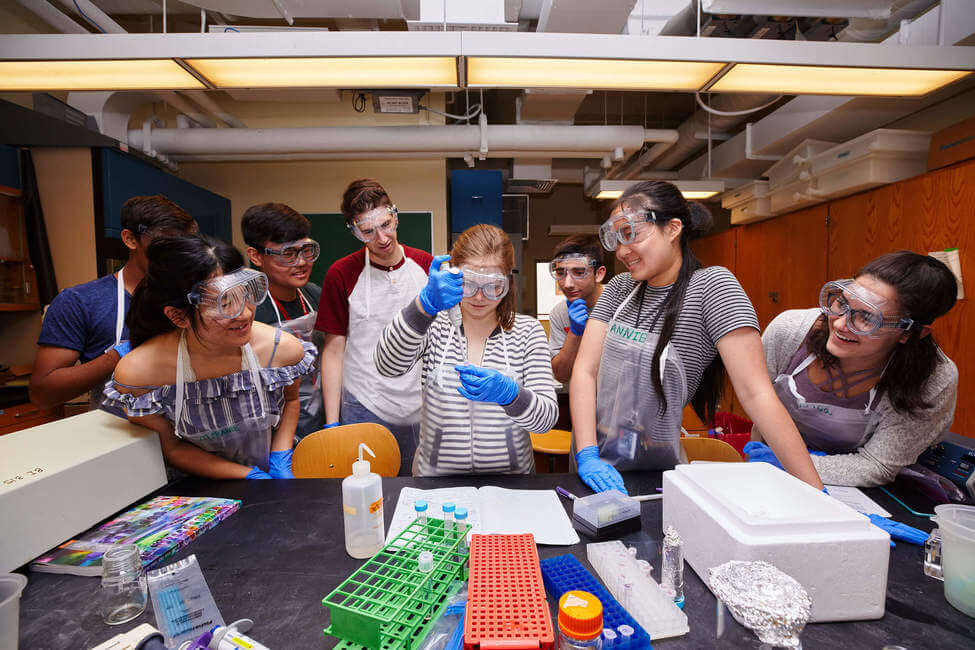 Computer Science, Technology, Engineering + Science
Acera School (Winchester) offers a STEAM-rich full-time elementary and middle school curriculum, as well as after-school enrichment programming, February and April vacation camps, and STEAM Summer Camp. Acera offers classes in engineering, biotechnology, math, arts, theater, design, electronics, music, chemistry, physics, and more. The hands-on learning environment allows elementary and middle school children to nurture their natural desire to inquire, create, innovate, and experiment with content and concepts usually reserved for older students – or not introduced during the K-12 school years at all. Ages: 5-17 
Circuit Lab (Eastern Massachusetts, Rhode Island and Southern New Hampshire) runs hands-on learning programs to teach children about circuitry (electrical engineering) and programming (computer science). The programs give kids an opportunity to learn essential modern-world skills that aren't typically taught in school, in a creative and supportive setting where they have access to leading-edge electronics prototyping equipment. Circuit Lab offers after-school programs, daytime homeschool groups, week-long summer programs, and special events. Grades: K-8
C0deEx (Acton) is a coding academy dedicated to inspiring children in the field of science, technology, engineering, art, and math. A fun, friendly, intuitive approach offers hands-on learning opportunities in vacation camps, classes, and birthday parties. Children looking for further challenges can participate in multiple STEM competitions and challenges. C0deEx vacation and summer camps provide a wide range of STEAM programming. Ages: 5-16
Coding Butterfly (Needham) is an after-school coding and robotics educational program committed to providing students with personalized instruction and a hands-on learning experience. Ages: 6-14 
CS Recitations (Natick) provides computer science classes for kids and teens at all levels. CSR is unique in its approach to building computational and logical problem-solving in a social and fun small-class environment.  Students may choose coding classes in Scratch 3, Java, Python, JavaScript, HTML/CSS, and Unity, or they may choose math and coding competition classes. Private tutoring is also available. Grades: 2-12
Discovery Museum (Acton) is a hands-on museum that blends science, nature, and play, inspiring families to explore and learn together. The expanded, completely renovated, accessible, and ADA-compliant museum includes STEAM experiences that encourage playing, exploring, and experimenting by all. Ages: 0-12 years
Edge on Science (Weston, Plymouth and more locations) offers project-based programs in applied science and engineering. A back-to-basics approach is taken, where children are given freedom to work in teams and problem solve while making new friends and having fun. Choose from week-long day programs. Sessions are led by an engineer, scientist, and/or scholar. The child-to-instructor ratio is 7:1 or less. Grades: 3-12
Einstein's Workshop (Burlington) focuses on encouraging a love of STEM in all children. They offer classes, camps, birthday parties, vacation day workshops, and more, all based on curricula that include opportunities for students to learn and grow together. All class levels benefit from a wide array of high-tech technologies, including 3D printers, LEGO Robotics Kits, a vinyl cutter, MBot Robots, and an industrial-sized laser cutter. Grades: K-8
Empow Studios (Lexington, Newton and many camp locations) brings technology, arts, and play together to help young learners discover and build on their creative talents. In project-based STEM programs, students learn to design, build, and code projects that they are proud to share with family and friends – while they learn the fundamentals of engineering and computer science in the process. At their two studios in Lexington and Newton, and 16 camp locations across MA, Empow Studios is where kids learn to design, build, and code. Grades: 2-12
iCode (Wellesley) is a comprehensive STEAM school with extensive curriculum across all specialization of STEAM. iCode offers after-school enrichment programs, February and April vacation camps, holiday camps, STEAM summer camp, and weekend and evening programs open to the community for kids as well as adults. They teach life skills alongside a diverse set of technologies. Using fun and engaging activities, iCode helps children build resilience, problem-solving, and teamwork skills. Ages 5-18
iD Tech (multiple MA locations) is the world leader in STEM education, with 400,000 alumni and 20+ years of experience. Summer programs for students are held at 150 prestigious campuses, including multiple Boston-area programs. Students build in-demand skills for futures in coding, game development, robotics, and design. Ages: 7-18
Kids in Tech (Greater Lowell + Merrimack Valley) offers after-school tech club programs in partnership with schools and youth-serving agencies. Their mission is to excite, educate, and empower children to use computers and technology. They strive to educate and inspire children to pursue interests in STEM fields so they are ready to embrace STEM career opportunities. Kids learn everything from typing to coding to robotics and take field trips to local businesses and colleges to meet people pursuing or working in technology jobs. Ages: 8-14
KTBYTE Computer Science Academy (Lexington, Newton and online classes) is a coding academy that provides a high-quality program covering beginner to college-level curriculum. At KTBYTE, students get the opportunity to build a solid foundation so they can discover and develop their passion at an early age. Coding isn't just a language, it's also the future. Ages: 8-18
MIT Society of Women Engineers (on-campus programs, Boston and Cambridge) is one of the largest, most active student-run organizations at MIT, with over 300 undergraduate and graduate members. They strive to empower women to succeed and be recognized for their life-changing contributions and achievements as engineers and leaders in STEM fields. There are 10+ outreach programs that take place at MIT, in schools in the Greater Boston Area, and virtually through the web.
NCWIT (national program) sponsors the Award for Aspirations in Computing (AiC), recognizing students who self-identify as women, genderqueer, or non-binary in grades 9-12 for their passion in computing and tech. NCWIT connects these students to a community of like-minded individuals who care and are taking action to see the next generation succeed. Regional Winners and Honorable Mentions are recognized at a local NCWIT ceremony with prizes, trophies, and some amazing speakers.
New England Sci-Tech (Natick) is a non-profit STEM+ education center and maker space dedicated to project-based, hands-on learning for youth and families. They offer classes and workshops in electronics, space science, ham radio, astronomy, robotics, photography, coding, 3D design, kite making, battle-bots, and more. New England Sci-Tech also offers public telescope nights, planetarium shows, outreach support for local schools and homeschoolers, and qualifying activities for scout merit badges. Grade 4 and up, teens, and adults
Penguin Coding School (Lexington) provides a unique curriculum teaching coding language to students. Started by a Lexington dad who wanted to turn kids on to the joys of coding, Penguin Coding School offers in-person classroom experiences with a unique curriculum that emphasizes creation as the motivation for learning. They place primacy on collaboration and face-to-face interaction with teachers, as opposed to online tutorials. Grades: K-12
SummerTech (Regis College-Weston) promotes radical acceptance, geek culture, and a place to be yourself by focusing on the individual. Clear structure and academic freedom have made them a gold standard in computer science education. SummerTech has changed what it means to learn coding, animation, 3D modeling, and more. Ages: 10-17
Wicked Cool for Kids (locations throughout New England) runs STEAM-based enrichment programs after school, in school, and during the summer to elementary school kids, enabling them to explore science and engineering in an engaging way. Programs for after school 2019/2020 provide a full array of hands-on fun, including Science & Design Studio, Wild World Safari, Lego Robotics and Engineering, Gravity Rocks, and Kitchen Chemists. Grades: K-5
Z-kai Learning Lab (Arlington) offers STEM courses uniquely designed to help students acquire 21st-century core skills and cross-curricular knowledge. They provide exciting experiences to enhance intellectual curiosity with STEM curriculum that develop critical thinking and problem-solving skills. Grades: 3-12
Math 
Mathnasium (Acton + Burlington) offers year-round math programs as well as summer programs for students who look forward to getting a head start and want to avoid the summer learning loss. They offer math lessons in a fun and enriching environment. Along with math enrichment, math help, math tutoring, homework help, and ACT/SAT test prep, Mathnasium offers competitive math preparation workshops such as Math Kangaroo, AMC-8, Math League, Math Olympiad, and Noetic, and hosts a variety of math competitions. Ages: 4-18
Russian School of Mathematics (multiple Massachusetts locations) offers after-school mathematics programs. The Russian School of Mathematics (RSM) opened in 1997 with the goal of creating a unique after-school mathematics program. Their mission was to build a systematic math education based on the traditions of Russia and Europe and adapted to the needs of American students. Their approach to education is governed by the theory that an early systematic approach focused on the development of reasoning skills can have a powerful impact on student development. Grades: K-12
Robotics
FIRST LEGO League Team Magic is a team of Belmont 8th graders excited to compete in the 2019 FIRST LEGO League (FLL) season. To learn more about FIRST robotics and how to join a team, visit firstinspires.org.
The Massachusetts National Guard is a pioneer in the realm of STEM curriculum development and program delivery. They offer over a dozen educational programs (free of cost) to the secondary schools and colleges of the Commonwealth. Four of these programs focus specifically on promoting STEM education. These include a full-fledged robotics seminar, a coding seminar, a water quality survey, and a cyber escape challenge (coming soon). All assets and programs can be presented on-site, anywhere in Massachusetts. 
Record Robotics (Belmont) is FIRST Team 6731 and a non-profit under 4H. The team spends six weeks designing and building a robot to compete in the FIRST Robotics Competition (FRC). Through competitions, build season, and community outreach, team members gain real-world experiences, acquire a greater understanding of teamwork, and expand their knowledge of various STEM fields. Visit recordrobotics.org if you are interested in joining the team. To learn more about the FIRST robotics program,  visit firstinspires.org.
The Parity Bits (Lexington) is an all-girl FIRST Tech Challenge team with students from Lexington High School. Each year, students build and program a robot to compete in a newly designed game. In addition to working on the robot, students fundraise, find sponsors, and participate in outreach to the community to promote women in STEM. To learn more about the FIRST robotics program,  visit firstinspires.org.
Entrepreneurship
The Business of Doing Good (Boston, NY + Philadelphia) inspires kids to discover what is truly meaningful to them—and empowers them with the skills to put their ideas into action through social entrepreneurship. The program takes kids through the steps of entrepreneurship, from ideation to pitching, as they create a project of their own to make the world a better place. Program facilitators provide a dynamic and engaging curriculum and teach students how to create, present, and launch their unique social entrepreneurial endeavor in week-long summer programs. Ages: 10-14
TiE Young Entrepreneurs (Cambridge) is an extracurricular program dedicated to fostering the next generation of leaders through the transformative experience of building a startup. While teaching the skills to build and lead a company, the program also coaches young people to identify and leverage successful pathways to reach personal and professional goals. Student teams compete for up to $5K in seed funding while participating in a rigorous curriculum that has been proven over the past 10+ years. Ages: 13-18
Global Leadership
United Nations Association of Greater Boston (UNAGB) (Boston, Cambridge and Belmont) has dedicated over 60 years building a network of globally aware citizens in the Greater Boston area. UNAGB's Summer Institute in Global Leadership offers week-long programs for teens between fifth and twelfth grade to engage in global issues, build public speaking and negotiation skills, incorporate their knowledge of STEM topics to solve problems, practice Model UN, and, of course, make new friends. Grades: 5-12
Pre-College
Boston University Summer Term High School Programs (Boston) offers one-, two-, three-, and six-week programs for high school students, with options to live on campus, commute from home, or study online. Students can earn college credit, discover new subject areas, perform cutting-edge research in university labs, or immerse themselves in hands-on learning. Participants push themselves academically while experiencing college life, making friends with fellow students, and engaging in social activities around Boston. Grades: 9-12
Collegewise (Newton and nationwide offices) is a college counseling organization offering an individualized approach to helping students in STEM education find the right-fit colleges. Since 1999, their expert counselors have guided more than 23,000 students to successful admissions outcomes. Collegewise believes that applying to college should be an exciting time for students and parents. Every year, counselors work with a small caseload of students, creating customized plans and setting deadlines to ensure that students complete their applications and essays thoughtfully, effectively, and early. Grades: 8-12
Internship Connection (Boston, NY and Austin) is a structured educational program that provides students with career experience through summer or gap year internships matched to their academic interests or talents. Students gain a competitive edge when applying to colleges and jobs by confirming in-depth interest and experience in an academic/career field. Internship Connection has established relationships with mentors in the Boston Tech community who continually seek their interns for STEM-related internships. Program components include career guidance, creating a resume, interview prep, establishing the internship, supervision, and a letter of recommendation from the workplace to include in college and job applications. Grades: 10 through college
MassBay Community College (Wellesley) is a comprehensive, open-access community college, offering associate degrees and certificate programs. During the summer of 2020, the STEM Division will offer a one-week STEM Sampler Program open to underserved female high school students (juniors, seniors and graduating seniors receive priority). The five-day Sampler Workshops are designed to give students exposure to different areas of STEM (e.g., robotics, engineering design, biotechnology). The workshops will be held July 13-17, from 9:00 AM–3:00 PM each day, on the MassBay Wellesley Hills Campus.  Grades: female high school students (rising juniors, rising seniors, and graduating seniors)
Northeastern University (Boston) offers summer programs designed for talented high school students who want to give themselves an edge by learning from Northeastern's internationally acclaimed faculty. Northeastern University's Accelerate: Pre-College Programs historically have offered the following STEM programs:  BioE Summer Immersion, Engineering Innovation & Design, Hacking the Internet of Things, and Sustainable Chemistry & Renewable Energy. Stay tuned as additional STEM programs for Summer 2020 are added. Accelerate programs are hosted on Northeastern University's Boston campus, allowing students to experience true collegiate learning in a world-class environment. Students engage with Northeastern faculty, utilize labs for cutting-edge projects, visit area companies in the field, and attend lectures by accomplished professionals in the field. Grades: high school rising juniors and seniors
Strategic Academic Success (SAS) (Waltham) specializes in boutique-level educational tutoring, college counseling, and customized scholastic instruction aimed at helping students in the Metro-Boston area achieve their academic goals. They have worked extensively with students interested in pursuing careers in STEM and health fields. SAS regularly offers science exploration, research science, and STEM test prep courses, as well as seminars focused on exploring STEM interests for middle school and high school students. Additionally, SAS regularly mentors STEM students so that they can gain meaningful science experiences in high school and effectively portray these experiences and communicate their STEM passions on college applications. Grades: 4 through grad school
UMass Summer Programs (Amherst) invites motivated high school students interested in hands-on learning experiences to apply to Summer Pre-College. With a wide range of program offerings in 1-week, 2-week, or 6-week sessions, students can earn college credit and gain valuable experience for future college applications. Courses include Sport Management, Engineering, Design Academy, Astronomy, Forensic Chemistry and more. 
Find more STEM programs
Want to learn more about how to find STEM programs for your kids? Watch this video about BostonTechMom, produced by Roger Colton at the Belmont Journal.  
And, here are a few more hand-picked articles about STEM programs in Massachusetts:
Photo Credit: Boston University Summer Term High School Programs