Would you like to introduce your child to robotics and have them join a robotics team? Every year, thousands of students (K-12) participate in robotics teams and robotics competitions throughout the US. Being part of a team exposes children to coding, engineering, and real-world problem-solving challenges while providing the opportunity to build lasting friendships.
I am excited to share this post because I want to raise awareness for robotics opportunities and introduce you to three national programs. If you have considered joining a robotics team but are unsure where to start, this article will help you understand the different types of programs offered around the country and how to find or start a team.
Here are popular nationwide robotics programs:
FIRST
REC Foundation/VEX Robotics
RoboCupJunior
All of these programs are well established and give students the chance to be part of a robotics team. When kids are young, teams are often organized by parents and held in homes. Students work on theme-based, hands-on projects. As kids get older, teams are often organized in schools and community centers, and students have the opportunity to participate in robotics competitions.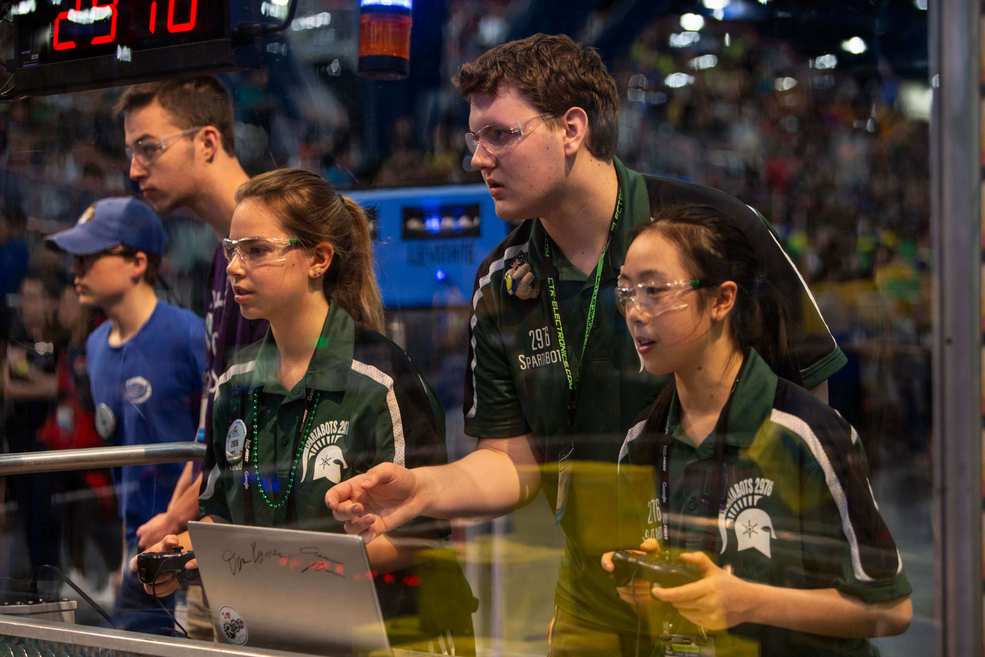 The following is an overview of each program. Please visit each organization's website to learn more and find a team in your area or start your own.
FIRST
FIRST® (For Inspiration and Recognition of Science and Technology) is the world's leading child-serving nonprofit advancing science, technology, engineering, and math (STEM). FIRST programs inspire innovation and leadership through engaging, hands-on robotics challenges developed to ignite curiosity and passion in students in grades K-12.
Programs:
FIRST provides a progression of three international, after-school programs for K-12: FIRST ® LEGO® League; FIRST ® Tech Challenge; and FIRST ® Robotics Competition. FIRST is a volunteer-driven organization. The growth and success of FIRST is a direct result of the efforts of the mentors, parents, teachers, community leaders, and citizens who volunteer their time and talent.
FIRST LEGO League for grades PK-8 (ages 4 to 16) introduces children to the fun and experience of solving real-world problems by applying engineering, math, science, and technology. FIRST LEGO League is an international program for children created in a partnership between FIRST and the LEGO® Group in 1998. Each year, the program announces an annual Challenge to teams, which engages them in authentic scientific research and hands-on robotics design using LEGO MINDSTORMS, LEGO Education SPIKE Prime and LEGO Education WeDo 2.0. After a minimum of eight weeks, the FIRST LEGO League season culminates at high-energy, sports-like tournaments.
FIRST Tech Challenge teams (10+ members, grades 7- 12) are challenged to design, build, program, and operate robots to play a floor game in an alliance format. Guided by adult coaches and mentors, students develop STEM skills and practice engineering principles (like keeping an engineering notebook) while realizing the value of hard work, innovation, and sharing ideas. The robot kit is reusable from year to year and can be programmed using a variety of languages. Teams must raise funds, design, and market their team brand, and do community outreach for which they can win awards. Participants have access to tens of millions of dollars in college scholarships. Each season concludes with regional Championship Tournaments and an exciting, international FIRST Championship.
FIRST Robotics Competition for Grades 9-12 (ages 14 to 18) is an annual competition that helps young people discover the rewards and excitement of education and careers in science, engineering, and technology. The program challenges high-school-aged students – working with professional Mentors – to design and build a robot and compete in high-intensity events that reward the effectiveness of each robot, the power of team strategy and collaboration, and the determination of students. Each year's Kickoff event unveils a new, exciting, and challenging game. From the Kickoff, teams have just six weeks to build and program a robot to compete in the game using a kit of parts provided by FIRST and a standard set of rules.
Learn More
Robotics Education & Competition (REC) Foundation/VEX Robotics
The Robotics Education & Competition (REC) Foundation sparks interest in STEM by engaging more than one million students in hands-on, sustainable, and affordable curriculum-based robotics programs. Students increase their innovative thinking, problem-solving, and communication skills – all while having fun! These robotics programs enhance students' academic journey to build a talented workforce in various STEM-related professions. 
For the 2023-2024 season, the REC Foundation presents VEX IQ Challenge Full Volume for elementary and middle school students and VEX Robotics Competition Over Under to involve students in middle school through college in hands-on robotics and STEM across the United States and around the world. 
Programs:
Getting involved in VEX Competitions is simple. Start by identifying the level of the program that is right for you based on your grade level. The program is flexible for use in school or after school. Parent and community organizations or clubs (Scout troops, Boys & Girls Clubs, and others) also organize and manage teams at both levels. The cost to participate varies by program, but in the first year, a team will need a robotics kit and team registration fees plus the cost to attend a competition locally. 
Students, with guidance from their teachers and mentors, build innovative robots and compete year-round. Students have one year to design a robot to play the game.  
"Joining VEX robotics was a pivotal point in my life because it propelled me towards becoming a mechanical engineer. The experience helped me gain a scholarship to help pay for college, which consequently allowed me to pursue a graduate degree. The early exposure to robotics, through VEX, helped me excel in my undergraduate studies and fostered a desire to learn more about robotics specifically. As a result, I am working towards a master's degree in mechanical engineering at Carnegie Mellon University where I am working on space robotics specifically. I started building small robots for VEX, and now I am working on a lunar rover called MoonRanger in collaboration with NASA. After I complete my graduate degree, I hope to continue a career in building robots to help advance our world." – Morgan Montalvo, REC Foundation Alumni.
Learn More
RoboCupJunior
RoboCupJunior (RCJ) is an educational robotics initiative aiming to promote robotics, Computer Science, Artificial Intelligence, and STEM among students through a form of competition. It is one of the leagues of the RoboCup initiative.
The idea to create a RoboCup league for young roboticists was initiated by a group of researchers who understand the need to foster an interest in robotics among the next generation of children. Today, its challenges, called leagues, use topics – soccer, rescue, and stage performances – that are familiar to students to attract and motivate them to explore robotics, AI, computing, and STEM.
Programs:
There are three leagues in RCJ – Soccer, Rescue, and OnStage. RCJ is open to anyone ages 8-19 years to participate in the US. To participate in the international competition, all team members must be 14 or older. RCJ does not require teams to use any specific robotics kit or equipment for building their robots, and programming can be done with any coding language, including block-based languages, Python, C languages, Java, etc. Teams can use any commercially available robotics kit, such as LEGO Mindstorms, VEX, and Fischertechnik robot kit, but these need to be substantially modified by the team.
To start a team, you need a mentor (facilitator) who can help a team to prepare for the competition. There is a team size limit that could differ from year to year. The registration fee to participate in a competition is a combination of a team registration fee and a member registration fee. It also changes from year to year. 
In the Soccer league, two teams of two soccer robots (2-on-2) play on a special field. During a game, the robots are programmed to detect and maneuver a soccer ball. There are two sub-leagues in Soccer – Lightweight, which has a lighter weight limit and uses a special soccer ball emitting infrared light, and Open (called Standard in the US) which has a heavier robot and uses an orange ball.
Rescue requires teams to develop a rescue robot that can navigate through the rescue arena, which represents a scaled-down, simulated disaster scenario, and find victims. Rescue has three sub-leagues – LINE, MAZE, and Simulation. Rescue LINE uses a rescue mission requiring a robot to follow a line on the floor to navigate through a rescue arena. Rescue MAZE requires a robot to go through a maze to find victims in the arena. Rescue Simulation requires teams to create a solution using the simulator.
3. OnStage
OnStage is a competition that integrates science, technology, engineering, and the arts. Teams of students present a 1 to 2-minute creative stage performance using autonomous robots that they have designed, built, and programmed. The OnStage challenge is intended to be open-ended insofar as the performers can present any type of performing art they choose, including dance, storytelling, theatre, and performance art.  
Learn More
Conclusion
If you want to see what it's like to be part of a robotics team, I encourage you to visit a local competition. Many events are open to the public, and you can find an event by visiting each organization's website. 
You can also learn about robotics during National Robotics Week, a nationwide event to celebrate robotics. Every April, robotic events and activities are hosted around the country. This is an opportunity to take your child and learn about robotics and explore technology by seeing real-world applications. Find events near you.
NASA also maintains a robust website about all things robotics. 
Participation in robotics teams and competitions doesn't have to end after high school. Many robotics programs extend to college-level participation.
Finally, while I have profiled the big national robotics programs in today's post, many communities, schools, and after-school programs run their own robotics programs. Keep that in mind as you consider your options.