Recently the NeuroMaker STEM learning platform came onto my radar and caught my attention because it gives students a hands-on introduction to cutting-edge technologies like Artificial Intelligence, neuroscience, Brain-Machine Interfaces, biomechanics, and advanced prosthetics. As part of the learning process, students collaborate to build a prototype of a real-world prosthetic hand.
NeuroMaker is designed to be used by teachers in the classroom and summer enrichment programs for grades 7-10. The NeuroMaker STEM Kit offers a combination of hardware, software, curriculum, distance learning options, design competition, and support for educators of all levels to introduce biomedical engineering in the classroom. Students in after-school clubs and activities can use it, too! In the past three years, the NeuroMaker system has been adopted by over 200 districts, schools, and programs around the country.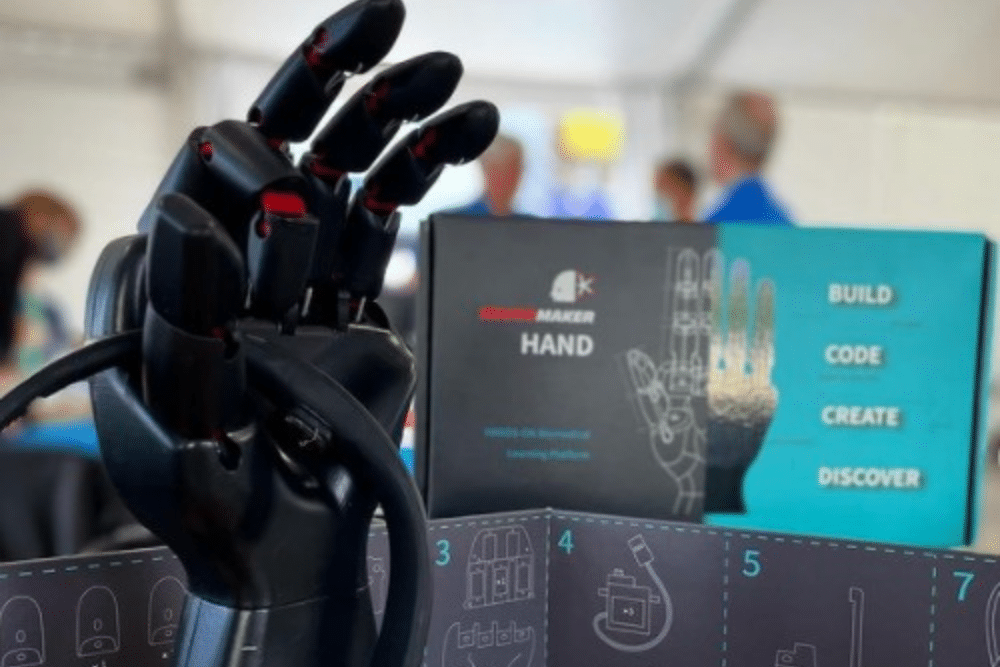 What is NeuroMaker? I spoke with NeuroMaker's product manager, Andrew Bannish, about the educational platform's origins. He explained that the company behind NeuroMaker was incubated in the Harvard Innovation Lab and had the mission to develop new brain-machine interface technology. After learning that only 5% of people globally have access to prosthetics, they launched BrainRobotics and developed a new kind of prosthetic, an intuitive AI-powered hand that gives the user the ability to make unlimited gestures and grips. BrainRobotics' AI-powered hand was awarded Time magazine's 100 Best Inventions 2019. It is significantly less expensive than other prosthetic technology, as well.
The team then asked themselves, "How can we inspire students to take on other big technology challenges?" The company wanted to provide students an opportunity to experiment and develop real-world applications of AI and BCI (brain/computer interface) technology, and that was how NeuroMaker was born.
About the kit. For a little less than $600, NeuroMaker provides the materials for building a prosthetic hand, including prosthetic hardware, BCI hardware, a coding platform, and support materials. All of the curricula are available online free of charge in the user portal that supports both the NeuroMaker HAND and NeuroMaker BCI products. The kit is reusable from year to year, so the investment can be spread over several classes. For an additional $500, NeuroMaker provides teacher professional development, as well, so teachers can be prepared to incorporate the learning into their existing science curriculum.
All NeuroMaker experiences utilize real biomedical industry materials. The NeuroMaker HAND is the original prototype of the award-winning prosthetic hand, and the NeuroMaker BCI is a real-world, consumer-grade Electroencephalography (EEG) device. NeuroMaker's curriculum provides different options to interact with BCI technology and engages students with real-world applications that combine BCI, machine learning, and data science—and show them how they can change the world for the better using their STEM knowledge. The problem it poses to students also mirrors real-world development challenges and requires teamwork, sustained investigation, and multidisciplinary design thinking.
For a glimpse of the NeuroMaker curriculum being used in the classroom, watch this short video.
Participate in the NeuroMaker Creative Challenge. Twice a year, the company sponsors a design competition for middle and high school students. The competition is open to students worldwide and gives them the opportunity to investigate the connections between biomedical engineering, artificial intelligence, programming, and more. Working in teams, students are challenged to create their own assistive technology projects that solve problems they select and research on their own. Students are free to use any NeuroMaker technology paired with anything else they like. Students then create a video submission and written report, which the company's in-house biomedical engineers evaluate. Learn more.
Bring NeuroMaker to your students. NeuroMaker's hands-on, project-oriented approach to introducing advanced, real-world technologies in the classroom is an innovative way to show students how different STEM disciplines can work together. It provides teachers a platform for teaching advanced subjects like biomedical engineering and neuroscience and is appealing to students, with its participatory project-based learning approach and relevance to improving people's lives. And while the story of NeuroMaker's beginnings is hopeful and inspiring, it's even more exciting to imagine what inventions their educational materials and student challenges will lead to in the future.
Are you a teacher who wants to learn more? NeuroMaker would love to hear from you and can be reached on their educator team page.
Are you a student who wants to bring this to your club or after-school program? Check out what some students have built in the Creative Challenge and contact the NeuroMaker team to learn more.