Is your middle schooler a tech-enthusiast? Are they drawn to science or engineering? Do you think they might want to pursue a STEM degree in college?
Middle school might seem early to be thinking about your child's future in college and their career, but it's a great time to start exploring STEM education with them. If you start now, you will have time to investigate at your own pace, learn what you will need for the college application process, and help your child build a good foundation for a lifetime of STEM- or tech-competency, even if they do not pursue a STEM career.
The idea for this post came from a STEM college planning presentation I attended several years ago, when my daughter was in 8th grade. It was hosted by Collegewise, a company that provides college counseling services. The presentation helped put me in a STEM state of mind and got me thinking about how I could best prepare my daughter (who is now getting her degree in computer science) for STEM education in high school.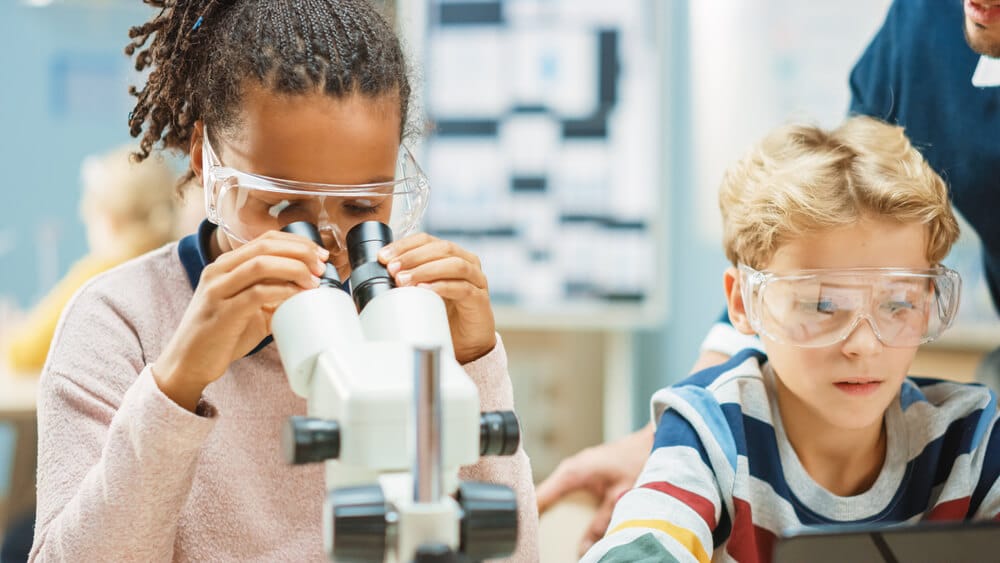 Start the exploration in middle school.
By middle school, your child may have a good sense of where their interests lie; others may not be as clear about it. Either way, they will probably need guidance around future academic and career choices. In our rapidly changing labor market, the more resources they can draw on, the better: teachers and guidance counselors in school, and support from parents and other mentors outside of school.
If you'd like to start by getting a sense of the future of STEM careers and skills training for workers in all professions, I'd recommend a lengthy but highly readable overview from the U.S. Bureau of Labor Statistics. The take-home message of the analysis is that growth in STEM occupations is far outpacing job growth in other areas, particularly in computing, engineering, and advanced manufacturing, that STEM jobs on average pay twice what non-STEM jobs pay, and that there are nowhere near enough people with the skills needed for STEM occupations.
5 ways to prepare your child for success.
Given the complexity of STEM, I recommend that you and your child start exploring STEM fields and opportunities and begin an ongoing dialogue during middle school, paving the way for success in high school and college.
1. Get a baseline understanding of the STEM fields.
STEM offers a kaleidoscopic array of occupations and with so many career avenues available, it can be overwhelming to consider the possibilities! You may want to begin by developing an understanding of each broad area, so you and your child will have a starting point for deeper exploration.
Here's how Collegewise, the college counseling service, defines each field:
Science – Science is about discovering and describing the world we live in. It often focuses on answering the "how" and "why" questions of the world.
Math – Mathematics is its own field of study, yet it is also a primary foundation for the other STEM fields. Most students know "math" as the arithmetic, algebra, and geometry they learn in school. In fact, mathematics as a discipline is highly abstract and complex and is quite different from what most students study in high school.
Engineering – If science is about answering "why" and "how" questions, the engineering response to those questions is something along the lines of "OK, so what?" Engineering is about using math and science as tools to solve problems and improve people's lives.
Technology – Technology is so closely related to engineering, it is difficult to separate them. Technologists focus more on the hands-on components of making things and improving and maintaining them over time.
Once you have a sense of these broad categories, you can move on to the next step, where you consider your child's interest and learn about potential occupations.
2. Talk with your child about classes and activities they enjoy.
Before you look at specific fields or careers, start by talking with your child about how jobs vary across industries and within companies. Ask them to think about what types of activities they enjoy doing and problems they like solving, and what topics they find more interesting than others. Your observations about their temperament and strengths could make this an exciting and empowering conversation.
3. Discuss potential career paths and types of jobs.
The STEM job market offers a wide assortment of occupations that can appeal to a variety of interests, skill sets, work styles, and temperaments.
A great place to start is by visiting a STEM occupations student page created by the Bureau of Labor Statistics. This page makes it easy to quickly learn about sectors and jobs, see projected job growth, and get information about salaries, education needed for entry, and links for more details about specific jobs. I like this resource because it's written for students and is easy to scan and digest.
Another resource to consider is the site Career Cornerstone Center, which is recommended by Collegewise. While the site is dense, it is packed with detailed information about STEM careers. I'd recommend focusing on these two areas first:
Review the "Degree Quick Jump" (top right of the home page), because it breaks down careers by STEM fields.
Direct your child to the area for middle school students, which includes information about science museums, projects, jobs, etc. that are age-appropriate.
The amount of information and the possibilities can be overwhelming, so remind your child (and yourself!) that you are in an early exploration stage. No decisions need to be made—you're just considering possibilities and looking for areas that spark your child's interest.
4. Get a preview of your high school's STEM classes so you can plan for the future.
Some middle schools have guidance counselors who will talk with your child about the high school curriculum and their options, based on your child's interests. You may also be able to talk to one of the high school guidance counselors. If these are not possible in your school system, visit your high school's website with your child to review classes, find out which classes are required, and learn which STEM electives are offered.
If your child is going to pursue STEM education, Collegewise recommends taking challenging math and science classes in high school. That would include four years of math (including calculus if your high school offers it) and at least three years of science (biology, chemistry, and calculus-based physics).
5. Find STEM activities outside of school to broaden your child's exposure to STEM.
The number of after-school programs and classes, clubs, summer camps, and competitions available to students of all ages is abundant, including online options if you don't have in-person opportunities where you live. These offerings can allow your child to explore a STEM area of interest in a fun, low-stress, social environment, and often focus on hands-on experiences with real-world STEM projects. These activities can clarify where your child's interests lie and can lead to further exploration and insight. While some incur a cost, many are available for free or offered at a low cost.
Start your search with the resources in the BostonTechMom blog. In particular, check out these two posts for more information about STEM programs for middle school students:
Planting the seed now will help your middle schooler prepare for STEM education in high school and plan for college. If you would like to learn more, I recommend reading Collegewise's eBook: "STEM's Many Branches: College Planning for Students Considering Majors in Science, Technology, Engineering, and Math." This comprehensive guide is chock full of information about STEM careers, college curricula, and insights and tips into the college application process for students pursuing a STEM major.