With the arrival of fall, STEM events have started up again for another school year. I'm excited to share some free and affordable online activities for kids and teens that will be taking place in the next few months. These STEM events—many hosted by Boston-area organizations— are usually held in-person. However, this year the events are going virtual and that means that anyone can participate from the comfort of home! I have categorized the events by month and will continue to add to the list as I learn about new opportunities.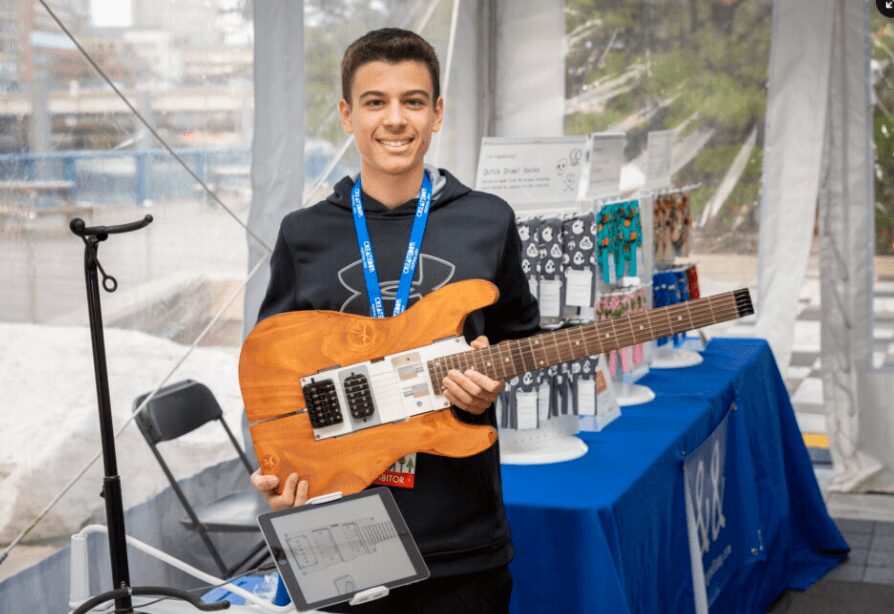 Ongoing Fall Events
The following events are occurring multiple times in the fall.
TechGirlz, a nonprofit organization helping middle school girls embrace the power of technology, will host free virtual tech workshops this fall designed for girls in grades 6–8. View the calendar of events and sign up here.
Black Girls CODE is offering several free virtual tech events this fall. Join every week for "Fridays with Verizon" through the end of this year for candid conversations with professionals in the tech industry. 
Creature Feature, a new online series from the Harvard Art Museums, offers a chance for families with children ages 6 and up to explore magical creatures across the collections through close-looking and curious exploration with museum staff. Creature Feature talks are free, open to curious explorers of all ages, and offered on the first Saturday of each month at 10am on Zoom. If you have any questions, please contact [email protected]. The first one takes place on Saturday, October 3, where kids can go in search of sirens and merpeople! Registration is required.
October
MIT Museum is hosting a virtual Girls Day event on Saturday, October, 3 from 10am-2pm EST and the theme is Art + Science. During the day, there will be four live presentations from scientists and artists, as well as hands-on activities. Register for this free event.
Worcester Polytechnic Institute is hosting two free learning sessions with hands-on activities, led by WPI undergraduate mentors on Friday, October 9. Register to secure your spot.
Engineers on the Go for girls and boys in grades 3-5.

Register here

.

Introduce a Girl to Engineering Day for girls in grades 3-5.

Register here

.
The Boston Children's Museum will hold the Created By Festival virtually this year from October 19-24. This popular family-friendly makerfest is an opportunity to be inspired by local artists, technologists, makers, and creatives. There will be hands-on demonstrations, workshops, performances and more—all viewable from home for free! Stay tuned for more details.
It's almost time for the start of the thirteenth season of CyberPatriot, the nation's largest youth cyber defense competition. Register your team by October 15. Teams of high school and middle school students are challenged to find and fix cybersecurity vulnerabilities in virtual operating systems. Using a proprietary competition system, teams are scored on how secure they make the system. Top teams advance through the online round of competition, and the best of the best advance to the in-person National Finals Competition.
WTS-Boston is partnering with MassDOT and the MBTA and hosting the annual Transportation YOU Boston Summit (virtual this year) on Saturday, October 17. This free workshop is open to girls ages 8-18 and will introduce them to a wide variety of transportation careers. Workshops will be run by transportation professionals who will be doing interactive activities that simulate real-life projects as well as intermediate remarks by industry professionals. Registration is required.
The Hatch Makerspace in Watertown, MA is hosting a variety of family-friendly DIY and tech-oriented events in October. Register now for these free events.
Next Level Pumpkin Carving

10/6

Embroidered Moon Pillows

10/16

Make a Miniature Mantel

10/19 

Drawing Comics with Local Artists

10/23

 

Halloween by Hatch: Costume Showcase

10/30
Celebrate National Chemistry Week with the Museum of Science from October 19-23. Participate in live virtual activities facilitated by guest scientists from local universities and hear from MOS Live educators. Register for these free events.
Z-kai Learning Lab is hosting a free virtual math workshop for students on Friday, October 30. Students will get experience with Japanese and Singaporean based math and Z-kai's Zoom-Up Math book, a 2020 USA National Parenting Product Award winner. The book is tailored to develop students' mathematical thinking, problem-solving, and explanation skills that are necessary for their future success in STEM. Register now.
Acera School is hosting a virtual Halloween-themed STEAM event on Saturday, October 31. "Click or Treat!" offers three "tracks" for kids ages 5-12, with activities in art, chemistry, engineering, and electronics. Registration required. Cost: $70
TechTogether, in partnership with Boston University, is holding PreHacks, an online high school hackathon for women and non-binary students across the country on Oct 31-Nov 1. Participants will come together to learn about career paths in STEM and learn coding fundamentals. Register for this free event. 
Kids ages 8+ can code their own Halloween candy game in Scratch with CodeWizardsHQ beginner-friendly activity for kids ages 8+. Follow the free Scratch coding tutorial to build your own trick or treat candy collector game.
For Massachusetts educators: This fall's STEM Week Challenge will engage students in tackling real-world problems through industry-driven content. Mass STEM Hub has worked with some of the best educators in the country from ST Math, PLTW, and PBLWorks to offer educators and students 10 hours of hands-on learning that can be completed in a remote or hybrid setting. 
K-5 Challenge: Working with Mass STEM Hub's partners at ST Math, students will use a maker/engineering design process to design and build their own high-quality math game.

Grades 6-8 Challenge: Students will use the engineering design process to build an adaptive prototype for persons with paralysis. Students will build empathy and employ universal design with the expertise of local industry professionals.

Grades 9-12 Challenge: Working with partners at PBLWorks, students will tackle one of the greatest STEM challenges of our generation. In this project, high school students will engage in a design thinking process and develop original apps to engage teens in COVID-19 contact tracing, with the goal of tracing the virus' path and slowing viral spread in their communities.
This is a  free, K-12 offering for all schools in MA! Sign up for asynchronous teacher training (max 2 hours) and learn how to implement the content in your classroom.
November
Applications are open for the NCWIT Award for Aspirations in Computing (AiC). This annual award recognizes high school young womxn in the U.S., Guam, Puerto Rico, U.S. Virgin Islands, U.S overseas military bases, and Canada for their computing-related interests and achievements. Recipients receive engraved awards, scholarship and internship opportunities, entry to a peer-network of technical womxn in the NCWIT AiC Community, various prizes, and that is just the beginning! Students in grades 9-12 who self-identify as women, genderqueer, or non-binary, can apply online at www.aspirations.org/AiCHSAward by November 5, 2020. Students with any level of experience are encouraged to apply: NCWIT recognizes aspirations as well as accomplishments!
Join TechTogether Boston's first virtual hackathon for women (cis & trans) and non-binary individuals on November 6-8. High school students are welcome. During the hackathon, you will brainstorm and build a project that will impact your future. Register for this free event.
Splash is a popular weekend event where teens take a variety of fun classes taught by college students. This is a terrific learning opportunity for teens to dive deep into diverse and interesting subjects like science and technology, history, pop culture, performing arts, and more. This fall, Splash programs in Massachusetts will be held virtually. Program details are unique to each university, so click on the links below for specific information about registration, deadlines, and costs.
Boston College's Splash

will be held Sunday, November 8

,

for grades 7-12. This is a free event! Registration opens Sunday, October 11.

Brandeis' Splash

runs Saturday, November 14

,

for grades 6-12. This is a free event!

MIT's Splash

, with over 500 classes for high school students, will be held on November 14-15. Cost: $40
The Museum of Science is hosting a special performance of Multiverse: Octave of Light on Thursday, November 12 from 7:30pm-9pm EST. Multiverse is an interdisciplinary concert and event series combining music and science in live performance. This event features Octave of Light, a full-length album of exoplanet music by composer David Ibbett. Register now for this free virtual event.
Join TKS on November 28 to hear from Cyrus Irani, a designer of Apple products used daily by you, and hundreds of millions of people. Cyrus will tell you about his experience working at one of the world's largest tech companies, what it takes to get hired at Apple, and the thought process behind designing products that impact billions of lives. Register for this free event.
PreHacks New York is a free two-day program from November 28 – 29, co-hosted with Boston University for women and non-binary high schoolers to learn more about career paths in STEM and learn coding fundamentals. In this program, participants will build coding skills and community as they learn to create computer science projects. To learn more and register, visit: www.techtogether.io/prehacks. Want to learn more about what PreHacks is all about? Check out a recap video from PreHacks Boston.
December
Codeverse is giving the Gift of Code for free this holiday season! Starting December 1st through the 15th, sign your child up for Codeverse and get unlimited access to their award-winning online coding platform. Kids 6-13 will learn how to build their very own apps and games, complete holiday-themed coding activities, and earn a cool coding certificate. 
Are you interested in career paths into the architecture, engineering, and construction industry? Starting December 3, join football star James Develin and Autodesk for a new webinar series that will immerse students ages 13-19 in a real-life design and construction project. You can participate in fun design challenges with a chance to earn prizes and build a digital portfolio you could use to apply for internships or college. Register here.
Join middle school, high school, and college students in Virtual CodeDay and make an app or game on December 4-6. No coding experience is needed. Register for this free event.
Participate in TechTogether New York 2020, a virtual hackathon for women and non-binary individuals ages 16+ on December 4-6. The theme is Embracing Uncertainty and participants will work together to build a project that can help individuals and communities make the most of these difficult times. This is a free event and no experience is necessary. Register now.
It's time to plan for Hour of Code, when students, teachers, and people from around the world participate in a one-hour coding activity December 7-13. Whether you're curious about coding or you already have some experience, there are activities for all ages and skill levels. Examples of tutorials include Minecraft, Dance Party, Star Wars, Frozen, and many more. These free activities are perfect for doing at home with your kids and can be adapted to classroom curriculum and after school clubs and libraries. Visit the website to view all activities and learn how you can host an hour of learning.
If there's a STEM event you would like to make me aware of, please send me a note. Finally, if you are looking for structured online STEM classes for your kids this fall, check out my collection of programs.
Register Now
Register for the annual Girls STEM Summit LIVE 2021— a new, live, online format for 2021 hosted by Jr.Tech on Saturday, April 3 and April 10. The Summit serves girls in grades 8-12 interested in pursuing STEM degrees and exploring STEM career choices. Since the summit will be online, it has been split into two half-day sessions. Cost: $65
WPI's Office of Pre-Collegiate Outreach Programs is launching a variety of virtual programs called BOOST. From the Video Design for YouTube to Electronic Gadget Design with Arduinos, their BOOST programs are tailored for grades 7-10 and run on Saturdays starting in January. Cost: $200. Register today.