Before COVID-19, there were some online STEM programs for kids and teens, but it was not the norm—the majority of programs were held in person. When we went into quarantine just a few months before the start of summer, I was in contact with many STEM summer camp leaders who needed to decide whether to hold their programs and in what format. 
Understanding that in-person activities were going to be limited and parents might not be comfortable with their children attending, many of these organizations and other year-round program providers pivoted, adapting their curricula to an online format or creating entirely new programs. I featured these organizations in my online STEM summer camps article.
This summer, kids learned to code, designed video games, built with LEGO pieces, explored digital animation, performed science experiments, and more, all from their own homes. These programs were highly structured: kids attended scheduled, real-time, instructor-led online activities, sometimes in small groups of students from around the country, sometimes with a small group of kids in their own home, or one-on-one. 
Online STEM Classes are Coming Back for the Fall! 
As we head into a new school year, I've contacted a number of STEM organizations to ask about their plans for the fall. Many are going to continue to offer online STEM classes with live instructors. Now that organizations have had some experience teaching online, I expect they will continue to adjust and update their curricula and teaching methods as they learn what works best for students. If you're ready to see the classes,  you can jump right to the list!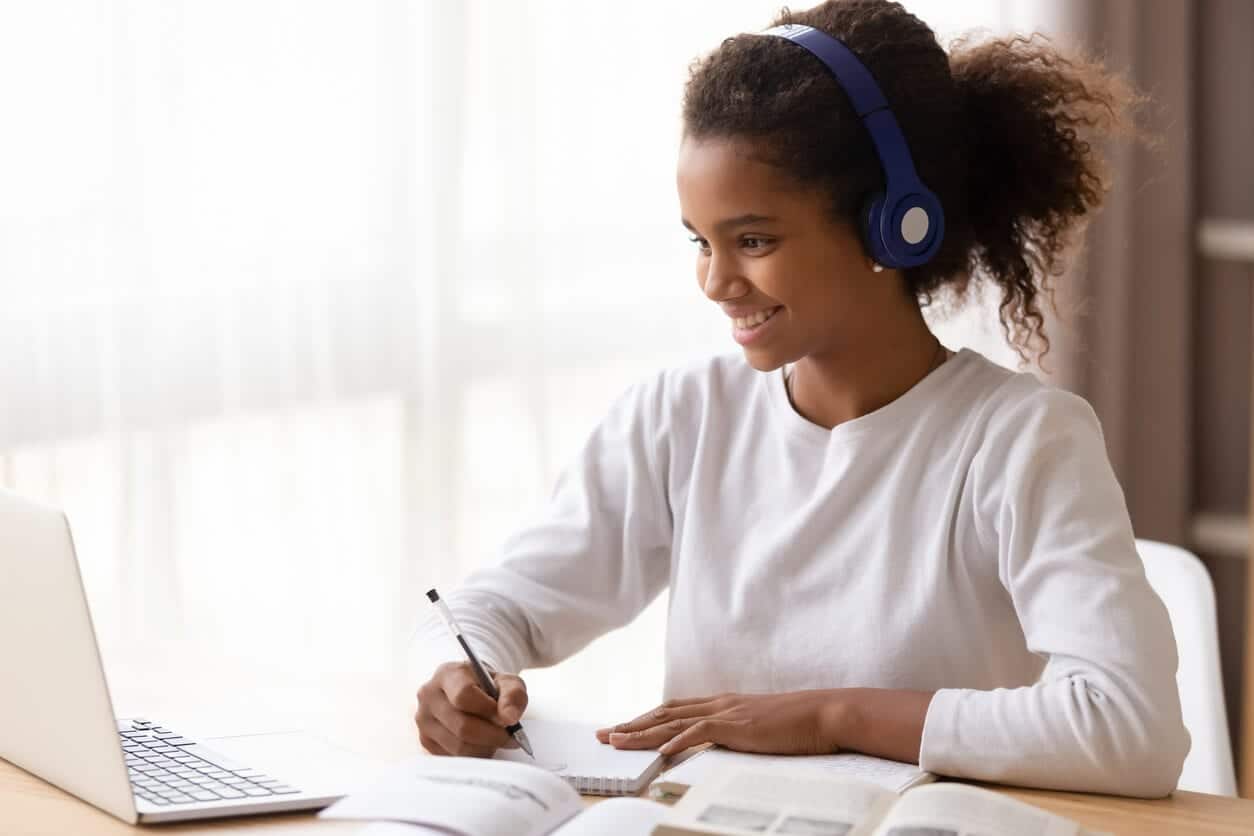 Online Instruction Can Work!
Understandably, many families were skeptical about online summer camps at first, but it's been heartening to see how open-minded, motivated, and creative both educators and students have been during these challenging times. 
The feedback I've heard from families and the organizations themselves has been positive. Parents have been very supportive of the virtual camp format, and many are asking for online classes to continue.
Finally, an advantage of virtual learning is that it has opened up opportunities for students who didn't have access to STEM programs based on where they lived. Some providers have even offered scholarships and sliding scale pricing, to make their classes more accessible. Virtual learning has also allowed students to come together, collaborate, and create communities of students across the country and even from other countries.
"Online courses with Code Wiz have been a great alternative for summer camp for our family this summer. I have been extremely pleased and pleasantly surprised with how much my boys have loved it. They are also completely occupied for several hours, which has been a welcome relief after a spring of homeschooling. The chance to socialize with other kids has also been refreshing for them, given how much they miss being with other kids all day. Of course summer camp via Zoom is not quite the experience we were originally planning for this summer, but this is a pretty great alternative given the unique circumstances of the summer of 2020." – Michelle Boucher (Parent, Massachusetts)
What To Expect From Online Classes
When I talked with the program providers, common themes emerged from their collective experiences this summer. Here were some best practices to ensure a positive experience for students, parents, and instructors. 
Virtual class sizes are smaller than in-person sessions.

This allows students to build relationships with their instructors and the other students. 

Online sessions are shorter than in-person classes.

This helps to keep students interested and engaged.

For longer classes, some camps scheduled breaks, during which kids were instructed to move around and get outside.

Classes focus on active learning.

Students are given multiple ways to learn, including lectures, videos, Q&A, and hands-on project work. 

Time for personal interaction is built into the schedule.

Allowing students to be kids and get to know each other helps spark their creativity.

Online classes are supplemented with independent work.

This allows students to practice their skills between classes. Some organizations offered one-on-one support outside of the live class to assist and guide students.

Students' cameras are required to be on.

This helps instructors to know that students are actively involved and participating. 

Providers have a pre-class meeting with parents.

Here they

review class expectations, discuss online etiquette, and explain technical requirements and what needs to be set up before the class begins.

Make sure your computer setup will work properly for the program.

If necessary, test your webcam, download software, or unpack any kits that arrived in the mail prior to the first day of class. This is critical so that all students can start learning right away when the class begins.

A parent's or caregiver's involvement is sometimes necessary for younger children.

Especially at the start, kids sometimes need assistance to navigate the technology, especially if they're managing two windows on one computer. Switching between screens and using a mouse can be difficult for younger students.
"Pre-camp meetings with parents the week before camp were essential to make sure all software was loaded correctly."—Classroom Antics
Considerations When Choosing an Online Class
Before diving into the program offerings themselves, though, parents may want to take a step back and think about whether adding an online class is a good idea for their child this fall, and if so, what purpose it would fulfill for their child. For example, a middle-schooler might have participated in a school-based coding club before COVID that was both social and skill-building. If that club is no longer offered in person at school, an online coding class might fill the gap — but only if it has a social component as well as a coding curriculum. On the other hand, a child who is going to continue with distance learning this fall may need time away from the screen and a break from Zoom sessions. If parents decide that an online class is a good idea, there are a number of considerations to think about while evaluating classes: fit with the child's interests and temperament, student to teacher ratio, amount of independent work, mix of lecture, hands-on activities, and other types of learning, space and technology requirements, to name a few. 
The List: Fall 2020 Offerings

Here is a curated mix of online STEM offerings for the fall, categorized by discipline. You'll notice that some organizations offer a class that covers multiple subjects and some offer a variety of different types of classes. In those cases, the organizations are categorized as "multi-specialty." I encourage you to explore the websites of these providers to learn about their breadth of programming. Many organizations offer a wide range of topics and programs and may be associated with multiple categories, even though they are only listed under one.
These are real-time classes led by live instructors. They include classes in coding, engineering, science, math, technology, and entrepreneurship in after-school, evening, and weekend formats. Each program is uniquely designed, so if there is a class that piques your interest—or, even more importantly, the interest of your child—visit the organization's website or contact them directly to learn more about the curriculum, timing, age range, technology requirements (e.g., computer, microphone, speakers, internet), and cost. 
Computer Science
Analytics Head Start (AHEAD) is a program dedicated to teaching data analytics to high school students. Teens are introduced to analytics concepts and techniques for analyzing large data sets in order to discover knowledge and actionable information in a data-driven world.
Black Girls CODE offers introductory courses and workshops in a variety of subjects like building a webpage, game development, coding basics, and more.
Classroom Antics offers both in-person and online STEAM programs for kids 6–16 years old, including video game design, LEGO movies and robotics, Minecraft coding, YouTube video production, JavaScript, and more. Small class sizes; professional educators lead the programs.
Code Ninjas has introduced virtual ways to engage children through programs such as at-home coding and virtual camps. These activities may be offered exclusively or in tandem with in-person activities. Contact your nearby location for availability and further information.
Code Wiz is passionate about inspiring the next generation, helping kids to unlock their inner genius, and loves watching them get excited about coding! Their safe and supervised online classes are structured to keep children ages 7–17 engaged, learning, and socializing, with a variety of options to choose from and a small staff-to-student ratio to ensure they receive maximum attention from the coding coach. Contact your nearby location for availability and more information. 
Codeverse offers one-on-one virtual coding classes for kids ages 6–13. Classes are 50 minutes long, held once a week, and led by expert Guides who introduce students to the universal concepts of coding while teaching the skills needed to create their own unique mobile apps and games. In between virtual sessions, kids have access to their Codeverse account, allowing them to continue building on existing projects or complete Missions. The first virtual session is free. 
CodeWizardsHQ delivers fun and effective live, teacher-led online coding classes for kids and teens ages 8–18, and provides beyond-the-classroom support, including live office hours, homework help, and 24/7 access to their proprietary platform. They take a students-first approach to teaching Python, Java, HTML/CSS, and JavaScript, guaranteeing that students will reach their potential based on a structured curriculum that is comprehensive, developmental, challenging, and fun.
Coding with Kids provides year-round academy classes as well as 6–10-week after-school enrichment programs and camps for ages 5–18. Virtual classes are conducted live, in small groups, and teach a variety of subjects, from game development in Scratch or Python to Minecraft Modding, Java/C#, and 3D Design.
Coditum, by SummerTech, offers group (3:1) and private (1:1) computer science classes in Python, Java, web design, web development, 3D modeling, animation, and now Dungeons and Dragons experiences designed for ages 9–17. 
CS Recitations offers online and in-person computer science classes to kids and teens aged 8 to 18, all levels. Python, JavaScript, Java, Scratch, and HTML/CSS/Bootstrap with small classes and expert teachers.
iCode offers instructor-led classes for students 8–16 in coding, problem-solving, strategy, and design through a variety of mediums and coding languages. Students develop skills using popular platforms such as Roblox, Minecraft, Digital Arts, YouTube, Python, and Java.
iD Tech has been offering high-quality online and in-person technology education for over 20 years, including virtual after-school programs, camps, and online private lessons. Ages 7–18 and all skill levels welcome.
KIDS 4 CODING bridges the gap between what kids (ages 7-16) learn in traditional academic classes and what they need to succeed in our rapidly evolving tech-based society. Courses capture kids' imaginations by connecting to their interests and passions, with a solid foundation of practical STEM education. 
Learn2Code.Live provides instructor-led live online coding classes for K-12 students. The 1:1 and small group classes teach coding and computational thinking through age-appropriate programs including Scratch Junior, Scratch, HTML/CSS, Javascript, Python, Java, C++, AI, Unity game development, and AP Computer Science.
Panda Programmer teaches Scratch, Scratch JR, Python, and JavaScript to elementary and middle school students. Their emphasis is on the Computer Science aspect of programming. Students don't play video games: they create their own games.
Penguin Coding School offers comprehensive year-round coding classes for ages 5–18 for all experience levels. Students learn Scratch, HTML/JavaScript, Python, and Java from motivational and engaging teachers in small classes.
Vidcode is offering JavaScript tutoring with expert instructors for students ages 9+.
Multi-Specialty
These classes may include coding, engineering, robotics, science, STEAM, entrepreneurship, and leadership.
Acera's fully remote after-school enrichment STEAM programs are open to all kids ages 5 and older. They offer experiments for curious scientists, skill-building for programmers and artists, and rich discussions for rising philosophers, all taught by specialist educators with passion and field-based expertise.
Artisan's Asylum offers "pay what you can afford" immersive, hands-on, STEAM-based programs for teens (11–15) guided by engineers and fabrication experts. In these after-school online sessions teens learn how to use tech, CAD, and programming to realize their artistic vision, from re-envisioning their homes using digital photography, to using topography programs to build self-portraits, among other projects. 
Boston STEM Lab is a virtual hands-on program for children (ages 3–8) and their parents or caregivers, led by neuroscientist Eugenia Rojas. Through play and experimentation, kids learn about science, technology, engineering, and mathematics in a fun and intuitive way, using inexpensive materials from home or a convenience store. 
Brooklyn Robot Foundry offers fun and creative online robot-making classes for children 2-13 years old. Students will learn engineering fundamentals as they build an awesome new robot each week in these small classes led by skilled teachers. Classes are offered all day long, in a variety of formats, in addition to camps, parties, and even classes for the whole family.
Build-It-Yourself offers 30 online projects taught by art and engineering students from top universities including Harvard, MIT, Cornell, and Stanford. Elementary and middle school students use art and technology creatively in a unique global laboratory, where they design and build toys, contraptions, websites, computer games, and robots. 
CyberWarrior Academy offers cybersecurity classes for teens, helping them to discover essential cybersecurity knowledge and skills and begin to develop an interest and the skills for this diverse and growing field at a young age.
Dreams for School will offer virtual classes in engineering, coding, and web development for students in Grades 3–8 this fall, in addition to their traditional work with schools and non-profit partners. 
Empow Studios created a new after school program, BUILD, where students 7–17 have fun, explore STEM, find their passion, and accelerate their learning. With an individualized path, children can explore across five STEM domains—digital art and design, Minecraft, coding, robotics, and video game design—and deepen their skills as they build projects from beginner to advanced.
Girls Take the Lead offers small group, instructor-led, live virtual classes in STEM and Leadership topics for home, school, micro-school, and learning pods. GirlsTech virtual classes are interactive, with action-based learning and hands-on activities for girls 6–18.
GreenApple Campus offers small group, instructor-led, live virtual classes on STEM and innovation topics for home, school, micro-school, and learning pods. Virtual classes are interactive, with action-based learning and hands-on activities for kids 6–18; special activities like Science Fridays and Saturday CodeLab are also offered.
Guardian Adventures offers live online and in-person educational adventures. They provide full and half-day online school breaks, online STEM and Essential Learning Skills homeschool, online after-school adventures, and weekly as well as weekend classes.  
Juni Learning encourages students ages 7–18 to learn STEM-based concepts such as computer science and mathematics through a project-based curriculum. Classes are held virtually and are available seven days a week to fit your family's schedule.
Miss CEO empowers young women with world-class leadership training, mentorship, and career exploration opportunities. Through offerings such as the Miss CEO Leadership Academy, ambassador program, and specialized workshops, high school students learn directly from respected female leaders, developing critical skills like effective communication, time management, networking, career exploration, goal setting, and risk-taking.
OPAK offers K–12 students virtual ocean science, art, and advocacy lessons. Topics vary by age group, and each lesson includes follow-up activities.
TechGirlz is a nonprofit organization helping middle school girls embrace the power of technology through free workshops. Their tech workshops or "TechShopz" are hands-on technology workshops designed for 12–14-year-old girls.
The Innovation Institute (Ti2) offers small (up to 8 students), hands-on, STEM-lab classes led by post-doctoral research scientists and engineers in both live online and hybrid options. After seven years of STEM teaching in its labs, Ti2 students have the opportunity to experience its laboratories virtually and to create learning labs in their homes; open to homeschool, after school, and weekend students, classes include neuroscience, chemistry, genomics, and an integrative K–4 STEM program. 
TYE Entrepreneurship Academy, teaching student leaders how to launch a startup, is open to any 9th–12th-grade student in the US. Applications for the fall are due September 18th.
TKS is a 10-month immersive program that trains students 13–17 on emerging technologies like AI, quantum computing, and nanotech. Throughout the program, students build projects, have access to top mentors in their fields, and work with real companies on their most pressing problems.
UMass Amherst Winter Pre-College is offering online programs for 9th – 12th graders in topics such as kinesiology, psychology lab research, and programming. The project-based programs feature synchronous instruction scheduled during after-school hours.
Worcester Polytechnic Institute's Office of Pre-Collegiate Outreach Programs has launched BOOST, a variety of virtual programs for grades 7-12. From the Nuts and Bolts of Mechanical Engineering to Video Design, BOOST programs are a great way to continue your learning this fall in your favorite area of STEM. 
Z-kai Learning Lab offers LEGO engineering, math, and JavaScript coding courses for students ages 5–16. Classes are flexible and available both online and in person. A free trial lesson is available for interested students.
Math
Mathnasium offers a program called [email protected]: face-to-face, online math tutoring with the same instructors that teach in their centers. Find a center offering online sessions by visiting their website.
Russian School of Mathematics (RSM) has delivered an after-school math program for K–12 students for over two decades. With three levels per grade, from beginner to competition, and a continuous curriculum encompassing pre-K through trigonometry, RSM can serve each child according to the child's knowledge and ability. All branches will be offering online classes this fall.
sySTEMic flow's Online Math Institute offers 10-week courses to 9th–12th-grade students. Their wide variety of subjects includes Algebra I, Algebra II, Geometry, and Trigonometry, all packed with the information students need to pass their math class and prepare for the next.
The Math Club Lexington offers an engaging math curriculum for 3rd–8th-grade students. Their classes feature weekly instruction, small group interactive working sessions, self-paced activities, and the International Mathematics Olympiad. Their award-winning model builds a student's competency and confidence in math and problem-solving. 
Science
BioBuilder teaches students to use biology to solve today's most pressing problems and bring their ideas to life, and is committed to providing students, teachers, and their parents with online resources for a successful academic year through new programs adaptation of the BioBuilder curriculum and learning approach to online formats. Created especially for middle school students, BioBuilder's BioBuilders 6-7-8 provides an affordable online program featuring live instruction, guided project team collaboration, biodesign assignments, reference materials, feedback on assignments and projects from BioBuilder Teaching Fellows, and the opportunity to present their work in the Project Showcase.
ExSciton aims to stimulate K-8th grade students' minds scientifically through coursework, experiments, workshops, and interactive learning modules based on theory, hands-on experiments, and evaluation. Instructors train students for national science competitions like You Be the Chemist (YBTC), MIT Science Bowl, and Physics Olympiad along with AP classes for math, physics, chemistry, and biology.
The DNA Learning Center offers Virtual Lab Field Trips that can be presented as online lab demonstrations, or with kits for students to perform experiments at home or at school alongside lab instructors by Zoom or another preferred online platform. Additionally, summer camps will be offered throughout the school year as part of the new "Endless Summer" program, which will include both virtual camps and in-person camps, which will take place either after school hours or on weekends.
The United Nations Association of Greater Boston inspires the next generation of global leaders through the Model UN education programs, which serve thousands of Boston, Massachusetts, and New England school children each year. Topics this fall include access to clean water, responses to climate change, and many others.
Wicked Cool for Kids offers fun, educational hands-on STEAM enrichment programming for kids K–5th grade at home. They provide complete science kits at home and weekly interactive online after-school classes focusing on science, engineering, and coding.
STEM Events
With the arrival of fall, STEM events have started up again for another school year. I'm excited to share some free and affordable online activities for kids and teens that will be taking place in the next few months. These STEM activities—many hosted by Boston-area organizations— are usually held in-person. However, this year the events are going virtual and that means that anyone can participate from the comfort of home! I have categorized the events by month and will continue to add to the list as I learn about new opportunities.