For many young people today, community service is an important complement to their school, family, and social activities. It's common to find high school students volunteering their time in order to support their school, the local community, or international causes. Some volunteer at the same place on a regular basis, while others contribute to one-time events or special summer projects.
Students are motivated to volunteer for a variety of reasons or a combination of reasons. For instance,  
They like to volunteer and help others

It is part of their family tradition or culture

They have a passion for a particular cause and want to use their skills to support it 

They want to demonstrate that they are well-rounded for college applications

They are applying to the 

National Honor Society

or the

President's Volunteer Service Award

 

Their high school requires that students earn community service hours to graduate
Consider STEM volunteering
If your child loves science, math, and technology, enjoys coding, or is a member of a robotics team, then STEM volunteering might be right up their alley. Like community service in general, doing STEM-related volunteer work gives teens a chance to do something they really enjoy while giving back to the community.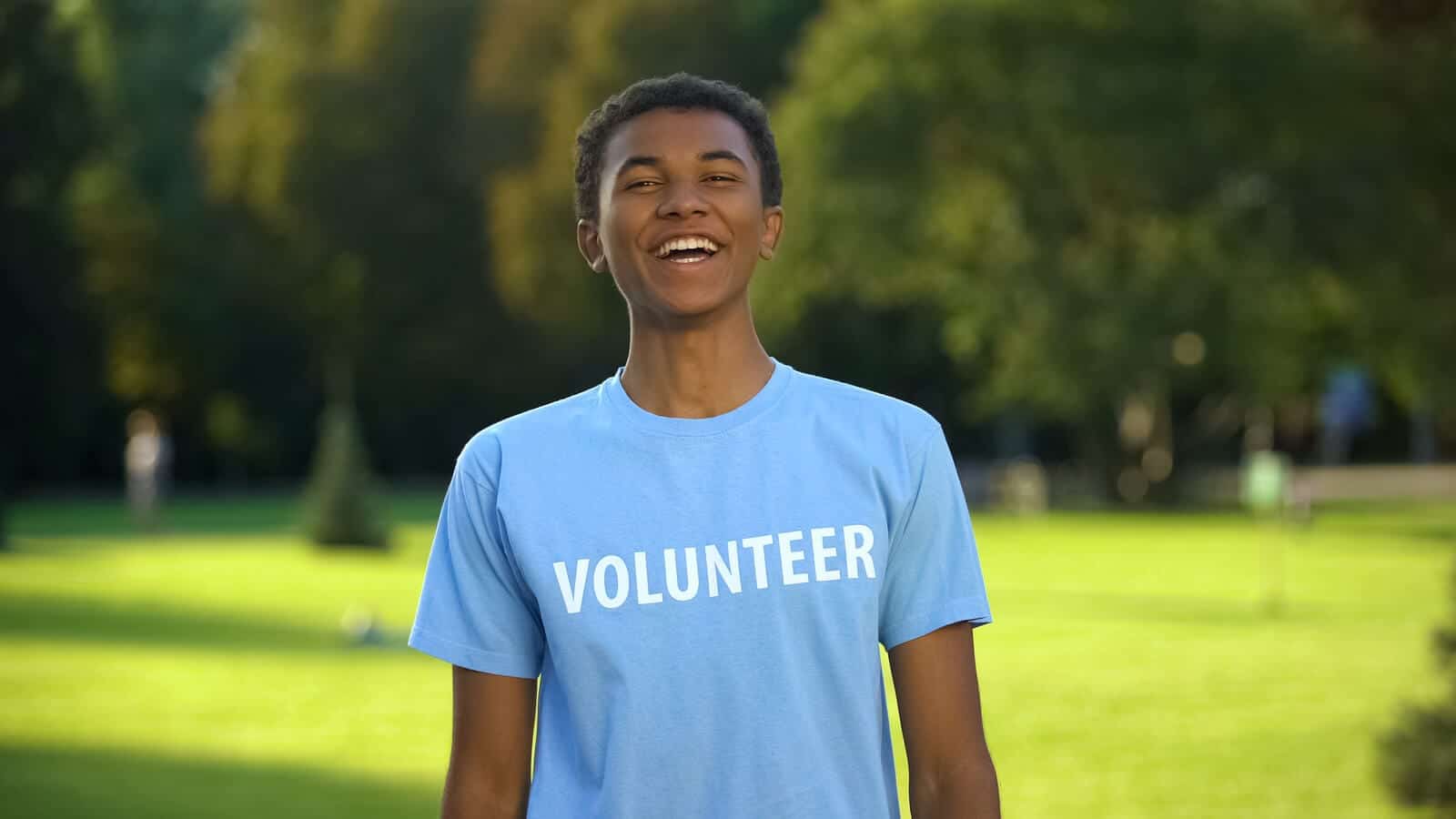 STEM volunteering ideas. What's possible?
While it may be easier to pinpoint programs where STEM volunteers are needed, sometimes it's necessary to create your own opportunity. It may take some creative imagination to conceive and propose a volunteer position to an organization that hasn't used teen volunteers before. To get you and your child started thinking, here are some possibilities.
Be a student instructor or assistant at an after-school STEM enrichment program.

Tutor students in science, math, engineering, and coding.

Do community outreach. If your teen is part of a STEM club or team (e.g., robotics, math, etc.), they can inspire other kids by hosting a STEM event or participating in one.

Assist at your local library. Libraries often host STEM activities for children—your teen can ask if they can help. Libraries also often offer senior citizens assistance with their devices and online tasks; if your teen is interested in working with adults rather than children, this could be a welcome community service.

Support local youth organizations like the YMCA and Boys and Girls Clubs in their STEM programs. 

Volunteer at your school's science fair.

Be the webmaster or Instagram, Facebook, or Twitter administrator for a not-for-profit that can't afford an in-house IT or marketing person.  
Finding STEM volunteering opportunities for high school students
Once your child has a sense of what kind of volunteer work they would like to do, take some time to explore the possibilities in your area. If a potential location says that there isn't a volunteer program established, your child should be prepared to describe how they might benefit the organization by volunteering. Have them practice with you or another family member so they'll be ready to make their pitch.
Here are some good places to start as you research community service and volunteer opportunities.
Begin at your teen's own high school, particularly the community service clubs. If the school runs a community service program, ask the coordinator if there are STEM-specific activities. But don't stop there: have them talk with their science and math teachers and guidance counselors to see if they are aware of opportunities as well, or will help create one.

Contact the local library: if they run STEM programs, see if your teen can assist. Many libraries start planning their summer program activities for children in the late winter and may be glad to line up summer volunteer assistance well before the summer. Ask if they offer IT training classes or technical assistance to adults and if there might be a role for a student volunteer. 

Contact national organizations like

Girls Who Code

,

YMCA

, and

Boys & Girls Clubs of America

and inquire if they need assistance with their STEM programs.

Consider volunteering at a STEM summer camp. A growing collection of summer programs and camps focus on STEM activities and training for kids. Some are offered by colleges and universities, while others are independent. Contact the ones that appeal to your teen and see if they could use a student volunteer assistant. It could turn into a future paying summer job, and in the meantime, your child could learn new skills and share their enthusiasm about STEM with younger kids.

Need more volunteer ideas? Search for local opportunities based on your zip code at

VolunteerMatch

and

Idealist

.



Start a STEM organization!
If your child is passionate about a topic or subject matter, perhaps they might consider creating their own program. Over the years, I have been delighted to see teens design their own workshops, host hackathons, hold webinars, and work in their communities to educate and inspire others to explore STEM. And, a great place to have these events is at your school, library, or community center. They are generally excited to sponsor these kinds of activities. Learn what kinds of STEM organizations teens have created.
Final thoughts
My daughter, who has always loved to code and play computer games, earned some of her high school community service hours by volunteering at our local Girls Who Code Club. It was a great match for her and something she really enjoyed doing. If your child has already done STEM volunteering, will you share your experience with me? I'd love to hear about your child's work and their experience.