STEM camps are not only popular but a great way for kids to get some informal learning in the summer, and the options to choose from are plentiful! From designing a computer game and creating an app to building robots and exploring space, there really is something for everyone—even for kids who "don't think they like" STEM. Many types of programs are available, covering a broad spectrum of subjects and presented in various formats for children as young as kindergarten through high school students.
If you're just starting a search for a camp, the array of choices can be daunting! If your research time is limited or you need help getting started, take a look at companies with camps located throughout the US.
What You'll Find Here
To get you started, I've assembled a sampling of well-known, popular summer programs with a national reach—that is, their in-person camps are offered in locations all around the US. Of course, there are plenty of great STEM programs run by local organizations of all kinds, so don't confine your search to this list alone.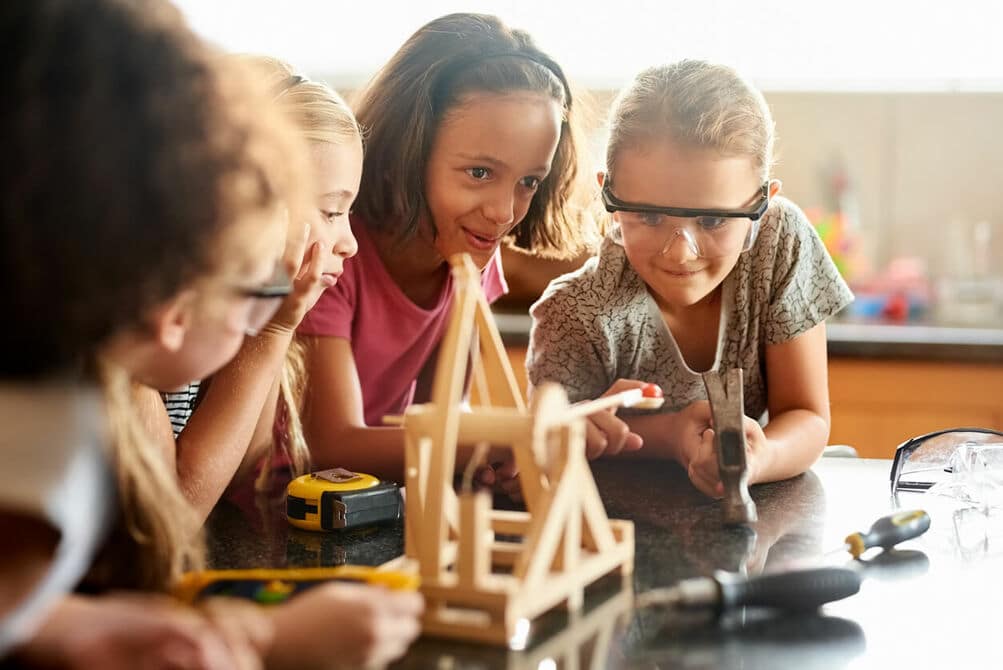 Choosing Among Programs
Each of these organizations is unique, so it's best to visit their websites for information about curriculum, timing, cost, and registration or application details as you evaluate your options. Many of them fill up fast, so if you're interested in a program, keep your eye out for application dates and deadlines, and don't delay registering.
Multispecialty Offerings
Companies in this category offer camps covering many subjects, from coding, engineering, and robotics to science and STEAM. Some camps focus on one topic at a time, while others expose kids to various topics and technologies in one session.
Code Ninjas runs camps in many of their year-round centers, offering coding, game building, and robotics for ages 5–14. Find a center.
Code Wiz offers coding and robotics camps where children ages 7–17 can build and program robots, drones, and other cool things using drag-and-drop technology like Scratch or more advanced tools like Python, Java, and Artificial Intelligence. Find a center.
Drobots offers a variety of K–12 programs, including drones, game development, robotics, design, AI, AR, VR, animation, engineering, and programming. Find a location.
Engineering for Kids offers a variety of camps that teach students in PK-grade 8 the foundations of STEM, including interactive engineering, robotics, and coding. Find a location.
iCode offers computer science camps in game design, robotics, drones, virtual reality, engineering, 3D printing, and entrepreneurship for ages 6–18. Find a location.
iD Tech has been offering in-person technology education on college campuses for over 20 years. Courses include coding, game development, robotics, and design for ages 7–19. Find a location.
Lavner Education hosts tech camps at 35+ locations for ages 6–16 in topics such as robotics, coding, game design, Minecraft, Roblox, content creation for YouTube, and digital art. Find a location.
theCoderSchool offers week-long coding courses in a variety of topics, from robotics to AI to video game development for students 7+. View all locations.
Hands-on Design & Engineering
Camp Invention camps are focused on creativity, innovation, real-world problem solving, and the spirit of invention. Kids in grades K–6 build creative inventions through hands-on activities. Find a camp.
Play-Well offers LEGO-inspired camps that allow kids in grades K–8 to build elaborate objects, structures, and vehicles while exploring fundamental principles of engineering and physics. Find a camp.
Snapology offers play-based STEAM programs for kids 4–14 using LEGO® bricks and other familiar toys. Find a location.
Science
GSK Science in the Summer is a free summer science program designed to engage children entering grades 2–6 in STEM. Find a location.
Mad Science gives students in grades K–6 the opportunity to embark on a series of science adventures through exploration and games. Camps' themes feature space exploration, design challenges, and forensic science. Find a location.
Computer Science
Kode with Klossy offers free two-week summer programs for girls, gender nonconforming, and trans students ages 13–18, teaching students website development, mobile app development, AI/ML, and data science using SQL and Python. Find locations and learn about the application process.
Cybersecurity
AFA CyberCamps are designed for high school and middle school students who are just discovering cybersecurity or who have cybersecurity knowledge and want to learn more. Find a camp.
GenCyber camps provide students with age-appropriate cybersecurity activities in an organized curriculum, distinctive to each camp. Each camp must teach cybersecurity principles and concepts, online safety, and ethics. This is a free program. Locate a camp.
Looking for More Options?
The above list is just a starting point. If you want to expand your search and find more in-person programs, get ideas by reading my Pro Tips: Finding the Right STEM Summer Program article. And, if it turns out that online programs are the best option for your child, start by reading my Online STEM Summer Camps post to get helpful search tips and find an online camp or pre-college program that is held with a live instructor.