I am excited to tell you about MIT's Day of AI, a new Artificial Intelligence (AI) event launching on May 13, 2022, from MIT RAISE in collaboration with i2 Learning. On Day of AI, students in classrooms across the US and around the world will learn about artificial intelligence and its role in our lives. It is designed for educators and students in grades 3-12.
While I have seen the introduction of AI summer camps in recent years, this is the first time I've seen a nationwide effort to bring AI into the classroom. I am excited that students and teachers will get exposure to this important and fast-growing field of computer science that is impacting so many different industries and aspects of our lives.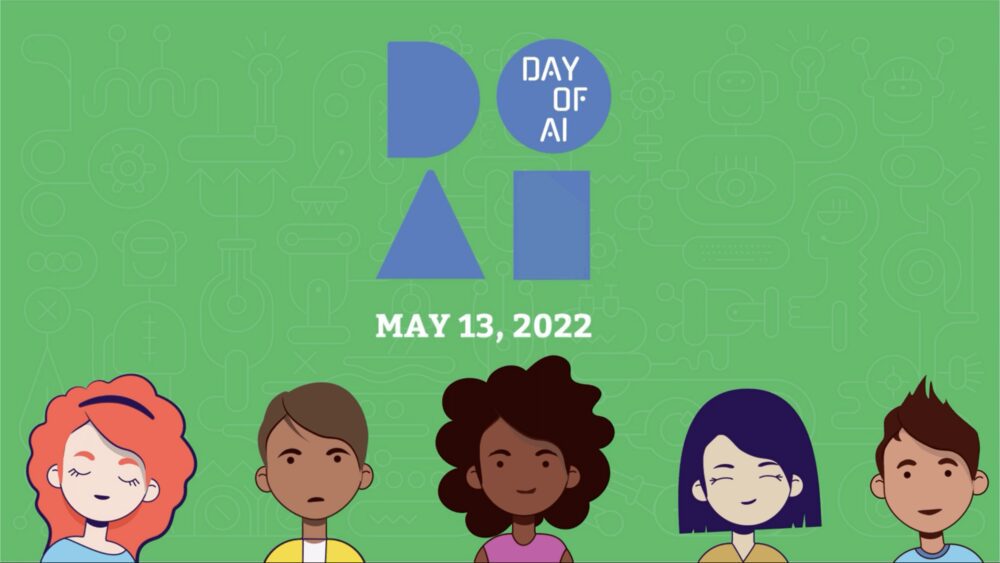 How it works
On May 13 this year, thousands of students around the world will engage in Day of AI: a series of hands-on classroom activities designed to introduce them to artificial intelligence and how it shapes their lives. The Day of AI curriculum and materials are designed by MIT researchers, led by Dean for Digital Learning and Director of MIT RAISE Cynthia Breazeal, but will be taught by educators with little or no technology background. These resources are free, Creative Commons-licensed, and made to be accessible to students of all backgrounds and abilities.
Activities are organized by age group (upper elementary, middle school, and high school) and can be run in 30-minute to 1-hour time blocks. Teachers who register for Day of AI get access to the curriculum and lesson plans as well as optional free professional development training on the materials, with a certificate of completion that may be used for PD credits. Learn more about the Day of AI.
Why did MIT create this event?
This is the first-ever Day of AI, intended to be an annual event. It was announced last October by MIT RAISE, a cross-MIT initiative to conduct AI research, education, and outreach. The rationale fuelling proactive outreach to young students is that this generation of kids is growing up with AI—it's embedded in their everyday lives, in everything from TikTok and YouTube algorithms to facial recognition, "smart home" systems, and more, and will influence their careers in almost any industry they choose to work in. Students, and the teachers tasked with educating them, need a foundational understanding about how these technologies work.
Day of AI is open to all educators!
Day of AI targets educators in all disciplines: classroom teachers, as well as after-school program mentors, administrators, and anyone who is interested in preparing kids for the future. Crucially, MIT is not targeting STEM teachers alone, but all educators—the curriculum is designed to be accessible and useful for teachers and kids who don't have a technological background.
Can students and families participate on their own?
Certainly! All of the resources were developed by MIT researchers and are freely available under a Creative Commons license. Anyone who registers on the dayofai.org website can access the curriculum and activities. This could be a great activity for an after-school computer club or scouts!
There is clearly an appetite among educators and kids alike to understand these technologies that are a constant presence in our lives. We are thrilled to be able to provide an MIT-designed curriculum to help build knowledge and understanding of AI. One thing we want to make really clear with this initiative is that AI is for everyone. No matter your age, background, interests, or abilities—AI is going to be part of your life, and we want kids who will grow up to build and use the next generation of AI technologies to be as inclusive as possible.

– Cynthia Breazeal, Dean for Digital Learning, director of MIT RAISE, and head of the Personal Robots group, MIT
Registration details
Registration and resources are both completely free. The Day of AI is on May 13 this year, but anyone is welcome to access and use the materials at any time. All you need is a computer or tablet with internet access. Register here.
Meeting ambitious targets, setting world-changing goals
I am delighted that students will have this opportunity to explore AI in the classroom, and am curious to see the impact of the program on sparking interest in this exciting field. The Day of AI team told me that they aimed to get 1,000 educators from across the country to register; as of this writing, they have over 2K registrations from 86 countries!
The curriculum goals are different for each age group (detailed here), but they hope to provide teachers with the materials and tools to teach age-appropriate basics of how different types of AI work and how AI impacts society, through hands-on, project-based activities. For example, elementary students will learn what a dataset, algorithm, and prediction are to understand the three basic steps in how machines can become intelligent. In contrast, high school students will learn about recommendation systems and how social media platforms use AI in those systems to differentiate content for different users.
If you are an educator who decides to lead sessions on Day of AI or the parent of a child who participates, please tell me about it! Contact me directly or add a comment below. I hope that this inaugural year will lead to continuing interest from educators, students, and families, and continued future AI programming for kids from MIT.
If your child is interested in exploring AI outside of the classroom, there is a growing number of engaging, high-quality AI summer camps—yes, really! Read my AI Summer Camps article and discover some great AI camps around the country.