Does your child love to play the video game Minecraft? Most likely the answer is "Yes!" Minecraft is an immersive, open-ended adventure game where players use imagination and creativity to explore and create worlds, find and gather resources, and build things like tools and structures out of 3D cubes.
As the popularity of Minecraft has grown over the years, I have noticed that many after-school programs and STEM summer camps offer Minecraft classes. Companies who run computer camps and classes for kids recognized how popular Minecraft was and saw the potential to use the game for educational purposes.
They knew that Minecraft could be a valuable tool to help kids develop STEM skills, and thus, they designed curriculum and created classes based on Minecraft. In these classes, kids do not just play Minecraft; instead, they learn to code, get exposed to engineering concepts, and explore science and math through Minecraft.
Game-based Learning
There is no denying that today's kids relate to computer games. They love the excitement and challenge that games offer and for many young people, playing video games is an important way to connect and socialize with friends. Recognizing that kids love to play computer games, utilizing game-based learning as a means to explore and expand tech skills make a lot of sense.  
This is an approach we have used in our family. Much of my daughter's early coding experience came from taking computer game design courses at iD Tech. She loved the classes, and now that she is in high school, she is learning Python, a popular programming language. I really believe that her early exposure to coding through game design spurred her interest in coding and prompted her to move on to deeper, more challenging coding opportunities.  
Types of Minecraft Classes
As you start to research Minecraft classes, you will find there are a few subject matters that are commonly incorporated in Minecraft classes: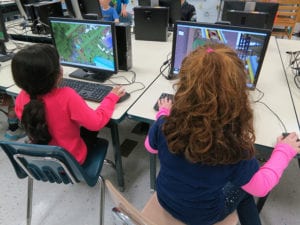 Programming and coding

Engineering

Physics

Math

Architectural design
You will also find that Minecraft classes are offered in a few different ways, including classes, camps, workshops, clubs and even birthday parties.
I spoke with curriculum developers at Zaniac Learning and Empow Studios and asked them how they designed their Minecraft classes.
Zaniac Learning, an after-school and summer camp STEAM-enrichment center with locations around the country, offers a series of Minecraft classes where instructors guide students through Minecraft challenges designed to teach math and science concepts. Students learn about life sciences, biomes, physics, mechanics and more.
Bea Pereira, Campus Manager at Zaniac, discussed how Zaniac incorporates technology learning into their Minecraft classes. Bea shared, "At Zaniac, we draw the bridge for kids between STEAM and the game. When kids are playing at home, they are truly just playing and do not realize how much math and science they are doing! Our lessons are targeted to focus on themes in math and science and not on the game itself. For example, kids learn about volume in the classroom and then apply what they learned by building a lava trap with specific dimensions in Minecraft."  Bea also added that many of their students go through the series of classes and then move onto coding classes.
At Empow Studios, which runs STEM programs across greater Boston, their Minecraft clubs are hugely popular. I asked Ed Kunakemakorn, Sr. Instructor and Camp Director, why they decided to offer a "club" format vs. a traditional class. Ed started by saying, "Because of kids' natural love towards Minecraft (and games in general), it's a great tool to engage kids in computer science, engineering, art, and design." Empow Studios thought that clubs would be a great way to allow kids to play/work together on projects in the same world, on the same network.
Ed explained, "A project-based curriculum allows for kids to work on small group projects, and continue to build their worlds or cities with tons of project options. Minecraft is also a great tool to use for challenges, where kids complete a certain type of project, sometimes with a friend or two, to expose them to a STEM-based subject like circuitry, logic gates, automation, architecture, and more. This list goes on and on."
Tips for Evaluating Minecraft Classes
If you think your child would be interested in taking a Minecraft class, there are some considerations to keep in mind. The types of Minecraft classes offered are broad, as are the approaches to teaching. As you do your research, the following tips can help you figure out which class might be right for your child.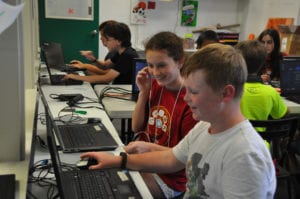 1) Ask your child what subjects pique their interest and what specific topics they would like to explore. Because Minecraft classes can go in many directions, it is a good idea to understand what subject matters (e.g., coding, physics, space, etc.) your child is interested in exploring. Once you know that, you can then review class descriptions and see if there is a good match.
2) Talk with your child about their expectations for the class. Ask them what they want to get out of the class and what type of class structure they desire. There is no "right" answer here but it is good to get a sense of what aspects of the class interest them the most and what type of instruction style they prefer. Some classes are highly structured while others lean towards a more open-ended, unstructured classroom.
3) Find out what level your child is in Minecraft. Bea Pereira, Campus Manager at Zaniac, said before selecting a class for your child, it is important to understand what level they are at in the game. At her center, they have everyone from beginners who have never played to experts who teach them (sometimes)! It is important to know how much the child knows about Minecraft. For example, if a child only plays in Creative Mode, they are missing an essential skill in Minecraft which is crafting using resources and no inventory and they would need to take a beginners class. Other classes offered by Zaniac involve mods and more challenging concepts which are targeted to intermediate and experts in Minecraft.
4) Review the class curriculum. There are many Minecraft classes available today and most companies provide class descriptions, but they are generally brief. It is important to understand how Minecraft is going to be used. I suggest reviewing the descriptions with your kids and contacting the companies to inquire about the curriculum and what they will learn. It is also a good idea to ask companies how they communicate with parents so that you can stay informed and know how your child is doing in the class. 
5) Look for companies that monitor for cyber-bullying and use the "Education Edition" of Minecraft. Dave Gutierrez, Outreach Director at Empow Studios, made me aware that most Minecraft classes do not allow students to go online and Empow runs their own in-house server. But, he did want to point out that bullying can still happen through trolling and griefing. Griefing happens when someone destroys a kid's project by blowing it up or building in their world without permission. Dave explained that much of this can be solved with a tool called Minecraft: Education: Edition, which allows teachers to prevent this type of behavior from happening by creating protection around projects and disabling certain functions in the game like text communication.
6) Check the game "mode." Minecraft offers a few different "modes" that kids can choose. It is important to understand the differences and which mode a class will use. For example, Empow Studios run their programs in Creative Mode, although they will allow students to bounce into Spectator Mode to screen record their projects or Survival Mode to test their Parkour worlds and deal player damage. Dave at Empow Studios suggested that Survival Mode is something to monitor, as the player now has health and needs to survive the night from monsters by killing them. There is no blood, but it's worth monitoring as there is a violence component.
7) Ask your child what they learned during the class. Finding quality classes takes time and effort and you want your child to have a positive experience. Once the program gets started, I would ask your kids what they learned in each class. If they say they were "just playing the game" like they do at home, there is obviously a red flag that warrants attention.
8) What is the age range for Minecraft? There is no hard and fast rule but Minecraft is generally popular with kids entering grades 2-8. I find that Common Sense Media is a great resource for objectively reviewing and rating age-appropriate media-related products. Common Sense rates Minecraft for ages 8 years+.
Tips for Finding Minecraft Classes
Many of the STEM companies who offer Minecraft classes are community-based and independently owned. To find classes in your area, try searching online for "Minecraft classes kids [your city, state]."

There are also a few companies who offer Minecraft classes and camps in multiple states:  

iD Tech

,

Digital Media Academy

,

Zaniac

, and

Emagination Computer Camps

.

Check your afterschool enrichment programs for Minecraft classes. Libraries and community centers are options too.
Final Thoughts
Game-based learning can be a valuable learning platform to engage kids in STEM. If you are looking for tech-oriented after-school classes and summer camps for your kids and they love playing Minecraft, taking a class could be a great option for them. I hope that today's tips help you navigate the different types of classes offered and figure out which ones might be right for your kids.
Image Sources: SkyeWeste and Kevin Jarrett