Today's maker culture is a new spin on the "do-it-yourself" (DIY) concept, and it's widespread and thriving. You may be surprised to hear that it spans all ages, from adults and teens all the way down to children. People who are part of the maker movement have a desire to use their imagination and ingenuity to design and make things. And unlike previous incarnations of DIY, there's a vibrant maker community that celebrates an inventive mindset and promotes self-learning, creativity, hands-on building, and experimentation. While many people work on projects at home, makerspaces are a popular option if you want to work on projects in the company of others. If your child loves hands-on projects, a makerspace could be a great way to build STEM skills and meet other makers!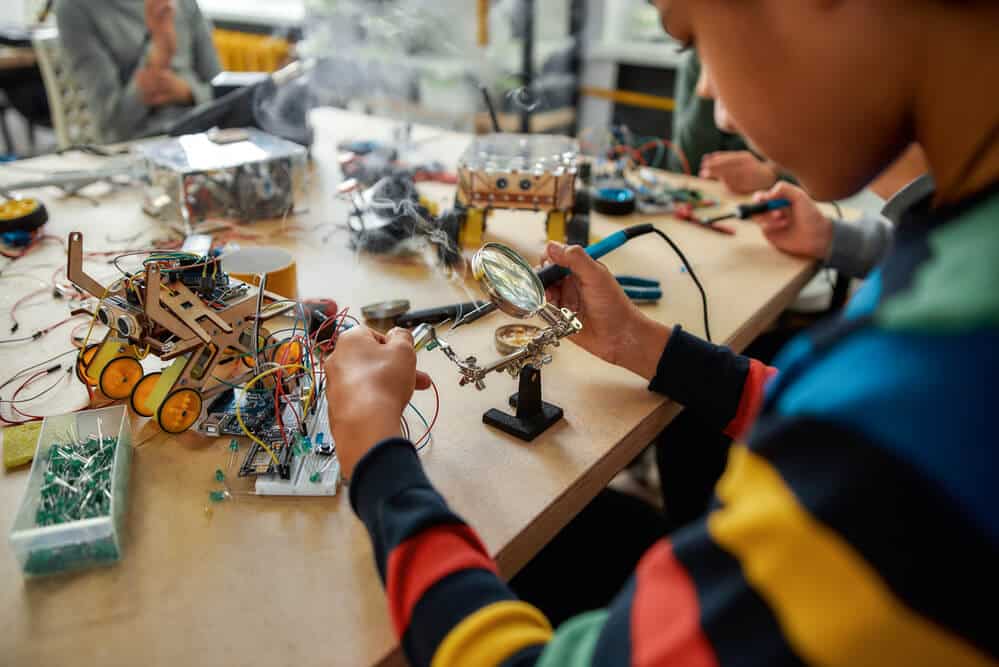 What Actually Is a Makerspace?
A makerspace is a place where people of all ages and interests work on projects and make things, share knowledge and ideas, and enjoy the company of those with both similar and diverse interests while using shared tools in shared spaces. While each makerspace is unique, most are community-based and emphasize hands-on work and collaboration.
Makerspaces are fairly mainstream today and can be found in schools, colleges, libraries, and museums, as well as in standalone facilities run by companies and nonprofits. You'll find tools and equipment like soldering irons, power drills, laser cutters, sewing machines, and 3D printers. Depending on the space, there might be supplies on hand you can use, such as electronic components (e.g., breadboards for circuits and LEDs) and craft materials. You might even have access to computer hardware (e.g., laptops) and software (e.g., CAD).
How Does It Work for Kids?
Many of today's makerspaces welcome young people, having designed their spaces with students in mind. Many offer memberships where you can come in on your own time and work on projects.
Some also offer structured workshops, classes, camps and activities created just for kids—a great way to ease them into the experience if they're used to a more structured environment.
Here are some examples of tools, equipment, and materials that are available to spark curiosity and allow kids to create:
2D/3D design software and 3D printers
Soldering irons for electronics and circuit boards
Laser cutters, vinyl cutters, and CNC machines
Digital art and design software
Woodworking tools
Arts & crafts materials
Sewing machines (so you can make clothes and costumes)
How Makerspaces Benefit Kids
Being part of a makerspace is a great opportunity for kids to develop real-world, hands-on STEAM skills and interact with other kids who enjoy project work. Here is what kids can experience:
They get to make a lot of COOL stuff!
Creativity is king. Makerspaces allow kids and adults to discover new interests and develop expertise in a supportive, community-oriented environment where experimentation and even spectacular failures are celebrated.
Kids learn by doing.
Although there are often more structured programs for kids, the maker culture values self-direction, self-learning, and exploration.
Everybody is there to have fun! The right makerspace should be a low-pressure environment that allows participants to experiment and learn at their own pace.
Kids see adults experimenting, failing, learning from their mistakes and others, and reworking their ideas—just like in the real world.
If your child likes to create LEGO structures or take things apart to see how they work, they'll probably have a blast in a makerspace, whether part of a formal class, working on a project with you, or experimenting on their own. The rich array of tools, materials, and other projects and people to learn from will spark their creativity, build their hands-on skills and understanding of the underlying scientific principles, and give them practice communicating and collaborating.
Even if your child hasn't shown a strong interest in building things, a makerspace can provide an engaging, valuable experience. Early educators have long known that starting a child on concrete "manipulatives" helps build a firm foundation for later, more abstract concepts. Having a fun experience that's relatable in the classroom in the future can help your child feel comfortable and competent with technology and math in particular.
Finding Makerspaces and Activities
Here are some ideas on where to find a makerspace in your community. Every makerspace is different, so check an organization's website for details about student programs, costs, and hours of operation.
Freestanding Makerspaces: Use your browser to search for freestanding makerspaces that are dedicated to "making." If you live in Massachusetts, I have compiled a list of makerspaces that welcome kids. 
Libraries: See if your library or surrounding libraries have makerspaces. These facilities are free for patrons to use, and many have open lab hours when you can come in and use the equipment! 
Museums: Children's and science museums are also great places to find hands-on STEAM activities. 
Maker Camp: Maker Camp on Make Community is a free, 6-week online program providing resources (project ideas & step-by-step instructions, inspiration, materials, and community) to summer camp leaders and young makers interested in DIY, making, creating, crafting, hacking, tinkering, and learning. Visit the FAQ page to learn how to find a maker camp near you or get information about hosting a camp yourself. Families and neighborhood groups are welcome to start their own camp!
Maker Faires: Attending a Maker Faire is a wonderful way to meet local inventors, crafters, tech enthusiasts, educators, artists, students, and organizations who are excited to show you their creations, hobbies, and projects and talk about what they have learned. Use this link to find Maker Faires around the world!
Finally, these curated articles about hands-on STEM activities and engineering programs may be helpful guides.
If your child has created something in a makerspace, please share it with the BostonTechMom community in the comments. I'd love to see what they made, especially in the makerspace where they made it!