The Edgerton Center at the Massachusetts Institute of Technology is a home for experiential learning for students of all ages. I was delighted to learn about their makerspace resources at last year's Massachusetts STEM Summit. If you want to create a K-12 makerspace classroom, the Edgerton Center offers a variety of free resources plus professional development courses for teachers and organizations like libraries and community centers.
 Maker projects are hands-on creative projects using technologies such as 3-D printers, laser cutters, and microcomputers. Teachers, students, and parents are increasingly looking at projects as a means to reinvigorate educational experiences with collaboration, critical thinking, and iteration. In addition to being creative and fun, Maker projects give students experience with technological tools and increase awareness of STEM concepts and careers. For many schools Maker projects at the lower grades are creating a pipeline of students to upper-level STEM courses.
 I recently visited MIT Edgerton Center's Makerspace and spent time with Diane Brancazio, Lead Maker Educator. I got to see the tools and materials used in their space, view many of the cool projects on display, and learn how they help teachers design and incorporate makerspaces in their classrooms.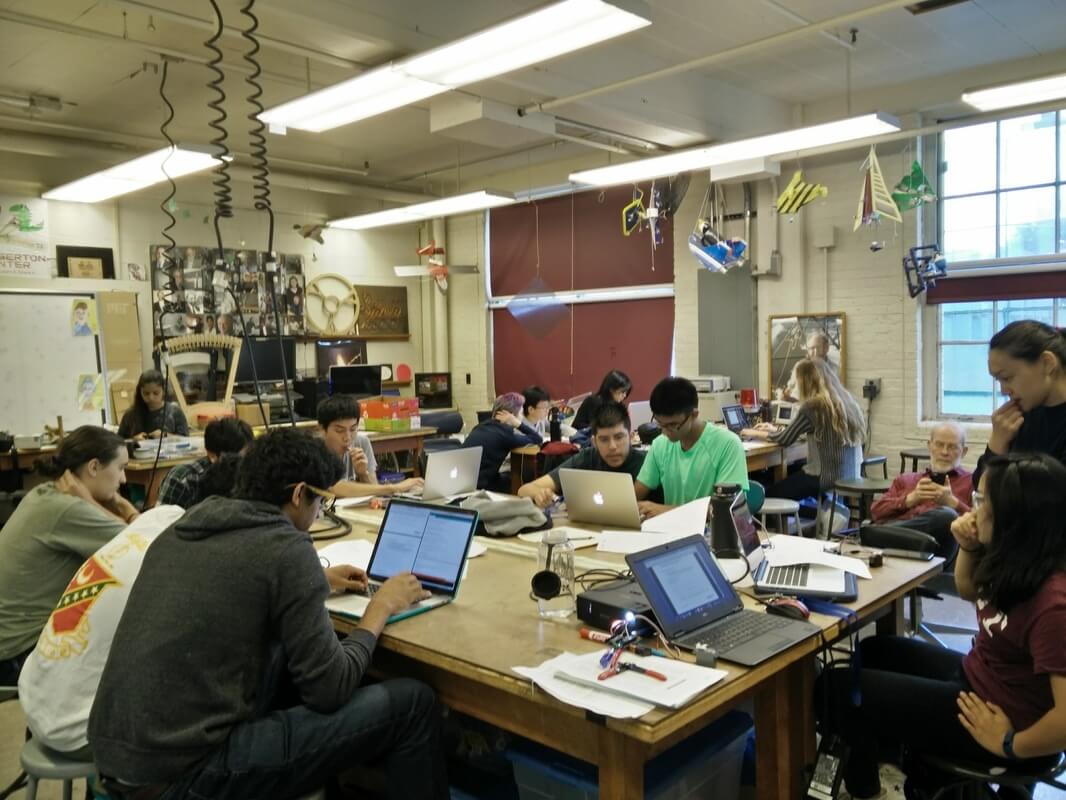 According to Diane, a major challenge faced by educators is how to integrate Maker projects into existing class structures while covering academic content. As well, teachers themselves need to gain familiarity with Maker tools, materials, and the Makerspace setting.
Diane explained, "This is where we have been focusing our efforts at the MIT Edgerton Center.  We offer our own workshops for K-12 teachers interested in setting up Makerspaces, operating them safely, training tool users, and designing Maker projects for core curriculum."
A couple hundred educators from all over the country and the world have attended their workshops in the past two years. Diane said, "Participants feel comfortable in our shop, and appreciate the welcoming and well-used nature of the makerspace. Many have left with new projects that they use immediately in their classrooms. Even more valuable than the technical skills are the connections educators make with others tackling the same challenges in their schools."
Free Makerspace Resources
Diane and her team have developed a rich and instructive curriculum and I'm delighted to be able to share these free resources with you.
Visit MIT Edgerton Center's Maker Resources website for free online resources and notice of upcoming events.  While still a work in progress, you will find many useful resources the team has created and collected.
Highlights:
Professional Development Workshops
In addition to online resources, the Maker staff trains K-12 educators in setting up school Makerspaces, developing technical skills, and using Maker technologies as effective learning tools. They emphasize hands-on practice and teach each technology through a simple Maker project. Participants leave with confidence, skills, resources, and new ideas for incorporating Maker tools into the classroom.
The workshops are focused on teachers of students from grades 4 – 12. All experience levels are welcome, especially beginners! Learn about upcoming maker workshops.
"Everything was hands on. It made the workshop interesting, challenging and exciting." – A workshop participant
Conclusion
If you're considering setting up a makerspace in your classroom, the MIT Maker team's resources and workshops can help you turn an idea into reality. Their goal is to make the projects doable in all classrooms and give you the confidence and training you need to make it happen.