Hour of Code 2017TM will be taking place during Computer Science Education Week Dec. 4-10, 2017. I am a strong advocate of Hour of Code and have been pleased to watch interest and participation in this important movement grow over the past few years. Hour of Code is a wonderful way to introduce students to coding and teach them the basics in school or at home. No experience is needed and participation is free.
"The Hour of Code started as a one-hour introduction to computer science, designed to demystify "code", to show that anybody can learn the basics, and to broaden participation in the field of computer science. It has since become a worldwide effort to celebrate computer science, starting with 1-hour coding activities but expanding to all sorts of community efforts." – Hour of Code 
Now in its fifth year, Hour of Code has become a signature computer science event and the number of programs held at schools, libraries, and after-school programs has increased significantly.  Hour of Code is having a positive impact in our schools and is helping to bring greater attention to the need for computer science education. According to Code.org, the federal government and 40 different states are expanding plans or funding for K-12 computer science.  
Code at Home
It has been great to see families embrace Hour of Code and undertake activities at home.  When I wrote about Hour of Code in 2014 and 2015, I encouraged parents to code with their kids. Hour of Code is a terrific way to get your kids exposed to coding in the comfort of your home. There are more ways than ever to get involved and what began as a one-hour introduction to computer science during one-week in the year, has become a year-round initiative that can take place anytime, anywhere.
Hour of Code Activities
There are many ways for students, parent, and teachers to participate in Hour of Code. Check out the following resources to get ideas for tutorials, learn how to teach Hour of Code, and get tips on how to plan and host an event at your school or in your community.
This is the premier resource for Hour of Code! You will find hundreds of one-hour tutorials for all ages on this website. It is easy to find activities based on age, experience level, subject matter, and programming language (e.g., Blocks, JavaScript, Scratch, Java, Python, etc.). Having fun while learning is clearly the intent. Games are a great way to spark kids' interests and get them to try coding, so you will see a strong emphasis on games. In addition to games, you can create web pages, learn how algorithms work, learn specific programming languages like Python and so much more. It's definitely a case where there is something for everyone.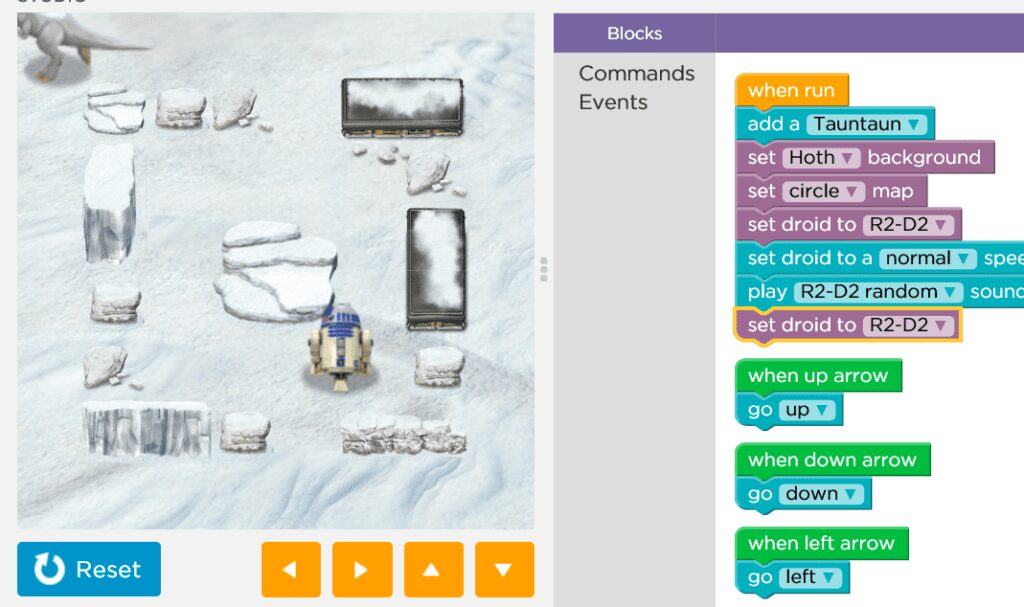 Khan Academy is such a valuable resource for students, teachers, and parents. If you are not familiar with Khan Academy, it is a free online site that offers practice exercises, instructional videos, and a personalized learning dashboard that empower learners to study at their own pace in and outside of the classroom. Khan Academy covers many subjects including math, science, computer programming, history, art history, economics, and more. Khan Academy also offers its own version of Hour of Code with one-hour introductions in JavaScript (drawing with code), HTML/CSS (making web pages) and SQL (creating databases).
Since 2014, The Walt Disney Company has worked with Code.org to build Hour of Code tutorials featuring Disney characters that inspire kids of all ages to try coding. Since that time, over 40 million students have tried Disney coding tutorials. This year's theme is Moana: Wayfinding with Code. Students help Moana and Maui sail through unknown territory and steer their boat using a block-based visual programming language. Disney has created an Hour of Code Digital Toolkit for how to organize an event.
Microsoft: Minecraft Hero's Journey
Kids love to play Minecraft but did you know it's also a great tool to help kids develop STEM skills? This year, Microsoft has gotten behind Hour of Code in a big way and has released a new Minecraft tutorial for Hour of Code, called Hero's Journey, that will be used in classrooms, at after-school programs, community centers, and homes everywhere.  According to Microsoft, "the tutorial uses game elements loved by so many young people, and introduces a fun character called the Agent, to present computer science concepts in a fun and creative way."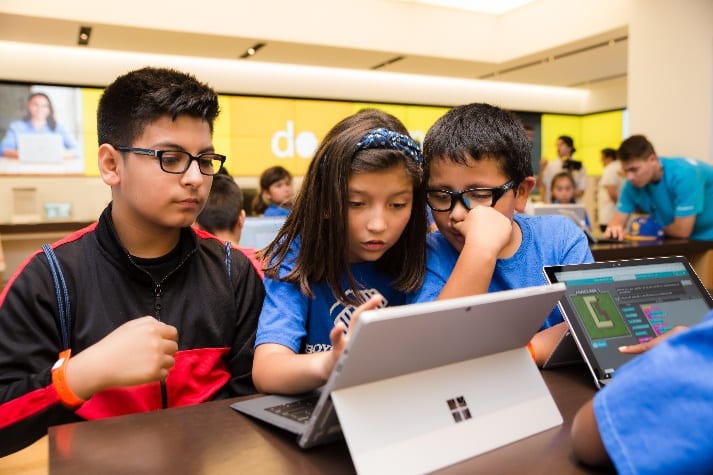 You can also stop by a Microsoft Store during Computer Science Education Week and take part in a free Hour of Code workshop featuring the new Minecraft tutorial.
Tynker is an online platform where kids learn to program and build games, apps and more. Tynker offers Hour of Code activities broken out by age group and experience level. They also provide a planning guide with lesson plans for teachers and parents.
Are you a Computer Science Teacher?
Computer Science Education Week (CSEdWeek) is an annual program dedicated to inspiring K-12 students to take interest in computer science. CSEdWeek has created a Participation Kit for teachers so that you can organize an event for your students during Hour of Code or anytime through the year.
Organize Your Own Event
If you want to organize an event at your school, in your community or even at home, sign up on the Hour of Code website. Again, no experience is needed. The website provides everything you need to run an event including a step-by-step guide on how to select a tutorial and teach Hour of Code.
Although the official Hour of Code runs one week a year, anyone can host an Hour of Code at any time. The online tutorials are available year round. Happy Coding!
About Code.org:
Code.org® is a non-profit dedicated to expanding access to computer science and increasing participation by women and underrepresented minorities. Our vision is that every student in every school should have the opportunity to learn computer science, just like biology, chemistry or algebra. Code.org organizes the annual Hour of Code campaign which has engaged 10% of all students in the world and provides the leading curriculum for K-12 computer science in the largest school districts in the United States. Code.org is supported by generous donors including Microsoft, Facebook, the Infosys Foundation, Google, Omidyar Network, and many more.