I hope you enjoyed a relaxing summer filled with fun and special memories. On a personal note, the BostonTechMom blog just celebrated its 5th year. I created the blog when my oldest daughter was going into 8th grade. She was one of my inspirations for starting the blog and now she's headed off to college! 
During the last five years, I have discovered so many wonderful STEM programs and have enjoyed sharing them with you. I love hearing from parents who found programs through BostonTechMom and have had positive experiences. Now, I am excited to kick off another school year—filled with awesome STEM activities. Here are a few I wanted to highlight this month.
New England SciTech– Education and Maker Center, Natick, MA
For families with curious young inventors from grade 4 and up, New England Sci-Tech has a variety of programs, workshops, and clubs. Great for homeschoolers, after-school STEM, or early release days and school breaks. New England Sci-Tech is a non-profit STEM + education center and maker space dedicated to project-based, hands-on learning for youth and families across the New England community. Classes and workshops in electronics, space science, ham radio, astronomy, robotics, model rocketry, photography, coding, computers, game theory, 3D design, kite making, battle-bots, FIRST LEGO League robotics, and more. License classes in amateur radio.  Public astronomy nights. Some featured classes coming up include Learn Morse Code in 5 classes, Get your Ham Radio License and Guitar Building. 
Museum Day– Saturday, September 21, 2019
Museums across the country will offer free admission on Smithsonian Magazine's Museum Day. To see the full list of participating museums and download a ticket click here.
Junior League of Boston STEM Program– Registration is Now Open
The Junior League of Boston STEM Program is a 9-month mentoring program with a focus on enhancing STEM education to intermediate aged girls. The JL Boston STEM program provides 6th, 7th, and 8th-grade girls with an opportunity to experience the fascinating world of science, technology, engineering and mathematics (STEM). The program is structured to create an environment where girls are encouraged to expand their knowledge and ability in STEM through fun and educational activities as well as foster girls' excitement for STEM and for girls to pursue STEM as a career path. Education takes place in the classroom and through on-site engagements with leaders in the field. The lessons focus on real-world issues and challenges and immerse girls in hands-on inquiry and open-ended exploration. Girls that participate in the program will be able to apply this knowledge to build on existing interests and skills. In addition to subject-specific learning, this program aims to foster inquiring minds, logical reasoning, problem-solving, decision-making, and collaboration skills.
JLB STEM East Boston sessions are held from 9:00 a.m.-1:00 p.m. on scheduled Saturdays, and include breakfast and lunch for session participants. JLB STEM Dorchester sessions are scheduled on weekday evenings.  Applications are accepted on a first-come, first-served basis, and space in both program locations is limited. To request an application or additional information, please contact JLB STEM East Boston at [email protected], or JLB STEM Dorchester at [email protected].  Cost:  Free
Red Sox Free Math Program: "Wally's Math Academy" – For Educators 
Wally's Math Academy engages young students by combining their passion for the Red Sox with the math skills they're learning in school. Wally's Math Academy utilizes statistics from actual Red Sox games to create and provide teachers with worksheets, visual aids, and resources to enhance traditional math problems. Each worksheet includes a short video recap of the Red Sox game as well as pictures of the players. View a sample worksheet. (Please Note: The "Single Digit Multiplication" worksheet is provided solely as an example of the "Wally's Math Academy" program and is to be used by educators with students grades 2-4). Currently, Wally's Math Academy provides resources to teachers with students in the 2nd to 4th grade, but the program will soon be expanding to additional grade levels. If you are a teacher and interested in this program, fill out this form to request an account.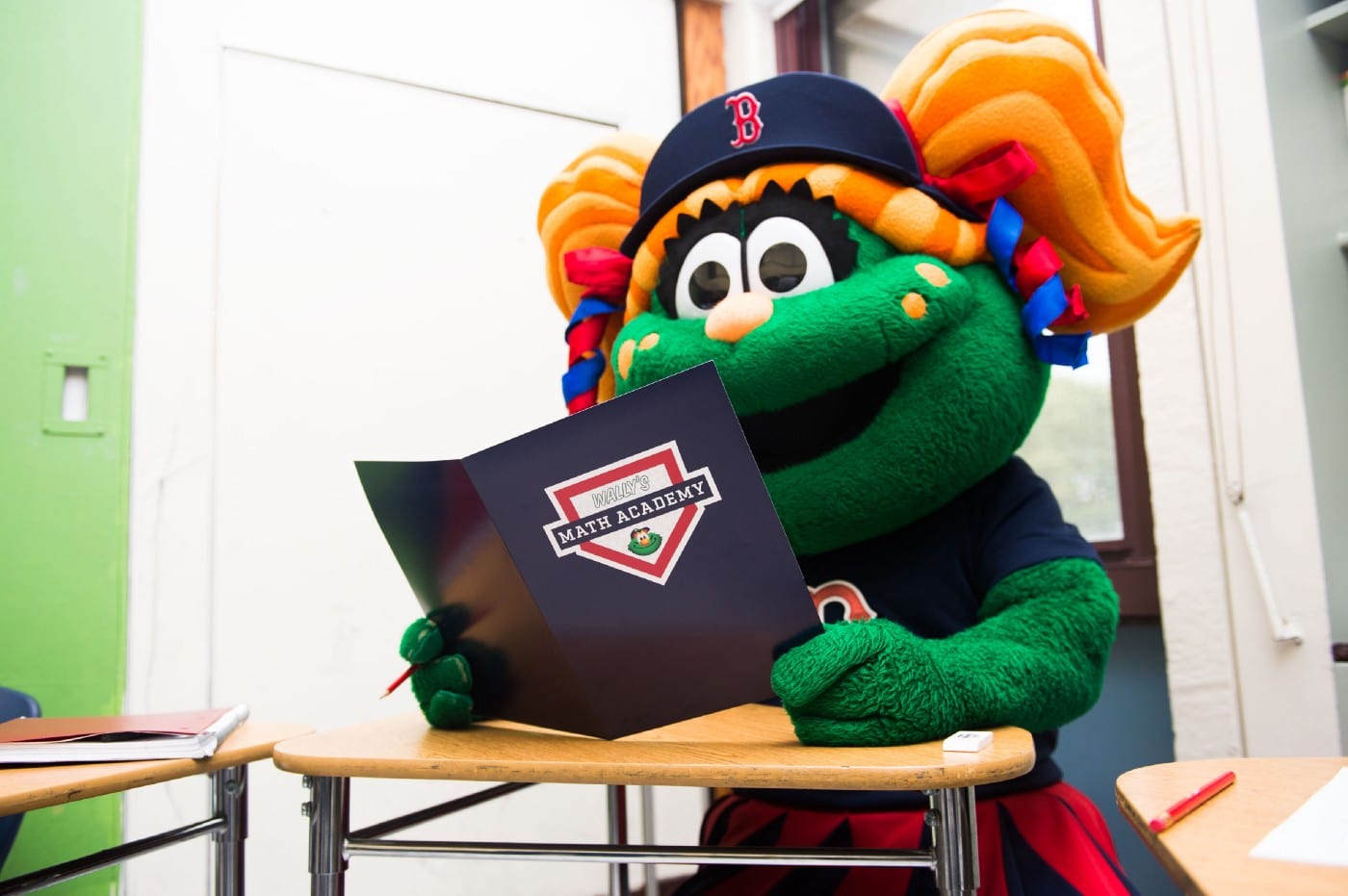 Here is a list of free and affordable STEM activities to consider this month. Enjoy!
September (various dates): Hands-on engineering and design programs are offered by the MIT Museum in Cambridge. Free with Museum admission. (Ages 12+)
September 1: Einstein's Workshop is hosting an open house with free STEM activities from 9:30am – 12:30 pm in Burlington. There will be many activities including coding robots, engineering challenges, Minecraft activities, and even a special activity you get to take home. 
September 6, 13, 20 + 27: College students can visit the Museum of Science for free on Friday nights this month.
September 7: STEM takes center stage at the first annual Metrowest STEM Fest at Empow Studios in Newton. Kick off the school year with STEM activities begging for creative tinkering from curious minds. Free event + RSVP in advance.
September 7-8: The Makery in Brookline is hosting an Open House. Get a sneak peek at youth fall programming, meet their new instructors, and create a unique hands-on making project. Cider, snacks, and special visiting artist demonstrations. Free
September 7 + 21: Code Ninjas in Wellesley is hosting back-to-school open houses. Come learn about their coding classes.
September 8: STEM takes center stage at the first annual Greater Boston STEM Fest at Empow Studios in Lexington. Kick off the school year with STEM activities begging for creative tinkering from curious minds. Free event + RSVP in advance.
September 14: Code Ninjas in Wellesley is hosting a digital art workshop to teach kids how to utilize the tools in Scratch® to make beautiful artwork. Register for this free event. (Ages 7-14)
September 19: It's STEM Day at the Boston Red Sox and the theme is NASA and Space. Each year the Boston Red Sox host STEM Education Days where they welcome over 4,000 students and their educators to the ballpark. Cost: $20-$25/person (includes educational programming + game day ticket). For more info, contact Red Sox Group Sales.
September 21: Thomas & Friends™: Explore the Rails opens as a temporary exhibit at the Museum of Science. This exhibit is an ideal combination of play opportunities and science, technology, engineering, and math concepts for ages 2-7. Free with Exhibit Halls admission or membership. 
September 30: Code Ninjas in Wellesley is hosting a day camp. Roblox PLUS is a fun full day teaching your kids how to add more scripting to the assets in their world to create richer interactions. Cost: $95 per child/full day.
Coming this Fall
October 6: The Museum of Science is hosting its inaugural Sci-K 5k Fun Run along the Esplanade. Register now. Adults: $35 and Children (under 13): $18
October 21-25: Teachers can register now (through Sept 18) for STEM Challenge Week. This program will task students to solve real-world problems – including reducing food waste, microplastics, energy waste, and e-waste. Free curriculum, training, industry connection opportunities, and more!
Fall 2019: Register by September 14 for CodeIt at MIT, a program targeted at anyone who identifies as a girl or nonbinary who has not had prior experience with computer science. (Grades 6-8) Free