My warmest wishes for a happy holiday season! As we wrap up this year, here are a few upcoming STEM activities I wanted to share with you. 
Hour of Code– December 9-15
It's time for the popular annual event when everyone can try a one-hour coding tutorial. Whether you're curious about coding or you already have some experience, there are activities for all ages and skill levels. The goal of Hour of Code is to introduce millions of students to one hour of computer science and computer programming. This year's theme is Computer Science for Good, inspired by the United Nations' Sustainable Development Goals (SDGs). The Hour of Code will highlight how we can all use computer science to make a positive impact on our world, from writing apps to solve a local problem, to using innovative ideas in data science to address global challenges. Examples of tutorials include Minecraft, Dance Party, Star Wars, Frozen, and many more. These free activities are perfect for doing at home with your kids and can be adapted to classroom curriculum and after school clubs and libraries. Visit the website to view all activities and learn how you can host an hour of learning.
Empow Labs – XR Digital Makerspace (Newton)
I recently toured Empow Labs, a brand new collaborative center for teens (15 years+) & adults, focused on technologies likely to change the world and saw some pretty cool demos. Empow Lab's core mission is to provide opportunities for learning, professional development, and peer networking in the areas of virtual, augmented, and mixed reality technologies, 3D design and modeling, robotics, wearable technology, sensors, IoT (Internet of Things) and human-machine interfaces. These areas hold significant potential for future career opportunities but are difficult fields to start learning because of the cost of equipment and lack of opportunities to be mentored. Sign up for classes and workshops at  empowlabs.com/learn. You can also tour their open house on December 7.
The Beautiful Stuff Project – DIY materials and programs (Somerville)
Are you looking to buy low-cost creative materials for STEAM explorations at home or at school? Or maybe a couple of DIY maker kits for gifts or gift making?  Do you love to scope out new places for a fun weekday or Saturday afternoon activity with your kids? The Beautiful Stuff Project in Somerville inspires creativity and increases access to play, STEAM, and the arts through reuse, for all ages! They offer storefront shopping, creative programming, and community arts opportunities.
Their unique inventory is collected from the excess & scrap of local companies, manufacturers, stores, individuals & artists. You can come fill bags to the brim for $10 each. There is always an Open Studio project set up for the making.  Come in and create for just $5 a person or participate in one of the many workshops offered right now. Hours are Mondays: 12pm-5pm, Tuesdays: 12pm-6pm, Thursdays: 12pm-8pm and Saturdays: 12pm-5pm. If you are interested in having The Beautiful Stuff Project facilitate a private workshop for your friends, family, or staff, contact them at [email protected].
zSpace – Mixed reality technology for schools
I participated in the Boston Public Schools STEM Expo last month and discovered a new technology that was being demonstrated for students. The technology is called mixed reality, and the company, zSpace, combines elements of AR (augmented reality) and VR (virtual reality) to create lifelike experiences that inspire curiosity, create engagement, and deepen understanding. I was impressed by the interactive, immersive, and 3D nature of the technology and could tell the students who were testing it out were too!
Today, more than 1,800 school districts, technical centers, medical schools, and universities use zSpace worldwide. This immersive technology enables experiential learning through student-centered activities that supplement and align with existing K12 and CTE (Career and Technical Education) curriculum. Students can build simulations, change gravity, stop and reverse time while gathering data to deepen understanding of Newtonian mechanics in Newton's Park. In Franklin's Lab, they can troubleshoot in a safe place to discover the basics of electrical circuits. They can also explore the interactive periodic table that has Bohr and atomic models of each element in Curie's Elements. These are just a few of the STEAM applications that students can engage within zSpace. To learn more about bringing this technology into your school, visit zspace.com/edu.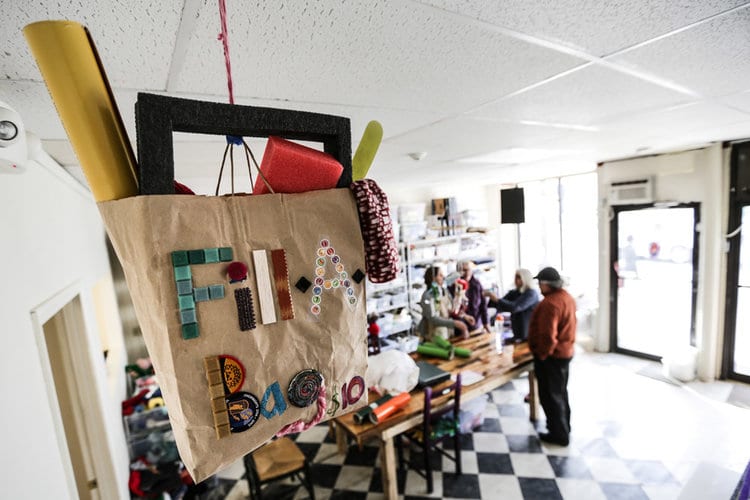 Here is a list of free and affordable STEM activities to consider this month. Enjoy!
December (various dates): Hands-on engineering and design programs are offered by the MIT Museum in Cambridge. Free with Museum admission. (Ages 12+)
December 4: Empow Studios is hosting a Kid's Night Out Video Game Design Workshop as part of the Taste of Lexington event. Drop your kid's off while you enjoy a night out on the town. For grades 2-8. Cost: $30 
December 6: Free Friday night admission to the Discovery Museum in Acton.
December 7: Black Girls CODE Boston Chapter will introduce students to computing as a career and teach the basics of VR development during a workshop for girls ages 10-17 in Boston. No experience needed. Cost: $35 + registration required.
December 7: BPS Parent University Family is hosting a STEM conference for parents and K-12 students at Dearborn STEM Academy. There will be workshops, hands-on activities, and career information. Register for this free event.
December 7: Take a tour of Empow Studios' new lab and learn about technologies like VR and AR and classes for teens 15+ and adults at their free open house in Newton. Register now.
December 7: Code Ninjas in Wellesley is hosting Kids Night Out: Super Smash Bros Tournament. This is an event to raise money to purchase new toys for The Home For Little Wanderers. Code Ninjas is donating 100% of the proceeds for the event. Ages 6-14 Cost:$40 (includes pizza)
December 8 +15: BioBuilder is holding Kids Who Clone workshops for kids 10-14 years in Cambridge. Cost: $35/workshop
December 9 + 13: Code Ninjas of Wellesley is hosting special Hour of Code activities in block-based programming and JavaScript for students of all skill levels to discover the wonders of coding – no prior experience needed. Free event. RSVP required and space is limited.
December 11: Attend an Hour of Code Minecraft at the Microsoft Store in Burlington. Register for this free event for ages 8+.
December 14: Attend Science on Saturday at Lincoln Lab in Lexington and learn how space scientists find exoplanets in the vast universe. Ages 5-17. Free event + registration is required.
December 14: Code Ninjas in Wellesley is hosting a holiday hackathon. Kids will have two hours to work in teams of 2 to create an awesome game on Scratch®. After presenting, judges will determine the best in several categories. Winners can win locally AND nationally. Requirements: For ages 7-14. Some experience with Scratch® & a donation of a NEW unwrapped toy to Toys For Tots.
December 14-15: Celebrate Computer Science Education Week at the Museum of Science with a roster of fun and educational hands-on activities for visitors of all ages. Free with Exhibit Halls admission.
December 23-30: Empow Studios will be holding NanoCamp during school vacation in Lexington and Newton. For grades 2-8. Cost: $120/day
Image Credit: The Beautiful Stuff Project