Have you considered an after-school online STEM class for your child? Do you wonder if STEM can be taught effectively online? The answer is "yes!" An entire industry now caters to teaching STEM online to kids and teens in after-school, evening, weekend, and summer vacation classes. And the pandemic motivated organizations to get really good at it: program providers have adapted their curricula to be engaging and participative online, and expanded their offerings so students have a wealth of choices. 
I've heard from parents how pleased they are with these online enrichment classes. Many kids have such a positive experience they continue to take new classes, often building skills in multiple topics. I define online programs as being scheduled, real-time, and instructor-led. The formats differ: sometimes a class comprises a small group of students from around the country or beyond; other options might include one-on-one instruction, or a small group of kids might meet at your home for the online class.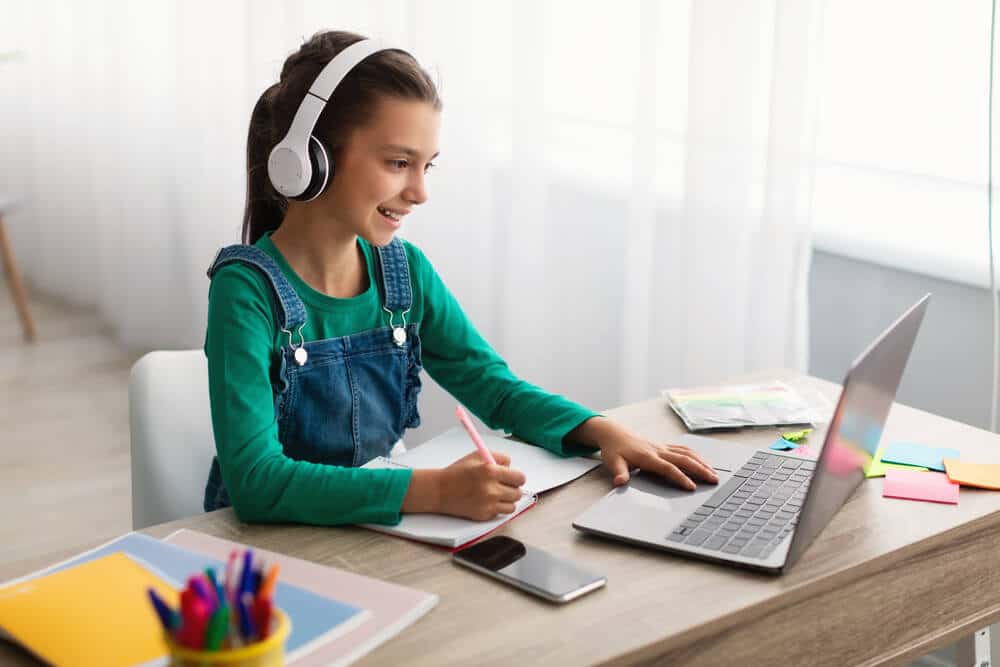 What's Popular
Not surprisingly, coding is the most popular of the many, many options available to students. There are online coding classes for kids of all ages, not just teens—I've found that young students in grades 2–5 especially enjoy learning to code using their favorite games, like Minecraft and Roblox. Popular coding topics include programming languages like Scratch, Python, and Java, and game development as a starting point. Other class topics of interest include
Computer science applications like Artificial Intelligence/Machine Learning and cybersecurity
Website and mobile app development
Electronics and robotics
Digital design and animation
Science topics like space and biotechnology
Why Parents and Kids Love Online Classes
I've talked with numerous program providers and parents over the past few years, and I've learned there are a few standout reasons why online classes can be a great option. Here are the top six.
1) They're a lot more flexible and convenient than in-person classes. You don't need to drive your child to and from a class. There are more class times and days available than might be available for nearby in-person classes. And the classes themselves are sometimes flexible, too, tailoring the pace and even the topics to the particular small group of children.
2) You can literally choose from classes from all over the country and beyond. Given this massively expanded access, you can probably find the right combination of topic, teaching format, price point, schedule, and even a teacher who matches your child's interests or needs. And if your student wants to dive deep into a specific interest, this blows your range of options wide open.
3) Students can be introduced to subjects that aren't offered in school. Even at schools with strong science programs, there may be a limited number of STEM electives. If your child has developed a deep interest in one topic and wants to study it further or is curious about specialized subjects that are not available at their school, like AI or biotechnology, online classes could be the perfect complement. These classes afford students a great opportunity to explore subjects before entering college, while at the same time building their college application portfolio.
4) Your child can keep learning year-round. Online classes are not tied to the academic year, so students can take classes anytime. This especially serves a child who wants to continue to learn about a topic they enjoyed in a summer camp. Students can try out different topics that interest them or take successive classes in one specific area where they want to build on their previous learning. One family I worked with enrolled their child in an online programming class during the school year so he would be better prepared for in-person STEM summer camps.
The mom told me, "I never would have enrolled my kids in online classes before Covid, but in so many ways, it's really for the best. My son is enrolled in different iDTech summer programs, including a 2-week overnight program at MIT. He also sees an online Python tutor through iDTech, which has been great! He loved that he could choose his own tutor and set the course for what he learns. He schedules his sessions with his Python tutor at times that work for him, and I don't have to worry about transportation. I feel like it helps him "own" the experience because he can manage just about every aspect of it by himself."

– Mom of a middle school student in Needham, MA
5) Kids get to interact with other students who enjoy tech and make friends. Online group classes bring together students from a wide geographical area, sometimes from all over the world. Because these classes are interactive and are often designed to include social periods, your child can get to know other students from diverse settings who share their interests.
6) You have the option of online summer camps too! While they're not for everyone, this is another potential experience your child can do from home or when you travel. These programs are specially designed to be a time-limited experience versus an ongoing class. Summer camps generally run for one week and are held for a few hours a day, unlike a traditional in-person camp. The winning formula includes smaller camp sizes, shorter session times, and incorporating active learning with multiple ways to learn. Some organizations also build in supplemental work outside of camp, which kids can do independently, on their own time, allowing them to practice their skills and work on projects.
Is an Online Class Right for Your Child?
If you and your child are new to online STEM programs and classes, there are several things to consider before you browse these programs. Read my article on choosing an online class so you can assess what will work best for your child. Some program providers offer a free trial or assessment for placement. This is a good way to test drive an online class to see if it suits your child.
How to Find Classes and Camps
Ready to see what's available? Read my Online STEM Classes and Camps article to explore options. Listings include computer science, engineering, robotics, math, and science programs.