Knowing that women are underrepresented in STEM today, I am a strong advocate for increasing women's participation in STEM (science, technology, engineering and math). I believe one of the best ways we can do that is by proactively engaging girls at a young age with programs that will spark their interest and build confidence. By getting girls interested at a young age, my hope is that their initial exposure and experiences will lead them to pursue STEM in high school, college and in their careers.
It is important to me that I help raise awareness for all-girls programs. I regularly highlight them in my articles and last year I wrote about Digital Media Academy's girls-only summer camp called Made By Girls.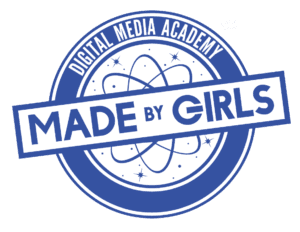 Now in its third year, Made By Girls has grown and evolved into a program focused on introducing girls to STEM learning in a collaborative and supportive environment. What I find important is that the company seeks to give girls an opportunity to hear from and interact with high-profile tech companies and role models in the industry. I know from my daughter's experience, she loves to hear directly from people who work in tech and learn what they are working on and how and why they got into technology.
In the last two years, there are a few notable examples of how Digital Media Academy exposed girls to real-world companies and products through its Made By Girls program:
Special role models visited camp classes to cheer on students and share how they apply Computer Science to their work at Pixar, Nasa, Unity, Dreamworks, Google, Facebook, Oculus, Twitch, Apple, and more.
Digital Media Academy held several large public events at Girls' Middle Schools in Palo Alto and in partnership with Microsoft. Recently, over 300 girls and families attended an event to code with Apple Swift Playgrounds, code with Minecraft, learn about Virtual Reality with HTC Vive, Hololens, and meet speakers from Twitch, Unity, Berkeley Labs, Oculus, Emerge, Microsoft, and High Fidelity.
The company took Made By Girls students to Google I/O (annual developer conference) two years in a row; built a Virtual Reality workshop and had Career Shadowing day at Unity3D (game development platform); spoke and presented at a NASA/Girl Scouts event; organized a Girl Scout + Made By Girls film workshop, and is currently building an intro to programming pen pal program with the women of Lyft.
I checked in with Peggy Lee, Program Director of Made By Girls at Digital Media Academy to find out what they have learned over the years; how it has impacted their curriculum development and approach to teaching; and what is new for Made By Girls in 2017.  Here is what Peggy shared.
Q: What has Digital Media Academy learned in the first two years of the Made by Girls program?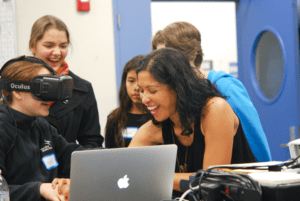 We have learned many things along the way. We know that girls and mentors treasure the Made By Girls environment. Megan, 14, encapsulated much of the feedback: "I felt more comfortable and brave so I could ask for help." Most girls commented on how comfortable and supported they felt by the role models and the community created in the classes.
We came into this program focused on elevating girls and building a positive relationship between them and technology. One nice surprise has been how meaningful and transformative the experience is for our staff, who serve as both instructors and role models for the girls.
"I wanted to foster a community of support with the girls. I've never been in a position with that much influence. It was empowering for me too." – Lauren Boutros from our Cambridge, MA Made By Girls Program
"Made By Girls and what we do makes me feel I have a purpose every day at work. One of the girls might go into tech and she might teach other girls! It made me so proud to go to work. I had so much purpose, I felt exhilarated." – Caroline Berger from our McGill University Made By Girls Program
Parents also commented on how important Made By Girls has been in regards to how their daughters relate to Computer Science:
"Girls are told that computer science is hard. I signed my daughter up for the Made By Girls class. My daughter loved it very much. It totally changed her perspective on computer science!" – Lily, Stanford MBG Parent
Q: How has the company incorporated insights from past camps into this year's programs?
We know how important role models and positive early experiences with STEM are for helping girls reach their potential. We extended the role model program to include more visiting role models from various creative, passionate women working within the technology field.
We also recognize how girls at younger ages would benefit from the Made By Girls environment and extended our program, from its initial age group of 12 and up, to include all girls ages 8-17. Recent studies covered extensively by NPR and The Atlantic describe how gendered impressions on intelligence develop early. Girls, as early as 6, start to think of themselves as less capable and smart. Our Adventures program engages girls in the possibilities of being builders, makers, and leaders at 8 years old. Made By Girls provides the support and role models that have been shown to help inoculate girls from the doubt, isolation, and lack of confidence that have been barriers for girls in STEM education.
Q: What programs are you offering this year?
This year we have a total of 5 courses in the program: Made By Girls: Adventures in Programming, Made By Girls: Adventures in Game Design, Made By Girls: Adventures in Wearable Tech & Fashion Design, Made By Girls Teen Intro to Java Programming, and Made By Girls Teen Wearable Tech & Fashion Design.
Adventures in Programming and Teen Intro to Java Programming courses provide an introduction to coding that lays a groundwork for exploring Computer Science and applying knowledge to creative student projects such as interactive art pieces, stories, and games.
We added Game Design to our offerings this year because, when we asked girls why they wanted to code, many of the 8 to 12-year-old girls wanted to make games for other girls – where heroes and characters included courageous girls and their stories.
Our Adventures and Teen Wearable Tech & Fashion Design courses are ambitious classes where girls learn how to design using 3D modeling software used by professional fashion designers, CLO3D (3D fashion design software), and customize light-up and responsive accessories using sewable Arduinos (circuit boards). These classes were developed from an initial pilot last year at mostly Stanford and Cambridge locations and became one of the highest rated and most exciting courses for our students. This year, we extended the program to be accessible to younger girls, and are offering the classes throughout North America.
Q: Any tips for parents who are considering if an all-girls program is a good fit for their daughter?
Made By Girls has larger goals to change the face of technology and serve as a safe and welcoming place for all girls, including ones who might not naturally think of themselves as tech-savvy, to explore their creativity and express themselves while learning new skills in computer science, engineering, and design thinking. Girls build a coding project or portfolio that incorporate their personality and perspective. They also learn new skills as a community of girls that draw strength and community from each other.
We asked the girls and parents who joined us, why they decided to choose a Made by Girls class rather than a traditional coding class and we saw some overall themes – 1) these girls felt more comfortable knowing they would be led by a woman instructor who was dedicated to their success, 2) they wanted to make friends with other girls who shared their interests, 3) they felt like they could ask more questions and voice their opinions more readily if with other girls. We are proud to provide that environment for the girls who join us.
Q: Do girls need to have coding or engineering experience before they attend Made by Girls?
Most of our students have never coded or taken a Computer Science (CS) course before. For over 71% of our students, our course is their first CS course. We do not require coding experience to be able to learn and grow in our courses, although some background in coding can help girls pursue more advanced challenges in all of our courses.
Q: How does your scholarship program work?
The Made By Girls Scholarship is open to girls 8-17 who are interested in attending one of our Made By Girls courses this summer, tuition free. Applicants are asked to submit an essay or short video in answer to the prompt: "I want to be a Made By Girls Scholar because…" The entry period has just been extended to April 15th and winners will be selected on April 21st. For more information and to apply, visit dig.ma/madebygirls.
Conclusion
As a mom of two daughters, I really enjoyed hearing Digital Media Academy's perspective on how to get girls involved in technology and how to build their interests over time. I also think the use of female role models is a smart approach. If your daughter is interested in attending a summer camp, visit the website to learn more and see if there is a location near you.
Special discount for camps: If you decide to attend Digital Media Academy, BostonTechMom readers can get $50 off their registration when they use the promo code BOSTONTECH17 at checkout. The discount applies to all Digital Media Academy courses at any location. Offer expires 5/15/17.