I was recently introduced to Tract, a new online learning platform that engages kids in topics like nature, technology, art, food, and sports. What caught my attention is that it's a peer-to-peer program where high school and college students create content for students ages 8 and up.
I find that this kind of learning model benefits younger kids, who relate well to slightly older students who are close in age and share similar interests and experiences. Another appealing aspect of the program is that students earn points as they explore topics, which they can then trade in on Tract for real-world donations, like planting a tree through One Tree Planted or donating a meal through Second Harvest.
What is Tract?
Tract offers its members unlimited access to its content library of project-based classes taught by youth creators and changemakers. The students who act as teachers, called "Creators", are highly engaged with the community through interest-based clubs and quickly become household role models as they engage 1:1 with kids and provide feedback on their projects.
Unlike other kid-favored content sites like YouTube, Tract takes a much stronger stance on moderation. All video lessons are reviewed by Esther Wojcicki, and produced with support from Tract's Creative team. The videos match the aesthetic of YouTube or TikTok, but contain solid educational content. Here's a sample video of a creator discussing how to train your computer using artificial intelligence.
Free Summer Activities
This summer, Tract is offering a free program packed with fun, project-based activities, where kids can explore new interests and deepen existing passions through a range of on-demand, self-directed classes, each around 1-4 minutes. Each lesson includes a hands-on project to further learning and exploration. Every day Monday through Friday, students can join a Creator Counselor and other campers in a live club meeting at 6pm EST. Here is the schedule of "Tractitivies" that will run from June 14 through August 20.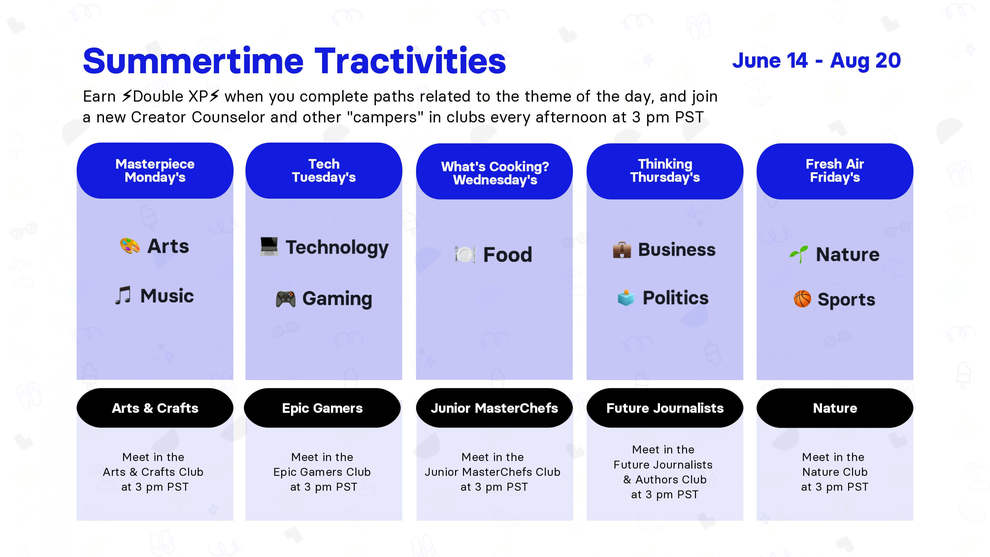 Registration Details
This summer, parents can request a FREE one-year trial to Tract, which includes unlimited access to the library of on-demand classes and all of the summertime Tractivties by visiting tract.app/get-started and entering promo code BOSTONTECHMOM at checkout.
Note: In order to align with COPPA compliance, Tract follows strict best practices to verify adult account holders, which is why, even though the service is free for now, they require a credit card for any trial or sign-up. It will look like you are signing up for a 14-day trial, but the BostonTechMom promo code is good for a year of free service. You can learn more on their FAQ page, or speak with a member of their team through online chat.
Safety and Privacy
For Teachers: Reserve Your Free Spot for Fall
Tract is a huge advocate and supporter of teachers and is providing its service free for the first 1,000 teachers that request access to use during 20% Time (genius hour), for gifted learners, after-testing breaks, after school, and any other time a teacher wants to increase engagement. Educators can request their free pilot program for the fall by visiting teach.tract.app and using access code BOSTONTECHMOM.
Do you have questions or want to learn more? Check out Tract's frequently asked questions, and feel free to email their team with questions any time at [email protected].