For teens curious about robotics or interested in building their skills, a popular international robotics program will be expanding its presence in Massachusetts in the fall. The newly-founded Boston Tech Initiative (BTI) will act as the new program delivery partner in Massachusetts for the robotics program FIRST (For Inspiration and Recognition of Science and Technology) Tech Challenge, or FTC for short.
The upcoming season's exciting challenge is called FREIGHT FRENZYSM, and is presented by Raytheon Technologies. In FREIGHT FRENZY, FTC teams will race against time to transport hard-to-move essential goods as they explore the future of transporting relief to those in need. FREIGHT FRENZY is part of the overall FIRST Forward season theme—take a look at the new season video.
This past year, there were 67 FTC teams in Massachusetts due to COVID-19, and 127 the year before (2019-2020). Boston Tech Initiative is excited about helping to increase the number of robotics teams in our state. If you or your child have considered joining or starting a team, now is the time to get started! Get the details on how to start a team in this article. The competition season begins in October, so all teams are encouraged to register by October 1st.
Ready to register your team? Visit FIRST to get all the details.
Are you reading this past October 1st, and want to start a team? Although it's optimal to register before October 1st, teams can still register beyond this date. Please touch base with Boston Tech Initiative, which offers assistance and support for Massachusetts registrants.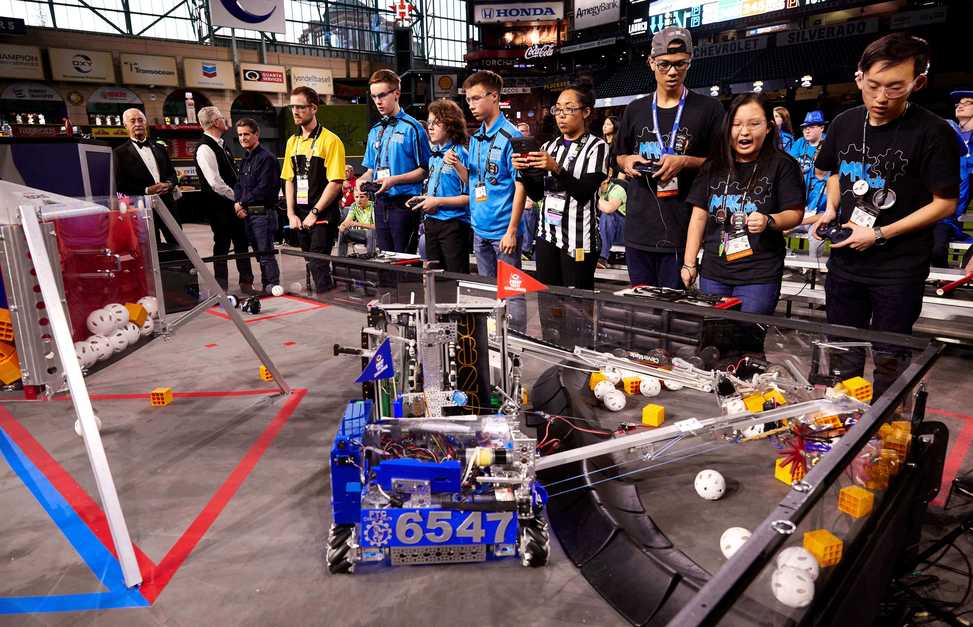 What is FIRST Tech Challenge?
FIRST Tech Challenge is a robotics program that challenges teams of 10–15 students to design, build, program, and operate robots and compete in a sports-style head-to-head challenge with other teams.
Guided by adult coaches and mentors, students develop STEM skills and practice engineering principles while discovering the value of hard work, innovation, and teamwork.
Teams design and build robots, raise funds, create and market their team brand, and do community outreach. They compete for top-ranking status as well as prestigious awards and make friends along the way. Last but not least, participants are also eligible to apply for over $80M in college scholarships.
The FIRST Tech Challenge and the FIRST community as a whole is made up of amazing people—the coaches, the students, the volunteers: the future leaders and innovators our world needs, and a community that welcomes all with open arms.
Who can participate?
FIRST Tech Challenge is designed for youth grades 7-12 (ages 12-18). Teams are formed at schools, youth organizations, and even at home (i.e., home-based teams).
If you are an adult wanting to get involved, that's great! Every team needs adult team mentors and coaches to run it and guide the students.
All skill levels are welcome and needed, technical or non-technical. You do not need to be a technical whiz to participate in or lead a team. It is a misconception that students and volunteers must be technical to participate. Student and adult team members are encouraged to bring any skills they have, like coding, electronics, metalworking, graphic design, web creation, public speaking, videography, and more – they are all needed.
There are volunteer opportunities for both youth and adults: click here for details.
FAQs
What is the schedule for the robotics season?
The FIRST Tech Challenge competition season runs from Kickoff in September through to World Championships, end of April. View the timeline.
FIRST Tech Challenge teams attend the Kickoff where the annual game is unveiled, allowing teams to design, code, and build their robots before the competition events starting. Teams attend scrimmages held generally October – December to test out their robots, continue to work on, then compete at Qualifying Events held in various cities and towns in Massachusetts during January and February. If a team qualifies at these events either through robot rankings or winning a judged award, the team will attend the MA State Championship generally held in March. All events dates for this year will be posted at https://bostontechinitiative.org/events/.
What does it cost to start a team?
See guideline on pricing below or find information about costs and registration on FIRST's website:
–        Team registration is $275.
– Teams materials – In most cases, teams can get started for under $2K, and reuse materials in following seasons.
– Local event registration – Between $100 – $125 per competition event. Each team attends a minimum of two competitive events.
I'm a parent or adult wanting to start a team. Where do I begin?
Talk to your child's school administration and/or science and technology department leads, as teams are often started at these levels. They will tell you if there is an existing team at the school that your child can join. You can also search here to find local teams. Next, share this article with them, as there is contact information (below) to get additional information and help.
If you are a parent wanting to start a home-based team, or you are an adult with a youth organization that wants to start a team, please contact the BTI representative below for help.
I'm a student wanting to join a team or help get one started. What should I do?
You should first talk with your parent or legal guardian and inform them of your interest. Then, contact your school administration, either the science or technical department or the principal's office, to find out if there is a team already at the school or to express your interest in starting a team. You can also search here to find local teams. Share this blog and the BTI contact information with these key folks for further assistance.
What is the registration deadline?
Teams are encouraged to register by October 1st. Register as a new team or register as a returning team.
Ready to get started? Have questions?
Deb Rose, the FIRST Tech Challenge partner representing BTI, can be contacted at https://bostontechinitiative.org/contact/ and looks forward to answering your questions and helping you find or start a team.
Don't live in Massachusetts but want to start a team?
FIRST Tech Challenge teams are prevalent throughout the US. For more information, visit FIRST Tech Challenge and search here to find teams in your area. Learn how you can start a team.
About Boston Tech Initiative (BTI)
BTI is a newly formed 501(c)(3) non-profit corporation whose mission is to inspire young people through science and technology to become world-class citizens, leaders, and creators of a better world.
BTI was founded by entrepreneur and technology investor Xin Liu Johnson in partnership with venture capitalist and advisor to start-up companies, Hyuk-Jeen Suh. Rounding out the team is Deb Rose, a former FIRST employee and current program delivery partner.
In partnership with FIRST, BTI will deliver the FIRST Tech Challenge program as its inaugural program offering to young people in Massachusetts.
About FIRST
FIRST® (For Inspiration and Recognition of Science and Technology) is a robotics community that prepares young people for the future through a suite of inclusive, team-based robotics programs for ages 4-18 (PreK-12) that can be facilitated in school or in structured afterschool programs. Boosted by a global support system of volunteers, educators, and sponsors that include over 200 of the Fortune 500 companies, teams operate under a signature set of FIRST Core Values to conduct research, fundraise, design, build, and showcase their achievements during annual challenges.
An international not-for-profit organization (501(c)(3)) founded by accomplished inventor Dean Kamen in 1989, FIRST has a proven impact on STEM learning, interest, and skill-building well beyond high school. Alumni of FIRST programs gain access to exclusive scholarships, internships, and other opportunities that create connections and open pathways to a wide variety of careers. Read more about the impact of FIRST or download FAQs.
Image credit: Boston Tech Initiative