MIT Splash is back in person this year! Splash is a weekend-long learning extravaganza for high school students in grades 9-12 featuring over 300 classes taught by MIT students and community members on diverse and fun topics, including STEM and more!
Register now! This year's program runs on November 19-20, 2022.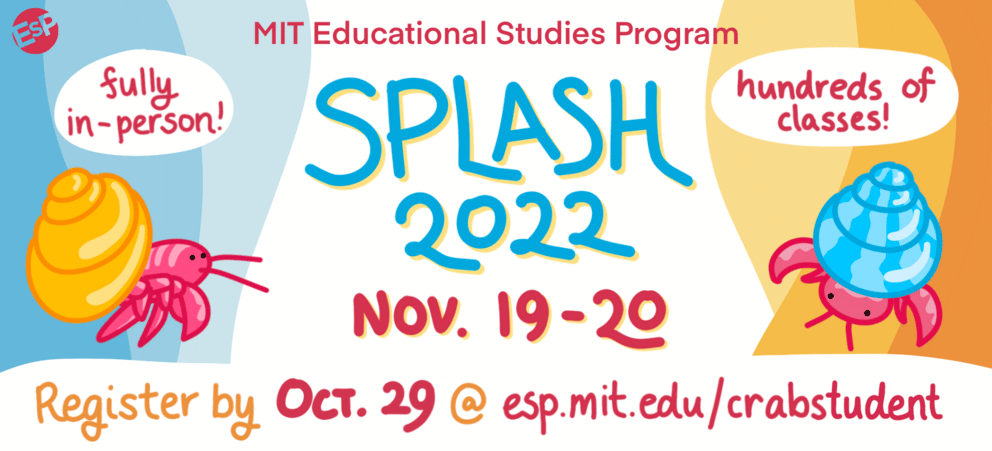 Here's a sample of this year's courses. See the full course catalog.
Mathematical Crocheting
Tinkering with Genes: How to Cure Disease
What NLP can tell us about Fandom History!
ConLangs: Construct your Own Language
A Bhangin' Bhangra Workshop!
Peronism: Lessons from Argentinian populism
The Neuroscience of Mind Control
Registration Details:
Register online by Saturday, October 29, and enter your lottery preferences for the two-day program on Saturday, November 19 and Sunday, November 20
Participants: 9th-12th-grade students
Location: MIT campus (Cambridge, MA)
Cost: $40 for the entire weekend of classes (generous financial aid is available)
Questions: Contact

[email protected]
In addition to MIT's program, there are several upcoming Splash programs at other universities in Massachusetts. Find Splash programs at colleges throughout the country here.