I recently had the opportunity to meet the team from the Journal of Emerging Investigators (JEI), a free mentorship program and open-access journal that publishes original research written by middle and high school students about topics in the biological and physical sciences. It offers an exciting opportunity for students who want to publish their scientific findings in a peer-reviewed scientific journal before they go to college.
JEI is a non-profit group, operated by graduate students, postdoctoral fellows, and professors across the US, that gives teens feedback on original research and helps them publish their research through JEI's open-access and free journal. 
In addition to providing students insight and experience in the scientific process, JEI offers a unique opportunity to learn peer review and publication, a critical part of being a scientist. Publishing is also a significant accomplishment that students can feature in their college and scholarship applications and resumes.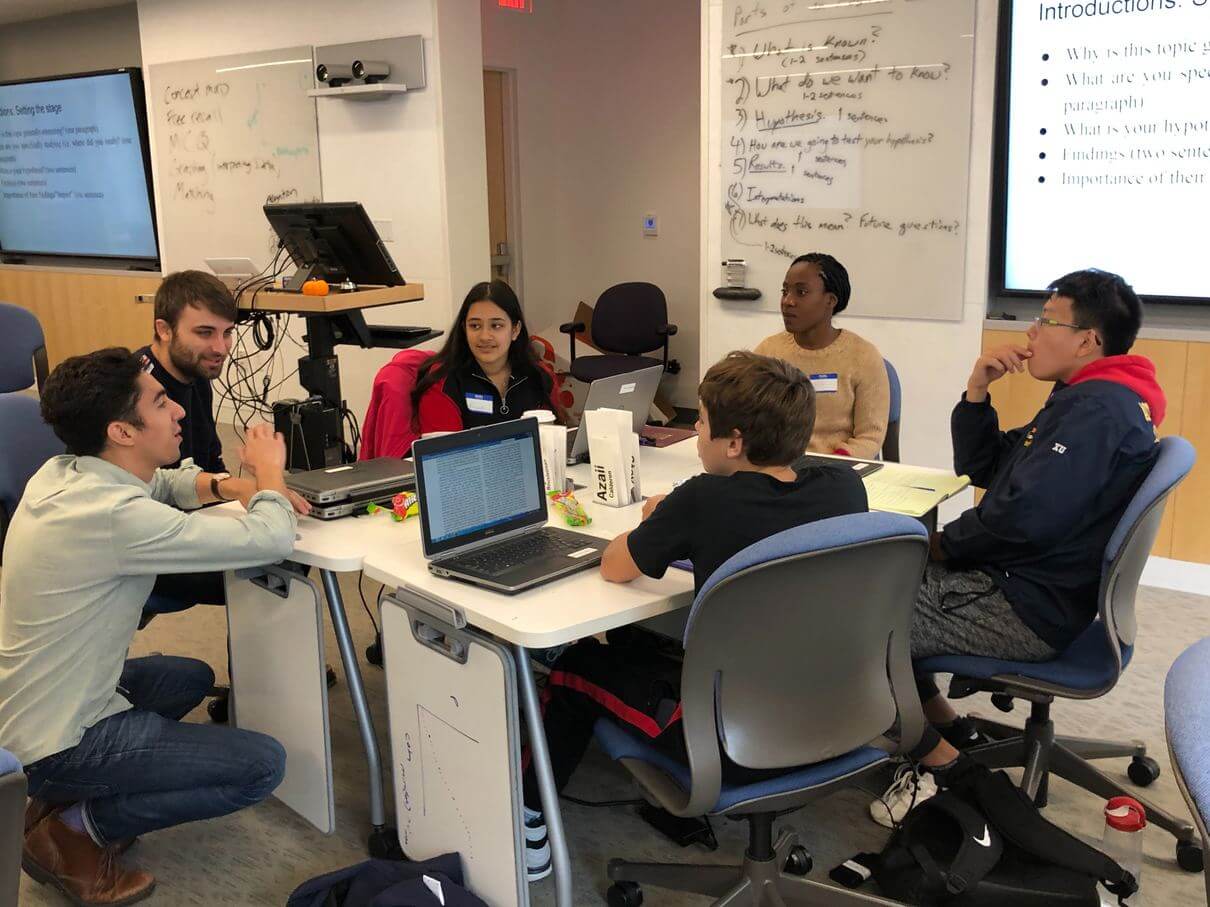 I chatted with Brandon Sit, Executive Director at JEI, and asked him to explain how the process works, the benefits of the program, what students and mentors can expect, and how parents can support their child.
How did JEI get started?
Like many of the research projects we publish, JEI started with an observation. As a volunteer at several local science fairs in the Boston area, our founder, Sarah Fankhauser, noticed that the posters of many students – including all the data and the conclusions — often went into the trash once fair concluded. She asked herself, 'How could we keep the work of these young scientists alive past science fair and share it more broadly?'.
At the time, there was no science journal dedicated to publishing the work of middle and high school students, so Sarah brought the idea to her fellow graduate students at Harvard Medical School. We published our first paper in 2012 and haven't looked back! 
We started JEI because we believe that all students should have an opportunity to share their research findings with their peers and the world. In particular, we believe that they should be able to do so in a way that teaches them about how professional and academic scientists share and curate knowledge!
Education about scientific communication is virtually non-existent in US K-12 science curricular guidelines, and our experience as practicing scientists gave us a perfect background to set up JEI. By creating a journal and peer review process from the ground up, we were able to tailor the entire experience to pre-college students. In doing so, we baked in opportunities to engage and mentor them at all stages of the scientific method – from question generation to data collection all the way through to publication of results. 
How do students benefit?
As professional scientists, a large part of our day involves reading scientific articles, writing about our own data into journal manuscripts, or otherwise communicating science to both scientific audiences and the public. The times when we prepare our research for publication are particularly edifying; they help us to see "the whole picture" of our research with remarkable new clarity.  
These experiences—and the skill to communicate scientific work clearly—are critical to success in STEM careers. Yet most young scientists have few opportunities to present their independent scientific research, and outside of once-a-year local science fairs, receive minimal feedback from other scientists and educators.
We founded JEI to offer professional scientific mentorship and engage students on their own turf using their unique, independent research. The manuscript publication process provides a perfect substrate for scientists to suggest feedback to students and engage them in a series of scientific critiques and revisions that ultimately both strengthens their research project and trains their minds to tackle future challenges in STEM.
Publishing with JEI has taught me the interdisciplinary nature of scientific research. Each problem has to be tackled with an open mind, with a creativity and curiosity that draws upon knowledge from numerous different fields, and with a highly collaborative mindset that seeks to build upon previous work done by other researchers. I am excited to continue pursuing research in science and Artificial Intelligence, and I am extremely thankful for the opportunity JEI gave me to publish my work. – Toby Kremain, Newton North High School (Newton, MA)
What kind of impact has JEI had?
Since 2012, JEI has published over 250 papers authored by pre-college students! Since many of our manuscripts have several student authors, this represents about 1500 students that we have been able to mentor through our organization. Our reach from a small Massachusetts-centric organization has expanded—we now have submissions from all over the United States, as well as international submissions. Our staff has grown to about 300 active PhD students, research fellows, academic faculty, and professional scientists. 
Can you share some examples of published articles?
1) "Investigation of everyday locations for antibiotic-resistant bacteria in Cambridge, Massachusetts"  
2) "Antibacterial activity and absorption of paper towels made from fruit peel extracts"
3) "A simple printing solution to aid deficit reduction": This article was picked up by CNN and subsequently covered very heavily in the national media (CNN, the Atlantic).
How does the research submission process work?
JEI's core activity is as a scientific journal, which means that our process starts when students, with the help of their teacher or other supervisor, submit an electronic version of their research manuscript to us on our online submission portal. 
For the student, the process starts when they have a research question they are passionate about. With the support of their senior mentor (e.g., a parent or a teacher), the student carries out experiments to answer their question of interest and writes up their research in a manuscript. We provide guidelines on emerginginvestigators.org to help students convert their classroom work or science fair work into a scientific manuscript, something that they may not have done in class before.
A Managing Editor reviews every submitted manuscript, first performing a quality control/formatting check to make sure all of our basic requirements have been met: a clear hypothesis, basic adherence to our writing guidelines, and inclusion of appropriate approval forms. We will communicate with the student and mentor via email to fix any of those issues.
Next, the Managing Editor assigns the manuscript to a dedicated Associate Editor, who will then ask 3 or 4 JEI-affiliated scientists with expertise in that research area to review the manuscript. Both the Associate Editor and reviewers read the manuscript and give constructive feedback about how to improve the experiments and the writing. Once the review process is finished, the editor combines all of the reviewers' comments into a summary letter that helps the student authors understand each comment and the work they need to do to revise the manuscript. There is no time limit for students to revise their manuscripts, and the editors are available as contacts for the students if they have additional questions. 
Once students submit their revised manuscript, the same editor will either return it for additional edits or accept the manuscript and move it to copy editing. Our copy editing team then works with the student to hone style, grammar, clarity, and other presentation details of the manuscript, while retaining the student's voice and writing. Once the student has gone through the copy editing revisions, the manuscript is passed on to our Publishing Editors, who format the article into a professional journal proof. The article is then published on our website, and we send press releases to any local media outlets.
We've designed this process to be almost exactly the same as the one used by professional scientific journals. From start to finish, we aim to publish students' work on our website within 5-6 months of their initial submission.
What should students know?
First off, congratulations on undertaking or planning to undertake your own independent research! While research can often be tough, it is ultimately very rewarding to create a project that contributes to our general knowledge, and is a complete product that you can present to others to show your efforts and skills. 
Our most important piece of advice is for you to read our guidelines and follow them as closely as possible—most delays in manuscript processing come from guidelines not being followed. Make sure to share these guidelines with your teacher or mentor, so that you are both on the same page. This will not only help you design your experiment, but will also help you avoid delays from formatting or other causes when you submit your manuscript!
One of the most important guidelines is that your research is hypothesis-driven. This means that you ask a question, predict what the answer might be (your hypothesis), and then carry out experiments or tests to see whether your predictions are supported by your experimental results or not.
Another important aspect is that you complete the proper approval forms before undertaking any research that involves human participants or vertebrate animals (like mice).
If you would like support from your teacher in doing your project, we suggest that you talk to them one-on-one about your desire to do your own project to see if they can assist you. Before you do this, it may also be very useful to fill out a research study proposal form so you can present your ideas to them in writing. They may be able to give you more specific feedback on your form than they would in a conversation. Filling out the form will also show them that you have spent time thinking seriously about your project. 
JEI has tools and resources to help with any stage of a scientific experiment. Even if you haven't thought of your experiment yet—if you just have an idea of something you are interested in—get in touch with us at our Ask-a-Scientist page and we'll do our best to help you!
How can students use this experience in college applications?
Publishing in a scientific journal before college is a significant boost to any students' profile for college and/or scholarship applications. It demonstrates that they understand the practice of science in today's society, and more importantly, shows that they are capable of generating an original scientific question, developing hypotheses about that question, testing their hypotheses, and writing about their results. 
Publishing a manuscript on your own research project shows great tenacity, commitment, and skill (both in science and in writing). You will learn how to think critically about how to answer your question, accept constructive criticism, manage your time and resources, write like a scientist, and design experiments. You may want to talk about all or some of these aspects in your essays and, if the application allows, attach your manuscript as a supplemental document. You may also want to talk about the challenges and successes of carrying out your own research project and what you learned from trying things out for yourself. In addition, presenting your own research project and manuscript is a great way to show yourself a self-motivated and curious individual. 
Beyond applications, this experience often ignites a student's interest in pursuing a STEM major and opportunities during college: many of our student authors go on to apply for and obtain positions as undergraduate researchers at university labs and research groups. 
What is a teacher's role and how can they get involved?
Since our students can range in grade level from middle to high school, one blanket requirement for all of our manuscripts is that an adult is listed as a senior author. In virtually all cases, this is the student's teacher or research supervisor. 
The senior author's role in the process is to assist the student in the design and execution of the study and the manuscript write-up. The level of involvement of each teacher is, of course, up to the student and teacher—some students can undertake their projects very independently (especially if they have had previous experience), whereas others would like more advice if this is their first research project. We would like senior mentors to be present for all steps of the process, from submission all the way to publication, in order to help the student tackle the revisions to the manuscript. This can sometimes be a lengthy process (>6 months), given that revisions can take a while to complete if a student is busy with classes. 
We also require that the manuscript be submitted to our platform by the senior mentor.  Besides supervising the student(s) during their experiments and their revisions, the teacher (or mentor) acts as the main point of contact for communications with the journal. This approach ensures that the manuscript has received approval to be submitted and that there is a mentor present and willing to assist the student author.
Teachers with student(s) potentially interested in JEI can get more information about the process and submission requirements on our website. One requirement that some authors do not realize we have is that for any studies involving humans or animals, authors must obtain ethical and scientific approval from the appropriate entities before performing their research. This is something that teachers can particularly help with, by ensuring authors have all the correct documentation completed before they embark on their experiments. 
JEI has also recently started to generate materials that incorporate JEI articles into classroom worksheets and exercises! These are great tools for educators who would like to incorporate reading of primary scientific literature into their classrooms. These are free to use and can be accessed on our resources page. 
How can parents support their child?
Parents play similar roles in the JEI process as do teachers; they can also act as senior mentors on student manuscripts. 
If, as a parent, you would like to get your child involved in a research project, we would encourage you to have them explore some of JEI's published articles. Not all of them may be accessible to younger grade levels, so you and/or their teacher may need to choose the right articles to read and help them brainstorm new directions of research.
One question we get sometimes from students is whether their research is "good enough" to publish. At JEI, we try to emphasize that you don't need to do an incredibly complex experiment with expensive equipment to do "good" science—you just need to be interested in a topic and ask a well-thought-out scientific question about it. We place absolutely no requirement on the complexity of the manuscript. Here, parents can help us out by encouraging their children to ask questions and think scientifically about the things all around them in their everyday lives! 
One new program we're starting at JEI is tailored to this aspect of scientific inquiry: our new "Ask-a-Scientist" feature. Ask-a-Scientist is an online portal where students and their teachers/parents, no matter their research progress, can submit questions to our staff and receive individualized advice and help designing good research questions and outlining doable experiments. Interested parents and students can find more information by visiting Ask-a-Scientist.  
You can also ask your child or your child's teacher if there are any local science fairs that students are participating in or if there are research-based projects being carried out in class. Science fair submissions and in-class research projects (commonly as a final project) often become JEI submissions. 
Is there any cost to participate? 
Submission and publication in JEI are completely free for all students and their mentors.
Is there anything else you would like to share?
JEI also offers a number of educational resources for teachers and is always looking to collaborate with classrooms in the local Boston area to help teach authentic STEM!
Final thoughts
If your child has been published in JEI, will you share your experience with me? I'd love to hear about your child's work and your experience with the organization! Contact me at bostontechmom.com. 
Image Credit: JEI