littleBits just introduced a new kit with a Star Wars theme: The Droid Inventor Kit. We have been long-time littleBits enthusiasts in my family and we have enjoyed watching the company grow and introduce original electronic building kits for kids. With the new kit, you create and build a Droid using electronics Bits and control it with the free Droid Inventor app. When littleBits asked if they could send me their newest kit to test out, I was delighted! Who doesn't like Star Wars and R2-D2?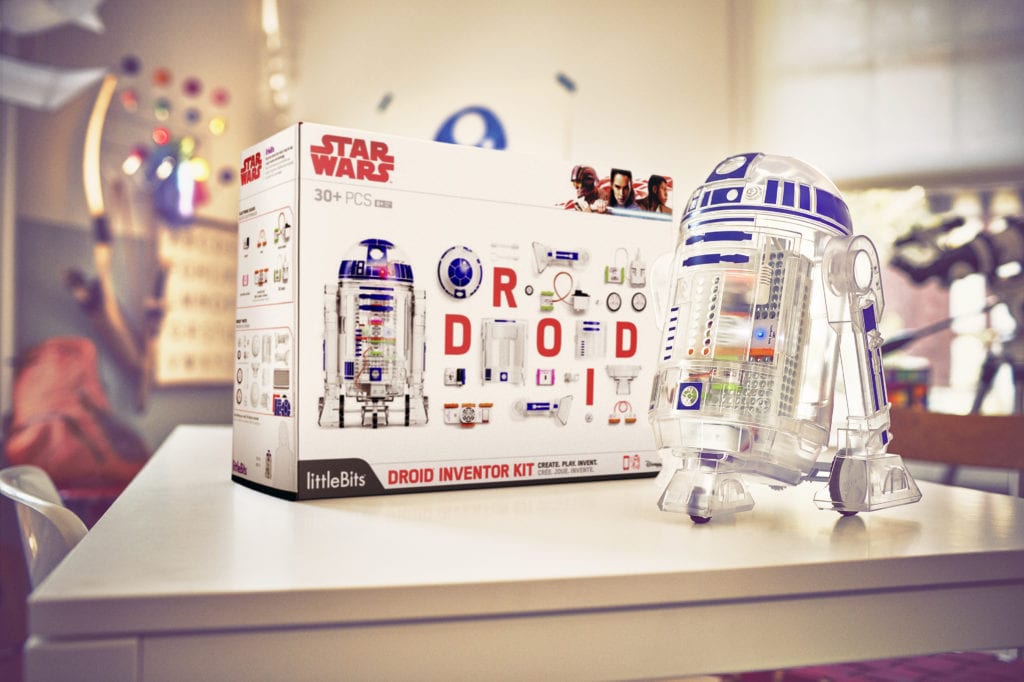 If you are new to littleBits, it is a platform of easy-to-use electronic blocks (aka "Bits") that have functions like lights, sounds, sensors, and motors. littleBits are great educational toys that let kids explore electronics by building and testing combinations of Bits and seeing what they can do. Kids can have a lot of fun using Bits to make their own creations too. Learn why I love littleBits.
There is a lot to like about the new kit. First, it's pure joy to play with. Because the company went with a Star Wars theme, this product appeals to all ages (kids + adults!), boys and girls, and all levels of tech-experience. The kit is targeted to ages 8-12 years but really, everyone will enjoy it.
Second, I am sure this kit will have broad interest among girls who love the Star Wars movies. It's great to see that littleBits is committed to engaging girls in STEAM (science, technology, engineering, art, and math) and has placed a strong importance on designing gender-inclusive products. The company has experienced success in this area too; littleBits says that product adoption by girls is around 35%- an industry high.
Third, I like this kit because kids will learn about the potential of robotics by playing around with the different Bits and control modes (e.g., Drive, Self-Nav, etc.). They will also have the opportunity to reconfigure and customize the Droid to their own needs. See what kids have invented in the Inventions area of littleBits's website.
"Today we are continuing a global inventor movement that empowers young people to participate in a story that inspires them to be creators, not just consumers of technology," said Ayah Bdeir, founder & CEO of littleBits. "We've created a gender-inclusive product that celebrates kids' own self-expression and ingenuity while showcasing the same characteristics of imagination, grit and invention that are embodied in the Star Wars franchise."
A Great Entry Point for STEM
I spoke with Casey Koppelson at littleBits and she explained that the company chose to design a Star Wars themed kit because "Star Wars is a great entry point to get kids involved in STEM and STEAM" and the goal of the kit is to empower kids to "invent whatever droid they can dream up."
There is also a cool story on how littleBits came to work with Disney on this product. It started when littleBits got invited to participate in Disney's Accelerator program and brainstorm potential new products. Disney saw that the characteristics of littleBits' products (i.e., technology, problem-solving and imagination) aligned well with the Star Wars' culture. littleBits was thrilled because they knew that interest for Star Wars products already existed— they had customers who were part of a community creating Star Wars-themed projects.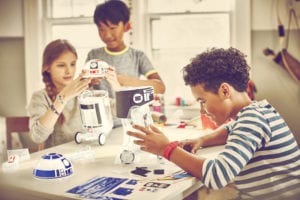 About the Kit
The kit comes with all the components you need to create your own Droid, along with a free app that includes step-by-step instructions and how-to videos.
For those people who have used littleBits before, there are two new Bits which allow for greater design and creativity. The first is a Control Hub Bit, which is the brains of the Droid and allows your Droid to communicate with your smart device using Bluetooth technology. The second is a Proximity Sensor, which allows your Droid to detect motion and respond with movement. This kit is also compatible with other littleBits kits and you can trick out your Droid with any of those pieces.
Comes with 6 Bits, 20 Droid parts, 3 sticker sheets, and the free littleBits Droid Inventor app
Free Droid Inventor app with step-by-step instructions and video tutorials guides kids through creating and customizing Droids
App includes challenges to promote creativity and customization using household items
16+ activities and missions in the app to keep kids playing day after day
The R2 Unit runs in Drive Mode, Force Mode, Self-Nav, and more
Comes with 20 authentic R2 Unit sounds from the Star Wars films
littleBits electronic blocks & Droid parts can be reconfigured in different ways to create brand-new Droids
Price: $99.95
Available at: Walmart, Apple Store, Amazon & littlebits.com
See What We Made
My daughters and I thoroughly enjoyed playing with the new kit. We used the instructions and tutorials that came with the app and worked through the different missions. I recommend starting with the missions first because they help to familiarize you with the capabilities of the different Bits and control modes.
After completing the missions, we put on our creative hats and thought about ways we could reconfigure our Droid and make it do special things. Here's what we did:
We decided to turn our Droid into a tissue delivery system so that it could deliver tissues to someone on the couch! We took a tissue box and turned it into the head and placed it on top of our Droid with tape. We then controlled the Droid with drive mode.
2. We also decided to have our Droid be a play toy for our cat. We attached a cat toy to the arm claw and put the servo Bit into swing mode. When our cat walked in front of our Droid, the sensor Bit detected him and swung the arm claw.
Finally, if you want to learn more, the littleBits Education team has developed online lessons for the Droid Inventor Kit. Here you will find ideas and get guidance for all ages and levels of experience. These lesson plans are great for families, homeschoolers, teachers, and afterschool programs.