I am excited to tell you about a STEM book called Little Book of Big Dreams that encourages young children, especially girls, to envision themselves in science, technology, engineering and math careers.
You are able to personalize this lovely book with your child's name and features (hair, skin tone, shirt color and hair style)– making it extra special. The book is perfect for children, ages 3 to 8 years. The book emphasizes thinking big, dreaming, and imagining yourself in a career such as a chemist, programmer, veterinarian, and engineer. What I like about the story is that for each job the author explains the nature of the work (i.e., what you do) and the impact you can have.
The graphics are delightful, the writing is informative and uplifting, and the fact that your child is depicted as the main character will surely bring a smile to his/her face. This is an important point because the younger we can get kids thinking about a career in STEM, the more likely they will be to explore and learn about science, technology, engineering and math at a young age.

Personalize Your Child's Book
Creating a personalized book is a great at-home activity that you and your child can do together. It is easy to design the book and the best part it is FREE.  Go to the Create Your Character page and enter your child's information. Once you have created your character, you can download your personalized e-book in the following formats:
PDF e-book
PDF tablet e-book
PDF coloring book
Hardcover books are also available for $29.99 by the publisher, CuSTEMized, and they are professionally made in the US. I ordered one for my daughter and she loved it!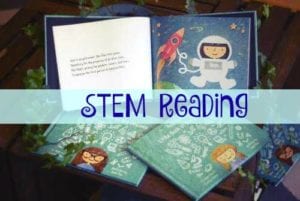 About CuSTEMized
The book's publisher is CuSTEMized, a Boston-based nonprofit organization dedicated to STEM education and outreach. Founded by Jean Fan, PhD Bioinformatics, Harvard University, the organization began with a Kickstarter campaign in 2013 and officially launched the website with ebook downloads in 2014.
I talked with Jean about why she wanted to make books for young girls and she shared this story:
"When I was a volunteer 2nd grade mentor-scientist at Science Club for Girls, I really wanted to give my girls a "graduation present" or keepsake that would remind them that I believe in them, that they can be anything they want to be, and ideally teach them a little about all the cool STEM subjects and careers I didn't get a chance to tell them more about. I thought about getting them each a personalized book, but when I looked online, all the career oriented ones were for boys (careers like basketball player, fireman, policeman), and the girl ones were about being fairy princesses. Many of my students were also minorities so it was very difficult to find any book, let alone a personalized one, that had characters who looked like them. So since I couldn't find the right present for my girls, I sought out how to create my own!"
I love Jean's story and her reason for creating STEM books for girls. The book has been available for three years now and the response has been overwhelmingly positive from both parents and girls. Parents tell Jean that their girls light up when they realize it's them in the book and how they start asking questions about the scientific concepts introduced in the book. While the book was initially intended for girls, it can also be customized for boys, and Jean explained that 20% of the books made have been for boys.

Paying it forward
The proceeds from hardcover book sales are reinvested back towards the publisher's nonprofit mission and allow CuSTEMized to provide personalized books for free to underserved classrooms and girls in need. They partner with teachers from Title I schools (schools with high numbers or high percentages of children from low-income families) and after-school programs such as Science Club for Girls. The funds raised also allow CuSTEMized to hold free hands-on STEM enrichment activities around Boston by covering the cost of supplies and maintain their website and keep personalized ebooks free.
The company recently launched a new personalized STEM book called "Scientific Name." In this case, the book explains what scientific careers the letters of your child's name represent, helping your child learn about different jobs from real scientist role models. The recommended age is 4-10 years and is offered as a free PDF download or for purchase for $19.99 plus $1.99 per unique letter in the child's name.