Today I am excited to share a gift list that is focused on engineering and computer science and was developed by Project Lead The Way, a nonprofit organization that develops STEM curriculum for K-12 students across the US.
I am always on a quest to find quality STEM products for my kids and there are certain qualities that are important to me. I like project-focused products, and I want them to be fun and engaging; more than a one-time use experience; and ones where my kids will learn something and be challenged.
I was interested in talking about gift ideas with the team at Project Lead The Way (PLTW). Their mission, which aligns with mine, is to get students involved in STEM through project-based, real-world learning. This list is based on input from PLTW's talented team of curriculum writers and teachers who identified toys and other gifts that help children develop STEM skills.
The following gift ideas are broken into three categories: Engineering, Computer Science, and Engineering & Computer Science. You will find a mix of games, kits, toys, and apps focused on developing these skills:
Building and Inventing
Electronics and Circuitry
Computer Programming
Robotics
Each product includes a brief description and an overview of what children can expect to learn. I have also included recommended ages, prices, and links to purchase.
Engineering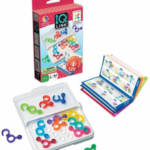 Children build a robot that, when complete, launches a propeller up to 30 feet in the air. This product promotes hands-on learning that comes from its STEM-based construction kit. (Ages 8+) Cost: $12.99
Children must solve puzzles (varying in difficulty) that have 24 open spaces, yet there are 36 puzzle pieces. This product promotes problem-solving and critical thinking in younger children as they must solve the puzzle by placing the pieces in correct positions. (Ages 8+) Cost: $9.75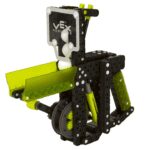 This product lets users build a cannon that fires and auto-loads foam balls. Kids learn about engineering by using planetary gears and shock absorber style springs to launch balls down range. (Ages 14+) Cost: $19.99
4. VEX Robotics Ambush Striker
The Ambush Striker teaches kids basic engineering skills as they must assemble and operate this toy using gears, springs, and physics to launch balls downrange. The Ambush Striker also has an open body so that kids can see how the machine actually works after construction. Once assembled, the Ambush Striker rotates while automatically loading the balls to be launched. (Ages 14+) Cost: $39.99
5. Roominate: Building Toy for Girls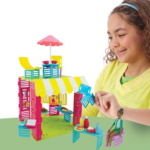 Roominate's Building Toys for Girls get young girls involved in STEM at an early age. This is especially important because of the large gender gap that is present in STEM fields. Rather than buying a dollhouse, Roominate provides all the materials needed to build, customize, decorate, and even power your own creation. (Ages 6+) Cost: $11.99-$139.99
Circuit Scribe enables children to explore the fundamentals of conductivity and work up to creating a touch-sensitive circuit. When using Circuit Scribe, the conductive ink allows children to literally draw their own circuits and watch as lights illuminate a page. (Ages 8+) Cost: 44.99-$59.99
7. littleBits Base Inventor Kit
Children use magnetic pieces to create interactive inventions all while learning useful engineering skills. This Inventor Kit teaches children to think critically about the basics of electronics and STEM principles all while creating hundreds of different inventions. (Ages 8+) Cost: $99
8. Bare Conductive Touch Board Starter Kit
The Touch Board Starter Kit enables kids to use a touch board and electric paint to add sound effects to different items. The Touch Board Starter Kit is a great interactive way to channel your child's creativity into learning how to engineer and build circuits. Cost: $109.99
Computer Science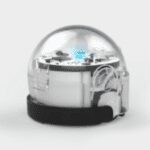 This app teaches the user computer science and coding by allowing them to create and customize games, simulations, and visual ideas that one may have. It is easy to use as you simply write your code, press play, and then interact with your program. Cost: $14.99
The Ozobot 2.0 Bit teaches kids computer science by enabling them to program their robot to carry out a variety of functions. Once the user writes the code for the Ozobot's functions, the Ozobot uploads the code through a light sensor. This code can be used to have the Ozobot complete obstacle courses, carry out light sequences and much more. (Ages 6+) Cost: $54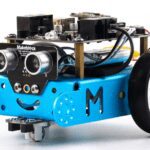 This robot is easily assembled and allows children to program their mBot robot (via Bluetooth) to complete functions, and play a variety of games. By using this robot, kids will learn the basics of computer science and get to see their programming work in real-time. (Ages 8+) Cost: $69.99
4. Complete Osmo Coding Kit + Game System
Osmo is a gaming system for the iPad that teaches young children how to code through a variety of games. Osmo games work by enabling your child to control "Awbie" (the character) through various maps and obstacles through coding commands. There are a variety of games available for this console. (Ages 6+) Cost: $189
Children can program their Sphero robot to complete mazes, project light sequences, and much more as it is waterproof, shockproof and scratch resistant. This robot teaches kids computer science by allowing them to program their robot from mobile devices to carry out certain functions. (Ages 8+) Cost: $129.99
6. Wonder Workshop: Dash Robot
Dash Robot teaches kids how to utilize computer science to control robotics through apps that enable them to program commands for the robot to carry out. There are a variety of apps available for the Dash Robot which vary in coding difficulty and functions. (Ages 8+) Cost: $149.99
Engineering & Computer Science
1. Makey Makey (& Makey Makey Go)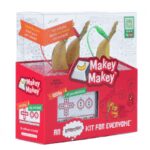 Children can turn an ordinary item into a touchpad and use it to interact with computer programs. Makey Makey teaches children how to apply engineering and computer science to everyday items by connecting them to a computer. (Ages 8+ and 6+ for "Go") Cost: $49.95 and $24.95 for "Go"
RushHour Shift engages children in problem-solving and critical thinking to solve a puzzle while competing against their friends. This game includes an interactive board and pieces which players take turns shifting to get to the other side before their opponent does. Each player's moves are dictated by a deck of cards that have commands on them. (Ages 8+) Cost: $24.99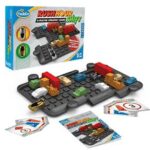 3. Tron Club: Subscription Circuit Building Kits
Each kit has multiple circuits that can be made by utilizing engineering and computer science principles of all levels. Subscription includes 1 kit/month, over 252 circuits/year, kits range in difficulty. Cost: $25/month
4. Creation Crate: Monthly Electronic Projects
These circuit kits take a step-by-step approach to teach kids the basics of engineering and computer science through monthly kits that increase in difficulty each month. When complete, these circuits are interactive and customizable, ensuring that the child will maintain interest. (Ages 12+) Cost: $29.99/month
5. Raspberry Pi single-board computers
This single-board computer has the functions of a regular computer, and is equipped with an HDMI port, USB port, mouse, keyboard and wifi ability. This item is incredibly customizable as it teaches kids how to program, build circuits, operate robots, and even set up weather stations. Cost: $39.95 for Raspberry Pi 3
Arduino is an open-source electronics platform based on easy-to-use hardware and software. The Arduino Starter Kit provides 15 hands-on projects that carry out a variety of functions. Each build results in a different interactive function that ensures your child can get immediate feedback on their engineering and coding skills. (Ages 9+) Cost: $99.90
Cozmo is a highly advanced, yet very small robot that has a variety of functions. Through the use of coding, children can make Cozmo do everything from move forward to recognize and take a picture of their face. (Ages 8+) Cost: $179.99
I enjoyed reviewing this list of products and got some new STEM gift ideas for my kids. Please send this list to your friends and family– I am sure they will appreciate it!
About Project Lead The Way
Project Lead The Way (PLTW) is a nonprofit organization that provides a transformative learning experience for K-12 students and teachers across the U.S. PLTW empowers students to develop in-demand, transportable knowledge and skills through pathways in computer science, engineering, and biomedical science. PLTW's teacher training and resources support teachers as they engage their students in real-world learning. More than 9,000 elementary, middle, and high schools in all 50 states and the District of Columbia offer PLTW programs. For more information on Project Lead The Way, visit pltw.org.