April is my favorite month because there are so many wonderful STEM activities to choose from, including the popular Cambridge Science Festival and the Wellesley STEM Expo. Here's an overview of these two events.
Wellesley STEM Expo– Saturday, April 6
Wellesley Education Foundation's Wellesley STEM Expo 2019 is a hands-on science, technology, engineering and math (STEM) exposition including a speaker series, hands-on exhibits, workshops, and a student work showcase – transforming Wellesley High School (WHS) into an interactive science center for a day. Free and fun for all ages! Register for the Expo.
Cambridge Science Festival– April 12-21
The annual Cambridge Science Festival runs for ten days throughout Massachusetts. The festival includes activities, demonstrations, workshops, tours, debates, contests, talks, and behind-the-scenes glimpses to illuminate the richness of scientific inquiry and the excitement of discovery. Many of the events at the Cambridge Science Festival are free and open to the public. Review the schedule and get tickets and reservation information.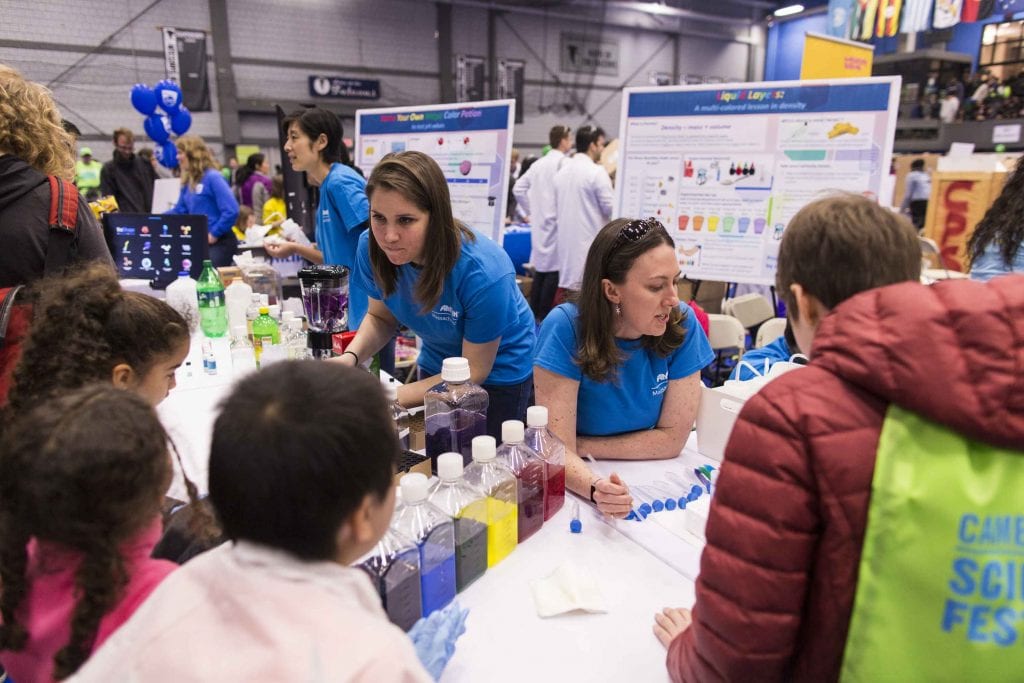 Here is a list of free or low-cost STEM activities for your kids to consider this month. Enjoy!
April (various dates): Hands-on engineering and design programs are offered by the MIT Museum in Cambridge. Free with Museum admission. (Ages 12+)
April 5: Free Friday night admission to The Discovery Museum in Acton.
April 6: Come explore worlds too small to see: nanoscience plus quantum science and their latest applications at the Museum of Science's 2019 NanoDays with a Quantum Leap celebration. (Ages K-12) Free with Exhibit Halls admission.
April 6: Set in the City is a Boston event focused on science, engineering, and technology for high school girls. Students will hear presentations from experts in their fields, participate in hands-on activities and eat lunch with women working in STEM. Cost: $30
April 6: Splash is a program for high school students who want to take a variety of classes taught by students at Boston College. Cost: $5.25
April 6: The Acera School is hosting a math festival for kids featuring math activities designed to inspire creative reasoning and collaborative problem-solving. (Grades 2-5) Free and open to the public.
April 6: Join Acera School for Women Leaders in STEM, a panel discussion featuring women who are leading in their respective STEM fields. Bring your daughters (and sons!) and let them be inspired by these women of science. Free
April 6-14: Celebrate National Robotics Week by participating in an event around the state of MA.
April 7: Studio of Engaging Math in Brighton is hosting a spring math festival and open house for kids ages 4-12. Play games, do STEM activities and solve puzzles. Free
April 12-21: The Cambridge Science Festival makes science accessible and fun with hundreds of events for curious people of all ages and there are activities all around MA!
April 12: Celebrate Robotics Week at Empow Studios with a robotics favorite: a friendly Sumo Competition! Lexington & Newton, 7pm-8:30pm. Cost: $25
April 13: Attend the South Shore Science Festival in Quincy and participate in hands-on science and technology exhibits and activities for kids. Free
April 13: The Central MA Science Festival is a hands-on, multifaceted exploration of STEAM that makes science accessible, interactive and fun for people of all ages. The event will be held at the Boys & Girls Club of Fitchburg and Leominster and is free and open to the public.
April 13: The popular Science Carnival & Robot Zoo will take place in Cambridge. This free event features a family-friendly expo with more than 100 exhibits.
April 13: Meet artisans, roboticists, culinary experts, and entrepreneurs as they share their craft at the Pioneer Valley Mini Maker Faire in Western MA at Smith College. Free
April 13: Ivy Seed Academy will be hosting a Computer Science Unplugged workshop for parents & kids in Boston. Topics range from coding to game design to robotics. Register now for this free event.
April 15-19: Code Ninjas in Wellesley will be holding a spring break coding camp. Cost: $245/half-day camp
April 15-19: Empow Studios will be running April Vacation Camps in Cambridge, Brookline, Lexington, and Newton. Programs include Tech & Design Camp, Minecraft Camp, and Java Coding Camp. Cost: $365/half-day and $645/full-week
April 15-19: Einstein's Workshop in Burlington is hosting a two-part STEM camp over April break – parents can sign their child up for Marathon Monday, the rest of the week (Tues-Fri) or both. (Grades K-6) Cost: Marathon Monday is $70 per Half Day, $140 for All Day, and the rest of the week is $280/half- day and $560/all-day
April 16-18: Tinker and Create is hosting an Animation class that will explore the fundamental skills necessary for any young artists, animators, or game concept designers at the Sharon Community Center.  With pencils, paper, the Synfig animation platform and plenty of imagination, students will learn how to bring an idea to life. Cost: $154
April 27: Attend Science on State Street at Framingham State University featuring interactive STEM experiences, free FSU Planetarium programs and more. Free
April 27: Register now for Expeditions to STEM 2019, an event for students from grades 7 to 10 to learn about different careers in STEM. ETS will feature presentations and workshops led by scientists, educators, and other professionals. Cost: $10.
April 27: Harvard University is organizing its very first SPLASH conference for high school students. Students have the opportunity to experience undergraduate life for a day at Harvard by taking classes taught by Harvard undergraduates. Cost: $20. Register by Friday, April 19.
Image Credit: Cambridge Science Festival