If you are looking for toys, games, and kits that will ignite your child's interest in STEM this holiday season, take a look at Project Lead The Way's 2017 STEM Gift List. I shared their gift guide last year and the response was very positive. I was happy when I received their new gift list; here you will find gifts for all ages and interests including engineering and physics, robotics, coding, electronics, biology and genetics, and more.
Project Lead The Way (PLTW) is the nation's leading STEM education nonprofit and curriculum provider. PLTW's mission is to empower and prepare students for the evolving world. They develop lessons and projects that are used by K-12 teachers in the classroom and offer students pathways in computer science, engineering, and biomedical science.
I like PLTW's gift guide because it was developed by an organization that develops STEM curriculum for students across the US. They understand the types of jobs our children are going to have and the technical skills needed. PLTW teachers from across more than 10,000 schools teamed up to choose these toys as the keys to unlocking a child's STEM future while they are lost in the world of imagination and play.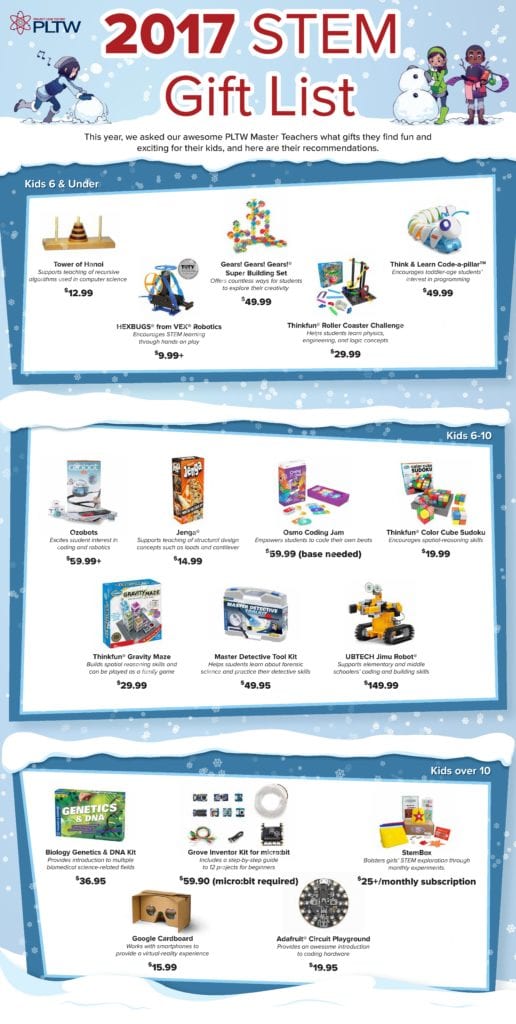 About Project Lead The Way
Project Lead The Way (PLTW) is a nonprofit organization that provides a transformative learning experience for K-12 students and teachers across the U.S. PLTW empowers students to develop in-demand, transportable knowledge and skills through pathways in computer science, engineering, and biomedical science. PLTW's teacher training and resources support teachers as they engage their students in real-world learning. More than 9,000 elementary, middle, and high schools in all 50 states and the District of Columbia offer PLTW programs. For more information on Project Lead The Way, visit pltw.org.