Is 8-years old too young to learn computer programming? I don't think so. Every child should get an introduction to computer programming and some hands-on experience at a young age– while they're still receptive to trying new things. Even if they don't aspire to be an engineer, it's important to get an understanding of basic programming concepts.
Computer programming can benefit a child's development on many levels, allowing them to explore their creativity, build analytical skills, solve problems and use their imagination to design programs. Starting early will help build their interest level and confidence and will give them the time they need to figure out how they can use programming for their own interests. It doesn't have to be dry and boring!
For a first-time introduction to computer programming, I recommend starting with Scratch, a free, web-based programming language and an online community where children can program and share interactive media such as stories, games, and animation with people from all over the world. Scratch is designed and maintained by the Lifelong Kindergarten group at the MIT Media Lab.


Scratch is perfect for kids 8 and up because it's both entertaining and educational. It is easy to use because it's graphical and uses drag and drop functionality. With no prior programming experience, you can sit down with your child and test it out. Your kids will be able to create a program in minutes and see firsthand how the instructions and set of sequences they design tell the computer what to do. It is likely they won't even know they are programming– they'll be having fun and you'll be a proud parent!
My daughter got introduced to Scratch when she was 8-years old and took her first computer class called Adventures in Programming through iD Tech camps. She has continued to use Scratch over the years and when I asked her why she thought Scratch was a good programming language for young kids she said, "It gets you in the programming mindset."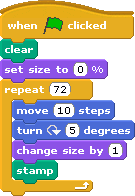 If you want to learn more and see if Scratch is right for your child, visit the "For Parents" resource page.  There, you can review a step-by-step guide for getting started, learn how the online community operates, and hear what other parents are saying. I would also recommend looking at the featured projects on the main page and showing them to your child. They will help start the conversation and get ideas flowing.