Over the past couple of years, I have noticed the introduction of virtual reality (VR) and augmented reality (AR) programs and summer camps for kids.  It's great when kids can get exposure to newer technologies at a young age.
What is VR?
Virtual reality is when the user is completely immersed in a digital world, which replaces the current environment in 360 degrees. It's usually experienced via a set of goggles to completely block the vision of the real world with digital images.

What is AR?
Augmented reality, in contrast, uses the current environment, most typically seen through a phone or tablet screen and the corresponding camera. AR involves the superimposing of digital images on the real world; for example, you could see a little monster dancing on your work desk through your phone.

I recently spoke with Aurora Smith, Editorial Lead at iD Tech, the company who hosts summer tech camps for kids. iDTech began introducing VR camps in 2017. In our following discussion, Aurora shares iDTech's perspective about VR/AR and their approach to designing classes for students.
What are the benefits of exposing kids to VR/AR?
Virtual and augmented reality are two of the hottest areas of tech. Huge companies like Microsoft, Apple, and Facebook are investing large quantities of money into research and application of these areas, so getting kids experience early helps ensure they stay on the cutting edge of STEM education, and sets them up for possible internship and employment opportunities in their future.

Students are interested in virtual and augmented reality because, quite simply, it's all around them. Video games, mobile apps, and more, with which students interact quite frequently, are more and more often sporting VR and AR capabilities. 
Do students need prior tech experience to take a VR/AR course?
Not at all! At iD Tech, anyone can explore our VR and AR courses, especially because our Education Department designs our curriculum for all students, from beginner to advanced.
How did you develop your VR/AR programs?
We're developing our VR and AR courses the same way we develop all our courses—with the students' engagement in the forefront of our minds. Our courses use the most recent technologies, and when writing curriculum, we focus our development in a way that utilizes tech to inspire and excite our students. The point of our courses is to teach them skills they want to learn and provide content that enhances their natural interests and motivations.

Our Curriculum Developers regularly attend conferences to stay informed on the most recent developments in their fields of expertise, and to discover real-world example projects they can use to inspire their development. This means students not only have engaging examples to spark their imaginations, but those examples come from the industry, so the skills they build at our camps are directly applicable to their futures in tech.

Our Developers also invest development time into research, planning, project brainstorming, and more before they even start developing their course, so the students are interacting with courses that are the most enriched, polished, and enjoyable in the business.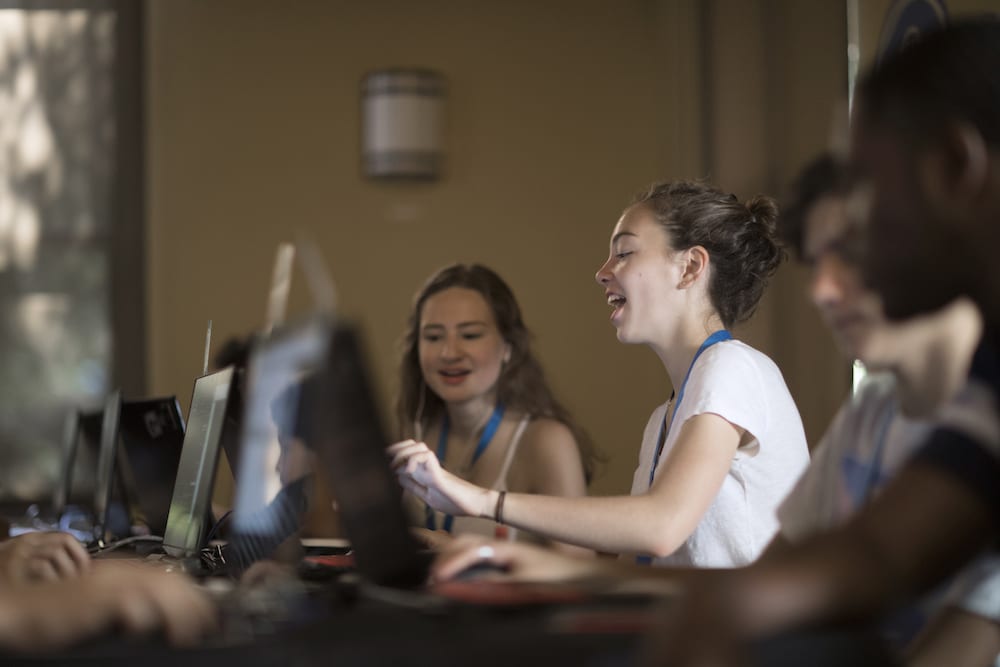 Tell me about your VR/AR summer courses.
VR Design with Unity and Oculus Go
Our students get immediately hands-on experience with their take-home Oculus Go and start designing in Unity, an industry-standard game engine. They have the freedom to code a world, a game, or an app, and this freedom is precisely what resonates with students and makes them want to continue learning when they take their designs home. (Ages 13-17)

Augmented Reality Mobile App Development
In this in-depth, two-week session, students use C#, an extremely popular and versatile coding language, and the game engine Unity to design mobile apps they then enhance with AR features. This course is not only teaching them AR, which is again an incredibly popular emerging technology, but also C#, which they can use for a variety of projects in their futures. (Ages 13-18)

Unreal Engine 4 Level Design and VR Lab
In this intensive, two-week session, students use Unreal Engine 4, an advanced game design engine, to explore how a game designed in VR would look and feel to the player. Students have the freedom to create whatever environment they'd like, while learning game design techniques. They then partner with students in other courses at the Academy to found their own indie studio and create a complete game, gaining invaluable, real-world experience with the game development pipeline. (Ages 13-18)
Final Thoughts
In addition to iD Tech, there are other companies offering VR/AR programs. Nationally, you can find classes through Digital Media Academy and Drobots Company. Many local organizations offer classes as well. For example, here in the Boston area, Empow Studios and Kids4Coding offer VR/AR programs.