Need littleBits project ideas for your kids? Look no further!  Here you will find a list of top-rated projects curated by the team at littleBits.
Since it might be your child's first time using littleBits, they may need some help getting started. I think projects are a great way to learn, so I reached out to the littleBits Customer Service team to get ideas.
littleBits was happy to share a list of engaging and popular projects broken out by age group. Scan the following list and see what might interest your child based on their interests and abilities.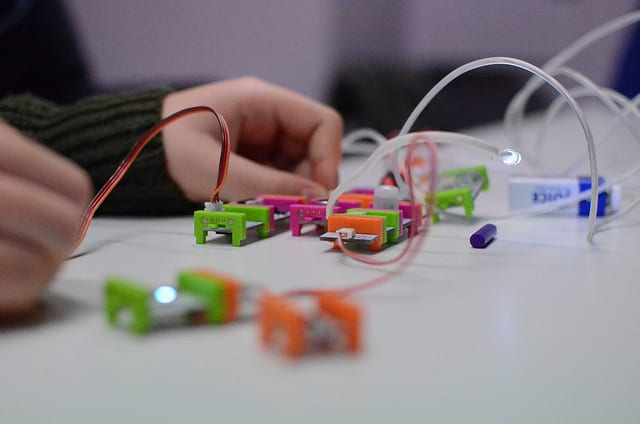 Click on the links for details and project instructions.
Ages 8-13 years
Satellite Dish (see link for simpler booklet instructions)
Ages 14-16 years
Grappler (see link for simpler booklet instructions)
Wake Up With the Sun (logic)
Lockout Buzzer (the simpler circuit, and not necessarily the build)
Keytar (the simpler build)
In addition to the projects listed above, you can get more ideas at littleBits classroom. You can also learn about how we've used littleBits in our family. Whether you own littleBits or are considering buying them for your kids, rest assured there are many interesting projects to keep young children and teens occupied and learning for some time.
Image Sources: littleBits1 and littleBits2 by Ultra-lab