Are you looking to get your teen involved in an enriching after school or evening activity? Look no further than your local library for free teen technology workshops that are both fun and educational.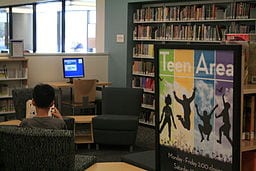 We often overlook the library when our kids enter middle school and don't realize what a valuable resource they are for homework help, research materials, book recommendations and special events. In fact, many libraries have a teen department with a dedicated librarian.
Youth librarians have begun to incorporate STEM (science, technology, engineering, and math) content into their teen programming and host teen tech workshops. I spoke with Ellen Girouard, the Technology Librarian at the Belmont Public Library, in Belmont, MA who made STEM programming a priority this year. Ellen kicked off the season with a series of Makey Makey classes that taught kids how to turn everyday objects, like bananas and P&J sandwiches, into touchpads that can control things like video games.
I asked Ellen why she wanted to offer these classes for teens and she shared that "libraries have to change with the times, and right now, technology programs are something that all libraries should be embracing. Technology is one of the last great divides in our society.  Libraries can help to bridge that gap."
In regards to specific programming, Ellen explained that "whether it's offering open computer time to explore ideas, or more directed programming like Makey Makey workshops or Scratch instruction, libraries are uniquely positioned to offer & support a community of learners with both opportunities and resources."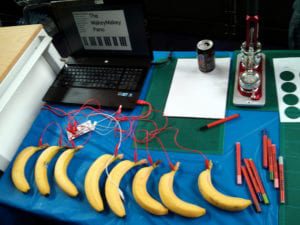 The response has been very positive and she said that the kids have been quite happy to have the opportunity to explore whatever technology was presented and parents have been delighted. She added, "Most parents that have talked to me after the programs are extremely positive – they want more, and as much as we can schedule."
As a parent of a child who attended Ellen's classes, I would encourage you to scope out tech workshops for your teen for these reasons:
They often feature cutting-edge technology, such as 3D printing, that exposes your child to real-world applications.
They inspire thought and creativity!
They're teen-focused, so your child can participate with their friends — no parent supervision needed.
They are often offered during non-school periods (e.g., school vacation and summer) when you're looking for something to do.
They're free!
Here are some tips to help you find library workshops in your area:
Create a Google Alert for your local library so you can receive email alerts for upcoming events.
Follow your library on social media sites such as Facebook and Twitter.
Regularly check your library's teen site for events.
Get to know your librarian personally and ask her to add you to her email distribution list for events.
My daughter and her friends have really enjoyed attending tech classes this year, and I love that they're getting to experience new and different types of technology in the warm and comforting environment of their local library. With a little bit of research, you too can find out what your local library has to offer and get your teen involved.