I am always looking for new and different ways to get kids interested in exploring STEM, so I was delighted to learn that Kids 4 Coding is launching Coding Through Music in Boston, Atlanta, and Nashville this summer. Instructors will use a web-based program created by Georgia Tech called EarSketch, to teach kids how to create hip-hop, dubstep and pop music by using popular programming languages.
Sounds great, doesn't it? Music has such a broad appeal among teens and using it as the basis to teach coding is a smart idea. I have not come across a coding class like this before. I like the fact that teens will be able to tap into their creative sides by making their own original music. For students who have not considered coding before or who might have a negative perception of it, learning to code by making music could be the hook to get them to try.
The program includes a library of over 400 audio clips created by Young Guru, rapper Jay-Z's sound engineer. Students can access these clips or they can create their own sounds. Students then write code using either JavaScript or Python, two of the most popular computer programming languages in the world, to alter and combine these sound clips.
"By composing and remixing music, students learn complex programming languages in a creative context, allowing for experimentation with music and code without prior knowledge of either one," Kids 4 Coding Co-Founder and Brookline native AnnMarie Laramee explains.
While Georgia Tech's program was originally created for older teens, Kids 4 Coding's curriculum writers have made adjustments to make the program accessible to both beginners and more advanced students.
"We chose to base the curriculum on Python because it's more intuitive for beginners, but we also included sections for JavaScript programming. This way you can hold the attention of advanced students while challenging some of the other students. Ultimately, students get a taste of both languages and can see the nuances between the two," explains Laramee.
Throughout the week, students create a digital collection of original music. At the end of the week, they go home with a personal online account and can access their music from any computer. Students can then download their music and burn their songs to CD, make an iTunes playlist or save on a flash drive for other digital creations.
Laramee hopes that offering a fresh approach to learning programming will encourage more students to get excited about acquiring this technical knowledge.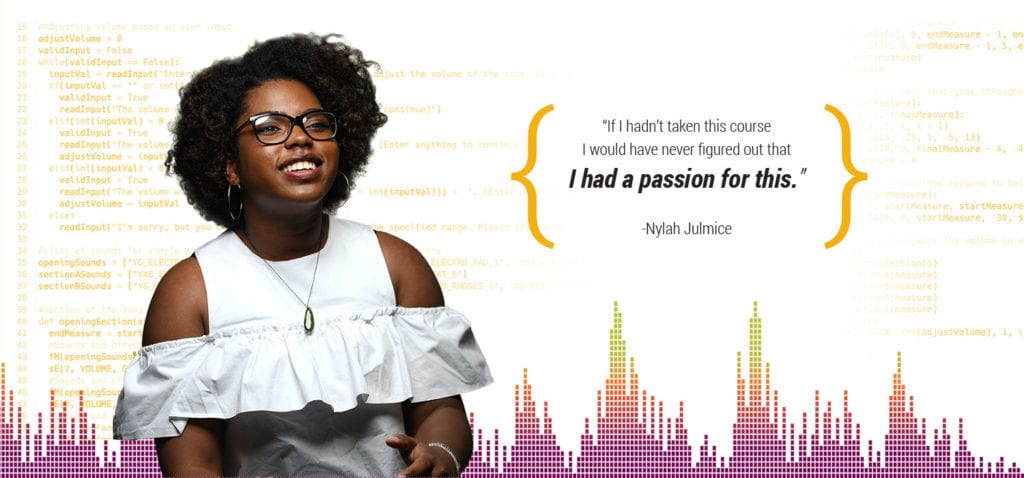 "Technology impacts every aspect of society and industry, from agriculture to commerce to healthcare, but many schools offer only a few tech courses that don't always appeal to the entire student population. Music is a universal language that engages all types of students. This program allows us to meet kids on their level, then show them how they can use technology to create and share ideas with others in any field of interest," says Laramee.
Summer 2018 Program Details
In Massachusetts, Kids 4 Coding is offering the program for teens, ages 13-16, at Lesley University and Newbury College. Click the links to get more details and to register.
Lesley University (Cambridge, MA)
July 23-27 and 

August 13-17

Cost: $339
Newbury College (Brookline, MA)
July 2-6

(no classes July 4)

Cost: $279
In addition to the Coding Through Music program, Kids 4 Coding offers courses in programming, robotics, drones, game design, mobile app design, web development, Raspberry Pi, building a laptop computer, designing & coding wearable technology and more for ages 7-15. One week half- and full-day programs focus on digital literacy and coding proficiency, unlocking and encouraging students' potential for problem-solving, logical and creative thinking, math application and ingenuity. Programs are supervised by certified teachers and taught by instructors majoring in STEM-related fields from MIT, Northeastern and Boston University who are passionate about technology.
Image Credit: Georgia Tech