Last summer I had the pleasure of spending time at EXPLO's Bioengineering for Girls program. Bioengineering for Girls is a unique summer program devoted to science and engineering and, in particular, a field called bioengineering, blending in-class instruction with a great deal of hands-on learning.
What is bioengineering? Bioengineering is defined as the application of engineering in medicine but the most interesting work in the field transcends a single discipline and includes physics, math, and biology. Working with top researchers and visiting leading labs throughout Boston, students in the new EXPLO program are exposed to careers in biomechanics, prosthetics, environmental science, neuropsychology, tissue engineering, epidemiology, biophotography, pharmacology, and more. Bioengineering for Girls allows students to strengthen foundational science skills with hands-on labs that include medical simulations and medical device design and development.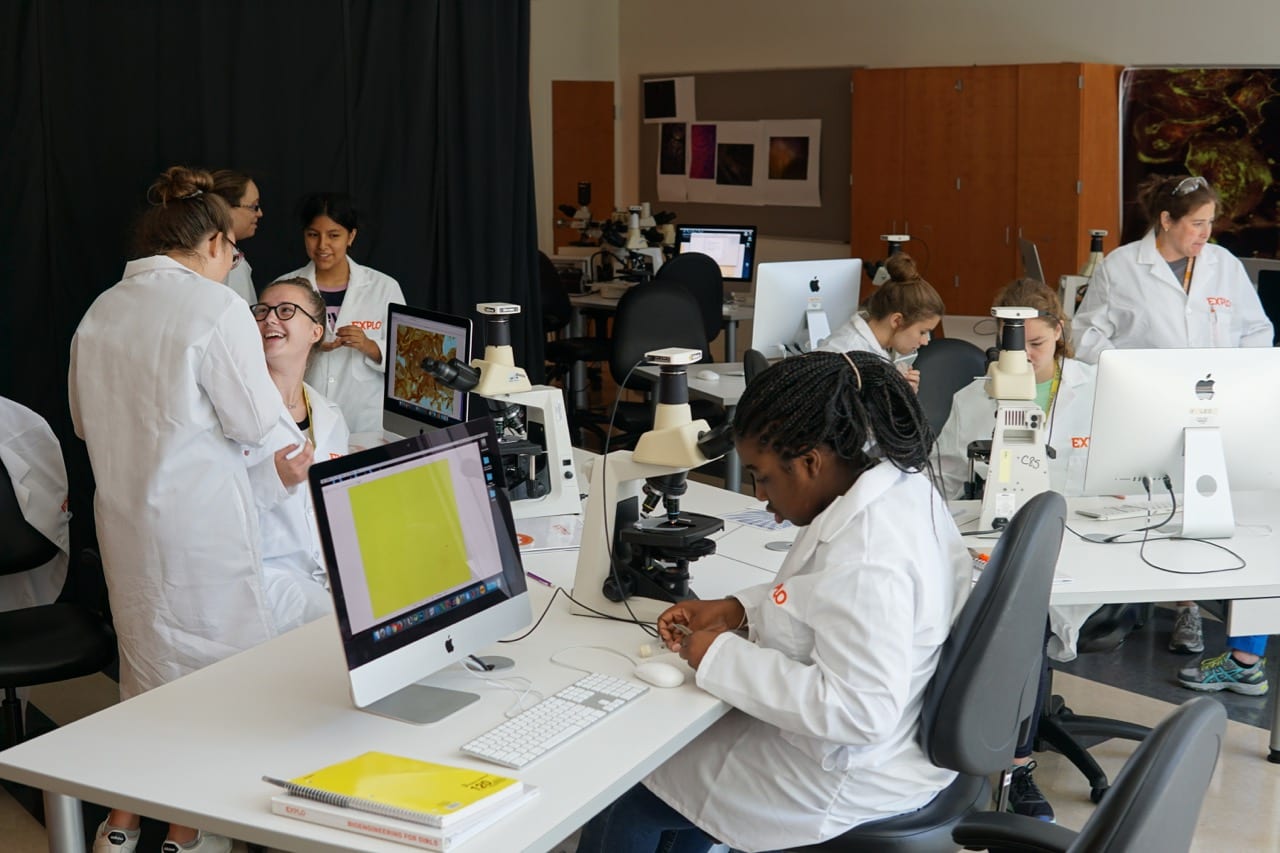 I was impressed with the effort that went into developing the curriculum for this program and enjoyed getting to experience it first-hand during one of EXPLO's sessions. I am delighted to profile this type of summer program with the hope that it makes parents aware that science programs of this nature are a possibility for your children.
My experience
I joined the students on their day at Brigham and Women's Hospital's STRATUS Center for Medical Simulation. STRATUS is one of the most comprehensive and technologically-advanced medical training centers in the world, backed by the world-class experience of Brigham and Women's Hospital, a major teaching affiliate of Harvard Medical School.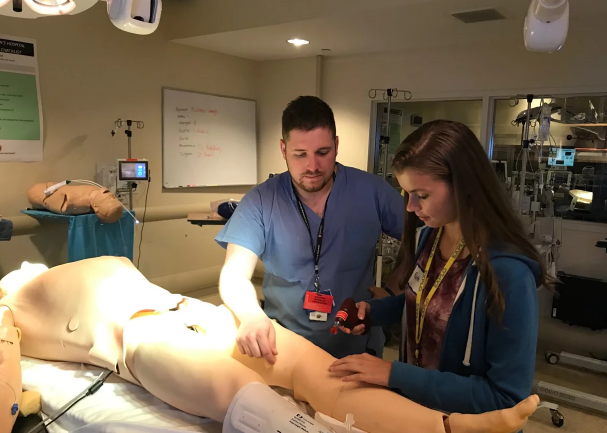 It was an incredible experience for the girls. They tried their hand at simulated surgery in an operating room that uses the same equipment that doctors use to train for surgery and monitor patients. The students also got to use robotic equipment in simulated medical procedures.
I saw first-hand how excited the students were to learn about medicine, technology, and the equipment used in a hospital setting. The fact that they got to use real equipment and diagnostic tools first-hand was impressive.
"If you're looking into Bioengineering for Girls, you will find a program that's going to help you grow as a person, learn new things, and expose you to new ideas, lab work, and design and making skills that you can't get anywhere else. It's going to shed light on a field you may not even know you were interested in."  Jackie Z., student, New Jersey
Intent of the program
I spoke with Barb Trainor, EXPLO's Director of Curriculum and Instruction, and she explained that EXPLO created the Bioengineering for Girls program to allow young women to explore the variety of work being done in the bioengineering and medical fields; immerse themselves in hands-on lab, maker and machine shop experiences; and gather valuable advice from professionals in the field via seminars and trips to industry labs. Research shows that girls lose interest in the sciences by the time they're 13 years old. Currently, only 24 percent of people in all STEM fields are women.
Barb shared, "With Bioengineering for Girls, more young women will be introduced to these transdisciplinary fields. Bioengineering for Girls is focused on fixing the leaky pipeline of girls losing interest in STEM before they leave high school and lighting a fire in them to pursue STEM studies in college."
"In science classes at my school, it's harder for me to ask questions and participate because it's co-ed. Since it's all girls here, and we're all interested in the same things, it's really easy to ask questions and pause the speaker to understand more of what you're doing," Emily P., student, Massachusetts
How the curriculum was developed
All of the curriculum created for EXPLO programs are focused on teaching that is adventurous and models taking risks. For Bioengineering for Girls, EXPLO has partnered with leading academics, researchers, and industry experts to design a unique program that will help launch girls into bioengineering careers. The main instructors and program managers are all women scientists and engineers so that students will see accomplished women in STEM in action. The result is a deeply experiential curriculum driven by active learning.
"One of the really fun things about this program is that half of things we talk about they've never heard about before. They're things I didn't hear about until I was in graduate school. And how can you have any idea of what you want to do if there's just so much out there that you don't know?" Laura Macesic Ekstrom, Ph.D., Assistant Professor of Biology, Wheaton College, Massachusetts and EXPLO Instructor
Summer 2019 program details
EXPLO is offering Bioengineering for Girls (grades 9-11) July 14 – July 27 at Wheaton College in Norton, MA.  To learn more, visit: https://www.explo.org/focus/bioengineering-for-girls/.
If you like the concept of this camp but can't attend the Wheaton program, EXPLO offers a wide variety of science and technology-related programs at Wheaton College, Wellesley College, and Yale University (for girls and boys).
EXPLO at Yale (grades 10 to 12)
EXPLO at Wellesley (grades 8 & 9)
EXPLO at Wheaton (grades 4-7)
Pioneer (grades 4 & 5)
Voyager (grades 6 & 7)
About EXPLO
Exploration Learning (EXPLO) is an international leader in education innovation that inspires students and teachers to explore the world of people and ideas, and to experience the joy of learning in pursuit of purpose and meaning. Founded in 1976, EXPLO revolutionized the summer enrichment industry when it brought to market the first hybrid summer programs for intellectually curious kids. Today, EXPLO Summer Programs serve students from 50 states and 70 countries in grades 2-12. In addition, EXPLO provides year-round professional development and curriculum design for educators and executives, and consulting services for similarly-spirited nonprofits around the globe. A network of thinkers and doers that spans the globe, EXPLO proudly celebrates the many accomplishments of its 80,000 alumni — among them a Pulitzer Prize winner, 40+ Forbes 30 Under 30 winners, TIME Inventors of the Year, and dozens of Fulbright, Watson, Thiel, and Rhodes Scholars — who are making meaningful contributions to their communities around the world.
Image Credit: EXPLO