I recently spoke with Marian Bauman, Director of the Neptune, NJ Public Library, about the role STEM plays in education and learned that her children attended specialized high schools that promoted science, technology, engineering, and math. They attended three of the five full-time specialized schools in the Monmouth County Vocational School District in NJ; namely, the High Technology High School, the Academy of Allied Health and Science and the Communications High School.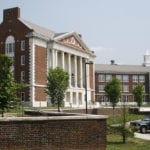 I wanted to share her story because it's a powerful example of how she and her husband guided their children towards attending a STEM high school and how they benefited from a unique education. Her children got internship experience at a young age, and it allowed them to explore their academic interests and prepare them for college and the real world. They also went on to attend very good universities and get excellent jobs after graduation.
Read on to hear how Marian's children benefited from attending a STEM high school and her ideas for sparking STEM interest in kids.
Q: How do you view your children's experiences at their specialized schools?  
A: I doubt that they would have gotten a better education anywhere else in the country!  Each of them had at least a semester of college-level classes to transfer to their university of choice when they graduated.  I was extremely pleased with how they were challenged and how they rose to that challenge.
I was also amazed that the students in these academies had so many opportunities.  Each school had internship requirements.  My oldest daughter did research at Monmouth University for her internship.  My middle daughter wanted to go into Physical Therapy and she spent a semester interning with the hometown high school's athletic trainer and learned firsthand how to take care of student-athletes. My son had an opportunity with a robotics manufacturing firm for his internship.
Q: What degrees did your kids earn and what kind of work do they do?
A: My oldest daughter graduated from UVA with a chemistry degree and then went to Johns Hopkins for a PhD in Chemical-biomolecular Engineering.  She is working for a biomedical company in Raleigh, NC.  My middle daughter got her PhD in Physical Therapy from Ithaca.  She chose it because it was a straight 6-year program ending in a doctorate.  She is employed by the Cleveland Clinic.  My son went to the University of Delaware and is a mechanical engineer working for a small manufacturing company in Camden, DE.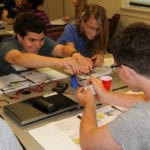 Q: What advantages does a  STEM high school have over a traditional school?
A: The rigorous application process guarantees that their peers will be the cream of the crop, academically.  Their teachers can teach to an extremely high level, and move very quickly through the curriculum.  The students actually compete against each other to get the best grade!
Q: Any disadvantages?
A: Students who are athletic will find it a challenge to keep up their grades and participate in multiple sports.  Since students are accepted from the entire county, your child's friends will likely live up to 45 minutes away from you, which means that until they get their driver's license, you will be their transportation, if they want to socialize with friends.
Q: How did the schools prepare your kids for college or work upon graduation?
A: All of my kids did internships in college, and they were familiar with the process because of their high school experiences.  In addition, by taking college credit with them (from their respective high schools), some of the pressure was off, and they were able to take elective courses in addition to their engineering courses.
Q: As a librarian and a mom of a female engineer, what ideas do you have for getting young women interested in STEM?
A: When our kids were little we took them to places like the Liberty Science Center and the children's science museum at the Whitaker Center in Harrisburg, PA.  My husband who is an electrical engineer took our children to "take your kids to work day" with him.  We explored Valley Forge National Park and talked about what happened there.  In case you are wondering, we also had tickets to Great Adventure, so all family trips were not "educational!" (Although there is a lot of science to discuss in an amusement park.) Any place where kids get a chance to ask "why" is a great trip!
I love the idea of successful female role models visiting elementary and middle schools to explain to all students what they do, where they work, how they got there, etc.  My eldest did this while at UVA and enjoyed it a lot.  I think having guest visitors in our schools to inspire the students is a great idea.
Considering a STEM High School
Marian's story demonstrates the benefits to be gained by attending a specialized high school which includes challenging academics, exposure to specific fields of study, internships, and college credit.
If you have a middle school child with a strong aptitude for tech and an interest in a STEM high school, I would start researching in 7th grade.  Since these schools are unique, it's going to take some work on your part to determine what's available, what type of curriculum is offered, and when you need to apply. Keep in mind:  It's likely your child will need to apply for high school in the fall of 8th grade.
There are many ways to get information about schools in your area, and I would start by doing an online search for "STEM high school" plus "your geographic area." Concurrently, I would talk with your child's teachers and guidance counselor for the most current information. U.S. News & World Report also provides an annual ranking of the Best High Schools. The report showcases schools that excel on AP test results in math and science.
Image Sources:  McKinley Tech High School by David,  CC-BY-2.0 & APG GEMS "Power and Energy" by U.S. Army CERDEC , CC-BY-2.0.