Science on Saturday begins a new season this month with fun science programs for children at MIT's Kresge Auditorium in Cambridge and Lincoln Labs in Lexington. This perennial favorite among Boston area families always delights audiences with interactive presentations that run during the school year. The presenters are volunteer scientists and engineers and they do a terrific job of presenting science and technology in a way that appeals to kids. I find the programs to be educational, thought-provoking, and entertaining.
Science on Saturday is sponsored by the MIT Museum, MIT Lincoln Laboratory, and the Akamai Foundation. I recommend these programs because they are a great way to introduce your kids to a variety of STEM subjects and get them to participate in hands-on activities. Past programs have been devoted to such topics as the science of weather, how the internet works, circuits and computers, and more. They are a great way to spend time together as a family on a Saturday (they last about an hour) and the programs are FREE!
My daughters and I attended last year's science program about robots at Lincoln Labs. The presenters were fabulous and they talked about really interesting aspects of robotics. We learned about NASA's Curiosity and Spirit rovers and their missions to explore Mars and search for signs of past life and understand the environment. We also learned about what a robot is, how robots are programmed, and the type of work they perform. The presenters put on an interactive activity where kids in the audience got to program "Robot Holly", a young woman who pretended to be a robot. The kids got to verbally program her to do things like making an ice cream sundae. She did everything they asked her to do and it was hilarious to watch. It was a fun and instructive way to demonstrate how to program a robot and get it to follow your instructions.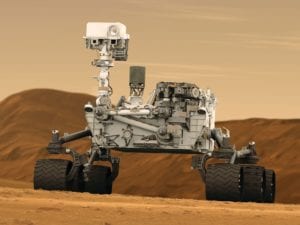 Interested in attending an event?
Click on the following links to get specific information about upcoming events at both locations.
MIT's Kresge Auditorium at 48 Mass. Ave. in Cambridge, MA
Produced by MIT alumnus Todd Rider. Events start at 10 am followed by hands-on activities. No pre-registration is required, but seating is limited; first come, first seated. A parent or adult escort is required for all children under 12.
October 14, 2017 – Biotechnology

December 2, 2017 – Nuclear Science and Engineering

February 3, 2018 – Materials with Magical Properties

March 10, 2018 – Rockets and Flight

April 7, 2018 – Optics
244 Wood St. Lexington, MA 
Events start at 9 am and there are generally two sessions offered. Pre-registration is required for all events and parental/adult escort is required for all children (5-17 years).
October 21, 2017: "The Science of Art"-

Chemistry, physics, biology, and many other kinds of science can be seen within the arts. Explore the intersect between the sciences and the performing arts.

Presented by: Lincoln Employees' African American Network (LEAN)

December 9, 2017: "Real World Robotics"- Participants will see some real-world robots up close and meet students who participate in Lincoln Laboratory's robotics educational outreach programs. Presented by: Members of the Robotics Outreach at Lincoln Laboratory (ROLL) Employee Resource Group
February 24, 2018: "The Rise & Fall of Pluto: How Science Progresses"- This talk will be about discovering new things in the solar system, and how this led to both the rise and fall of Pluto. Presented by Jane Luu, Lincoln Laboratory
April 28, 2018: "The Science of Sight & Color"- Come to the Sight & Color demonstration to understand how the human eye works and how animals see color. Presented by: Lincoln Laboratory Women's Network