Because Popular Science is such a good tech read for teens, I reached out to the editors at the magazine to see what articles would appeal to teens. Sophie Bushwick, Projects Editor, explained that they recently published their "best of 2014" lists, and she thought that teens would especially like the lists for best DIY projects, best special effects in film, coolest-looking new species, and most amazing science and technology images.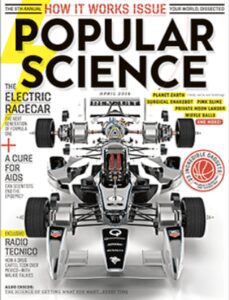 Share these links with your kids:
1) Best DIY projects of the year: http://www.popsci.com/best-diy-projects-2014
2) Best special effects in films: http://www.popsci.com/most-amazing-difficult-and-gorgeous-animation-2014
3) Coolest-looking new species: http://www.popsci.com/coolest-looking-new-species-2014
4) Most amazing science and technology images: http://www.popsci.com/best-science-technology-images-year-2014
I think the folks at Popular Science have really cool jobs. They get to see the most innovative things people are creating around the world and share them with their readers. I'm certain teens will enjoy reading the lists they compiled for 2014– my daughter's favorite DIY project was a Nerf Sentry Gun that was hacked to fire based on heat signatures.
Popular Science is a terrific source of news for teens and will help keep them up-to-date on the latest developments and innovations in science and technology. If your teen enjoys the articles in the "Best of 2014" lists, consider purchasing a print or electronic subscription.
Happy Reading!