Would you like to expose your kids to supplementary STEM (science, technology, engineering and math) education outside of the classroom? Then you're in luck because in addition to a wide variety of STEM summer camps, we're fortunate to have a growing number of quality companies and organizations offering year-round STEM classes in Massachusetts.
There are quite a few organizations that provide after-school and weekend classes and teach kids as young as kindergarten about computer programming, engineering, video game design, robotics, animation, 3D modeling, and more.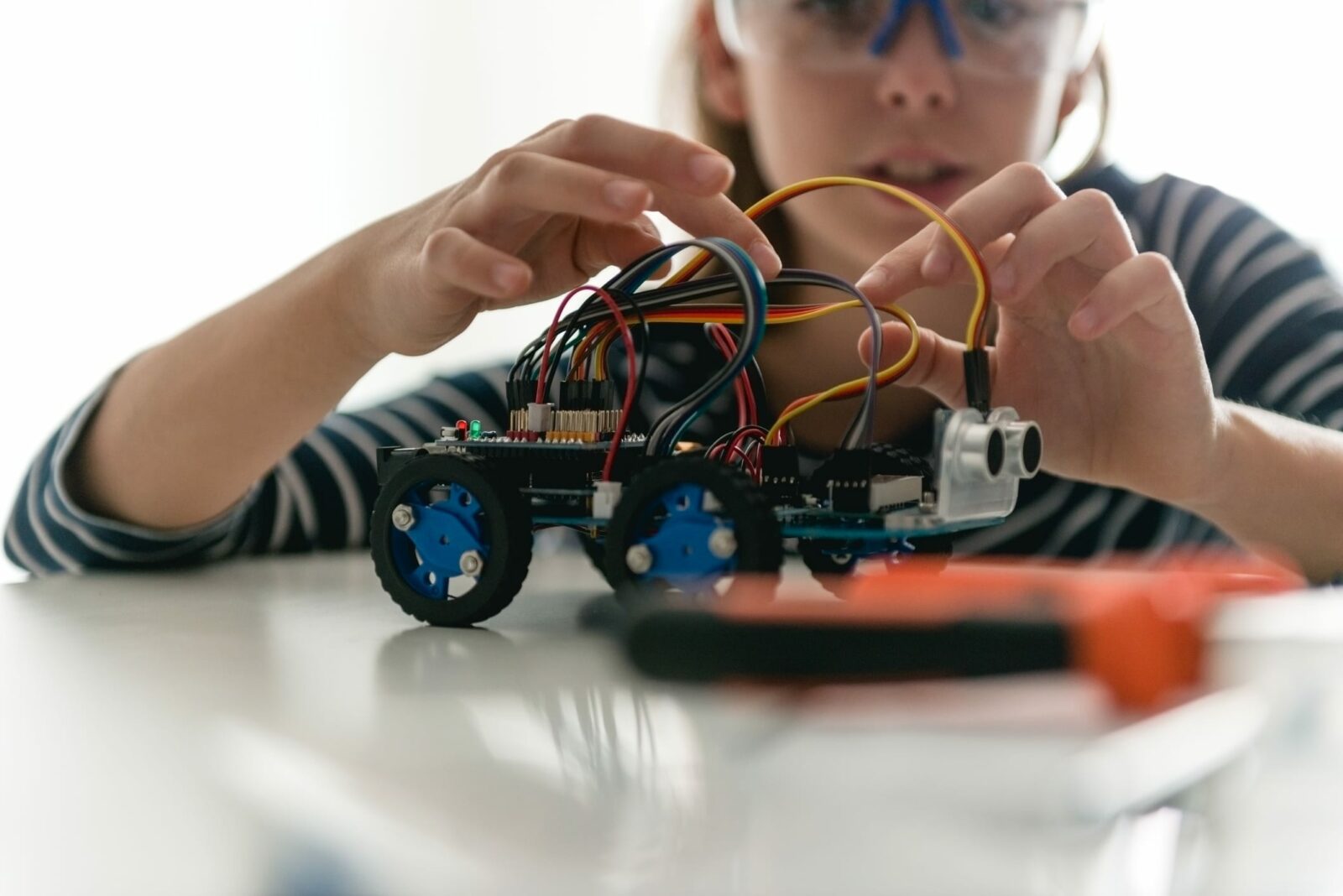 The following list provides an overview of each organization. All of them offer programs during the school year, school vacation weeks, and during the summer. Visit their websites to learn more and get specific details about programs, costs, and dates.
Organization
About
Focus
Location
Age
Acera
Acera provides an after-school STEAM learning lab.
Variety of STEAM afternoon programs offered in science, creativity, and leadership.
Winchester
7-15 years
Code & Circuit
Code & Circuit wants to inspire a new generation of computer scientists and careers in engineering and programming.
Small-size courses designed to introduce anyone to computer science, coding, and circuitry.
Amesbury
Grades K-8
Code Ninjas
At Code Ninjas, kids learn to code in a fun, safe, and inspiring learning environment, with a game-based curriculum that they love.
Computer programming
Various MA locations
Ages 7-14
Coding with Kids
Coding with Kids is a computer programming academy.  The company's programs advance young coders from the very beginnings all the way to the mastery of computer science and software development.
Computer programming
Various MA locations and online
Grades K-12
Code Wiz
Code Wiz is a modern STEM learning center where kids learn to code and develop problem-solving skills.
Drag and drop programming classes are offered for younger students and Python, Java, HTML for older students. Robotics, 3D printing and other courses are also offered.
Reading, Westford & Westborough
Ages 7-16
CS Recitations
CS Recitations offers year-round after-school computer science and programming classes.
Small in-person classes with expert teachers, intro through AP level, plus competition tracks and MIT edX recitations.
Natick
Ages 8-18
Curious Kids Lynnfield
Curious Kids Lynnfield is an organization of graduate-level educated certified teachers that provides process-focused STEAM/STEM workshops for early childhood enrichment.
Hands-on thematic STEAM workshops focusing on the Massachusetts Guidelines for Preschool Learning Experiences and onsite STEM workshops at local schools focusing on the concepts found in the Massachusetts Science and Technology/Engineering Frameworks for K to grade 2.
Lynnfield
Preschool through Grade 2
Einstein's Workshop
Einstein's Workshop is dedicated to inspiring children and adults in their exploration of science, technology, engineering, art, and math (STEAM).
Access to innovative tools such as 3D printers and a laser cutter, and classes in robotics; electronics design; Minecraft engineering and architecture; 3D design and programming.
Burlington
Grades K-8
Empow Studios
Empow Studios brings technology, arts, and play together to help young learners discover and build on their creative talents.
Classes in programming, robotics, video game design, animation, design, audio engineering and other creative skills.
Lexington and Newton
*Additional locations for school vacation weeks and summer.
7-17 years
Kids Digital U
Kids Digital U offers training in 3D design and animation.
Experience animation via Cinema 4D, 3D printing via Makerbot 3D printing and Video Game Design (2D and 3D) via Unity 3D.
Needham
Grades 3-11
KTByte Computer Academy
KTByte is a school dedicated to teaching computer science and technologies to students.
Classes range from computer fundamentals to AP and national level competitions prep.
Lexington, Acton and online
Ages 8-18
Microsoft Stores
Microsoft is committed to increasing access to computer science education.
YouthSpark programs include coding games and apps and creating digital art.
Boston, Burlington and Natick
Ages 8+
MIT Saturday Engineering Enrichment and Discovery (SEED) Academy
SEED Academy is a five-and-a-half-year academic enrichment and career exploration program where students study different core subjects related to engineering.
Each SEED Academy module focuses hands-on instruction of a different technical discipline – from mechanical engineering to robotics to biological engineering – allowing students to increase their mastery of academic subjects, strengthen their understanding of the practical application of math and science concepts, discover new academic and professional opportunities, and gain exposure to a college environment.
Cambridge
Apply in grades 7-10
Parts and Crafts
Parts and Crafts is a member-supported family makerspace and community workshop.  Programs encourage kids to play, think, make, and learn through the exploration of the arts, science, computer programming, and engineering.
Classes included electronics, textiles, computer programming, woodworking and games.
Somerville
 7 years+ (if younger, need an adult present)
Penguin Coding School
Penguin Coding School was started by a Lexington dad to turn kids onto the joys of coding. The school has developed a unique curriculum that emphasizes the joys of creation as the motivation for learning. Penguin Coding School offers 3 semesters of instruction during the school year (fall, winter, spring).
Computer programming classes include Scratch for 2-4th graders, HTML/Javascript websites and game building for 4-8th graders, Python/Java for 8-12th graders; and digital art & 3D printing.
Lexington
Ages 7-18
PinkyInc
PinkyInc is an afterschool STEM program for kids. The company uses a combination of DIY and Technology to give kids an opportunity to use their imagination, have fun, and learn how to solve problems, work in teams and accomplish tangible results.
Programs include stop motion animation, 3D pen creations, rubber band racers and more.
Marlborough
Grades 2-8
STEM Beginnings
STEM Beginnings offers fun-filled and exciting programs focused on building and sustaining interest in the areas of science, technology, engineering, and mathematics. The main goal is to introduce STEM-related concepts through effective instruction and enjoyable activities. The organization believes that the creation of a fertile ground for learning starts during a child's early years.
Fun and exciting STEM classes for young children. Through hands-on activities and STEM challenges, children will think, construct, experiment, discover, and develop the desire to learn more.
Westborough
*Also available in schools and recreation departments.
Pre-K to Grade 4
Tufts University Center for Engineering Education and Outreach (CEEO)
The Tufts University Center for Engineering Education and Outreach (CEEO) is a leader in supporting efforts to integrate engineering into K-12 education.
Engineering and robotics workshops for kids are advertised through an email list at [email protected] and on their Facebook page.
Medford
Grades 1-8
Image Source:  Bots For Fun at the Bascom Branch Library by San José Library